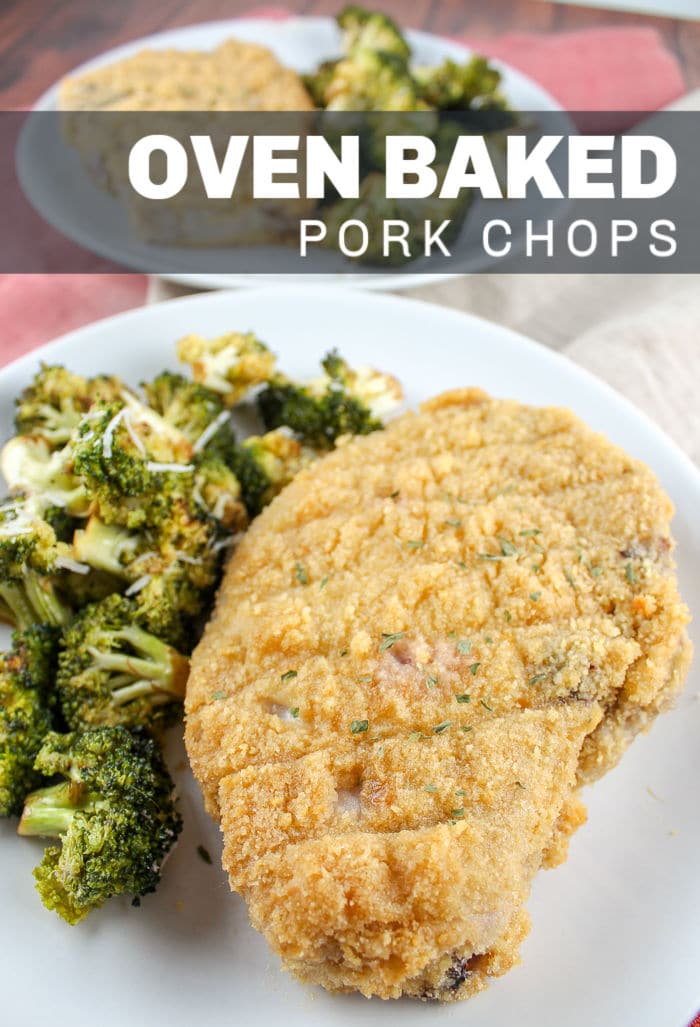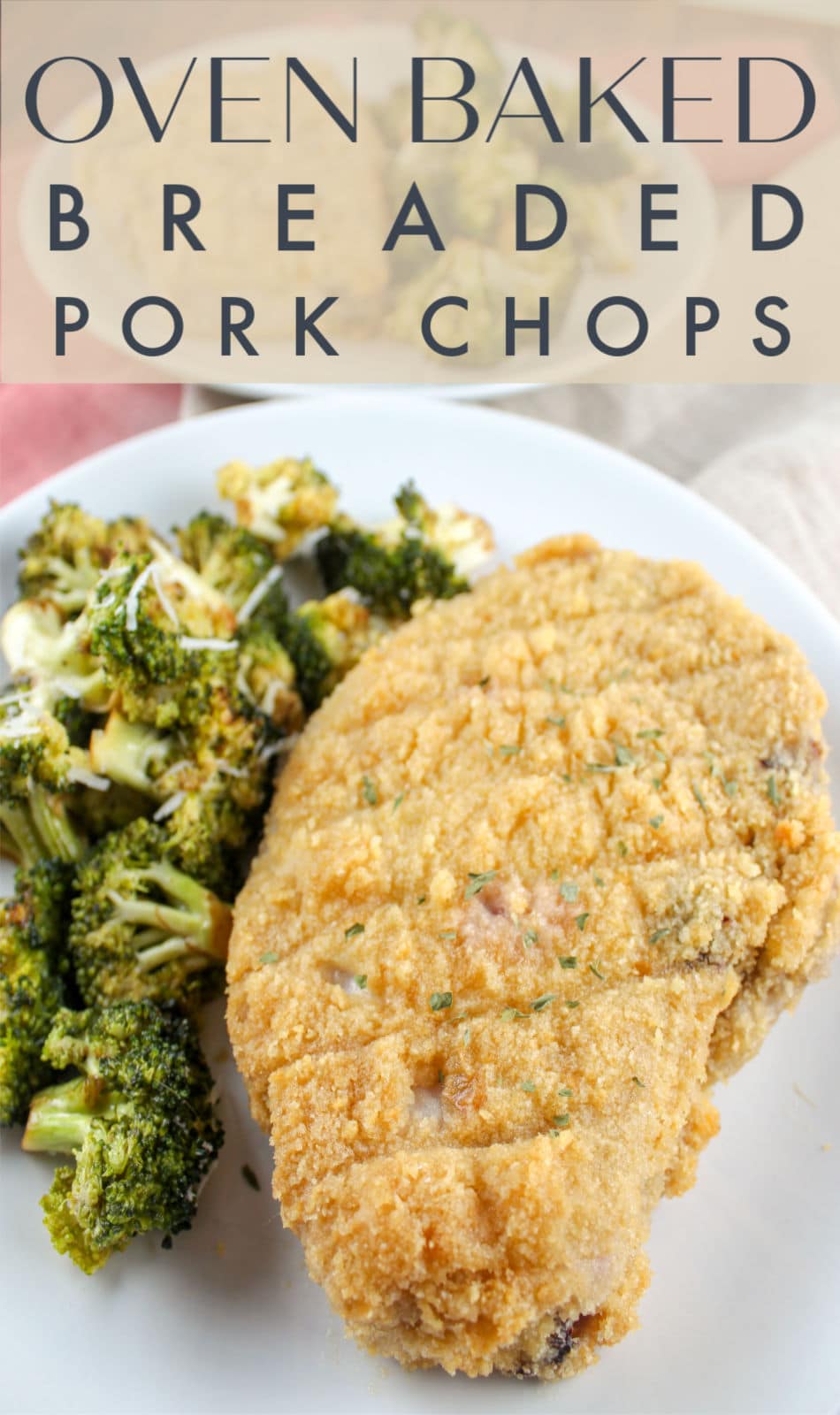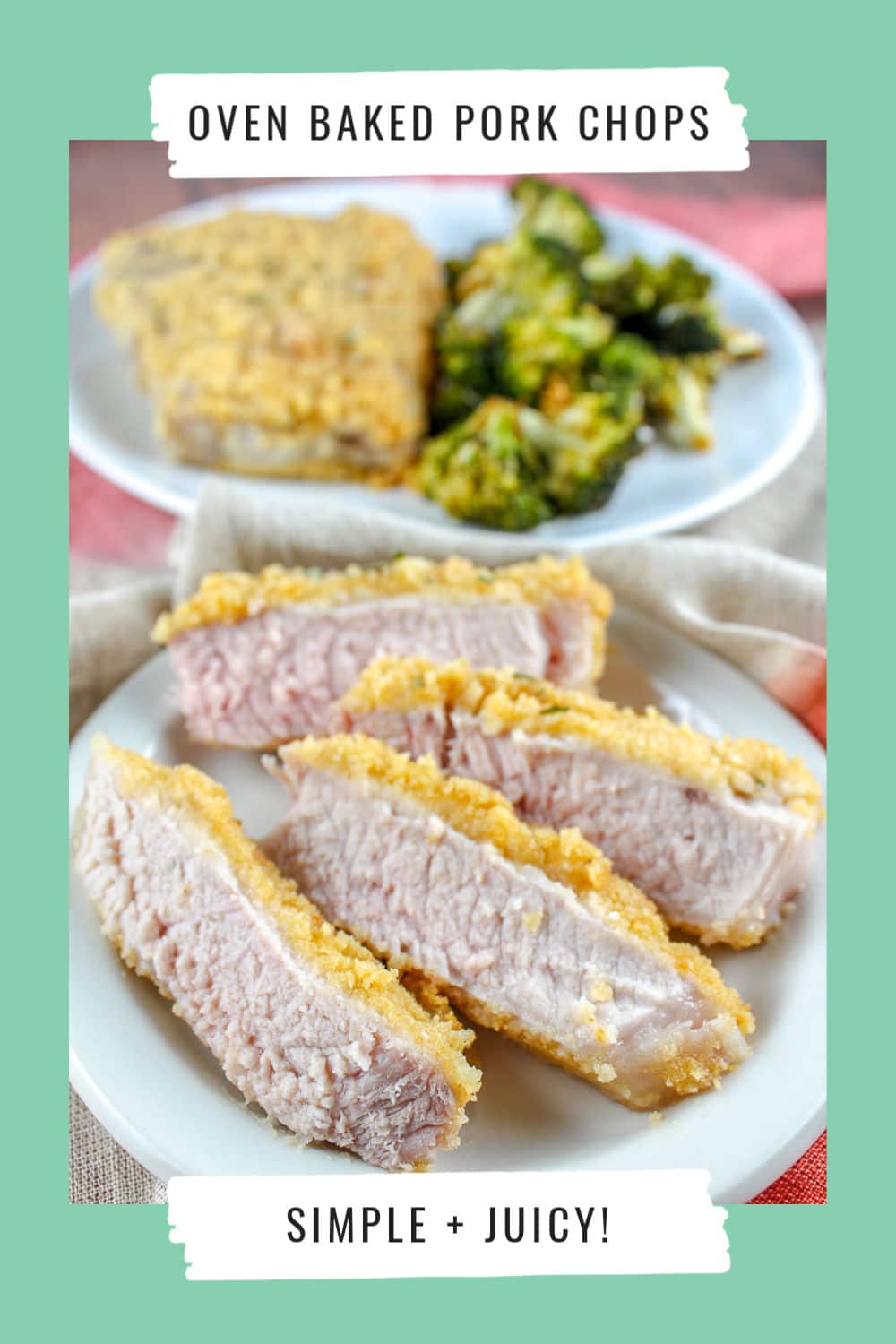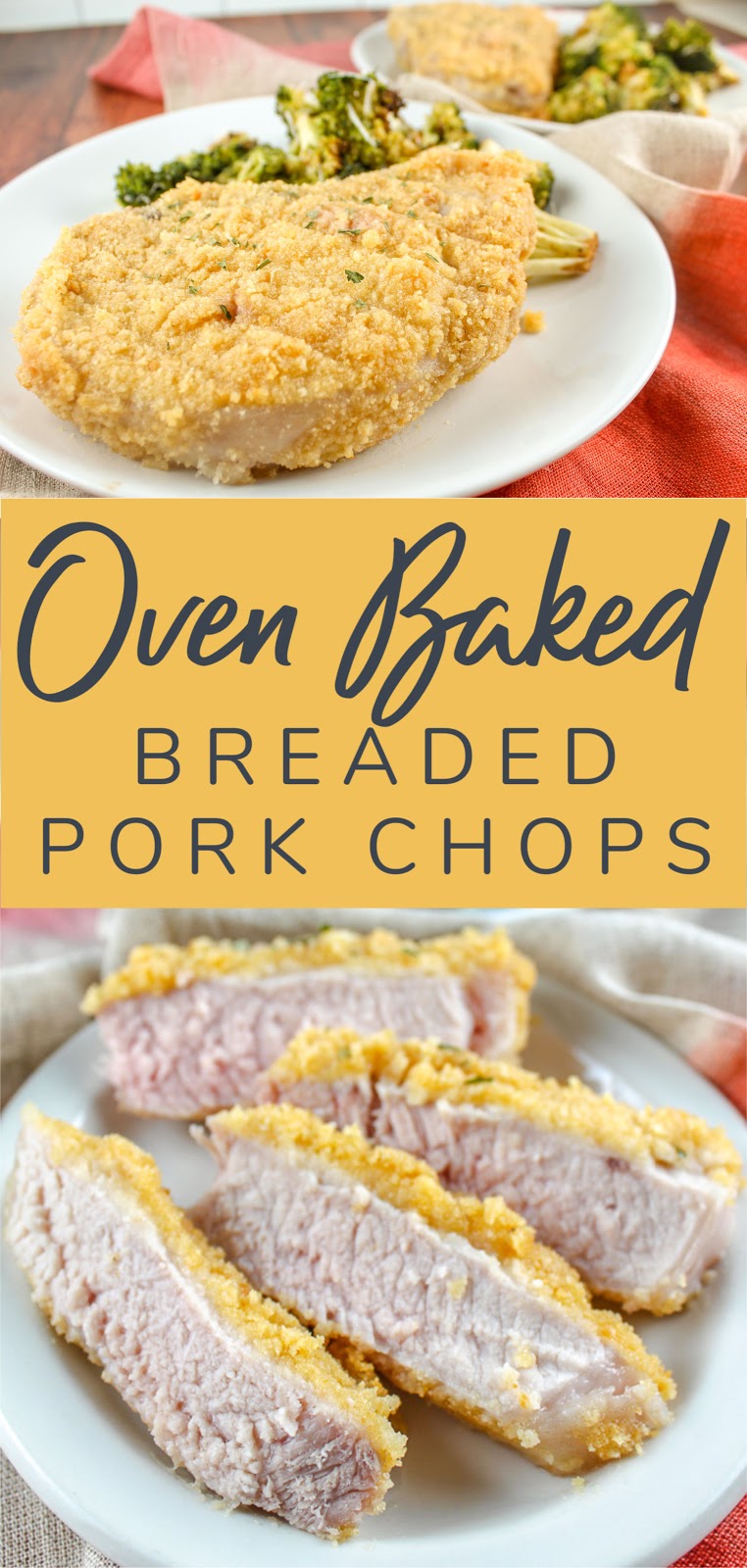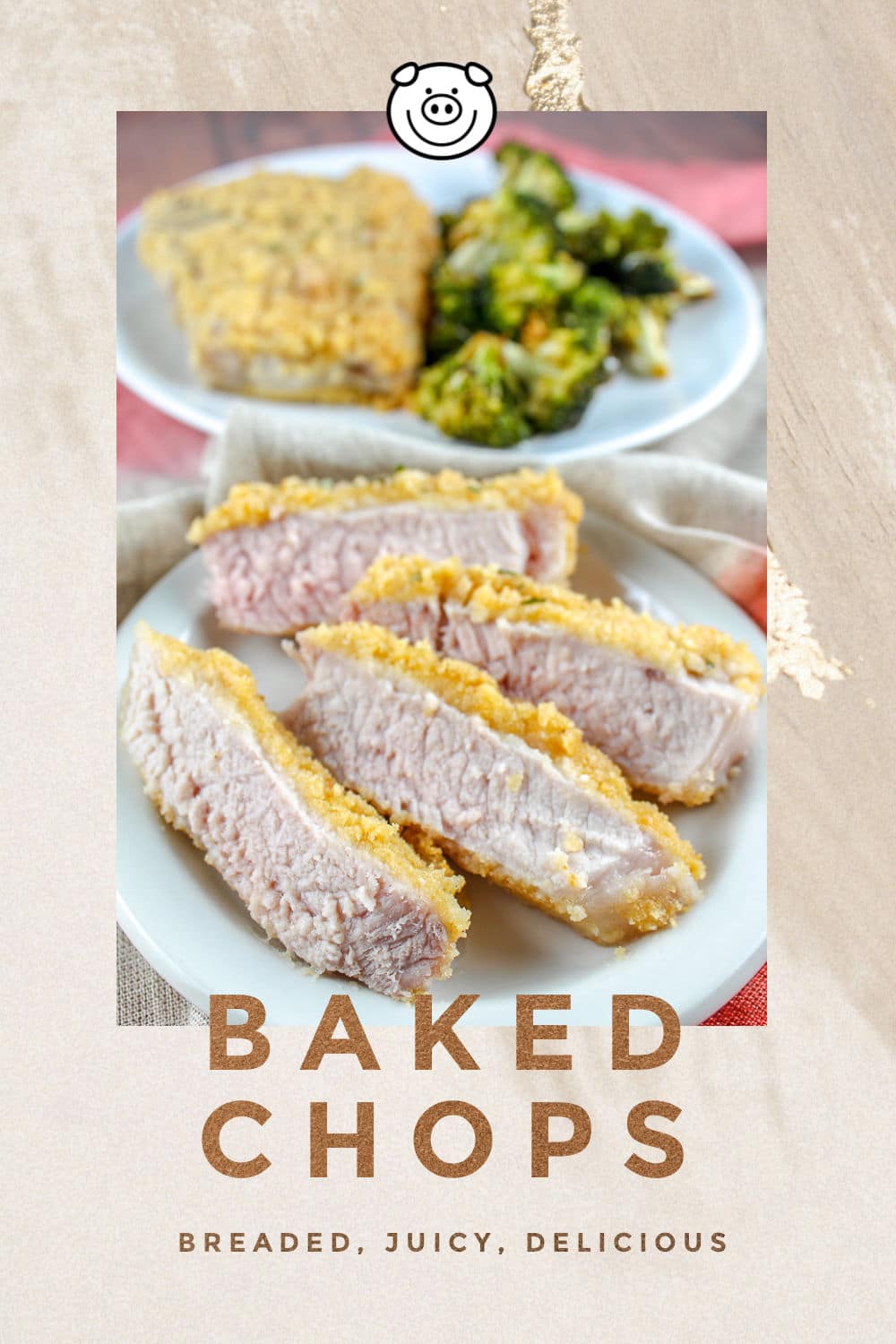 Breaded oven baked pork chops are the simplest way to make tender, perfect pork every time. I've got a special tip to make sure they come out juicier too!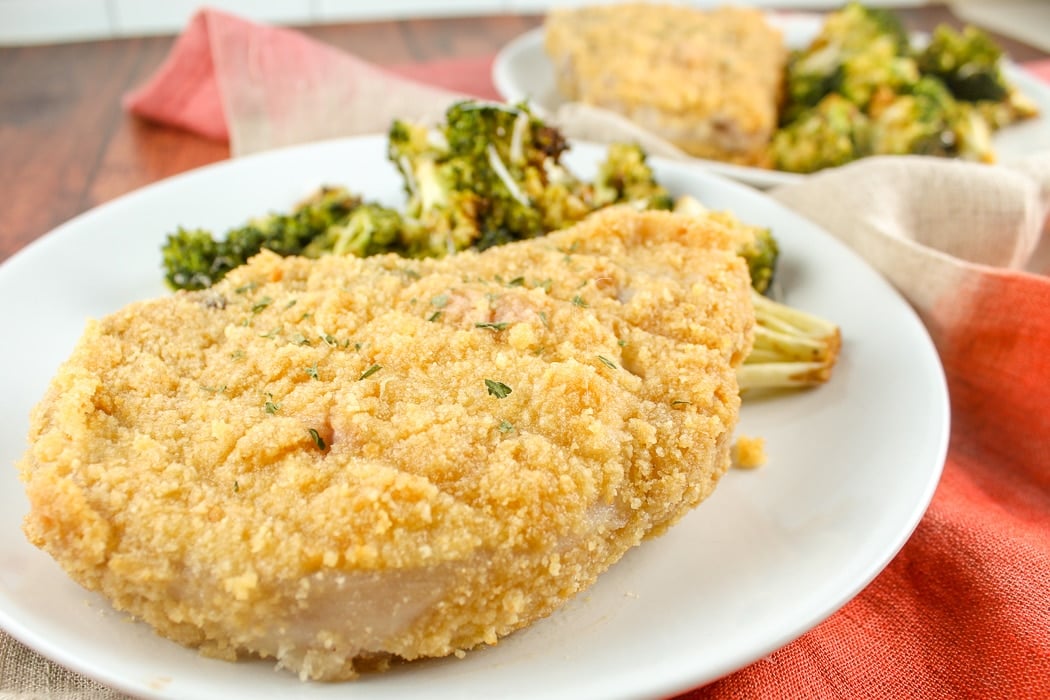 I found some fun new Shake and Bake Ritz Cracker Crumbs – they have different flavors so I was excited to try them. They're delicious on these baked breaded pork chops!
How long do you bake pork chops in the oven?
There's a few tips I like to use when baking pork chops to make sure they're extra juicy:
– Brine them – more on that if you scroll down!
– Baste them in mayo – it's another layer around the meat to hold the juices in
– Don't be afraid of a layer of fat around your pork chops – fat = flavor! You don't have to eat the layer of fat – but it helps hold the juices in.
– Go for bone-in chops whenever possible – same with the fat – the bone also adds flavor.
Breaded baked pork chops are great because you can cook them at a lower temperature and do little things like brining the meat and basting with mayonnaise to hold the moisture in.
Why should you brine pork chops?
Brining is similar to a marinade because it increases the moisture-holding capacity of the meat – which makes it juicier when you cook it! It's easy to do also! I just poured salt into a bowl of water and then popped the chops in there for 30 minutes!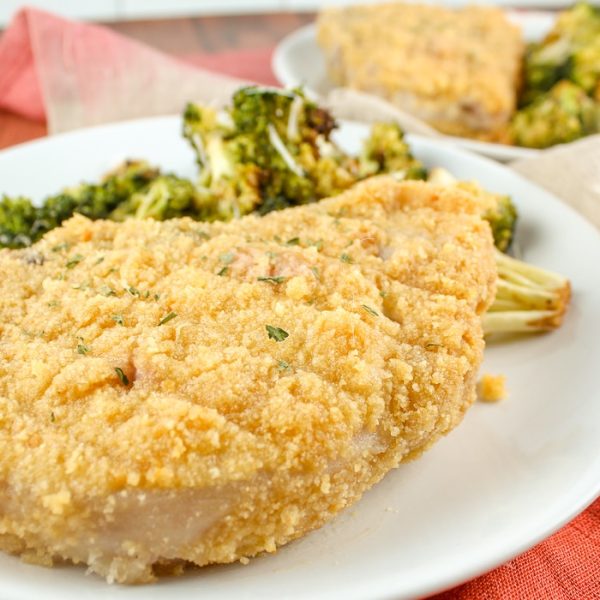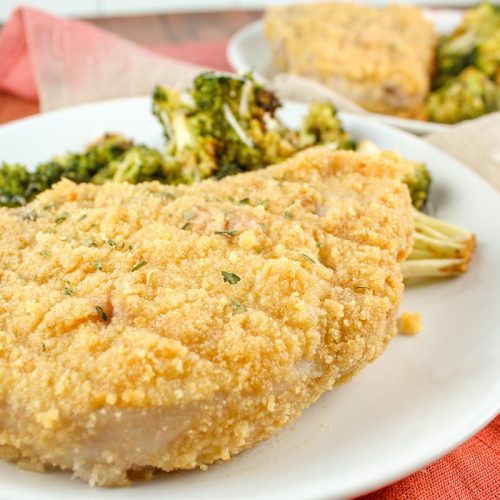 Breaded Oven Baked Pork Chops
Breaded Oven Baked Pork Chops are so easy to make and they come out juicy and delicious every time! These are simple and no mess – I also have a secret tip for making them extra juicy!
Instructions
Brine chops: Dissolve ¼ cup table salt in 1 quart water in a medium-sized container. Place the chops in the brining solution, cover and refrigerate 30 minutes. Rinse the chops under cold water and pat dry with paper towels before proceeding.

2 pork chops,

1/4 cup table salt,

1 quart water

Spray a wire rack with non-stick spray and set it on a foil-lined, rimmed baking sheet. Set aside.

In a medium bowl, whisk together mayonnaise and Dijon mustard

1/2 cup mayonnaise,

2 tbsp dijon mustard

Place ¼ cup flour in a shallow dish (just larger than one pork chop).

Place the cracker crumbs in another shallow bowl.

Using tongs, coat one pork chop in flour and shake off the excess.

Baste both sides of the pork chop with a thin coating of the mayonnaise/mustard

Gently press the chop, on all sides, in the crumb mixture being sure a thick layer of crumbs adheres.

Transfer the breaded chop to the prepared wire rack and repeat with the remaining pork chops.

Flip chops and bake 12 minutes or until a meat thermometer inserted into the center of the chops registers 145°F.

145°F – blush of pink

155°F – no pink

Remove from the oven and let rest 5 minutes before serving.
Nutrition
Serving:
1
chop
Calories:
630
kcal
Carbohydrates:
36.3
g
Protein:
22
g
Fat:
44.2
g
Saturated Fat:
11
g
Cholesterol:
84
mg
Potassium:
347
mg
Fiber:
1.2
g
Sugar:
4.2
g
Calcium:
84
mg
Iron:
3
mg