This breakfast gumbo is the perfect weekend breakfast or brunch recipe! It's a copycat from a gas station in Satsuma, Alabama and has a base of cheesy grits and is then topped with scrambled eggs, pork sausage, Andouille sausage, bacon, green onions and hot sauce! Man oh man!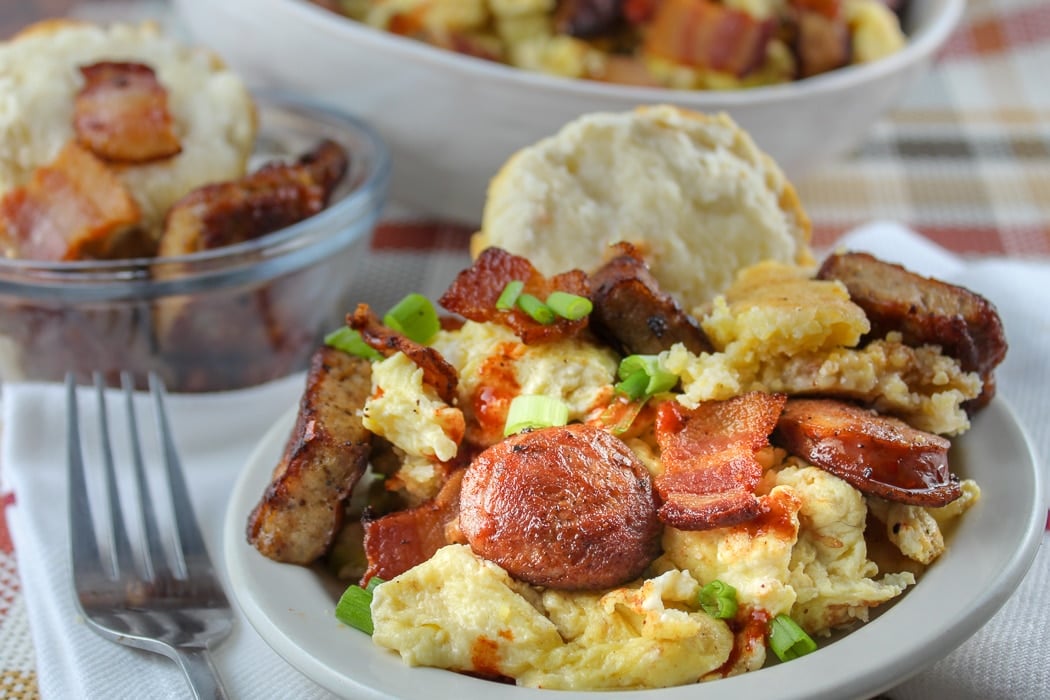 Have you ever wanted to have gumbo for breakfast? Well I sure do! Recently I was in Alabama and my girl Plain Chicken came across a gas staton that serves a breakfast gumbo and she immediately sent me the article! I knew I had to make my own version – let the drooling begin!
What is Breakfast Gumbo?
The Chevron gas station in Satsuma, Alabama came up with it and they deserve an award!! This isn't a traditional gumbo – but it is a delicious one! Down in Alabama they use Conecuh smoked sausage, which you can't come by up in here in Ohio, so I used Andouille instead. There's cheesy grits – I used the same recipe that I recently made with this Shrimp and Grits – they're the best grits I've ever had! Then you top it with all these great breakfast items like eggs, sausage, bacon and more!



What is Conecuh Sausage? What is Andouille Sausage?
Conecuh sausage is a hickory smoked pork sausage you can only get in Alabama. You can get Conecuh sausage on Amazon – but it's pretty pricey. Andouille is also a smoked pork sausage. So they're very similar – it's just a difference in the spice blend. If you're not from there – the Andouille is readily available and a good substitute. I would recommend getting a higher quality brand – I found Aidells Andouille and went with that.



Tasty Brunch Recipes
To me this is a perfect recipe for all the holidays and family visits we have coming up. It's hearty and perfect for those pre-football game days! I would also recommend my Loaded Farmhouse Spoon Bread or the Loaded Breakfast Casserole – my boyfriend, "Extreme Country Boy" came up with both of these recipes and he loves them! You can also use my Baked Scrambled Egg recipe if you're cooking for a crowd.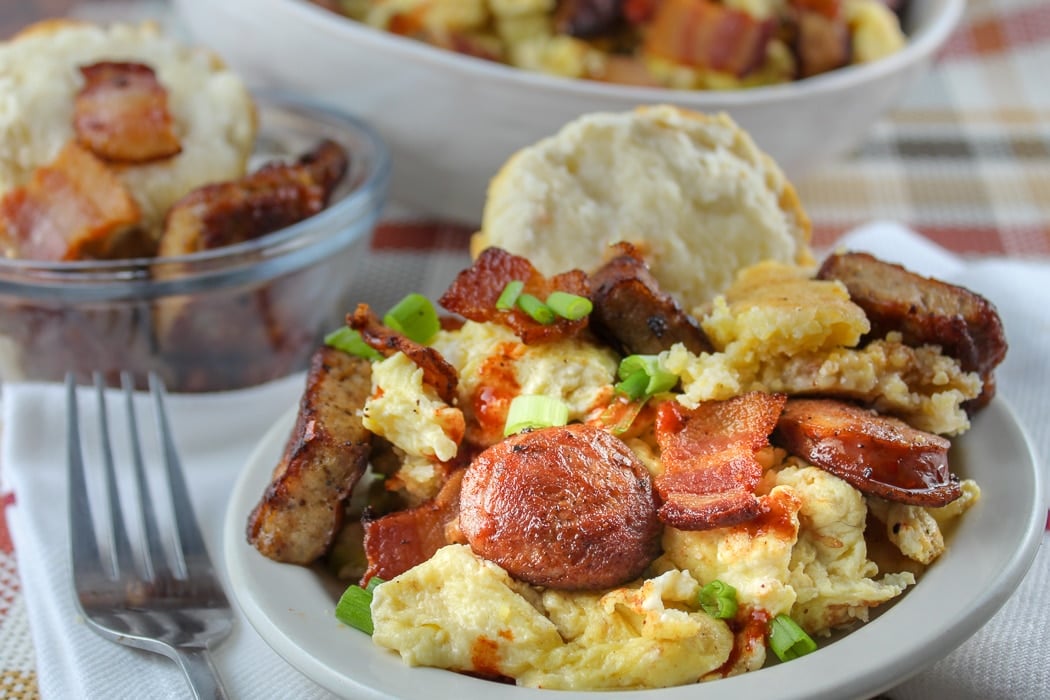 Breakfast Gumbo
prep time: 4 hour
cook time: 20 M
total time: 4 H & 20 M
There's a gas station in Alabama that came up with a genius idea – Breakfast Gumbo! They take all these amazing things they make for breakfast and put them all together – so I decided to make it myself! Cheesy grits topped with andouille, sausage, scrambled eggs and more! This is perfect for your next weekend breakfast or brunch!
ingredients:
Grits Cakes
3 1/2 cups water
2 tbsp butter
1 1/2 tsp salt
1/4 tsp pepper
1 cup plus 2 Tbsp yellow grits
1/2 cup shredded cheddar cheese
1/3 cup blue cheese crumbles
1/4 cup chopped cooked bacon (3 slices)
1/4 cup chopped green onion (2 onions)
1/4 cup flour
1/4 cup vegetable oil
Gumbo Toppings
6 eggs, beaten
1/4 cup cream cheese, softened
2-3 tbsp butter
4 slices Applewood smoked thick cut bacon, diced into large bite-size pieces
4 links Andouille sausage, sliced
4 sausage patties, diced (I used precooked frozen)
2 green onions, sliced
hot sauce
instructions:
How to cook Breakfast Gumbo
Grits Cake
grease 9x9x3pan
in saucepan combine the water, butter, salt and pepper bring to a boil
gradually stir in the grits and continue to stir until all the water is absorbed and the grits become thick but are still smooth, about 5 min
add the cheeses, bacon and green onion
stir until thoroughly mixed
while hot pour the grits into the prepared pan
refrigerate to cool and allow the grits to set up (at least a few hours)
Gumbo Toppings
heat fry pan to medium and add bacon – cook for 3-5 minutes just until it starts to get done – do not let it get crispy
remove bacon from pan and set on paper towel to absorb excess oil
pour bacon fat except for 1 tbsp out of pan
add andouille and sausage patties to pan and heat through for 3-4 minutes
remove sausage from pan and set aside in bowl
in a fresh pan, heat butter to melting – keep pan and medium low
in a bowl, beat together eggs and cream cheese
add eggs to hot pan and slowly fold and stir until eggs are cooked through – do not overcook – should remain a little "juicy"
remove eggs from pan and place in bowl and set aside
Gumbo Assembly
just before serving, cut the grits into four squares
coat both sides of each cake in flour
preheat the veg oil in a non-stick skillet over medium high heat
pan fry the grits cake until golden brown and hot – about 3 min per side
place one grits cake in a shallow bowl and cover with eggs, bacon, sausage, diced green onions and sprinkle with hot sauce
Recommended Products:
Pioneer Woman 8×8 Baking Dish
Non-stick Skillet
Conecuh Smoked Sausage
Did you make this recipe?
Tag
@foodhussy
on instagram and hashtag it #foodhussyrecipe