Since I've been trying to cook more lately – I like to grab recipes when I see them. I have an email folder just for recipes. When I see a good one – I email it to myself. Then when I'm picking recipes – I go there first! Such is the case with the recipe I found on my good friend Sarah's blog for
Cheddar Chicken
. She usually makes things fancier than I can hang with but this one seemed fairly simple.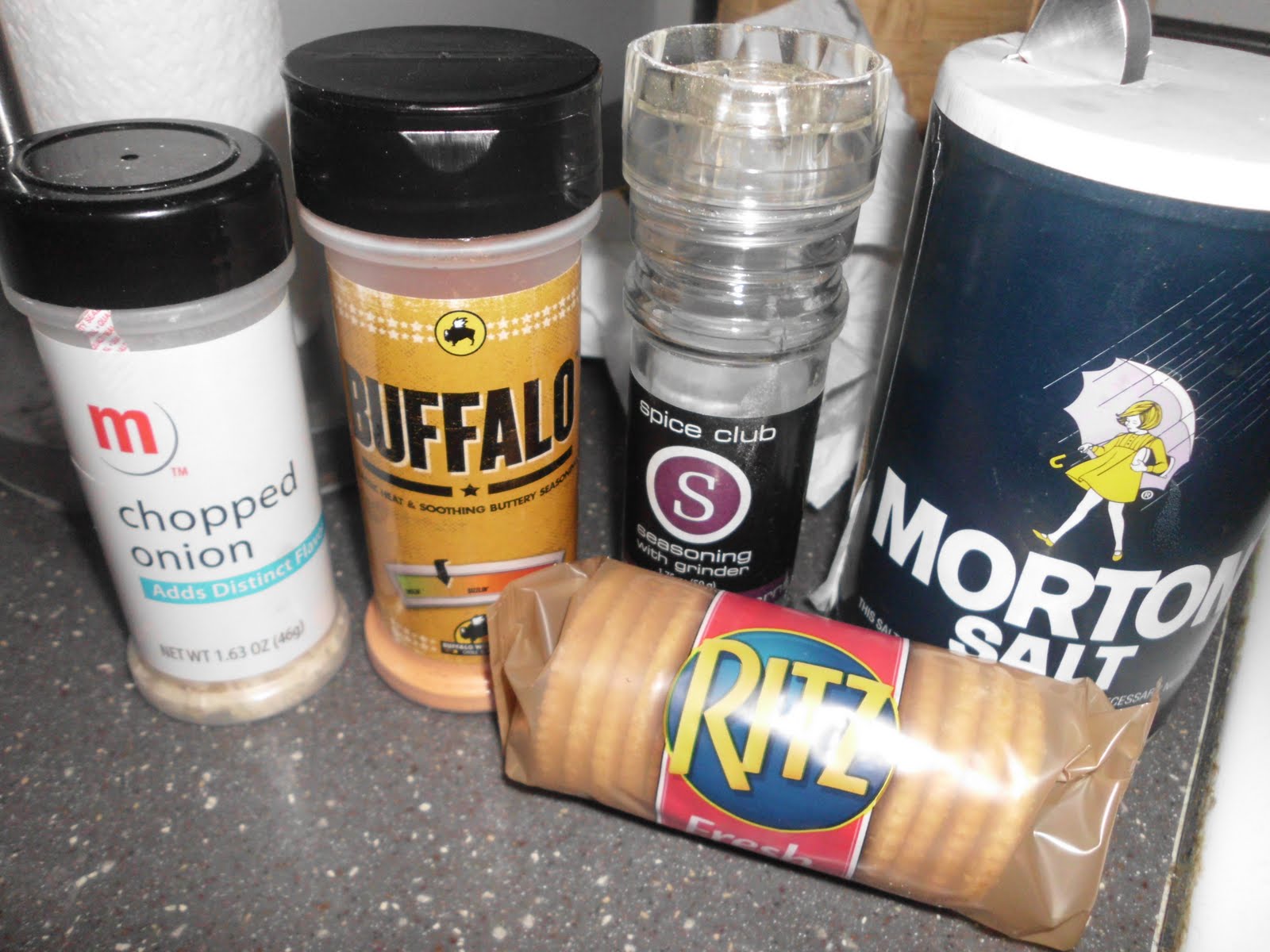 The recipe calls for garlic and I was out (the horror!) so I decided to substitute a little dried chopped onion and the Buffalo Wild Wings Buffalo Seasoning that I got a few weeks ago. I figure we'll spice it up a little! Besides these – there's obviously cheese – it's not called Buffalo Cheddar Chicken for nothin!
First I thawed some chicken breasts and cut them into smaller chunks. Those frozen ones are always so HUGE! I lined the pan with foil and had my dipping stations ready.
Cheese & spices in one bowl – melted butter in the other. How can you go wrong?
Dip in the butter – then the seasoning/cheese mixture and set on the foil. The cheese mixture doesn't really stick so you have to press it on a bit. After the end product – I would suggest just buttering the bottom side and coating only the up side with the cheese mixture. The cheese mix on the bottom stuck to the foil and wasn't crispy.
Close up of some delicious din-din about to go in the oven!
And here's a peek at the after. The cheese gets pretty crispy rather than melty – I liked it. Like I said – leave it off the bottom – or be sure to spray your foil pan first.
Since I was ad-libbing the Buffalo seasoning – I wasn't sure how spicy it would be. Therefore I went with a very mild butter rice mix. The crispies from the chicken added some zing to the rice and the rice mellowed the spicy. I really enjoyed it!
Why Should You Make It?
It's easy and pretty much pleases anybody – plus you can make it your own by adjusting the seasonings.
CHEDDAR CHICKEN
Serves 4
16 buttery crackers (such as Ritz), crushed (about 3⁄4 cup)
6 ounces sharp Cheddar, grated
1 clove garlic, finely chopped
kosher salt and black pepper
1 Tablespoon dried chopped onion (optional)
4 6-ounce boneless, skinless chicken breasts
4 tablespoons unsalted butter, melted
Heat oven to 350° F. In a bowl, combine the crackers, cheese, garlic, ¼ teaspoon each salt and pepper, Buffalo seasoning and onion.
Dip the chicken in the butter, then in the cracker mixture, pressing gently to help the crackers adhere. Place the chicken on a foil-lined baking sheet.
Sprinkle any remaining cracker mixture on the chicken and drizzle with any remaining butter.
Bake until the chicken is golden brown, 25 to 30 minutes.