I went on my first Carnival Cruise a couple weeks ago and can't wait to review all the food on board the ship, in Miami and Nassau! Let's eat! I even did the Chef's Table – and wow what an experience that was!!!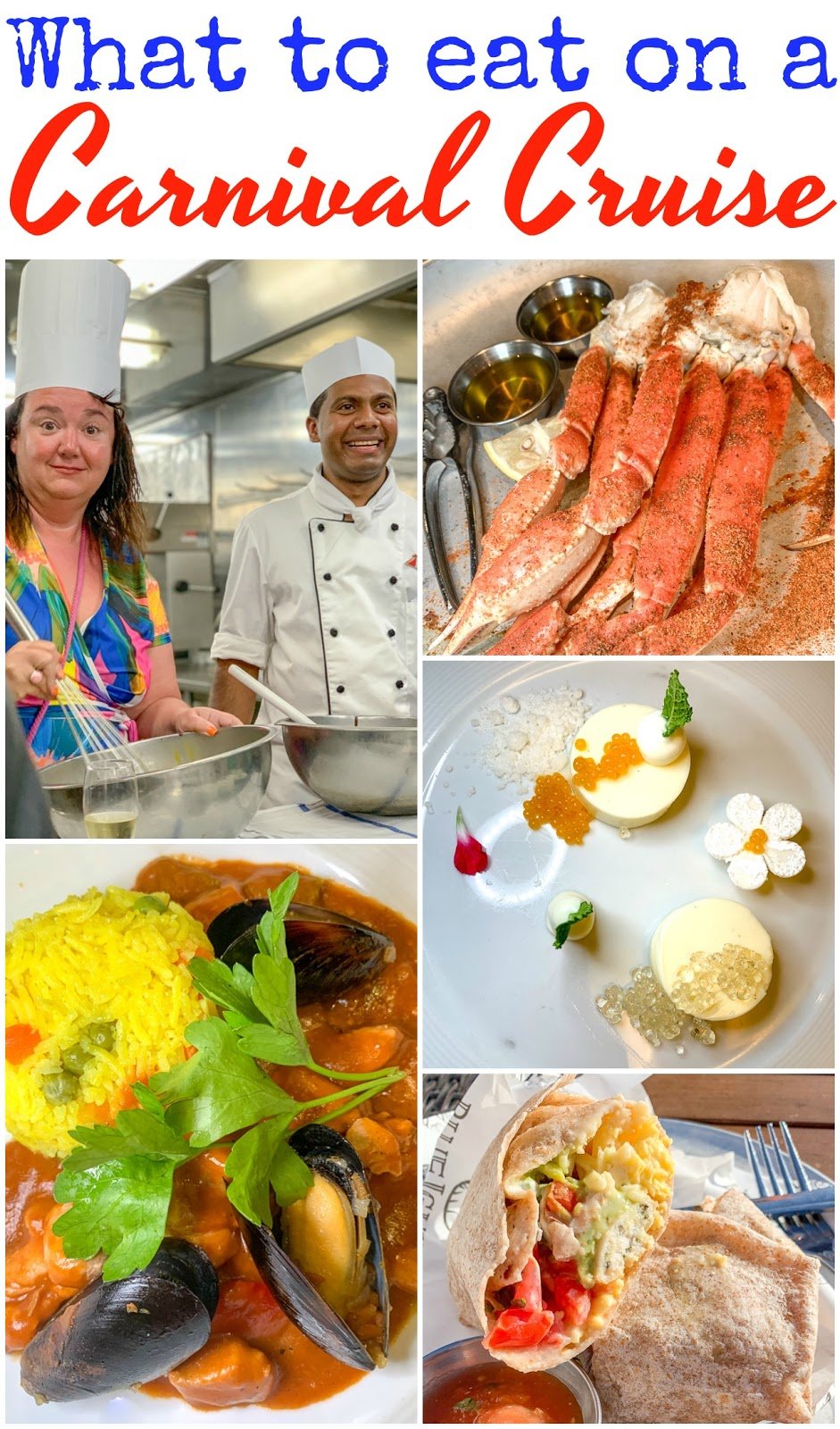 We were on a smaller ship but that doesn't mean we had a shortage of food options! From Guy's Burger Joint around the corner to the Blue Iguana Cantina and downstairs to the Main Dining Room – I tried EVERYTHING on the ship!
We sailed Carnival Victory – which is about to undergo a big refurbishment in a dry dock. This is a shot of the Victory while we were at Carnival's private island of Half Moon Cay. I will say – the ship does need the refurb – but we had a great time. It will emerge as the Carnival Radiance later this year!



Before we could jump on board – we had an overnight in Miami. My friend knew this was my first cruise so she used some points to get us a free nights stay at the Holiday Inn Miami Beach. We took full advantage of staying on Miami Beach and went from the airport straight to the beach to get started on those tans!


There are a ton of beach kitties too! I FINALLY got to pet one – a little black kitty came out and let me love on him! After getting sun and a nice long walk – we headed out to dinner!
After walking down Miami Beach, we came back and headed back to our hotel – it was a 10 minute walk back towards our hotel and we came across The Tavern in the Hotel Croydon. They had outdoor seating and the smell wafting from the kitchen sucked us right in!


Michelle got a Salmon Caesar Salad and I went for Shrimp Scampi. Both were definitely tasty! The salmon was cooked perfectly and the scampi was just the right amount of garlicky!



The highlight of the night was the hummus plate – they loaded us up with housemade hummus, olives and soft grilled pita! It was soooo good! We literally killed it!!! OMG – can't say enough about how good it was!


After a nice night's sleep, we jumped in an Uber and headed to the Port of Miami (about $20). We purchased Faster to the Fun and would HIGHLY RECOMMEND this! For $60, we got into our room when we walked on board at 1130am (rather than 130pm) and you get a special guest services line – so if you have ANY questions – you'll be glad you had it! You also get priority tenders to places like Half Moon Cay!


Also – on board tip #1 – everybody heads to the buffet when they get on board the ship – but my tip to you is – DON'T DO IT!!! We went to our room and then headed for the Lido deck – Guy's Burger and Blue Iguana are open for biz! No lines and better food!!!


Now because I ate EVERYWHERE on the ship – I'm going to break this down by Breakfast – Snacks – Lunch – Dinner – Chef's Table. Let's go!
BREAKFAST
First – let's talk about the breakfast buffet. We only buzzed through the breakfast buffet a couple of times. It's got a lot of options but I'm just not the biggest buffet fan. We grabbed scrambled eggs and sausage which were fine. They also have pancakes, waffles, pastries, fruit and muffins. All free of charge! You'll also find free coffee and a selection of juices in the morning.


The windows on the side of the buffet also serve omelets but the wait gets pretty long – so we skipped those…


We tended to order room service from the order form in our room – there are some free items on there. My roommate got her coffee and muffins. I was pleasantly surprised by the muffins (no pics – sorry!). They brought four muffins and they were warm when they got to us. The muffins weren't pretty but they were really tasty – the chocolate muffin was my favorite!
Blue Iguana Cantina is a staple on the Carnival ships and now I see why!!! I've been listening to Cruise Radio News podcast for two years in anticipation of going on a cruise – and every single Carnival review brags about Blue Iguana. They're open for lunch with tacos and burritos but they're really shining at breakfast! You can get pre-made arepas or huevos rancheros or have them make you a breakfast burrito – ALL FREE!



Frankly, after eating this Breakfast Burrito from Blue Iguana Cantina – I had no desire to get anything else for breakfast. I chose the type of tortilla, then added plain scrambled eggs or Mexican eggs, bacon or chicken sausage and then a plethora of toppings. There's also a salsa bar just a few feet away – to add to your burrito! This was DELICIOUS!!!!


You also can go to the Main Dining Room for a sit down breakfast – but like I said – that burrito had me at hello!
When you get back to your cabin from your day of sun and fun – you'll be greeted by one of these little guys. Every day, your room steward will craft a new towel animal to greet you. I was hoping to save them all week but no luck – they disappear and you get a new one the next day. So cute!


SNACKS & LUNCH


There are a variety of places around the ship to have snacks or lunch. I'm grouping these together because depending on the time – you could hit up most of these places.
First up – the Deli. They are open lunch-late night and have a variety of hot and cold sandwich offerings like Reubens, Buffalo Chicken, BLT, Cubanos and more. I grabbed a grilled ham and cheese, fries and cookies one night. The grilled ham & cheese was pretty good, the fries were great and the cookies weren't good. They also don't have simple stuff like ranch – but they do have fancy aiolis!


I was also astounded at the mastery of the guy behind the grill! He was handling 3-4 orders from start to finish all on his own!
There's also a coffee shop on board – they have fancy coffees and you can even get boozy coffees as well as delicious desserts! I went for a white chocolate frappucino and it even had an edible chocolate straw! This really hit the spot when I was hot and a little sleepy!



Room service is another great lunch or snack spot! I ordered the Spicy Fried Firecracker Shrimp and loved it!!! The shrimp is butterflied and breaded and is served with a sweet and spicy Asian sauce. The Shrimp did cost $6 but there are a select list of menu items you can get for free – but – even with the Bubbles soda package – you have to pay for soda on room service. #grrr
One of the other things I heard about over and over was the pizza! So the first night I ordered a pizza – they're $5 delivered wherever you are on the ship. I ordered a pepperoni pizza – and – well – it's a mixed review. It appears half the toppings sort of slid off my pizza – but it still tasted good – and it was definitely HOT when it arrived. The slices were super thin so it was a fold and eat kind of pizza – but I liked it – lots of cheese!!!
We also came across a window off the buffet that was serving Chinese food one day and grabbed a little. Nothing seemed all that fresh – but it actually tasted pretty good! I think that's the thing I realized is that everything really is fresh – they are always cranking out more food!
Last but certainly not least for lunch/snacks is Guy's Burgers. I have heard folks say they have eaten 10 Guy's Burgers in one cruise!! They are a lunch to dinner place and they always have plain and cheeseburgers ready to go. You can order a few of their specialty burgers (with chili and donkey sauce) – or just get a cheeseburger and load it up yourself!


They have a separate topping bar with grilled onions, mushrooms and peppers as well as a fresh topping bar with pickles, lettuce, tomatoes, etc. Under the mess on that tray is a cheeseburger with grilled onions, grilled mushrooms, grilled peppers, bacon and ranch. Hell yeah!


The french fries are also delicious! They appear to me to be very similar to Penn Station fries and fried in peanut oil. They're delicious and I could have eaten those every day for sure!
You can also order things before the cruise to have delivered during your stay. The folks at Carnival had a bucket of champagne on ice for us when we boarded the ship and the hotel manager had chocolate covered strawberries delivered to our room one evening. These little surprises can be ordered through the Carnival app any time you like. Yum!


DINNER
While the Victory did not have any specialty dining spots – we did take part in night time dining across the ship and found plenty of great options!
The one "extra fee" restaurant is the Seafood Shack. We stopped one night and while they have options like a lobster roll- we decided to splurge a bit. I got a whole lobster (1.5 pound – $25) and Michelle got Snow Crab Legs.


Just fyi – it takes about 15 minutes and they give you a buzzer that goes off when your food is ready – but it doesn't work in the buffet. (would have been nice to know) We went to the buffet and had a little salad and then realized we should have our food and went to check and it was ready.


Both of these dishes were ok but I wouldn't spend the money on them again. They were prepared well but just for the extra expense ($60 for the two of us) – it just wasn't worth it. We could have gotten a lobster tail in Main Dining for less and not had to crack it open and get messy.



Speaking of the Main Dining Room – I was PLEASANTLY surprised at the food quality!!! I can't begin to tell you everything we got over the entire cruise but I am sharing the best dishes! ON night one, the shrimp cocktail was fresh and tasty, the flat iron steak was really good (we were both surprised) and cooked to medium rare perfection and the tiramisu was DELICIOUS!
The highlight was this strawberry cake (I know it had a fancier name). It was a light little slice of cake with a thicker-than-pudding strawberry cream. Such a light and dainty dessert – Michelle even let me try a bite and I loved it!



On night two, I was dining solo. The boat was rocking a LOT that day and my roommate enjoyed the ledo deck a little too much (haha) – so I dined alone. They were very accommodating to seat me in a table on my own. (Side note: we did Anytime Dining – and reserved tables about 10-15 min ahead via the Carnival Hub app!)
The bread at the beginning of each meal was warm and served with soft butter (brownie points!). The crab cake and teriyaki salmon were also very tasty! I was impressed with both and definitely enjoyed them.
But come on – we all know the highlight of a Carnival Cruise: The Carnival Melting Chocolate Cake! Luckily – I snagged the recipe – so you'll be getting it very soon! This is like a warm, snuggly hug. Everybody can have their Guy's Burgers – I want to eat 10 of these! Everybody says to ask for a spoon of peanut butter with it – I didn't get the chance – but try it!


Oh – BTW – this was "Formal" Night. I wore a casual dress that went to the floor and dressy sandals. Don't let the name intimidate you – it's not that formal!
Here's where we had our stop at the Carnival Private Island of Half Moon Cay. Beach perfection. We had priority on the tender from Faster to the Fun and headed down the beach to get away from the kids and found two chairs in the front row. Tanning commence!



They serve a buffet on the island that day – I would recommend only eating it if you're really hungry. It wasn't good. I grabbed a hot dog and some fruit and called it a day. While we were eating, we spotted some island chickens and a baby!!!!



After heading back on the ship and taking a nap – we headed out to Main Dining again for any time dining. Unfortunately this night wasn't as strong – and we didn't care for most items. The veggie spring rolls were fine – but the others were misses (seared tuna app, crab soup, crispy portabellas).


I will take this chance to talk about the staff! First – if you don't like anything – just order something else! Get two apps if you want – do what you want – your wish is their command. We had the Bubbles (soda) package and they got our sodas each night. Servers always knew our name and the head maitre'd's visited regularly to check on us. They even checked on Michelle after she missed dinner the night before!



There were a couple of items we did enjoy – the Junkanoo Pot was a nod to the Bahamas Junkanoo street parade! This was calamari and chicken with mussels combined in a tropical sauce with pineapple and peppers. I liked this a lot! I felt the sauce was more tomato-ey than I expected but I liked it!
I also got the Chocolate Tres Leches cake. Now- I'm a SUCKER for a tres leches. Basically I have a few triggers: tres leches, short rib and pork belly – if those are on the menu – I'm getting them.
This was very interesting as they poured the "tres leches" into the bowl tableside and the crunchy meringue blob on top was DELICIOUS! It was crunchy and almost hollow! I loved it! It also wasn't TOO chocolatey!


I think that's what I liked – all the desserts were good but not too heavy or sweet. Great job!
Next up was our port day in Nassau, Bahamas. After a full beach day the day before, we decided to just walk around the city and shop a bit. We also found a random husband to take our picture. Note to self: always ask the WIFE to take pics! haha
What are your guesses for what this building is? It was actually a library!!! A friend of mine thought it was a hotel. What a pretty building in a park. I'd live there!
Of course we stopped by the straw market and I got a straw bowl to use in blog posts. If you've never been – it's 100 booths in a building all selling the same thing and yelling at you to buy their stuff. Hahaha – and trying to talk you into braiding your hair. Walk through it like you would NYC – head up – keep going – get what you came for and get out.
It was interesting seeing actual craftsman creating things – I liked that aspect of it a lot! More of that please! I swear they would sell more! I also got a conch ring at the shopping area right off the ship and I love it. 🙂
After walking around, we took a taxi to Junkanoo Beach and to the Tiki Beach Hut. I ordered an extremely refreshing cranberry wine cooler of sorts, while Michelle went for conch fritters. The portion was HUGE!


Junkanoo is a public beach – so it's loud and crowded – but it's still beach and sun. 🙂
I got fried grouper bites and they were delightful! They were light and crispy – I loved them and ate every one!


On the way back to the ship we came across Senor Frogs which we had both forgotten about. That is the place to go – music, food, great souvenirs and good times!


Also – your port days on Half Moon Cay and Nassau are great times to check your cell phone and touch base with friends and family back home. I have an international plan (Verizon) and for $10 a day – I was able to use my phone like normal while we were in port.



After another nap (yeah – we napped at least once a day) – we headed to the Chef's Table! As a foodie- I had to try this! It's $75 for 10 courses and wine pairings – so basically – IT'S A STEAL! This was the HIGHLIGHT of the cruise for me!



We started in the kitchen with the Chefs serving us a few amuse bouches. There was champagne with olives and cheese, chicken liver pate, salmon cured in cognac and – everybody's favorite – a shrimp po boy with bacon ice cream!


They also gave us a BRIEF galley tour and explained a bit about how the kitchens run, who's who and the massive amounts of food that comes through each cruise!
Then they took us to the bakery area and asked for a volunteer to help make the Melting Chocolate Cake. Um – yes please!!!! I jumped at the chance!!! I couldn't believe nobody else wanted to!?! I had a blast!!


Let's cover off on some quick hits questions:



How many people are at the Carnival Cruise Chef's Table?
Up to 14 – they usually have 10-12.



How much does the Carnival Cruise Chef's Table cost?
It ranges from $75-95 depending on the ship and includes alcohol.



When should I book the Carnival Chef's Table?
I would book it pretty soon after you book your cruise – it fills up! You'll find it under excursions on the Carnival Hub.



What is the dress code for the Carnival Chef's Table?
I would dress like you do for formal night. Some people wear jeans, others dresses – you're good with pretty much whatever.



Is the food fancy at the Chef's Table?
I will say – please go into this with an open mind and an open palette. I love trying new foods and was just SMH at people that paid for this amazing meal and then said "I don't eat fish! I don't eat lamb! I'm not trying that!". To quote Michelle Tanner, "How Rude!" If you do have an allergy or a food you won't eat – just be sure to let them know ahead of time.



How do I find out when my Chef's Table dinner is?
This was my biggest question!! You'll be visited by someone during dinner at Main Dining Room and they'll let you know what night you're scheduled for. This is the time to let them know if you have allergies or any foods you will not eat. (They'll make substitutions for you.)
After making our Melting Chocolate Cake – we got to sample them! And yes – I ate half of another one! Man it's so good! I can't wait to make it myself! (coming soon!)



Our sommelier was wonderful – he was sweet and very helpful. And it turns out we had dinner with a bit of a celeb! Gospel singer and pastor Charles Jenkins was there celebrating his anniversary with his wife, Tara. They were delightful and we had a great time with them.



OK – now let's get to the food!!! We had olives and cheese, then three amuse bouche, and then this delightful croissant topped with light and fluffy Parmesan. It was delightful!
Carnival Chef's Table Menu 2020
– Spring Peas & Matcha Soup
– Berkshire Pork Belly, Shrimps with a veil of yuzu mustard and crustacean essence (top left)
– Slow Cooked Crispy Lamb with roasted beet & port jus (top right)
– Olive Oil Poached Seabass with asparagus & white miso (bottom left)
– Quail, wild mushrooms and Carnaroli Risotto with parmesan pepper threads and roasted onion jus
– Veal, Crushed Green Apples with a light cheese broth
– Citrus Cream with lime snow and elderflower caviar
– Chocolate Hazelnut with basil moss, cocoa logs and chocolate soil (bottom right)
Pretty sure this was the veal and it was veal two ways with a crispy piece underneath. They also poured a cream sauce around it. So delicious.
The risotto was heavenly. I didn't even pay attention to the quail (I mean – I ate it). The Parmesan rolls were decadent – I ate them plain – it was heaven!!! Risotto is not easy to make so I really appreciate a good one when I get it.



This Citrus Cream dessert was so good. And – much to the happiness of most of the diners – that's not caviar on top – it's a bit of molecular gastronomy and is actually elderflower juice! This was so light and amazing. I would have eaten this every night if I they would have given it to me!!!


What a delightful way to end our cruise! The next morning we woke up in the Port of Miami and headed back home. 🙁



If you would like to hear my review on Cruise Radio News – find it where you listen to podcasts and look for episode 640 entitled Carnival Victory 2020!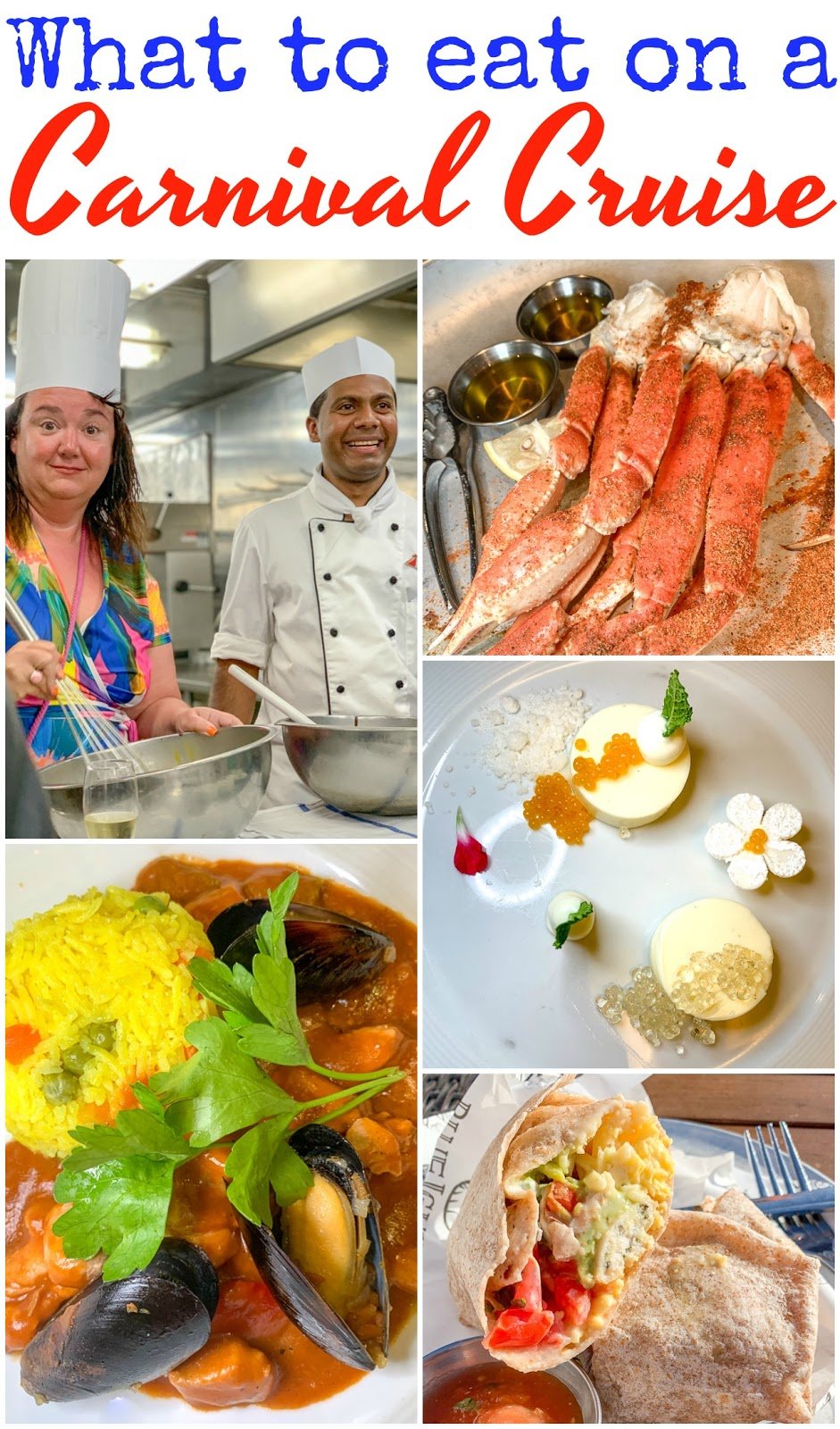 So here are some Dining Tips for your first Carnival Cruise:
– Book the Chef's Table – it's worth it!!!!
– Enjoy the Main Dining Room – order multiple appetizers – if you don't like something – order something else – they are there for you!
– Hit up the cook-to-order spots (omelette, deli, etc.) at off-times to avoid lines
– Get the breakfast burrito at Blue Iguana Cantina – it's the best breakfast on the ship
– If you like a dish in Main Dining from one night – you might be able to request it on another night – I hear they're pretty accommodating!