As I mentioned Monday, I've been all about blogs as of late and after making my Chicken in a Crock Pot – I found a great yummy recipe on
Pinterest
(don't you LOVE that site!) that called for 2 cups cooked chicken! The
Chicken Spaghetti Casserole
was too tempting to not make – yeah
Recipe Girl
!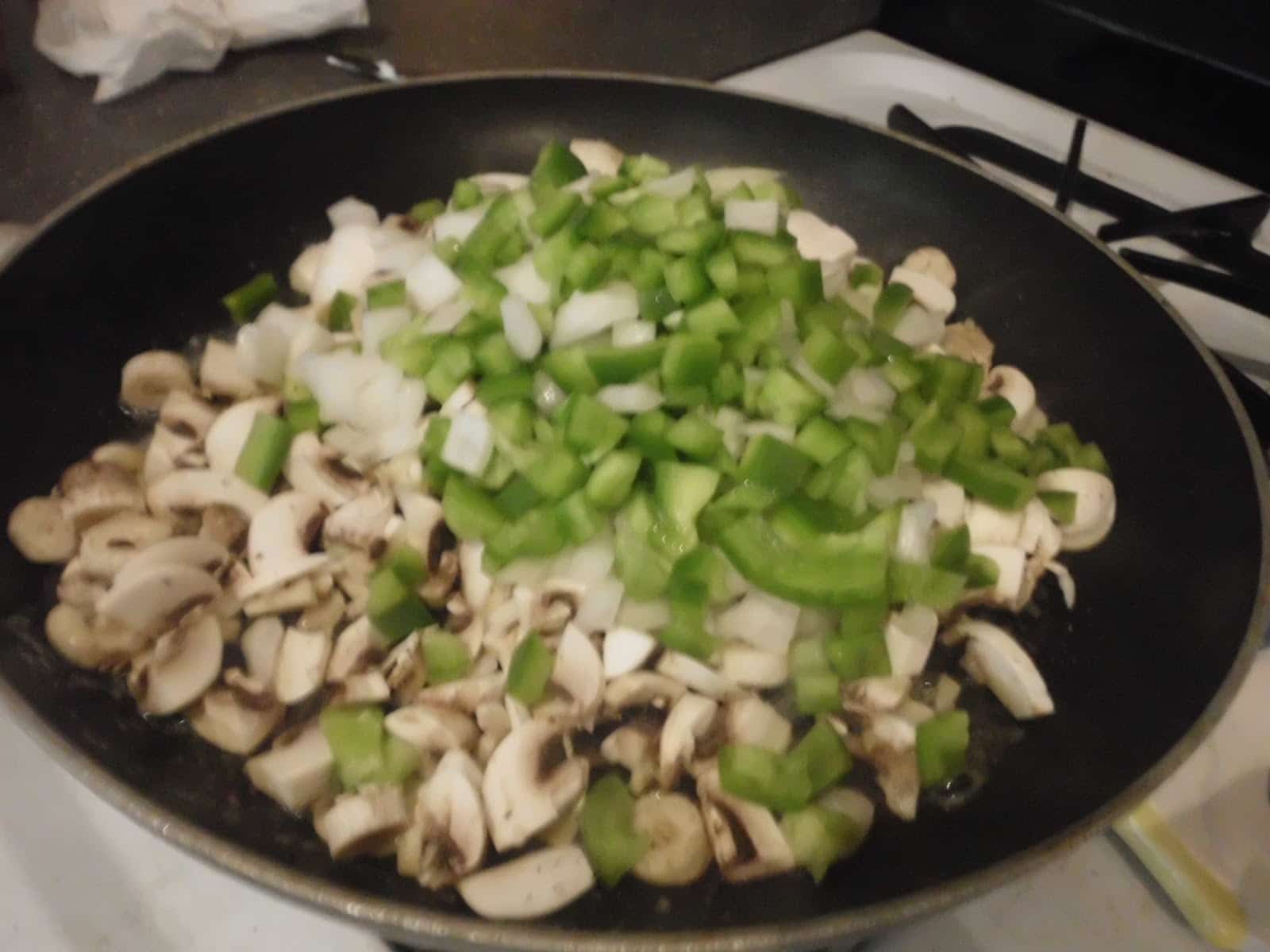 I will say – RecipeGirl's pictures are much better – knowing they were so great – I just took a few. Look at the loads of veges in this recipe! It's also nice because you could change it up based on what your tastes are – this called for celery, mushrooms, onions and peppers but I could easily see using broccoli instead!
First you just saute the veges for a few minutes until they're tender….
I chopped the leftover chicken from my Chicken in a Crock Pot from the day before…so handy to have!
Beyond the veges & chicken – there's not much left! The recipe did call for 2 cans of cream of mushroom soup – of course I didn't read it close enough and when I went to the store – I only bought 1 can! (Argh!) I decided to substitute the Philadelphia Cooking Creme (Santa Fe flavor) that I got on a recent couponing trip. I figured it was meant to be added in this type of scenario and might add some great flavor! Then there's shredded sharp cheddar in the casserole and shredded jack on top!
You mix together soup, cooking creme and milk – then add it into the sauteed vegetables. Then I added the cheddar cheese to the pan. After that I poured it into this bowl and added the chicken and cooked angel hair pasta.
After that I poured it into a casserole dish and topped it with some shredded jack cheese. Then into the oven for 35 minutes.
It came out cheesy and bubbly!!! I could wait to dig in – then I remembered I forgot to take a picture!
I also cooked up some crescent rolls (don't judge – they're good dammit). It was a delicious dinner. and lunch, and lunch and lunch and dinner and lunch and lunch and lunch.
What am I getting at? This makes a HUGE casserole!!!! If and when I make this again – I will cut the recipe in half. If you have a crowd to feed – make the whole thing. If it's just you and your leftover-picky husband…cut it in half or you'll be eating it for a week!
It's delicious though and I think I might like it better with the mix of cooking creme and cream of mushroom soup! Thanks RecipeGirl! (and as she mentions, you could easily substitute cooked turkey with Thanksgiving leftovers!)
Ingredients:
7 ounces thin spaghetti
1 tablespoon salted butter
2 cups sliced mushrooms
1 medium onion, chopped
1/2 cup chopped celery
1/2 cup chopped green bell peppers
1/2 cup chopped red bell peppers
Two 10.75-ounce cans 98% fat free cream of mushroom soup
1 cup nonfat milk
8 ounces sharp cheddar cheese
2 cups cooked, chopped chicken
1 teaspoon Tabasco sauce
salt and pepper, to taste
1/2 cup shredded Monterey Jack cheese
Directions:
1. Preheat oven to 350 degrees F. Spray a 2-quart casserole dish with nonstick spray.
2. Cook pasta according to package directions, but only cook it until it's al dente (you still want a little bite to it). Drain the pasta and set it aside.
3. Melt butter in a large, deep skillet over medium heat. Add mushrooms, onion, celery and bell peppers. Cook until the vegetables have softened, 4 to 5 minutes. In a medium bowl, mix milk and soup until smooth. Add this mixture to the vegetables in the pan. Stir in cheddar cheese. Continue to heat the mixture until the cheese has melted and the sauce is smooth. Add in chicken, pasta and tabasco, and season to taste with salt and pepper. Pour the mixture into the prepared casserole dish. Sprinkle Jack cheese on top.
4. Bake for 35 minutes, or until the casserole is hot and bubbly and golden brown.
Tips:
*If you're trying to figure out a serving size for this casserole, simply use a knife to divide the pan into 6 equal servings. There's your serving size (it's pretty substantial)!
*Leftovers of this casserole are great for a couple of days after making it.
*Turn this casserole into a day-after-Thanksgiving meal by adding leftover turkey instead of chicken.