Disclosure: This article is sponsored by Nestle Toll House but all opinions are my own.
Baking has been a part of my holidays as long as I can remember. My Grandmother used to bake up a storm and then we would deliver plates and tins and baskets and bowls and every other cookie-holding device you can think to the nursing home as well as anybody else that needed cookies. We made everything under the sun – from
Nestle Toll House
cookies to those weird date roll ups nobody liked!
My holidays are a little different now – I don't bake much – mainly just for my husband – which adds a new challenge – as he's allergic to eggs. And actually – today's treats didn't even require an oven!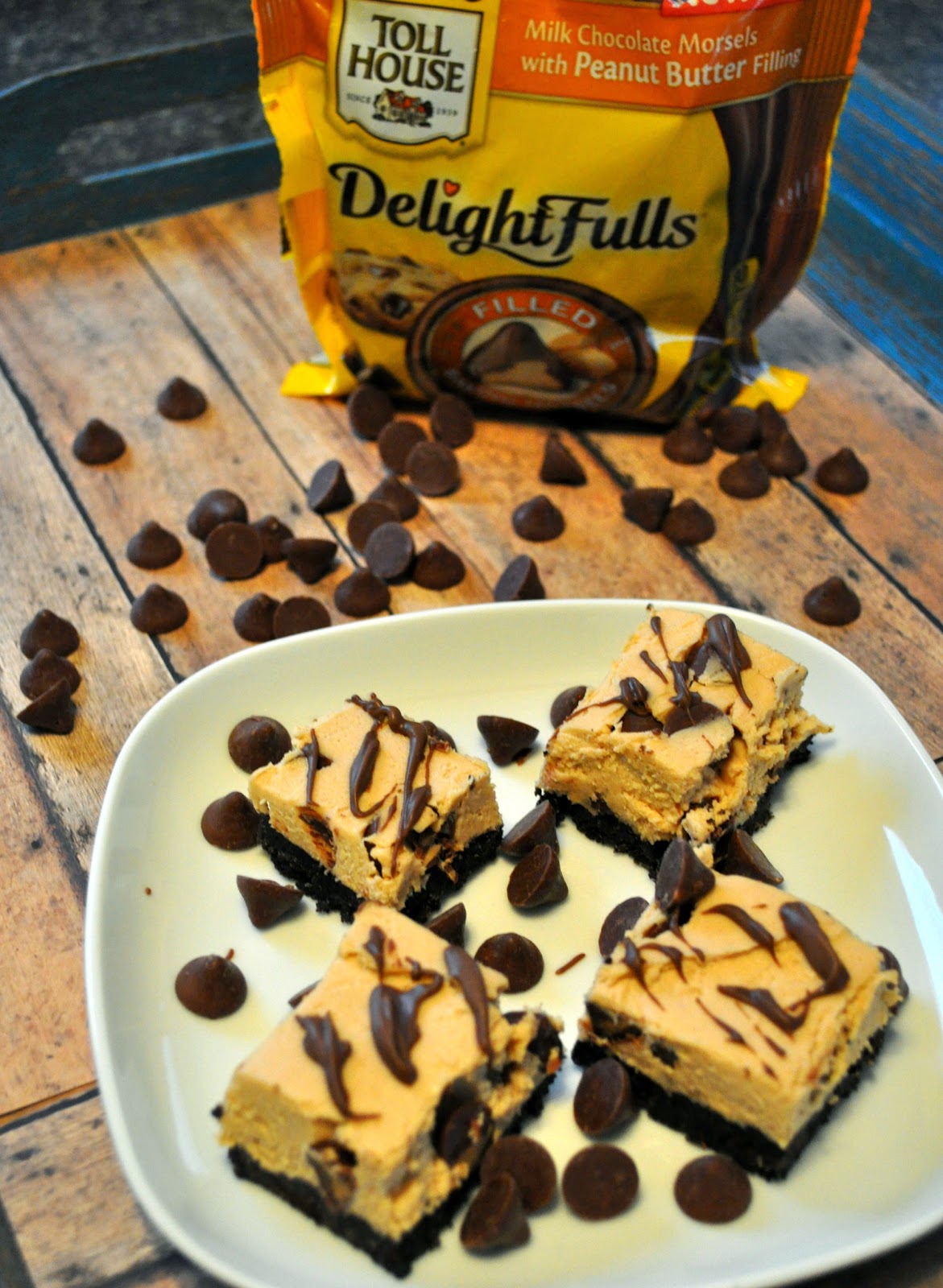 I've seen the ads for the new
NESTLÉ® TOLL HOUSE® DelightFulls™ Peanut Butter Filled Morsels
and had to try them. They have other flavors (cherry, mint and caramel) but peanut butter is by far my favorite! There are all sorts of things to make with these – but my husband has been wanting to try something like cheesecake for a while now – so I got to work!
First, I crushed chocolate cookies in a ziploc bag. Then I added melted butter and made a crust. Then I mixed together peanut butter & cream cheese and folded in the
DelightFulls™ morsels
. I spread the cream cheese mixture on top of the crust and done-zo!
These Cheesecake Bites are delicious! I really like the
DelightFulls™ morsels
– they're a little bigger than regular chocolate chips and so tasty! I might have eaten the rest of the bag as a snack while I was making dessert. 😉
No Bake Chocolate Peanut Butter Cheesecake Bites (egg-free)
Ingredients
18 chocolate sandwich cookies
1/2 stick butter
1 pkg Cream Cheese, softened at room temperature
3/4 cup peanut butter
Instructions
Crust

Melt 1/2 stick butter
Line 8×8 baking dish with aluminum foil and brush with 1 T of the melted butter
Crush 18 chocolate sandwich cookies
In a bowl, stir the rest of the melted butter into the crushed cookie crumbs and mix
Press cookie crumbs firmly into the 8×8 pan
Refrigerate for 1 hour

Topping
Serving

Remove from freezer and, using foil, lift the bars from the dish and set on a cutting board
Slowly peel aluminum foil from the crust and set back on board
Cut into bite-size squares with large chefs knife (you may need to clean it between cuts)
Melt remaining 1/4 cup morsels in microwave safe bowl. Stir and drizzle on top of bites