The folks over at Cooking Light have been so good to me – not only do I get their magazine every month – I also get surprised with cookbooks on a regular basis – LOVE IT!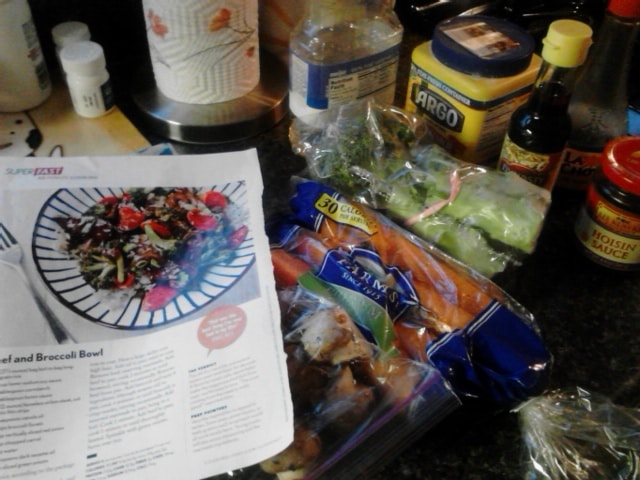 This month I found the
Beef and Broccoli Bowl
and knew that I had to make it. Larry loves rice – so I knew he'd like it as well. I had all my ingredients together and had made my first purchase of Hoisin Sauce!
This recipe has you cook the beef and set it aside – then cook the veggies. It said to marinate the meat then cook the meat but save the marinade for the sauce. I think maybe I had more meat than the recipe called for because there really wasn't any marinade leftover – it was all attached to the meat though – so it still made it as a sauce.
I added some mushrooms because they were in the fridge and had a little less broccoli left than it called for – but really – it's stir fry – you can improvise.
Then you mix it all together and serve over rice – DELICIOUS!
Beef and Broccoli Bowl
Cooking Light OCTOBER 2012
Yield: Serves 4 (serving size: 1 cup stir-fry and about 1/2 cup rice)
INGREDIENTS
1 (3 1/2-ounce) bag boil-in-bag long-grain rice
1/4 cup lower-sodium soy sauce
1 tablespoon cornstarch
1 tablespoon hoisin sauce
1 (12-ounce) boneless sirloin steak, cut into thin strips
2 teaspoons canola oil

2 cups broccoli florets

1 cup vertically sliced red onion

1 cup chopped carrot

1/2 cup water

2 teaspoons dark sesame oil

1/3 cup sliced green onions



PREPARATION
1. Cook rice according to the package directions.
2. Combine soy sauce, cornstarch, and hoisin in a medium bowl. Add beef; toss to coat.
Heat a large skillet over high heat. Add oil to pan; swirl to coat. Remove beef, reserving
marinade. Add beef to pan; cook 2 minutes or until browned, stirring occasionally.
Remove beef from pan. Add broccoli and next 4 ingredients (through sesame oil) to pan;
cook 4 minutes or until broccoli is crisp-tender, stirring occasionally. Add reserved marinade
to pan; bring to a boil. Cook 1 minute. Add beef to pan; cook 1 minute or until thoroughly
heated. Sprinkle with green onions. Serve over rice.