My good friends at Cooking Light have a great deal going on right now where you can get six issues for just $6! (Click on the magazine cover to the left.) They also – as a part of their
blogger network
– send me a free subscription – which is fun because then I get to try things and share them with you.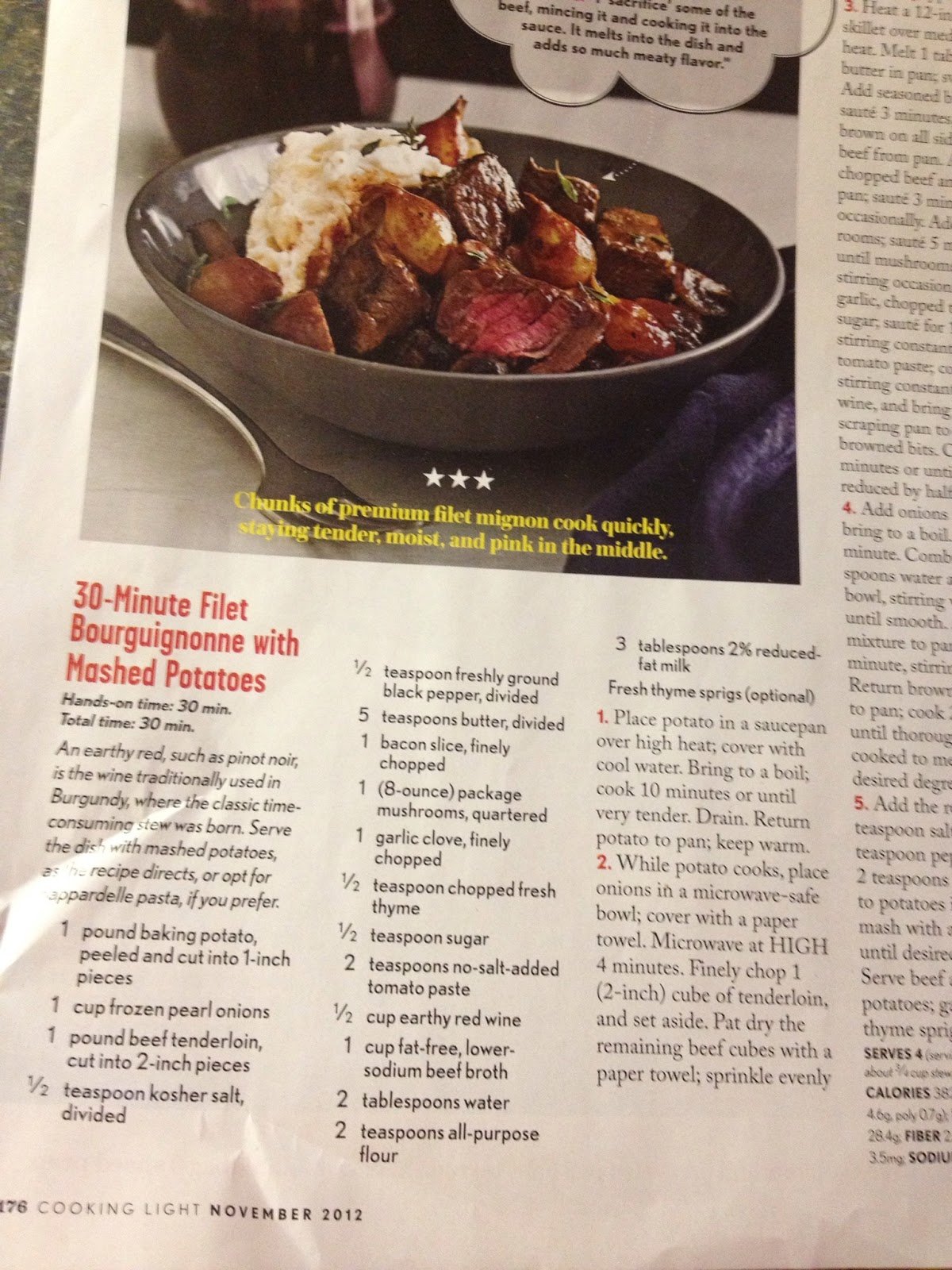 The ingredients gave me a couple of hiccups – we don't like onions much – so I omitted those. I don't drink red wine – so sure didn't feel like buying a bottle of it – so I went with all broth instead. Lastly the ingredient of "beef tenderloin" was a little generic and the "butcher" at Kroger wasn't too helpful – so I came home with stew meat which I'm not sure was the right choice. But onward and upward!
First I had to brown the meat – I made sure to not brown it too long in hopes of keeping it more on the rare side. After that, I removed the beef and set it aside.
Then I diced a couple of pieces of the beef and fried that with 2 slices of bacon in the same skillet…
Then I added mushrooms…
While all this is going on – I started out dicing 3 russet potatoes into 1 inch chunks and boil them for 10 minutes.
Add spices, tomato paste and broth – then simmer and thicken the sauce…to help it thicken you add a little slurry of flour and water as well.
Then to the potatoes mix in salt, pepper, butter and milk – mash and you're good! This was super simple and the plastic masher I had did the trick just fine. The key is just having uniform dice to the potatoes so you know they're all cooked the same.
Add the beef back to the sauce and mix it all together…
And there's dinner! Potatoes and then top with the beef/mushroom mixture.
I really missed the boat I think with my meat choice – the butcher said that stew meat is hit and miss because it's really leftovers from whatever they cut that day. I think next time I'll head to the local true butcher shop down the street. I also think I'll spring for one of those mini bottles of red wine and try it with that.
This was good but not amazing – I realize that a couple of short cuts might have caused it to suffer a bit.
But it was still tasty and the leftovers made a great lunch the next day. Thanks to Cooking Light for healthy alternatives to very rich dishes.