I was really excited to get this month's issue of
Cooking Light
! It's the Best Recipes of the First 25 Years!
One of the first items I found while flipping through the issue was the Spiced Pork Tenderloin with Sauteed Apples. Larry's been talking about having sauteed apples – so I thought this would be a good way to try it.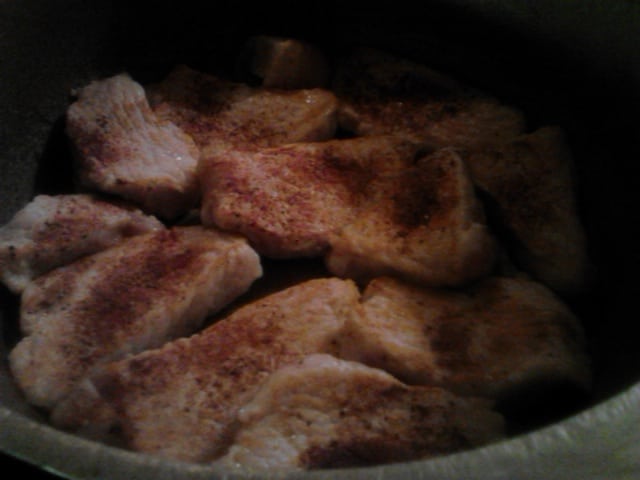 It's really easy – it's actually listed as a 20 minute recipe – and it is – with one caveat: don't include prep. Slicing a tenderloin, apple and shallots takes about another 20 minutes.
So you mix up a few spices, slice up a 1-lb tenderloin and sprinkle the spices over top. Cooking spray the pan and cook the pork 3 min on each side…remove the pork and keep it warm.
And here are my sliced apples and shallots. I need to buy a mandolin – that slicing apple shiz was for the birds! The annoying thing about the recipe was "2 cups of sliced apples" – well how damn many apples is that? Turns out it was one big Gala.
After you remove the pork, you melt a couple tablespoons of butter and then saute the apples, shallots and a touch of salt. Then after a few minutes, you add some apple cider (we don't like cider, so just used apple juice) and fresh thyme (Meijer was out so I used fresh savory). Cook down a couple minutes and you're done!
And I finally got to use this! I wanted a dutch oven but the Le Creuset's are so expensive – earlier this year I got this puppy at an estate sale for THREE DOLLARS! It's not LC – but hey – it's fine for me!
And voila – pork tenderloin slices with sauteed apples and shallots from Cooking Light!
Spiced Pork Tenderloin with Sautéed Apples
Yield:
4 servings (serving size: 3 pork medallions and about 1/2 cup apple mixture)
Total:
Ingredients
3/8 teaspoon

salt

1/4 teaspoon

ground coriander

1/4 teaspoon

freshly ground black pepper

$

1/8 teaspoon

ground cinnamon

1/8 teaspoon

ground nutmeg

1 pound

pork tenderloin, trimmed and cut crosswise into 12 pieces

$

Cooking spray

$

2 tablespoons

butter

$

2 cups

thinly sliced unpeeled Braeburn or Gala apple

$

1/3 cup

thinly sliced shallots

1/8 teaspoon

salt

1/4 cup

apple cider

$

1 teaspoon

fresh thyme leaves
Preparation
1. Heat a large cast-iron skillet over medium-high heat. Combine first 5 ingredients; sprinkle spice mixture evenly over pork. Coat pan with cooking spray. Add pork to pan; cook 3 minutes on each side or until desired degree of doneness. Remove pork from pan; keep warm.
2. Melt butter in pan; swirl to coat. Add apple slices, 1/3 cup shallots, and 1/8 teaspoon salt; sauté 4 minutes or until apple starts to brown. Add apple cider to pan, and cook for 2 minutes or until apple is crisp-tender. Stir in thyme leaves. Serve apple mixture with the pork.
Note:
This
recipe
originally ran in Cooking Light October, 2010 and was updated for the November, 2012 25th anniversary issue.