Last month I went to a new pub in Northern Kentucky and we had a mashed potato flatbread pizza appetizer – it was really tasty and gave me a great idea for how I could make it at home!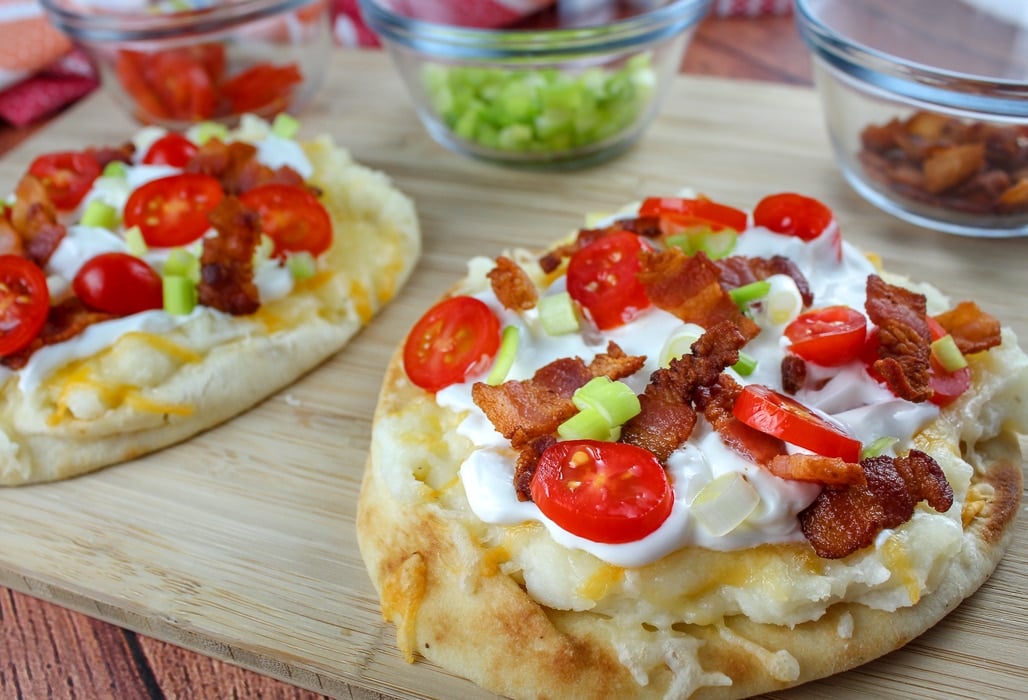 Their flatbread was fried – and then topped with mashed potatoes, cheese, sour cream, tomatoes, bacon and scallions. I changed mine up a touch – but it's just as tasty!
I love mini-naan bread – I use them all the time! They are great for pizzas and sandwiches – especially in my air fryer! If you want to make a larger one – you can use the regular size but the mini-naan are perfect for one person!



Then the fun part – picking out the toppings for your mashed potato flatbread pizza! I went with colby jack cheese, sour cream, bacon, tomato and scallions. For the bacon – you can use precooked but I like to cook mine fresh – it's so much better. Just dice up 2-3 slices of bacon and they cook up very quickly!
This mashed potato bacon pizza recipe is super quick and easy – it's perfect for a long day at work. Come home and it's together in 5 minutes and then cooks in 8 minutes! You just top your naan with mashed potatoes and cheese – then bake. While it's baking – prep your bacon, tomatoes and scallions.


This is also a great way to use leftover mashed potatoes! Most nights I'm just cooking for one now and it's impossible to make mashed potatoes for one! So I just make a regular amount and save the leftovers for recipes like this one!
Here are some of my other favorite leftover mashed potato recipes:


Potato Kale & Sausage Soup
Potato Pancakes
No Peek Beef Tips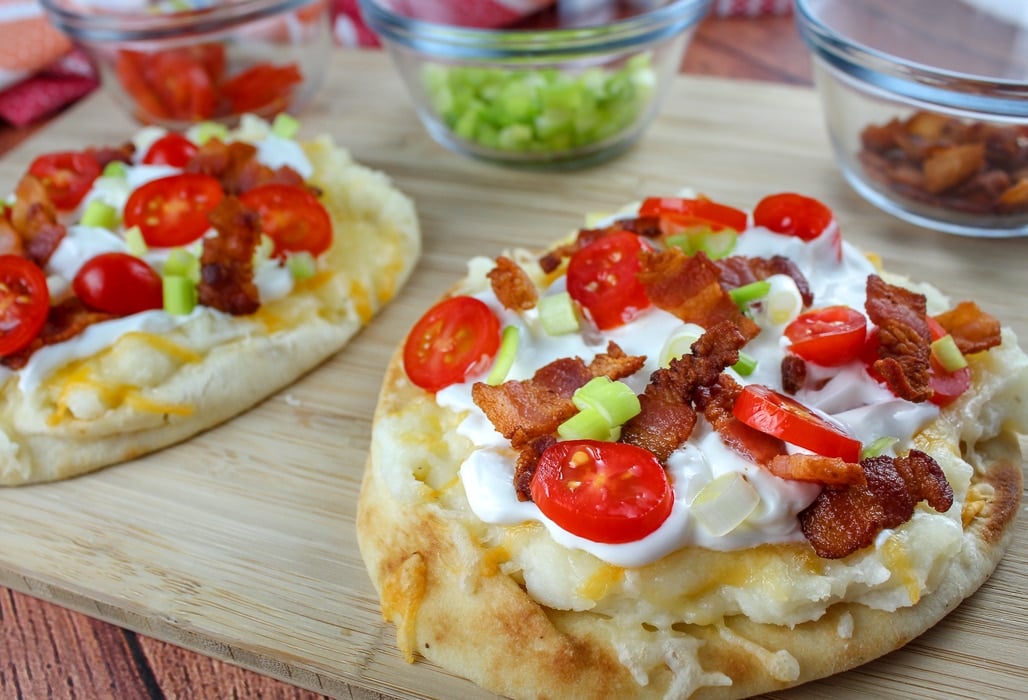 Copycat Loaded Mashed Potato Flatbread Pizza
prep time: 5 M
cook time: 8 M
total time: 13 M
These loaded mashed potato flatbreads are so yummy! Comfort food at its finest and it makes a great 10 minute dinner! It's also a great way to use up leftover mashed potatoes!
ingredients:
1 1/2 cups mashed potatoes, warmed (you can either use instant or reheat leftovers)
1/2 cup colby jack or cheddar cheese, grated
1/3 cup sour cream
1/4 cup sliced scallions
1/4 cup grape tomatoes, sliced
3 slices bacon, diced
instructions:
How to cook Copycat Loaded Mashed Potato Flatbread
Preheat oven to 375
Lightly spray cookie sheet with non-stick spray
Place naan bread on cookie sheet
Spread 1/2 mashed potatoes on each piece of naan
Top each with 1/2 cheese
Bake for 5 minutes
Change oven to Broil – High and broil for 2 minutes (watch it closely!!)
(NOTE: you can also air fry for 4-5 minutes at 375 instead of using the oven)
Remove from oven and top with sour cream, scallions, tomatoes and bacon
Serve!
Recommended Products:
cookie sheet
Small Air Fryer
Cutting Boards
Did you make this recipe?
Tag
@foodhussy
on instagram and hashtag it #foodhussyrecipe