I've loved the Monster Trail Mix at Target as long as I can remember! It's the perfect mix of all the things I love – salty, sweet and crunchy! Every time I stop at Target – I end up throwing a bag in my car – but man that gets expensive!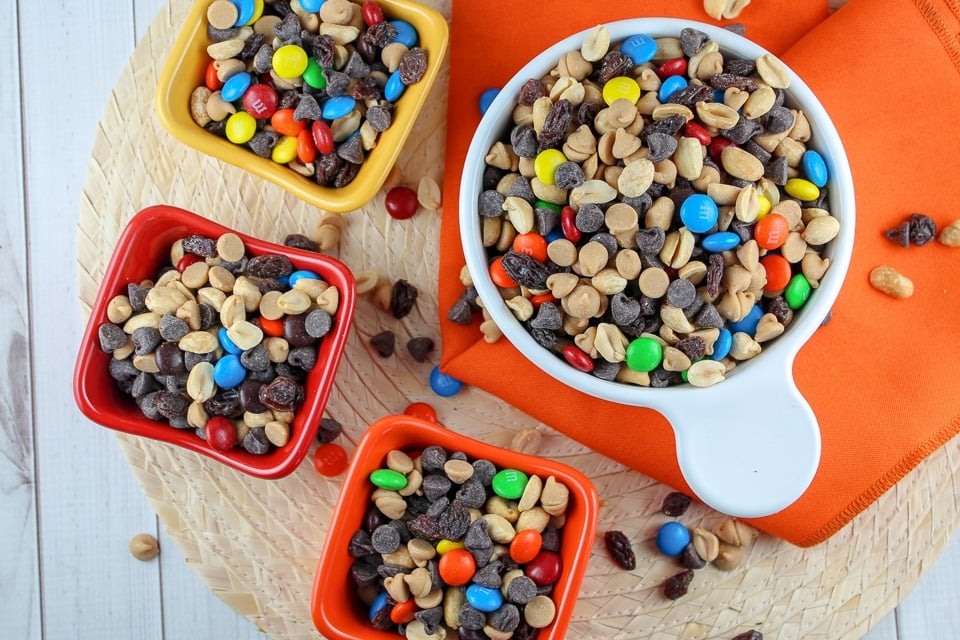 I'm also packing my lunch for work again – and this is a great snack to have in my lunch bag! So I decided to make my own Copycat Monster Trail Mix!
How to make Monster Trail Mix
Who am I kidding? It's easy peasy! But you have to have the ratio down just right! Get your ingredients together and one batch of ingredients can make 8+ cups of Monster Trail Mix!


Gather up peanuts, raisins, M&Ms, chocolate chips and (my favorite) peanut butter chips.



When I make Monster Trail Mix – I have to portion it out into 1/2 cup zipper bags as soon as I make it. If I don't – I'd be eating the whole bowl in a day! This helps me so I can take it for lunch. I made a 4 cup batch for this recipe and that's 8-10 lunch snack packs!



Is Monster Trail Mix gluten-free?
Yes! I checked each of the ingredients and everything is Gluten-Free.


Enjoy this Copycat Monster Trail Mix for a snack or pack in the kids lunches. You'll definitely enjoy it! Salty, sweet and crunchy – what more could you want?

Copycat Monster Trail Mix Recipe
prep time: 5 M
cook time:
total time: 5 M
The Archer Farms (aka Target) Monster Mix is my favorite trail mix. Every time I go to Target – I grab a bag. My favorite part – the peanut butter chips! This recipe is really easy to make and IT'S A TON CHEAPER than buying it! Enjoy!
ingredients:
1/2 cup raisins
1 cup semi-sweet chocolate chips
1 cup peanut butter chips
1 cup m&ms
1 cup salted peanuts
instructions:
How to cook Copycat Monster Trail Mix
Mix all ingredients together in a large bowl and stir
Pour 1/2 cup into zipper baggies and you've got snacks to go for packed lunches!