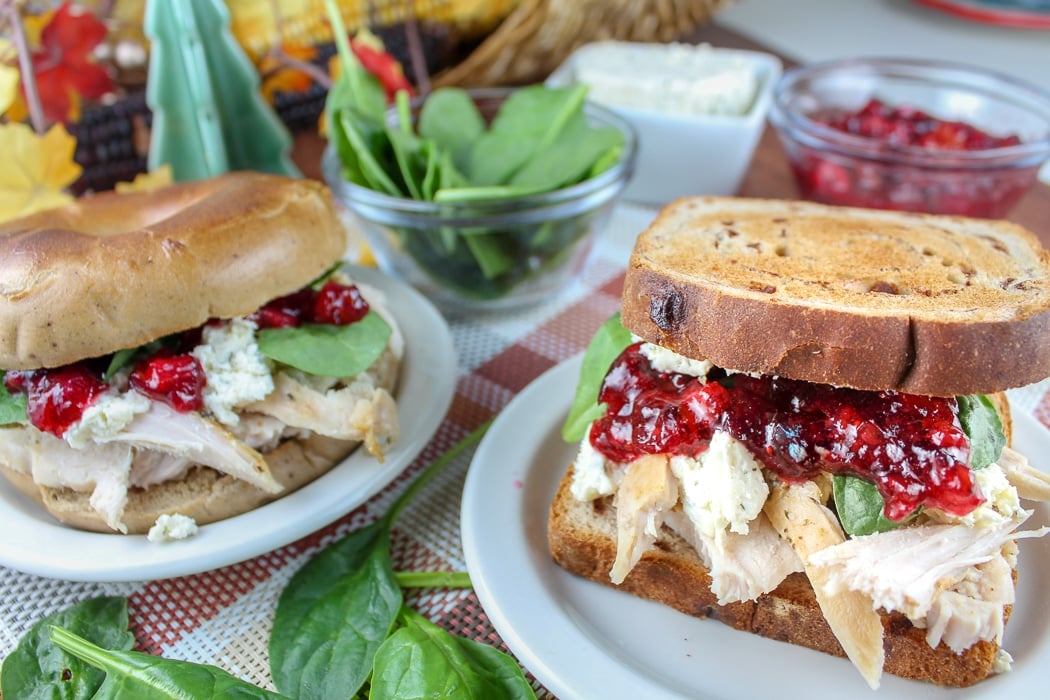 This sandwich has everything! ToB served it on a pumpkin spice waffle – but I tried to make it easier and used Cranberry Swirl Bread and a Pumpkin Spice Bagel – both were delicious! Now – what's inside???
First you start with leftover turkey meat! Luckily I had recently had a Friendsgiving dinner with my neighbors with the Farmhouse Feast from Bob Evans. I made sure to snag a few slices of leftover turkey! Then you pile on cranberry sauce, baby spinach (or arugula) and Boursin cheese – that's it! It's so amazing!
Can you freeze Thanksgiving leftovers?
Definitely! I froze the turkey slices because I wasn't sure when I was going to have the chance to make the sandwich. I defrosted them in the microwave and then popped them in the oven wrapped in foil for 8 minutes. You can also freeze pumpkin pie, mashed potatoes and green bean casserole! With the green bean casserole – just add fresh and crunchy French fried onions on top and you'll never know it was reheated!
I promise you this Thanksgiving leftover sandwich is going to be the best way to eat your leftovers! I was so surprised at how it transforms into something new! The cranberry sauce and Boursin cheese did the trick!


I used swirl bread – which always comes in Cinnamon – but if you look you can find cranberry swirl during the holiday season! I also tried it with the Pumpkin Spice bagels – they were really good too! I definitely liked both!
People always ask me for Thanksgiving leftover tips! I think the key is freezing anything you have very much of – whatever it is. Don't force yourself to eat turkey and stuffing for a week! Just freeze it and then in a month or two – you'll be so excited to have it again! Depending on what it is and how much – sometimes I'll package up the leftovers to have a Thanksgiving meal again – but if I have a bunch of one thing (like mashed potatoes) – I'll freeze that separately and use for something else later.
What can you do with Thanksgiving leftovers?
Here are a few of my favorite next day meals:


– Super Easy Leftover Turkey Casserole
– Leftover Ham & Potato Casserole
– Mom's Quiche – swap out the ingredients and add turkey, vegetables and cheese and you've got a Thanksgiving Leftover Quiche!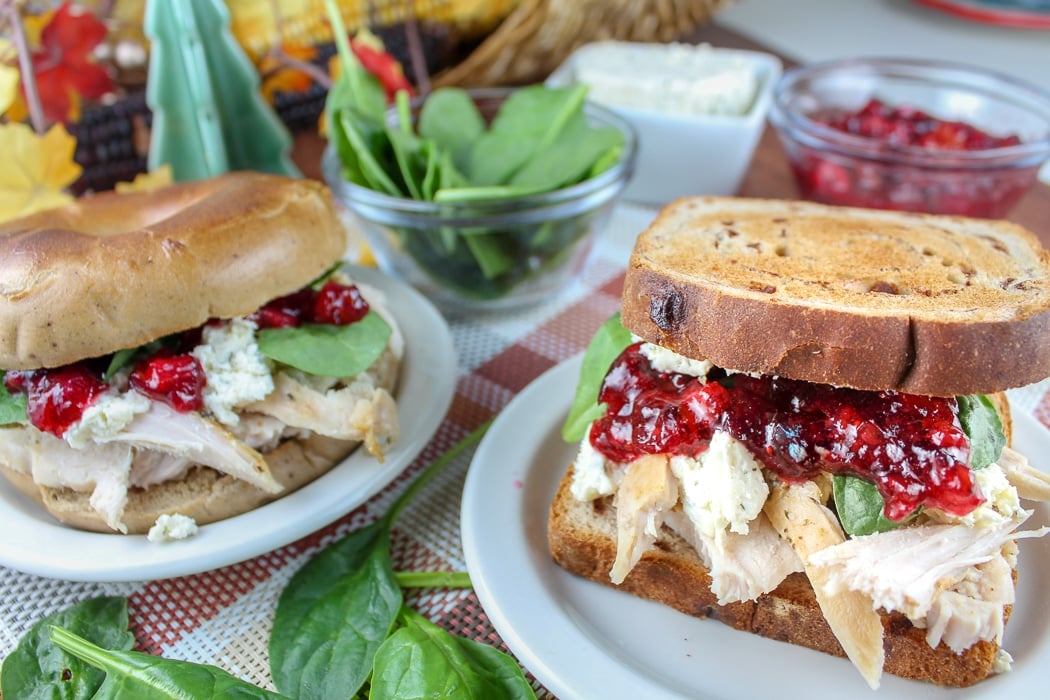 Copycat Thanksgiving Leftover Sandwich
prep time: 5 M
cook time: 5 M
total time: 10 M
Recently I went to Taste of Belgium here in Cincinnati and had this amazing Thanksgiving sandwich! I couldn't help but remake it myself!!! This is remaking your Thanksgiving leftovers into something new and delicious! And I found out I love cranberry sauce! Who knew?!
ingredients:
4 slices Cranberry Swirl Bread or 2 Pumpkin Spice Bagels
4-5 slices leftover turkey
1/4 cup cranberry sauce
3 oz Boursin cheese
1/2 cup baby spinach
instructions:
How to cook Copycat Thanksgiving Leftover Sandwich
Toast bread or bagels
Layer bread with turkey, cranberry sauce and spinach on bottom piece of bread/bagel
Spread Boursin cheese in thick layer on top piece of bread/bagel
Sandwich it up!
NOTES:
– If you haven't tried cranberry sauce – try it!!! It's amazing!
– You can substitute cream cheese or goat cheese if you don't have Boursin
– You can use any kind of delicate greens – I recommend arugula, baby spinach or spring greens – avoid iceberg/romaine
Recommended Products:
Toaster
Boursin Cheese
Turkey, Pie & Football Tea Towel
Did you make this recipe?
Tag
@foodhussy
on instagram and hashtag it #foodhussyrecipe