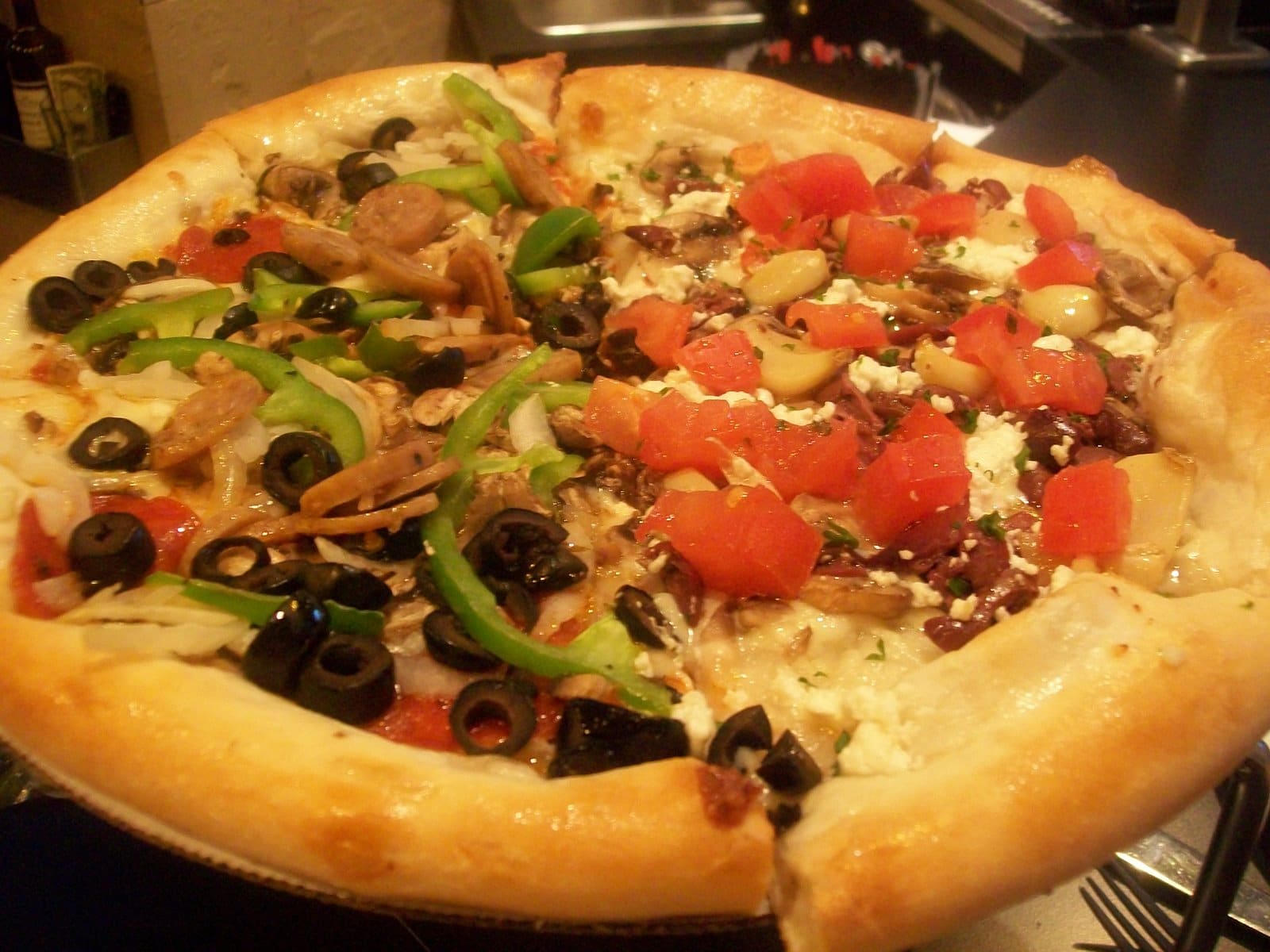 Doesn't that look delicious? I mean – man – who couldn't eat a whole damn Dewey's pizza right now?!!! I decided that it's almost a place that doesn't need to be reviewed – I mean – who DOESN'T know that Dewey's is amazing?! But then I am reminded that this week was my 5 year anniversary of living in the 'Nati!
Yes – 5 years ago – Cincinnati was subjected to – I mean – GRACED with my presence! The Food Hussy was born!
So this blog might be for the unborn Food Hussy Jr. – the budding foodie that's waiting in the wings to try and dethrone the hussy! (Yeah right – like that could happen!)
We had to start with the Dewey's house salad. Here's their description:
A mix of Field Greens and Romaine Lettuce,
toasted Pine Nuts, Sun-Dried Cranberries and
Goat Cheese tossed with Dewey's own House
Dressing (Balsamic Vinaigrette)
It's really my favorite – I love it so much that I'm now addicted to craisins and goat cheese. Damn you Dewey's!!!!
Scott and I decided to do a half-and-half. First half – Bronx Bomber – [Red Sauce, Mozzarella Cheese, Pepperoni, Sausage, Mushrooms, Onions, Green Peppers, Black Olives]. The toppings are fresh, the taste is great, always light on the sauce and amazing crust. The crust is so light and fluffy and golden and just mm mm good!
The other half – Edgar Allan Poe – [Olive Oil, Mozzarella-Fontina Blend, Mushrooms,
Roasted Garlic, Kalamata Olives and Goat Cheese, with Fresh Tomatoes and Parsley after the bake]. Again – just great pizza. The garlic was maybe a little under done…and it could have had a little more goat cheese – but all in all – good.
I liked this half better and Scott liked the other half better – luckily – those were each of our choices!
This visit was my first to the Clifton location…I don't enjoy it as much as some of the others. Newport & Oakley are my favorite.
So any Dewey's favorites for the internet world out there? I've heard rumblings of a secret pizza not on the menu – the Dr. Dre?! I'm a huge Eminem/Dr Dre fan – so I must try this next time!!!
There are 6 Dewey's locations in the tri-state area…check em out!