Seriously – how do you say no to this face?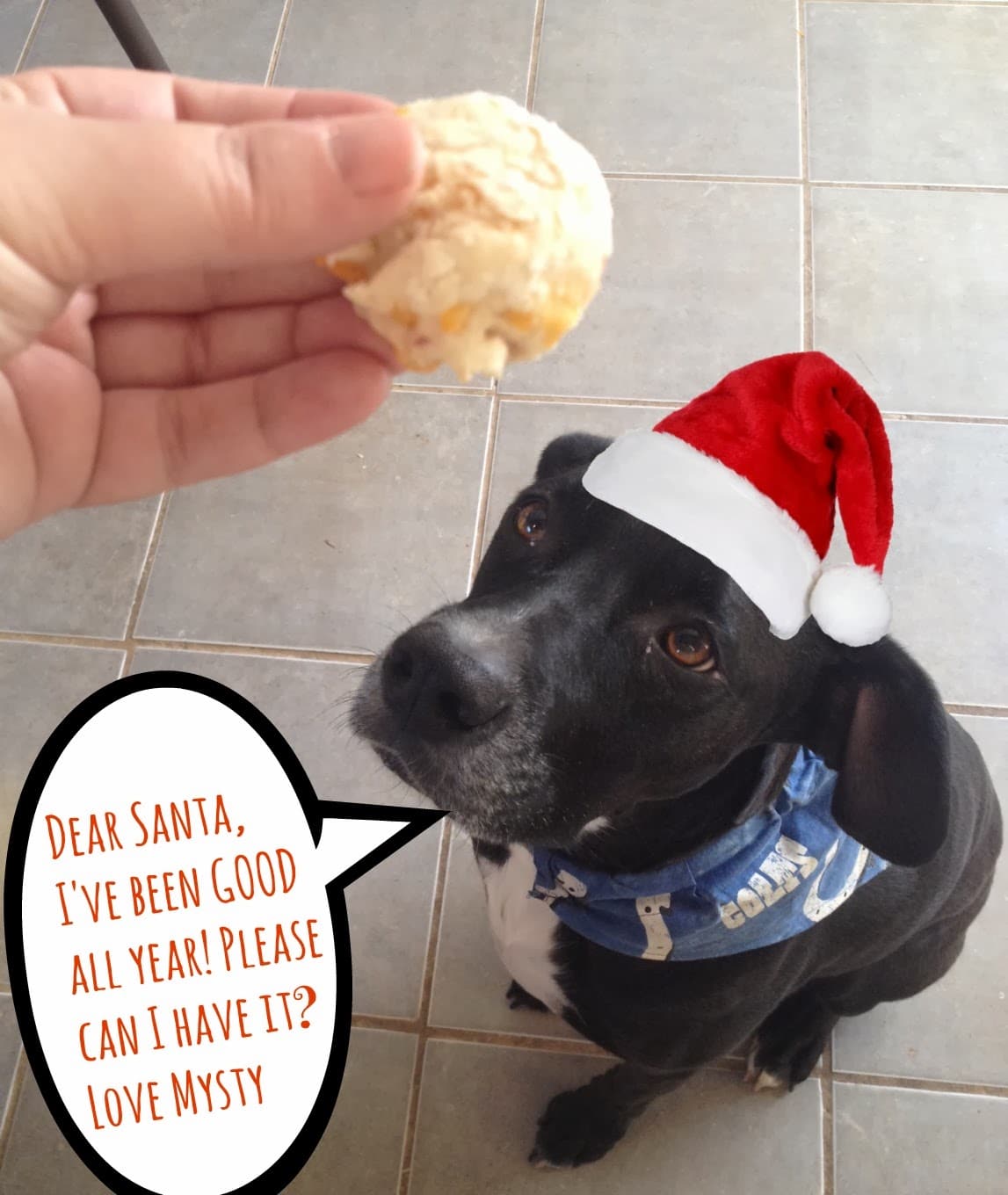 That's the thing – I can't say no to her.
What does that mean? I go through dog treats like they're going out of style. Mysty & Wiener are PIGLETS! Their favorite treats are Meaty Bones – but
sometimes I take a crack at making some myself
. It was time for another round of treats – so I found a new recipe!
The folks at WiltonArmetale wanted me to try out this griddle grillpan ($49.99). It's not quite warm enough for grilling – but I wanted to at least test it out in the oven. The nice thing about their pan is that it can go on the stovetop as well. I think we'll be making pancakes very soon!
The recipe for the puppy treats was pretty simple – mix flour & baking powder – then add bacon!!! I bought the pre-cooked bacon and diced it up.
Next add cheddar cheese – cuz all dogs love cheese! One of my friends even has a dog NAMED CHEESE!
Then add a cup of milk and you get a sticky thick dough. It was a bit tough to work with but I managed.
From there you make balls out of the dough. I had to add flour to my hands to be able to make balls out of these. I did spray the pan really lightly since it doesn't appear or claim to be non-stick.
I really liked how lightweight the pan was. The rim around the edge is great too – in case there is oil or juices – you don't have to worry about it leaking over. This would be great in the summer to grill up peppers, onions & mushrooms to go with steak. It also won't crack, chip, rust, dent or tarnish!
The other cool thing is that they have a lot of shapes/sizes of those – so if that griddle isn't what you need – they might have something else that works better for you! (bread serving tray, fry pan)
After baking them for 20 minutes – you've got some delectable little puppy biscuits!
The dogs liked these biscuits a lot – Mysty (big dog) liked them more than Wiener. I'm not sure if they were a little dry or just too big for him. They're not difficult to make and have pretty common ingredients – plus you can substitute as needed with whats in the fridge. I mean – you could even throw veggies in there! I kept them in an air-tight container and they lasted a couple of weeks.
Cheesy Bacon Puppy Treats!!!
Ingredients:
2.5 cups flour
1 Tablespoon baking powder
1/4 cup cooked bacon, chopped
1/4 cup cheddar cheese, shredded
1 cup milk
Directions:
– Preheat oven to 350
– In large bowl, combine flour & baking powder
– Add bacon & cheese, stir
– Add milk, stir until a dough forms – use more flour if you need to
– Roll dough into balls (use flour if it's too sticky)
– Place on cookie sheet and bake for 10 minutes, flip and bake 10 minutes more