Seriously – how could you resist this face?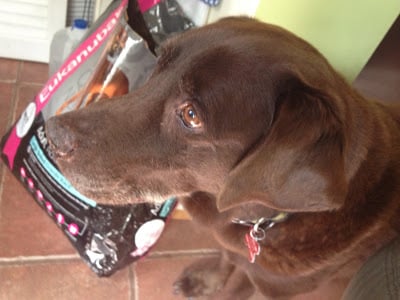 I mean come on. Look at that boy.
For our spring DIY day – we decided to take care of our puppies and make DIY dog treats for our fur babies! I found recipes on the internet for baked, no bake and frozen! (All at the end with links) Best of all – you probably have all the ingredients in your house right now to make these treats! (And even try them yourself.)
The baked ones were really easy – whole wheat flour & baby food. Mix & roll out dough…
Then use fun cookie cutters for the shapes…
And bake! They get puffy and are very light. We tried all of the treats (haha – seriously) because they are edible. These were really bland. Why would a dog like these? But they do!
Also – we did not double this recipe but we did split it into 2 batches – one for each jar of baby food (rather not mix beef and sweet potato). This makes a LOT of cookies! Depending on the baby food – you might need to add a bit of water. One was less moist than the other.
Next up was no bake! And coincidentally – this is the same recipe all over Pinterest for "no bake energy bites". So this one is most definitely people & dog friendly. You mix oats (we used quick cooking), peanut butter, honey and granola (I know – sounds good – right?!).
Form into balls and refrigerate. Boom. Done. These were a big hit with the dogs (and us – seriously – they were tasty!)
For the three of us – looking back – I might have doubled this. This was the most popular in taste and made the fewest.
Last up were the frozen ones – again – super simple! Mix together a banana, peanut butter, honey and yogurt – then drop it with a melon baller into ice cube trays or cleaned, used egg cartons. Then you freeze overnight. Frosty Paws in about five minutes – and no preservatives or chemicals!
We tried this as well – I don't like smoothies (cuz I don't like yogurt) but that's basically what this is. Having said that – after trying a little bite – pretty tasty!
As far as quantity – we doubled this one but probably didn't need to – it made quite a bit.
After all that – then the real test – we all tried them – but what about our dear sweet Tucker?
Yeah – he loved them – all of them! We had to cut him off.
DIY day is really my favorite girlfriend activity now – it's so much fun planning what we're going to do and then working together to make something fun! This one was really fun since all three of us have dogs – it was great to find out later if everybody's pooches were as happy as Tucker (they were).
I purposely looked for really simple recipes – there are ones that are far more complicated – but we're there to spend time with each other – not make a 20 ingredient, 30 step recipe. These were super simple, really cheap and best of all – dog approved! Mysty, Murphy and Tucker all agreed on that!
I think next month is bath treats or jam – depending on when we can fit it in! (I'm hoping for jam!)
Here are all of the recipes – enjoy!
§
2 cups 100%
organic whole wheat flour (or wheat germ, or spelt, or rolled oats, or a
mixture of these, etc.)
§
2 (4oz) jars of
pureed baby food – beef, blueberry, sweet potato, chicken – whatever. Just make
sure there are no onions/onion powder in it*. Avoid any with artificial
preservatives (should be easy, most are just pureed veggies and water).
2. Mix together to form a stiff
dough. If necessary, add extra flour or water as needed.
3. On a lightly floured surface,
roll out dough to about a 1/4 inch thick. Use cookie cutters to cut into
desired shape or a pizza cutter to make cubes.
4. Line a cookie sheet with
parchment paper, place treats about 1/2 inch apart. Bake for 20 – 25 minutes.
Allow to cool completely before storing in a paper bag (storing in an
air-tight container will make them soft, but they're still edible).
1 cup oats
1/2 cup peanut or almond butter
1/3 cup honey
1/3 cup granola
1. Stir all ingredients together
in a medium bowl until thoroughly combined. Chill in the refrigerator for at
least 30 minutes. Remove from the refrigerator and roll into 1-inch balls.
Store in an airtight container between wax paper and keep refrigerated for up
to 1 week.
2 tbls creamy
peanut butter
2 or 3 6oz.
yogurt cups — this is where you can get creative. I usually use vanilla but one
time, all I had was strawberry and mixed berry so I made them with that and
they loved those as well!
Blend ingredients together in a bowl, and I
like to use a melon baller to scoop them into a mini cupcake pan. (If you don't
have a mini cupcake pan then you could use ice cube trays.) Then freeze overnight,
pop out with a knife and store them in the freezer! I usually bag about 5-6
treats per baggie. Brody comes running when he hears the freezer and a zip-lock
baggie opening!