I'm all about making dog treats for the fur-kids – they're so much healthier and pretty easy to make. They haven't completely replaced processed, packaged treats – but I'm trying to use them a lot more. That said – I love when I can find easy, no-bake recipes and here's a great one!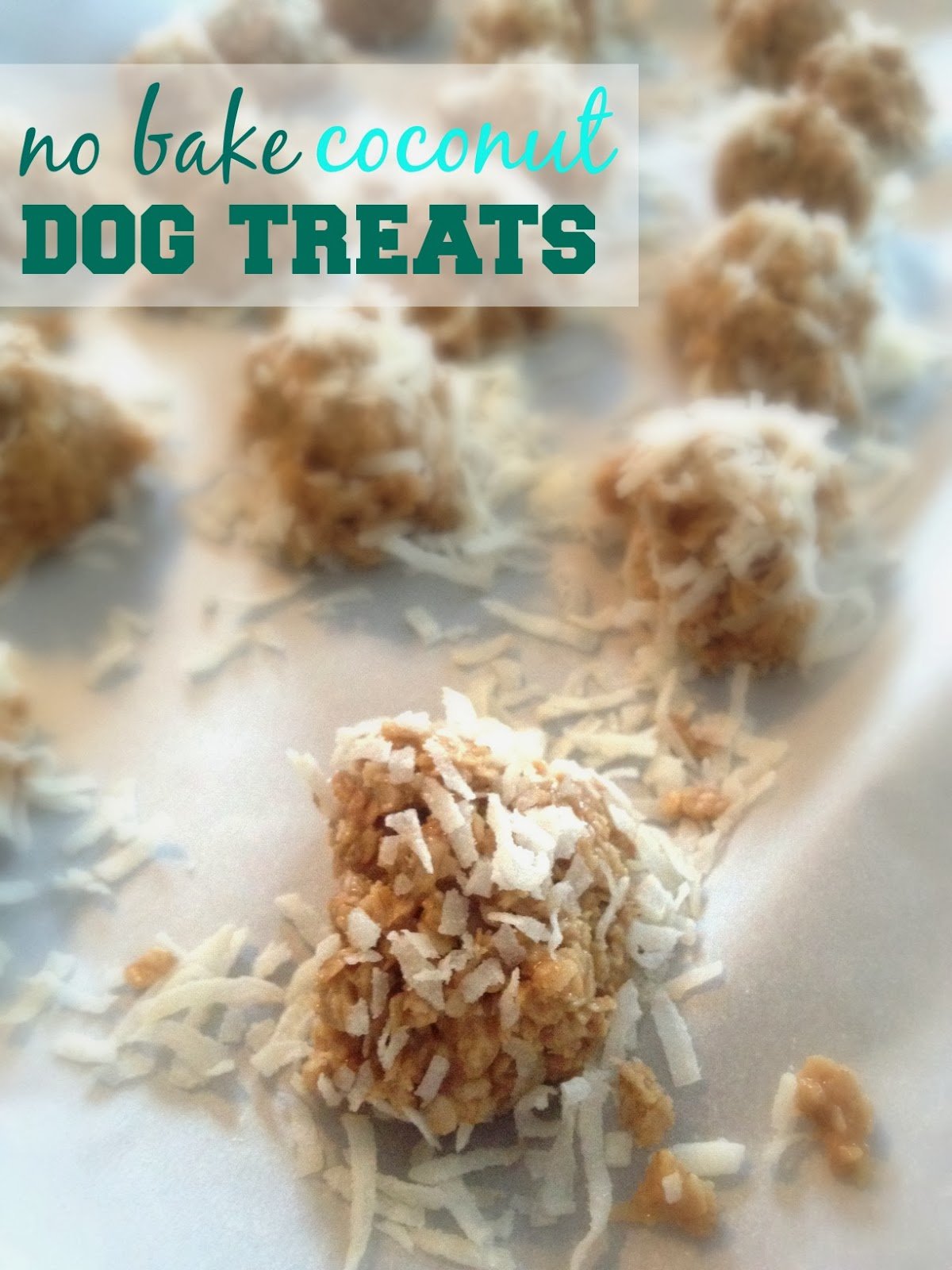 These dog treats were super simple – a little messy – but the dogs loved them! I came across this recipe from PrettyFluffy.com.
Oats, peanut butter, coconut and coconut oil – which I had to purchase. It's a pretty big container but I figure I'll make these again.
You mix the coconut oil, oats and peanut butter together and then roll into balls. I had to heat the oil & peanut butter a bit to make it easier to mix it. Once it's mixed together – I'd recommend chilling for 20-30 minutes. It was fairly difficult to make into balls.
Poor Mysty – she always looks like the saddest, most-abused dog on the planet. And by abused – I mean overfed.
Once they set up – I rolled them in coconut. I don't own a food processor so my coconut wasn't "finely shredded" – it also didn't stick incredibly well. So if you have a little food processor – chop it a little.
I keep these treats refrigerated after making. They just get too mushy when left out. These are also people friendly and they tasted pretty good! haha
My dogs definitely have different strategies when it comes to treats. Mysty goes for the gusto every time.
No Bake Coconut Dog Treats
Ingredients
1/3 cup Coconut Oil
2-3 Tablespoons Peanut Butter
2 1/2 cups rolled oats
1/3 cup finely shredded coconut
Instructions
1. Add coconut oil, peanut butter and oats to food processor and blend well. (I mixed with a hand mixer – it sprayed and was messy – if you have an FP – definitely use it.)
2. Scoop out bite size spoonfuls and roll into little balls. (If mixture falls apart too easily – refrigerate for 20 minutes.)
3. Toss each ball in shredded coconut.
4. Place on a tray lined with parchment paper, refrigerate for 30 minutes.
5. Store in refrigerator.