With the holidays coming up – we're all going to be looking up leftover turkey recipes to use up all that diced up turkey we're going to have! This is the best and easiest casserole to use up those leftovers! I can't wait to share it with you!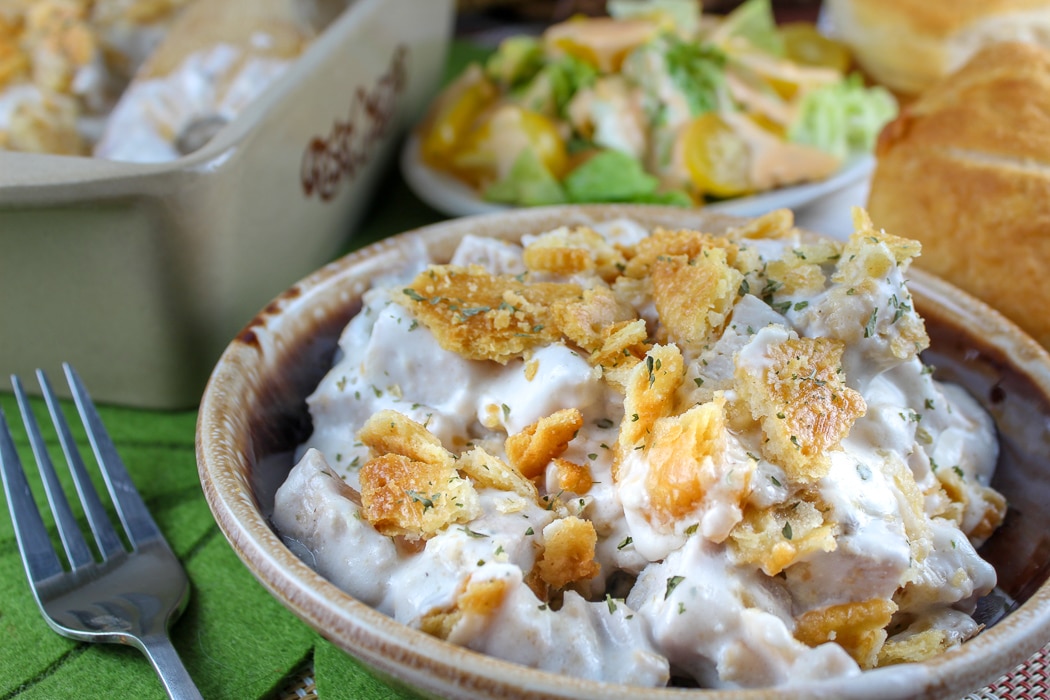 So why is this the best casserole with leftover turkey? Because it only has five ingredients and takes just a few minutes to put together! Plus you get to crush crackers – and that's just fun!
What is turkey casserole?
If you've got leftover shredded turkey – you're always looking for ideas of what to do with it! But then your family might be picky and want
turkey casserole without noodles – I got you! What about the ones that want
turkey casserole with cream of mushroom soup? I got you too! What if you still have a crowd of people and need to feed them? I got you too!
How to make leftover turkey casserole
It doesn't get much easier! Lay out the leftover turkey (shredded or diced) across the bottom of a pan. Mix together cream of mushroom (or cream of chicken) soup and sour cream – smother the turkey with it. Then top with crushed crackers and melted butter! Then bake and you're done!
Can you freeze turkey casserole? Can you reheat turkey casserole?
Sure – you can – but you won't need to – it's so good – it'll be gone before you know it! It's hard to keep the crackers crunchy when reheating – so you can either heat it up in the microwave – or just give up the crunchy and maybe add some new crackers before you eat!
What to serve with Leftover Turkey Casserole?
This easy leftover turkey casserole is great – so I just add a side salad and call it a day. There are no veggies in the casserole – so it's a great way to add some. You can also make some buttermilk biscuits to go with the casserole – always tasty!
Other Thanksgiving Recipes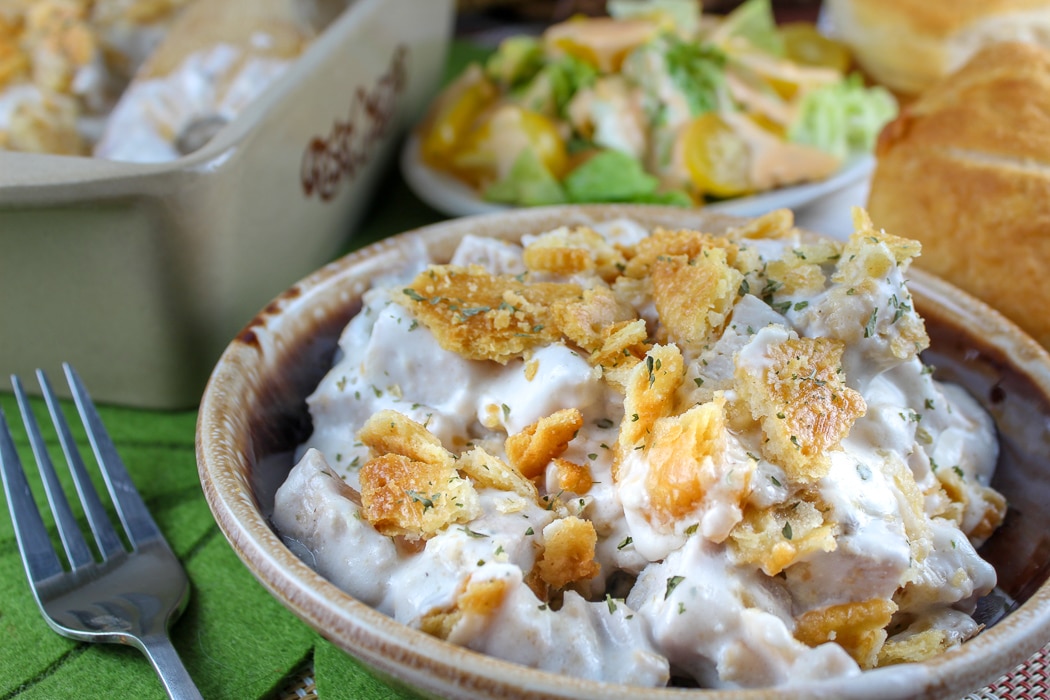 Easy Leftover Turkey Casserole
prep time: 10 M
cook time: 30 M
total time: 40 M
This is the easiest (and probably the tastiest) leftover turkey casserole you're going to find! With only five ingredients – it just doesn't get any better and you can use up all that leftover turkey you're going to have after the holidays.
ingredients:
4 cups chopped cooked turkey
1 can cream of mushroom soup
1 cup sour cream
1/2 sleeve Ritz crackers
1/2 stick butter
instructions:
How to cook Easy Leftover Turkey Casserole
Preheat oven to 350
Spray nonstick spray in 8×8 baking dish
Spread turkey across bottom of dish
Mix together soup and sour cream and pour over turkey
Crumble Ritz crackers over top of soup mixture
Melt butter and drizzle over top of all crackers
Bake for 30 minutes
Recommended Products:
Casserole Dishes
Crackers
Cream of Mushroom Soup
Did you make this recipe?
Tag
@foodhussy
on instagram and hashtag it #foodhussyrecipe