Years ago – I made a whole chicken in a crock pot and that recipe is still my go-to for the easiest and most delicious whole chicken recipe you can find! I make it all the time and then use the shredded chicken for tons of recipes!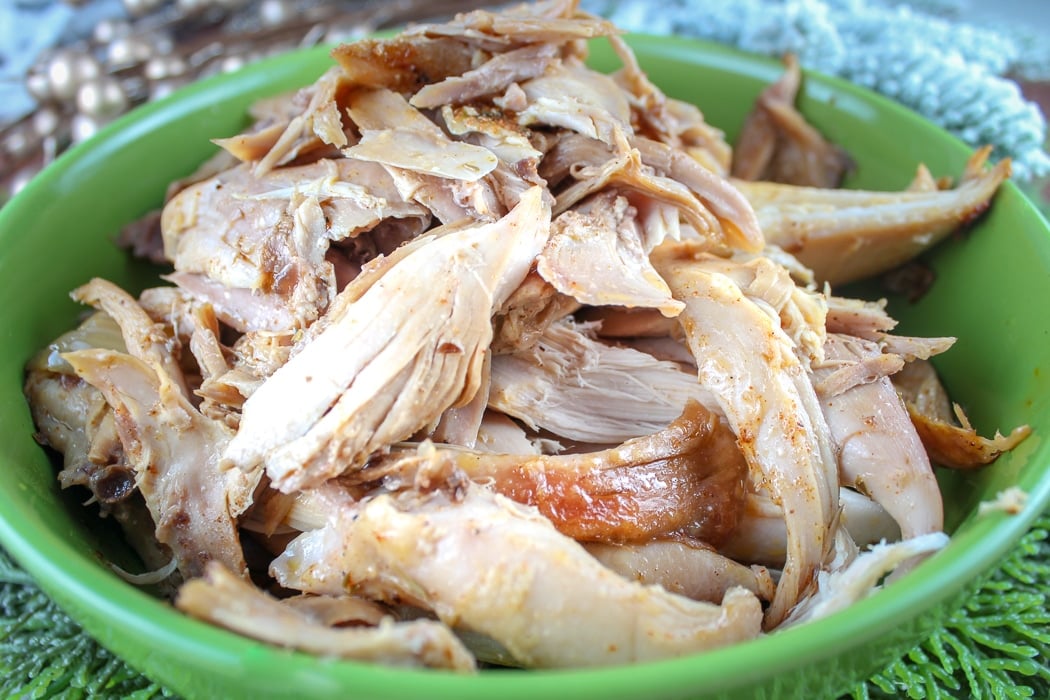 You also can't get any simpler than this whole chicken in a slow cooker recipe – it's literally chicken and spices and that's it!
What spices should you use when roasting a chicken?
I think you can use whatever spices you like for this whole chicken in a crock pot recipe. But the spices I use are salt, paprika, cayenne, onion powder, thyme, white pepper, garlic powder and black pepper. If there's a spice you love – throw it in! If there's a spice in the mix you hate – take it out! It's flexible.
You're not going to eat the skin on this recipe – it's just a coating to add flavor – but trust me – these spices seep in! With the cayenne – it had a tiny kick to it! Yum!
Can you cook a whole chicken in a crock pot?
Well yeah! It's so easy! You just clean up your chicken, rub it with spices and throw it in the crock pot. I have a tiny crock pot because I hate when you have food to eat for a month! And this big ol' bird just BARELY fit! That's why I took the onion and stuffed it inside the bird!
How long do you cook a whole chicken in a crock pot?
Think of Frozen and LET IT GO! LET IT GO! It needs a minimum four hours but can go up to 6-8 hours on low. If you've only got 4 hours, I would cook it on high.
The one thing I will say – don't expect to remove this chicken in one piece from the crock pot. It will and does FALL APART the second you touch it! So what I do is grab a bowl and just pull it apart right there in the pot. I have a bag for the bones/skin to discard and a bag or bowl for the meat.
What can you make with roasted chicken?
There's so many things you can make!!!! I love having this in the fridge because I can just grab a chunk and go – I grabbed some alfredo sauce out of the fridge, heated up the sauce and chicken and served it over pasta for a ten minute meal!
You can also make my favorite chicken casserole – it takes a couple cups of this chicken. Throw some in this zero point white chicken chili for a delicious soup! Or throw some in a tortilla and make burritos in the air fryer!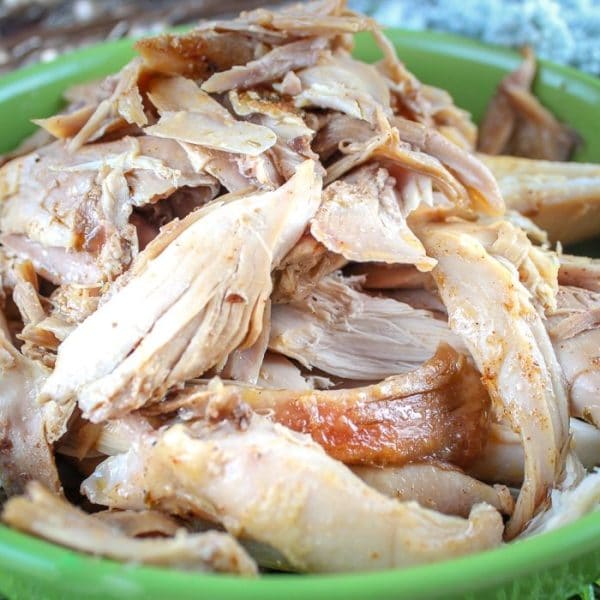 Whole Chicken In A Crock Pot
This is my go-to recipe for the crock pot and pretty much the only one I make monthly. Grab a chicken – rub it with spices – throw it in the slow cooker and let it go! That's all there is to it! Then you can use the chicken for salads, soups and casseroles for the next week!
Ingredients
2

tsp

coarse sea salt

2

tsp

paprika

1

tsp

cayenne pepper

1

tsp

onion powder

1

tsp

thyme

1

tsp

white pepper

1/2

tsp

garlic powder

1/2

tsp

black pepper

1

roasting chicken

1

cup

onion

roughly chopped into large chunks
Instructions
In a small bowl, combine the spices.

2 tsp coarse sea salt,

2 tsp paprika,

1 tsp cayenne pepper,

1 tsp onion powder,

1 tsp thyme,

1 tsp white pepper,

1/2 tsp garlic powder,

1/2 tsp black pepper

Remove any giblets from chicken and clean chicken.

Rub spice mixture onto the chicken.

Stuff onion in the chicken.

Put chicken in crock pot. No liquid is needed, the chicken will make its own juices.
Nutrition
Serving:
0.25
chicken
Calories:
126
kcal
Carbohydrates:
4.8
g
Protein:
16.6
g
Fat:
4.4
g
Saturated Fat:
1.2
g
Cholesterol:
49
mg
Sodium:
1212
mg
Potassium:
221
mg
Fiber:
1.4
g
Sugar:
1.7
g
Calcium:
27
mg
Iron:
1
mg