Another great recipe to share from eMeals.com – the online meal planning service! For just $35 you get weekly meal plans emailed to you as well as showing up in your phone. They come with a numbered grocery list and everything! We're signed up for the Family – Low Fat plan. So these recipes as written serve 4-6 – as usual I cut it back somewhat since there's just 2 of us.
This was for Pizza Spaghetti Casserole…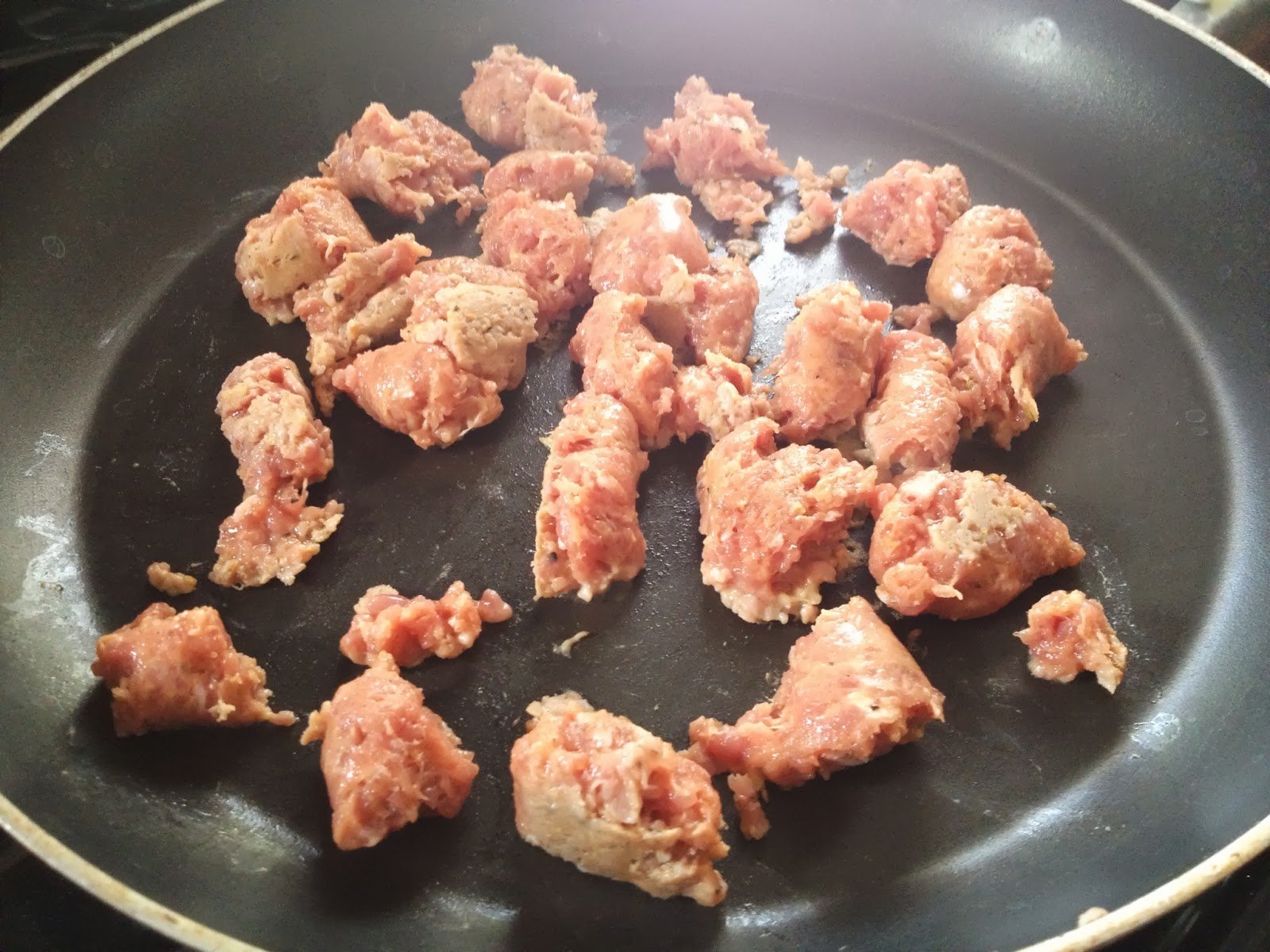 Start with turkey Italian sausage – I found it in links at Kroger and cut the skin open and pulled the sausage out of the skin.
After the sausage is cooked, you crisp up half a package of turkey pepperoni. I used half a small package.
Cook spaghetti and put that layer in a pan – I used an 8×8 baking dish.
Top with the cooked sausage…
Pour sauce over the pasta – then top with pepperoni – and I added canned mushrooms cuz I love em so much!
Then top with shredded mozzarella and the remaining pepperoni.
Then you bake for 40 minutes and it's ready!
It's not the neatest when you scoop it out of the pan – but it really was tasty! It also was nice to mix it up a bit and have something similar but not exactly plain old spaghetti.
eMeals.com
is such a great service and at only $35 for 6 months – it's really affordable and flexible! You can start as low as three months if you wanna try it out.
Pizza Spaghetti Casserole

Ingredients
16 oz pkg




uncooked spaghetti

1/2 tsp




salt

1 lb




ground turkey sausage

25 oz jar




tomato basil pasta sauce

2 oz




turkey pepperoni slices

1 cup




shredded part-skim mozzarella
Cooking Directions
Boil spaghetti in salted water according to package directions
Preheat oven to 350 degrees
Place spaghetti in a 13×9 inch baking dish sprayed with cooking spray
Cook sausage in a large skillet over medium heat until no longer pink
Drain, and spoon over pasta
Top with pasta sauce
Cook pepperoni in a skillet over medium heat for 4 minutes or until slightly crisp; place half of pepperoni over sauce.
Sprinkle with cheese; top with remaining pepperoni
Cover baking dish with foil sprayed with cooking spray
Bake 30 minutes
Remove foil and bake 10 minutes longer