Recently I got the amazing opportunity to go to Scotland with a plane full of fans of BrewDog, a Scottish Craft Beer company. BrewDog opened THIS FRIDAY in Cincinnati and I was so excited for this opportunity to tour the BrewDog in Scotland and eat some amazing food! (Yes – even haggis…keep reading!)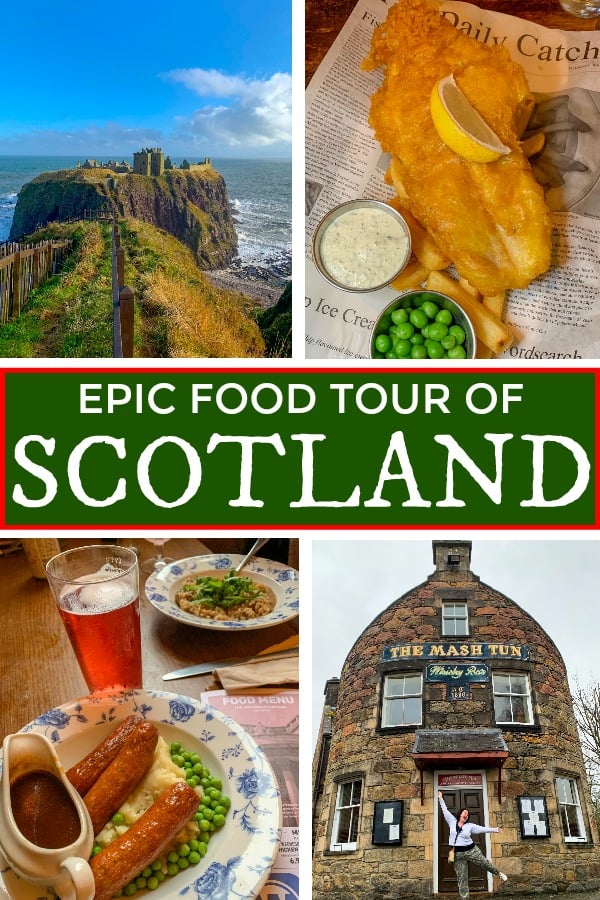 We traveled around Scotland and toured the BrewDog brewery, two whiskey distilleries, a cooperage (barrel-maker) with ties to NKY and so much more! I'll walk you through the whole trip!
First up was the flight! Nearly everyone on the flight were BrewDog fanatics and "Equity Punks" – those are folks that love the BrewDog so much – they've invested in it! We flew from Columbus, OH to Edinburgh, Scotland.


There were a few influencers with me who I quickly bonded with – from L-R, Tara is a freelance writer, Melis is my favorite beer Instagrammer from San Diego and Kate (is a hussy after my heart with that pink coat) keeps us up on all the latest over in Indy at IntoIndy!



Along with a special BrewDog Cloud 9 IPA that was ONLY available on the flight – I had airline meals for the first time ever! I'll stick with the beer for sure! 😉 The top was the meal on the 6 hour flight over – the highlight was the Coronation Chicken Salad and the chocolate cupcake. The bottom was the meal on the 8 hour flight home featuring Chicken Tikki Masala (pretty good!) and some sort of blueberry cake!
Our first stop was ArcadePub, Haggis & Whisky House, in Edinburgh. We landed and were exhausted – we needed food! First thing up for us were the haggis bon bons – I mean – when in Scotland! For those who don't know what haggis is – it's actually akin to goetta but with sheep parts. You don't need to know any more than that. I thought the fried and breaded bon bons would be the best way to try it out.


The verdict? I didn't love it. It was ok – not the worst thing I've ever had but I wasn't too excited to eat it again. Hahaha – but glad I tried it!
Melis was the bravest soul and ordered a main of the Princess Diana Haggis. This was layers of turnip, mashed potato and haggis with a specially made to order sauce with cream, tomatoes, onions and Drambuie liqueur.
I went for Fish & Chips and am so glad I did!!! The tartar sauce was a little different – not so pickley – I wish I'd paid more attention to it – but I liked it a lot. And peas! Everywhere and always – a side of peas! Honestly – the fish and chips didn't taste any different from what I would get here – but I loved it!
After a bite to eat and a nap, we decided to explore Edinburgh! We only really had one day there – and it's beautiful. You really just know you're not in America any more when you're walking down these streets.



That night we decided to head out and find a proper Scottish pub and were recommended The Queen's Arms. Again – it's just a different vibe than you find in the US – lots more areas to sit and be cozy rather than just trying to fit as many people in as possible.



I again got Fish & Chips. They called it Battered Peterhead Haddock and theirs was served with mushy peas. I liked it of course!
A couple of the girls went for the The Queen's Arms Pie which was a shareable dish with shredded beef & onion in a beef gravy under that delicious puff pastry and served with a side of mashed potatoes, zucchini and carrots. It was sort of a half-deconstructed pot pie and it was tasty!
We also got dessert! Kate got the chocolate and caramel profiteroles (basically mini-cream puffs) and I got the Lemon & Summer Berry Bundt Cake – man it was delicious! That is a dollop of fresh whipped raspberry cream.
While in Scotland – we also saw some sights and I, apparently, designated the Official Food Hussy Pose of one foot on the ground. 🙂
Kate is a BIT of a Harry Potter fan and said we had to go to the Elephant House where JK Rowling and a host of other writers would sit and write and drink coffee and absorb the views of the countryside.
Yeah. I guess that could do it.
We also grabbed a quick bite to eat before heading to the bus and had a traditional UK breakfast with ham, scrambled eggs, sausage, tomato and toast. It was really good!! Kate got Scottish pancakes which were PANCAKES – just smaller than our normal American ones.
We then hopped a bus to Aberdeen and, of course, we were ready to eat and drink again. Haha! The front desk attendant suggested The Archibald Simpson around the corner so we were in!!!



OK – this was the bees knees! We hit the jackpot – it was super cheap, had a crazy huge selection of beer and all the meals could be made a combo WITH A BEER! Yeah – it was like $1 more to add a beer to the combo and it was good beer! The highlight was bangers and mash – those bangers were probably some of the best sausage I've ever had! They were Lincolnshire sausages which are associated with the English county of Lincolnshire!



We also drank a little everywhere! Sours, lagers, IPAs, whisky and even found some alcohol free beer for my pups!
We also came across these rainbow steps and of course – we all had to take pics on them! We were cracking up about how different each of us posed.



Finally we got to the main event – our personal tour of the BrewDog Brewery in Ellon! They have a separate facility just for their sours called Overworks. I really had a hey day in their – I have definitely found a love for Sours! They're a cool company that is also environmentally conscious with those new fangled half kegs with plastic and bags that can be recycled for places where it doesn't make sense to ship them all the way back to be refilled.
All the artwork is done by an employee and it's crazy good! In addition to beers, they also make their own spirits like this Lonewolf Gin.
The folks at BrewDog have it all together and they really put the Dog in their name! We saw a wall with all the pics of the newest puppy members of their family (and they get to go to work with them!)
I brought home quite a haul from my trip as well! After trying the Cloud 9 IPA and actually liking it – I can't wait to try all their beers! (I've never been an IPA fan – so it was shocking to like one!)


There are over 90 BrewDog bars across the world and 4 breweries. The US brewery is in Columbus and even has a BrewDog hotel called the Dog House (omg – it's so cool!)
Their newest US bar is right here in Cincinnati and had their grand opening last night! BrewDog Cinci is at 316 Reading Rd – across from the downtown casino. I stopped in and let me tell you – it's a cool space! It's really big and there's a game room upstairs, a rooftop patio and just lots of cool stuff! They have merch and beer you can take home and the food is so good! You have to get the Chipotle Bacon Hot Dog! So good! And the loaded brisket fries…and the fried chicken sandwich…hehehehe


Back to Scotland – we went to BrewDog Aberdeen Castlegate for dinner with the BrewDog team one night. We shared the Super Stack with buffalo chicken wings, chicken strips, cajun corn on the cob, fries, sweet potato fries along with blue cheese and a garlic aioli. It was funny how many "American" foods we came across in Scotland. There were a ton of "Proper Burger" restaurants – which we skipped because we know proper burgers – but this Appetizer Stack was really good! The wings were SPICY!!!
Melis went for the Loaded Fries and was nice enough to share – man oh man – amazing! Buttermilk fried chicken with a hot sauce & honey glaze and blue cheese dip all on top of fries. Have mercy! I can't wait to have these here!



We also tried the Superfood Salad (yes – healthy options) which we felt was a good balance to the loaded fries! The salad had quinoa, sweet potatoes, mixed grains, pumpkin seeds, feta, balsamic and an Elvis juice dressing on top of some delicious local greens. All their veggies are from local farms – I really would have liked to bring some of the greens home with me!
On our last full day in Scotland, we headed out into the country in Aberlour to tour some whisky related stuff. The most interesting to me was the Speyside Cooperage which is also based in Kentucky! They actually ship white oak from Kentucky to Scotland to make barrels! Now I want to tour the Kentucky Speyside Cooperage!


You have to study and apprentice for FOUR YEARS to be a cooper! It's a difficult job but it was really cool to watch them work.

We also toured Glenfiddich and Glenlivet Whisky Distilleries. I've toured bourbon distilleries and it was pretty similar – but it was still cool to see the extent of the history involved.
While in Aberlour – the tres amigas stopped into Mash Tun. It's a restaurant with rooms as well. Pretty amazing old building on the Spey River.



I got the Steak & Ale Pie (similar to The Queen's Arms Pie from the other night) – a beefy gravy with chunks of steak under a slice of puff pastry served with chips, carrots and green beans. The Queen's Arms was better but this was still tasty!
I saved the best for last – while in Aberdeen we went to the Dunnottar Castle. This was something we did in our free time on the trip and it was just simply stunning. If you're in Scotland – you must visit a castle in the countryside. It's not optional.



Because this is a food blog – I have to tell you about the soup I had. It was chilly that day (but no rain) and after checking out the castle – I got a big cup of this Scottish soup. It was a vegetarian broth so full of flavor and then filled with barley and carrots. I ate the whole bowl – so delicious!


Dunnottar Castle was a quick bus ride from downtown Aberdeen – it was 11 pounds for the three of us to take the bus round trip. Then we had maybe a five minute walk from the bus stop to the castle.


I'm just going to let the pictures speak for themselves. It was STUNNING.



As we headed out of Aberdeen on our last day back to the airport – I saw a field of those giant windmills. Not a bad memory to take with me.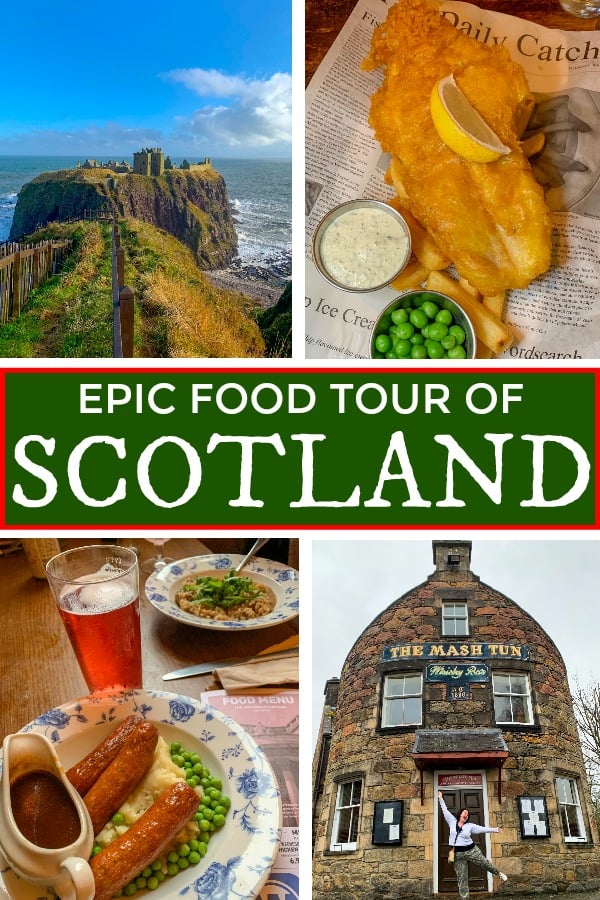 All in all, my trip to Scotland was completely amazing. We ate some good food, drank a lot of good beer and I made some new friends. Thanks again to BrewDog for taking us along the journey and I look forward to drinking many a BrewDog in the months to come! I hope you've found some inspiration to visit yourself!