First let me say that I realize I'm the only person in the world that would buy a frozen burrito because it's owned by someone that was once on Survivor. But hey – I'm a reality-tv junkie and I'm not ashamed to admit it.


So yes – I bought an Evol Burrito because Brendan from Survivor is one of the company's owners…Sue me.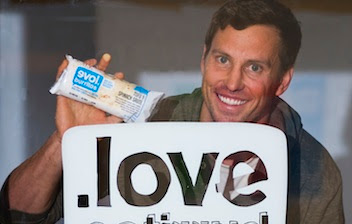 There he is…don't even ask me what season he was on. He was also one of the founders of Bear Naked Granola and sold that off…
I heard about them a while back – they pack over 20 grams of protein – which is pretty unique for a frozen burrito!


I ran across the Egg & Sausage recently on a trip to Biggs and decided to try it. It costs $3.99 so it's NOT cheap!


Listen to the description: Scrambled eggs, house-made chorizo sausage, herb roasted potatoes, pinto beans, monterey jack and cheddar cheeses and an authentic tomato salsa – all hand rolled together in an insanely tasty flour tortilla.


Sounds great – eh?


Well today – I nuked it and had it for breakfast. The verdict?


Eh – it wasn't too good. I'm very full but I think the potatoes just made it all mushy. I didn't taste the cheeze or the salsa – which were my two hopes that this would be good – all I tasted was potato and an occasional bite of chorizo. That's the problem with a lot of frozen burritos – they just are glumpy. Is that a word? Maybe not – but say it – GLUMPY – that's how it tastes. Dry and not much flavor.


🙁


I had high hopes.


They have a ton of flavors like Cilantro Lime Chicken, Tofu & Spinach Saute and Veggie Fajita (those are non-breakfast obviously) – so if I run into one of those – I might give it a try. The ingredients are much "healthier" than the other frozen burrito options and they are big on the "green" movement.


And 21 grams of protein – I mean – that's like one of those god-awful protein bars that Larry eats! I'll take a glumpy burrito over that any day!