I was lucky enough to visit Austin recently on a blogger conference and WOW did that city impress me! So I wanted to share with you 5 places you MUST visit on your trip to Austin!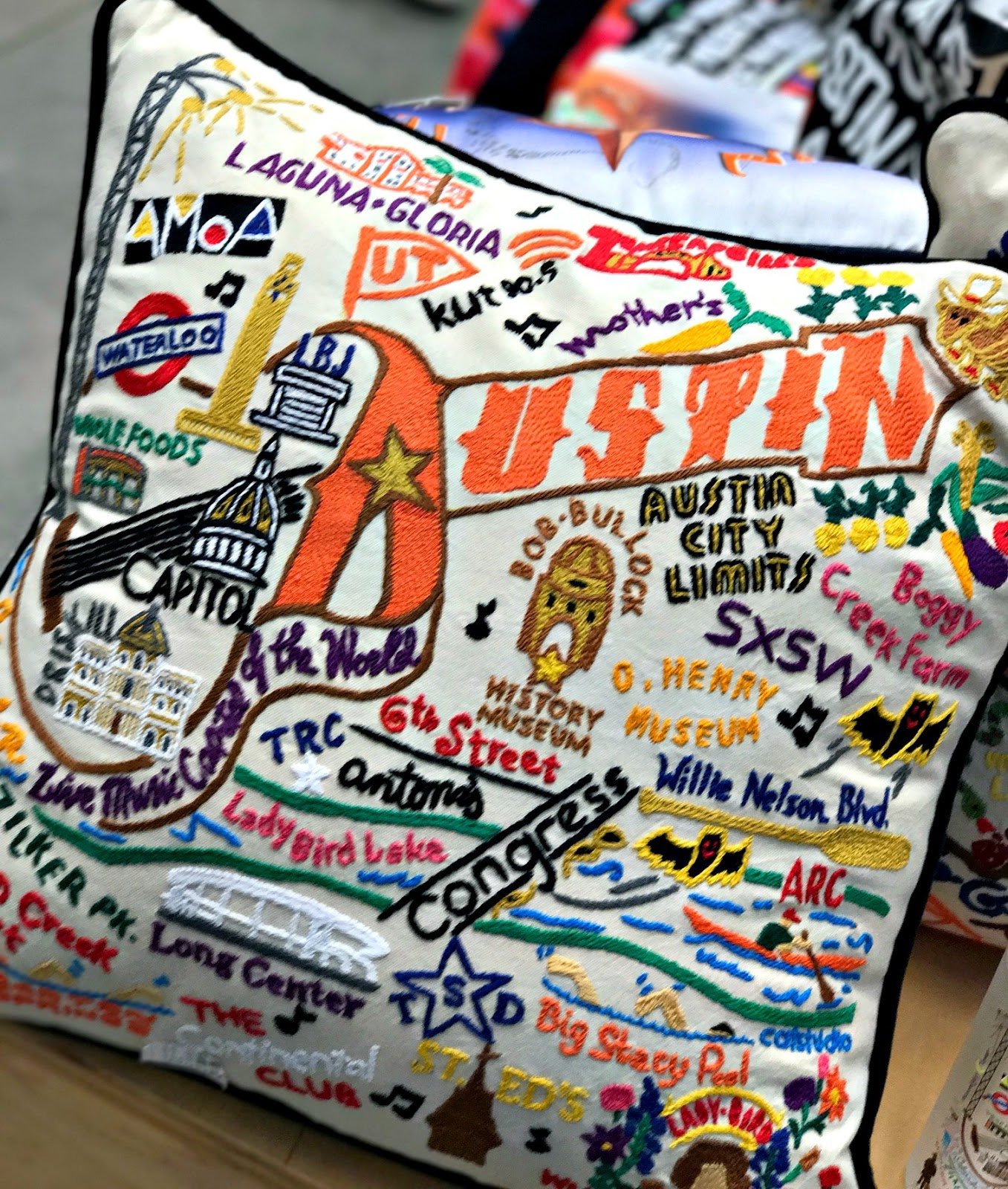 This pillow gives you a hint of everything you can see and do there – it's a veritable bucket list of Austin. If you're going for a while – just print off this image and start your list!
When I'm in a new city, I like to find a tour if possible. I figure I can get help from the pros and see everything I need to see in a short time. The folks at Austin Detours were accommodating and provided me two tickets on their Real Austin Tour.
This "bucket list tour" gives you a city overview in just 2 hours. Major landmarks, lesser known gems that only a local would know about, real neighborhoods, and of course, the food trucks! This is definitely not a typical "van tour." We drive in Mercedes vans, but you get out at many stops. Along the way we'll chat about art, music, culture, food, history, parks, famous people, and much more! We'll also discover secret spots, hear funny stories, and decipher local legends. Make new memories and laugh a ton as we show you how we "Keep Austin Weird." Finally e
xperience
Austin, don't just see it through a window!
The tour provided me a few of the items I put on the 5 MUST SEE STOPS when you visit Austin!
1. The Texas State Capitol – If there's a state with more pride – I don't know of it. The capital is beautiful and there is a lot of history and stories that the tour shared. We did walk a little but nothing too much. We had a beautiful day – the gorgeous building against the clear blue sky was perfect.
Inside the capital – the different areas are amazing. This domed section was breathtaking. We also saw portraits of all the Texas governors including a bust of George & George W.
Much to our surprise – we also saw a proposal! We're listening to our tour guide share bits of history and suddenly – he gets down on one knee right in front of us! Their parents were hiding on the balcony above and there was applause all around.
2. Castle Hill Graffiti Park – I can confidently say we NEVER would have found this on our own! It's in a neighborhood, off the beaten path and you'd never know it was there unless someone told you.
The Graffiti Park is open to the public and anybody can go in and create and add to the artwork. While we were there – there were people having fun and with spray paint as well as artists making their next great creation.
The vibrancy was amazing! But – you better photograph your art because it could be gone in a matter of minutes! I think this one will stay awhile.
3. Greetings from Austin Postcard Mural – everybody needs their photo snapped in front of this life-sized postcard. As we stood there – folks were walking up, pulling over, snapping from their cars and everything else. It's a must-have photo!
4. Food Trucks – Austin is home to over 1000 food trucks and I would love to try each and every one! That might be impossible – but it would be fun to try. The Austin Detour stops at one but we tried a few more on our visit as well. My favorite was
Gourdough's
– the biggest and baddest donut shop in town. My favorite was the Flying Pig (an ode to Cincinnati) with maple frosting and two slices of perfectly cooked bacon on top. The one above is the coconut cream – yeah – there's a donut under all that!
5. Perla's Seafood – The thing I loved is that none of the restaurants we tried had a wait – not because they're not amazing – but because there are so many food options – that there's enough for everyone. We stopped at
Perla's Seafood
and it was AMAZING! I got the ceviche pictured above and scallop risotto and split them with a friend. I would highly recommend this if you like seafood – they have it flown in fresh and have so many options! It was amazing!!!! We sat out front on the patio and the weather was perfection. I couldn't have asked for a better dinner with my big group of new friends!
So there you have it – five must-see stops when you visit Austin all wrapped up in a bow! I would start with the
Austin Detour
and that way you get a lay of the land and you can ask for tips from your tour driver!