This giveaway is a partnership with Nakturnal. All opinions are my own.
We moved to Milford about a year and a half ago and I have loved every minute of it! As a food blogger I get to explore and try new restaurants all the time – so this weekend I decided to check out some new and some favorites in my town…
But next weekend I'm going to be heading to Dayton – so for those of you
living in Dayton, OH
– I need your help! Where should I go?!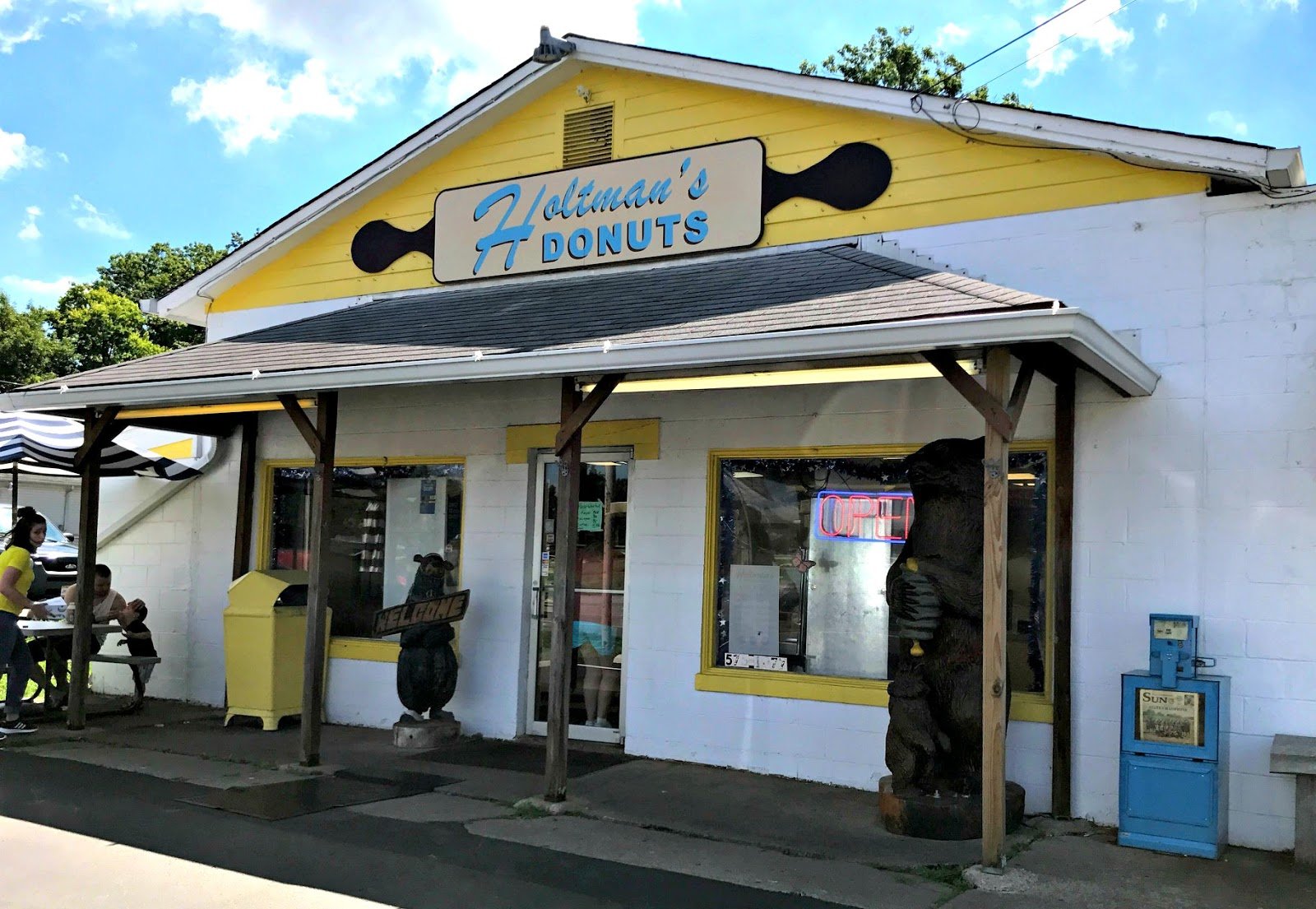 You can't have a food stop in Milford without talking about Holtman's Donuts! This location is "technically" Loveland but I consider it Milford – it's the Milford exit – so that's it in my head. It's tiny but mighty!
There's not a bad donut to be had but if you haven't had Holtman's (where have you been?!) – I would recommend going simple. Above is a Red Velvet Cake Donut – I've had yeast and cake – they're all amazing. Ask if they have anything warm. If they do – whatever it is – get that! If not – go for something simple and just enjoy. This donut was a little underdone but OMG it literally MELTED in my mouth. And I love that they get even their cake donuts super crispy so they're crunchy and sweet perfection.
Then I headed to the far end of downtown Milford and decided to work my way North. My first stop was One Main Gallery. They have a flea market on most Saturdays – where I found this guy! I wouldn't say it's like "flea market" prices – but they do have some interesting finds.
Next stop – May Cafe. It's a cute little place that has a couple of tables outside, a handful of tables inside and then a few tables outback on a patio area. It's a very cute cafe that serves breakfast and lunch with sandwiches, salads, coffee and gelato.
I got their daily special which was a Salmon salad with arugula, goat cheese, beets, avocado, nuts and grilled salmon – all with a balsamic vinaigrette ($11.95). This salad was DELICIOUS! The salmon was warm and the salad was full of goodies – I mean when you tell me it's got goat cheese – I'm pretty much in it to win it. I really liked May Cafe and will definitely be back.
Next up – a little more shopping – and a stop into Jackson Whitacre. They refer to themselves as a unique retail shop, bringing you homemade home furnishing and nursery pieces, along with trendy apparel and decor.


They have some cute stuff – the apparel is all for skinnies – but their home decor and jewelry are very nice. Not a place I would shop every day – but I'd never been before. I think it would be nice if I was looking for a gift for someone.
My last stop for the day had to involve chocolate so I stopped at Tickled Sweet – which I've been to once before. They have chocolate dipped everything (oreos, rice krispy treats, twinkies), fudge of all kinds, candy from our youth and about a million other things. This is a candy shop for everyone!
I met Bambi – the owner- and she showed me some chocolates that she was making. The rectangles are caramel dipped in chocolate and then topped with sea salt. Noooooooo. I wasn't drooling at all! I went home with some white chocolate oreos for me and some milk chocolate rice krispies and marshmallows for hubby.
I had a great time exploring Old Milford! I had some new stops and some old favorites – it's great to get out and explore and try some new things.
And now – I've got some fun for you! You can get a $25 gift certificate to Holtman's Donuts to try it for yourself! You won't have a hard time using that one up! Good luck!
We're going to have fun with this one – this is all about Cincinnati – but next weekend – I'm heading to Dayton?! What places like these would you recommend? What have you explored while living in Dayton?