Every once in a while – you get a hankering for something – right? The other night – I really just wanted something like Beef Stroganoff. But I knew I didn't have any beef thawed out – but I did have mushrooms – so I went to town!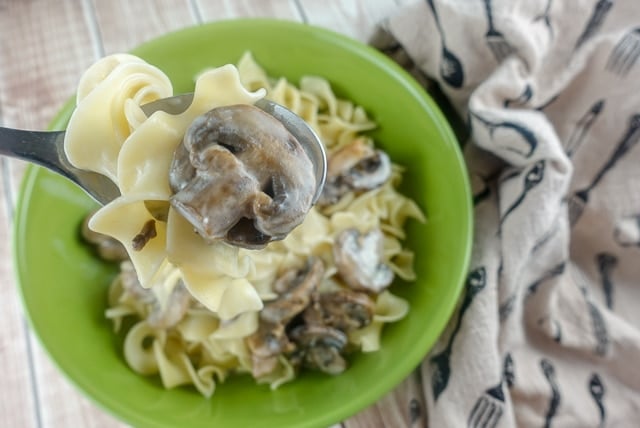 This isn't exactly a traditional stroganoff – that would obviously have beef, mustard and paprika – I wanted a light dish but still creamy. Egg noodles was something I basically didn't eat for YEARS because my ex-husband was allergic. But – now that I'm on my own – egg noodles are back in my life!
I sort of made this up on the fly – I had some cream and chicken broth in the fridge that needed to be used along with mushrooms – and you put it all together and you've got a nice little sauce! I sauteed the mushrooms in butter because that adds to the flavor of the sauce.
In the time it took to make the noodles – the mushrooms and sauce were ready! I made just the right amount to have it for dinner and then the next day for lunch. I'll definitely be making this again. Egg noodles are so light – I'm so happy to have them back in my life!! I loved that this is great for the "Meatless Monday" movement or even on Fridays during Lent!
Yield: 2
Mushroom Stroganoff
Mushrooms are my favorite vegetable and I was really wanting to have some stroganoff – and thus – mushroom stroganoff was born! It's creamy and light and perfect for Meatless Monday! (Or Lent!)
prep time: 5 mins
cook time: 12 mins
total time: 17 mins
ingredients
8 oz mushrooms, sliced
1/2 stick butter
1/4 cup heavy cream
1/4 cup chicken broth
1 tsp cornstarch
2-3 Tbsp chicken broth
3 Tbsp of sour cream
2 cups egg noodles
instructions
Boil water
Over medium high heat, melt butter in a skillet.
Add mushrooms to the skillet at the same time you add the pasta to the water
Sauté for 4-5 min
Add cream and 1/4 cup chicken broth and reduce on medium
In small bowl mix 1 tsp cornstarch and 2-3 Tbsp broth then add to pan
Stir and let thicken 2-3 min
Remove from heat
Pasta should be done. Drain pasta and set aside.
Add 3 Tbsp of sour cream to mushrooms and stir in off heat
Top egg noodles with sauce