This post is sponsored by Zoup Broth. All opinions are my own.
Just because Christmas is over – doesn't mean we stop cooking – right?! And the thing is – we want to use the BEST products when we cook – right? Well – I've got an eye opener for you!
Introducing Cincinnati's Test Kitchen!
Zoup Broth
for the win! If Zoup sounds familiar – it's also a
restaurant
– we have 3 here in Cincinnati and I'll be heading to their new Eastgate location in the new year (with a giveaway to boot!).
And after trying the Zoup broth straight up – I had to try it in a recipe and share with you!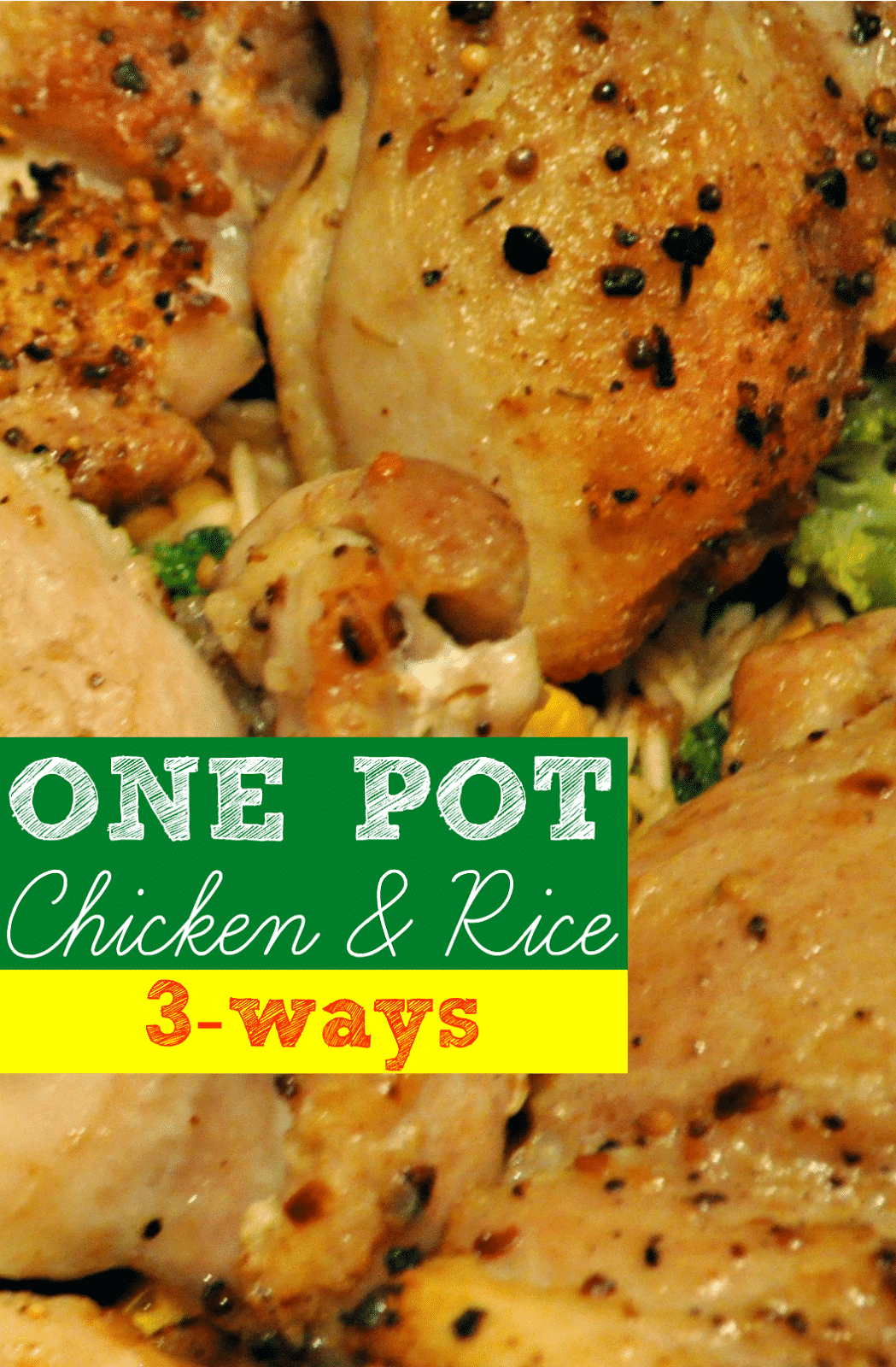 One of my favorite recipes is One Pot Chicken & Rice – and the best part is you can really make it however you like – with whatever you have in the cupboard! But I'll give you some ideas to get you started.
One thing you'll need is a good spice rub for the chicken – This time I used the rub I won from Sauce Goddess (oh yeah – I won a contest with this video!) and I really like this rub for chicken – it's salty and has pepper but isn't too much on any flavor – it's a great neutral rub that just enhances the flavor of the chicken.
Another time I made the recipe – I used the Loco Lime spice I got on a trip back home – this is great for a more southwestern style – which I'll share below.
I always always ALWAYS use boneless + skinless chicken thighs. Some recipes call for the skin-on, bone-in but it's just more hassle and there's no need – these work just as well and are better for you.
Brown them in a dutch oven 2-3 minutes on each side in hot oil. I tried the newest hip thing one time – Avocado Oil – it's bright green – I still prefer olive oil – but Avocado is supposed to be healthier so give it a whirl.
While your chicken is browning – get your veggies ready. This time I had broccoli, shallots and parsley in the fridge – so I started there.
Once the chicken is browned (doesn't need to be DONE) remove it and set aside for a bit. Scrape the brown bits and add the veggies. If you have veggies that need to be sauteed first – add those – then put the rest in when you add the rice/broth. I sauteed the shallots for a couple of minutes with the brown bits – (all the flavor!!).
Then you add the rest of your veggies – again – I had broccoli and then a can of corn – always a good filler.
Now you're ready for the Zoup!!! Take a gander at the video above – it tasted like chicken – which is how you typically want your chicken broth.
Cooking Tip: Use chicken broth instead of water to make your rice – adds a lot more flavor!
After the veggies – in goes 1 cup rice (I like Basmati) and 2 cups broth – then you bring it up to a boil.
After it's boiling – put the chicken back in – drop the heat and simmer for 20-30 minutes (or you can pop it in the oven for 20-30 minutes at 350).
And then you've got one pot of yum ready for dinner!
One chicken thigh and a spoonful of rice and veggies – and you're good to go! There are so many ways you can make this too – here are some of my favorites:
One Pot Chicken & Rice:
Ingredients:
6 boneless, skinless chicken thighs
Options:
1 can roasted diced tomatoes
Taco or Loco Lime seasoning
* in dutch oven, heat oil until it's shimmering
* Season chicken thighs with your favorite rub
* Heat 2-3 minutes on each side and remove from pan
* Scrape up brown bits and add diced shallots
* Add veggies & extras – stir
* Add rice and broth – stir
* Bring to a boil and stir
* Add chicken thighs back to the pan and cover
* Lower heat and simmer for 20-30 minutes until rice is done