There are certain things that just SCREAM Cincinnati – Graeter's Ice Cream, Montgomery Inn Ribs, Gold Star Chili and…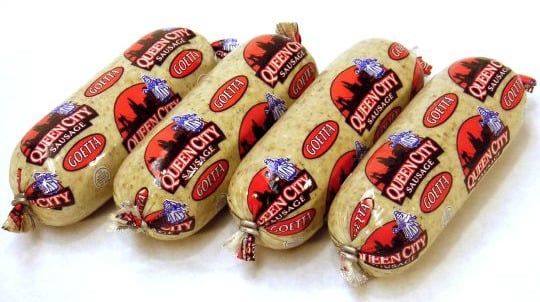 GOETTA!
I took a tour of Queen City Sausage a couple of years ago – so I have a lot of love for them – I recently was taught by a coworker how to cook goetta (thin & crispy) and he gave me an idea – which we'll get to. 😉
Then with the Sweet 16 in full gear (Xavier is playing as I type this and UK is tomorrow night!) – I wanted to make an appetizer that screams Cincinnati.
What's Cincinnati also called? PORKOPOLIS! So…away we go!
I decided to double up on the pork in this appetizer with GOETTA AND BACON!!!
This dip is simple to make – and as usual – if you are missing one ingredient – swap it with something you have. I used cream cheese, pickled jalapeno, bell pepper, black olives, bacon and ranch seasoning.
But – where's the goetta??? Just wait!
I fried the goetta super thin and crispy until it's not bendy and made goetta chips! I can't take credit for the idea – my coworker said he knew someone that had done it – so I had to try it!
It's so Cincinnati – only here would someone make a chip out of pork?!
I hope you'll try this while you're watching UK and be as Cincinnati as you can be!
Ingredients
(8 ounces) cream cheese, softened
1 orange bell pepper, finely diced
1/4 cup pickled jalapenos, finely diced
1 small can black olives, chopped
4 slices bacon, fried and chopped
1 package ranch seasoning mix
Instructions
In a medium sized bowl and cream cheese, bell pepper, jalapeño, olives, bacon and ranch package. Mix together until incorporated.
Serve immediately with your favorite chips or store for up to 24 hours.
Ingredients
Instructions
Slice goetta as thin as possible – it helps if it's still a little frozen so it doesn't fall apart.
Fry goetta on griddle – as you're frying it – flatten goetta as thin as possible. You'll want to keep flipping the goetta until it's not bendy – about 5 min.
Place goetta on paper towel to get any oil off.
Serve with dip.