I love love love Caramel Corn – but I'm not a very daring home chef and I just buy it – but I decided to be crazy and…MAKE IT MYSELF! I always thought caramel was this mysterious thing – but boy was I wrong! And then add an extra step to make it Praline Caramel Corn and you have a winner!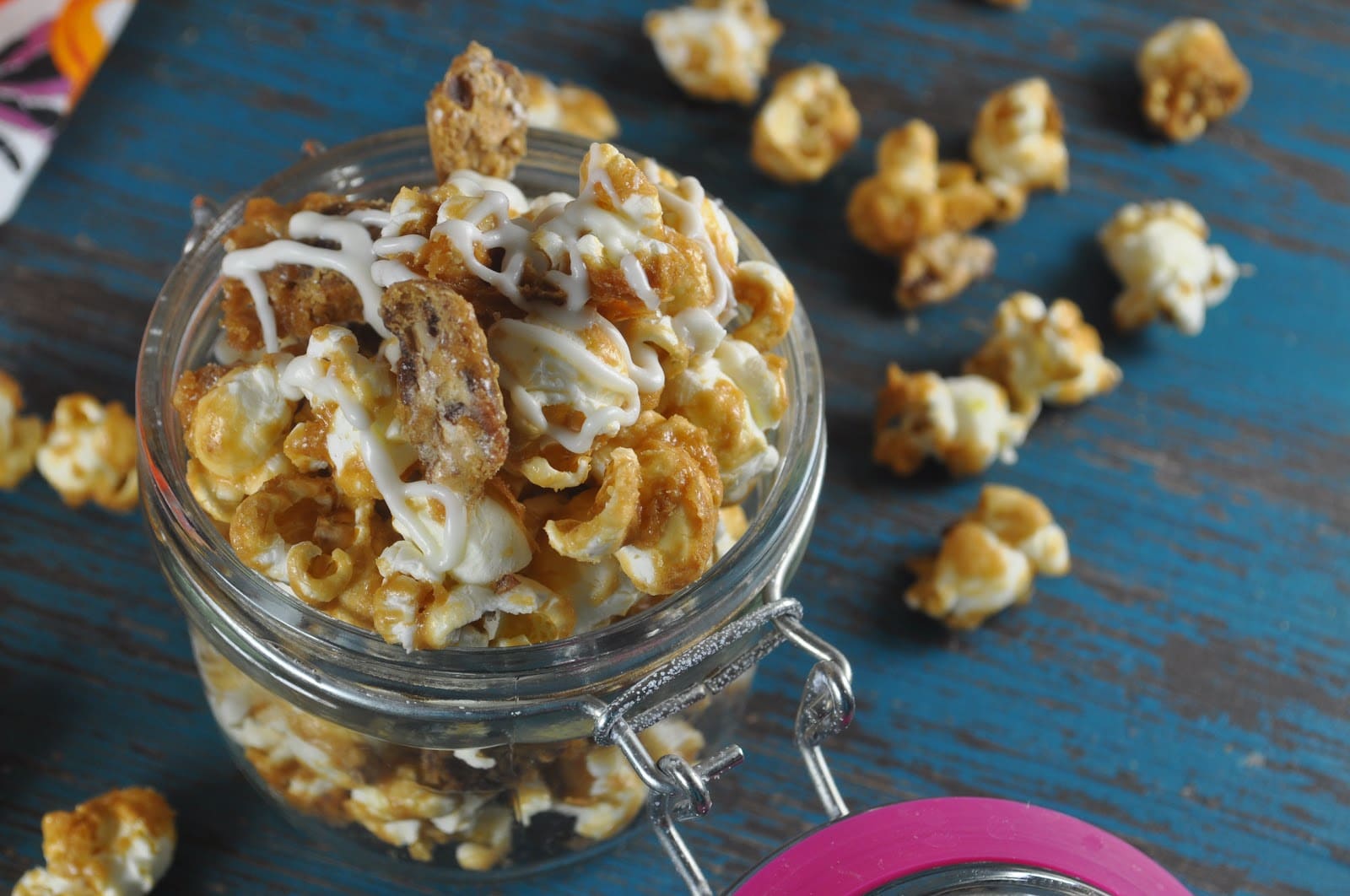 Turns out – it's EASY and far more delicious than the stuff you buy in the store!! Who knew? I decided to be a little adventurous and make a Praline Caramel Corn. Pralines have nuts, sugar and cream…so how did I do it?
First stop – was
Kroger
! They have some great private label brands like
Private Selection
and
Simple Truth
that I am always bringing home. I had some of the popcorn at home – my husband loves snacking on it – but I picked up some Simple Truth brown sugar, Private Selection white chocolate chips and my favorite thing ever – Praline Pecans! I love those sugar pecans you get at festivals and I've made them before – but it's time consuming – so grabbing a can of these bad boys is much easier!!
I made the caramel from a recipe on Pioneer Woman – I figure for something like that – I'm going to go tried and true and basic. It was simple ingredients: brown sugar, butter, vanilla, salt and heavy cream. Throw it all in a pan – bubble up – whisk and you're done!
After that you just layer all the popcorn on a sheet pan – I chopped the pecans into smaller pieces and sprinkled them throughout. Then just drizzled the caramel all over the popcorn! Then you pop it in the oven for an hour – stirring every 20 minutes.
After that's all cooled, I melted the white chocolate chips in the microwave and drizzled those over top – gave it that "cream" element to finish off the pralines flavor!
Simple Truth and Private Selection were real winners with this and man oh man – I dare say – I will never buy caramel corn again!!! The oven baking really made it crunchy! And that cute towel in the background – it's from the Pioneer Woman collection – I figure I owed it to her since she gave me the caramel recipe!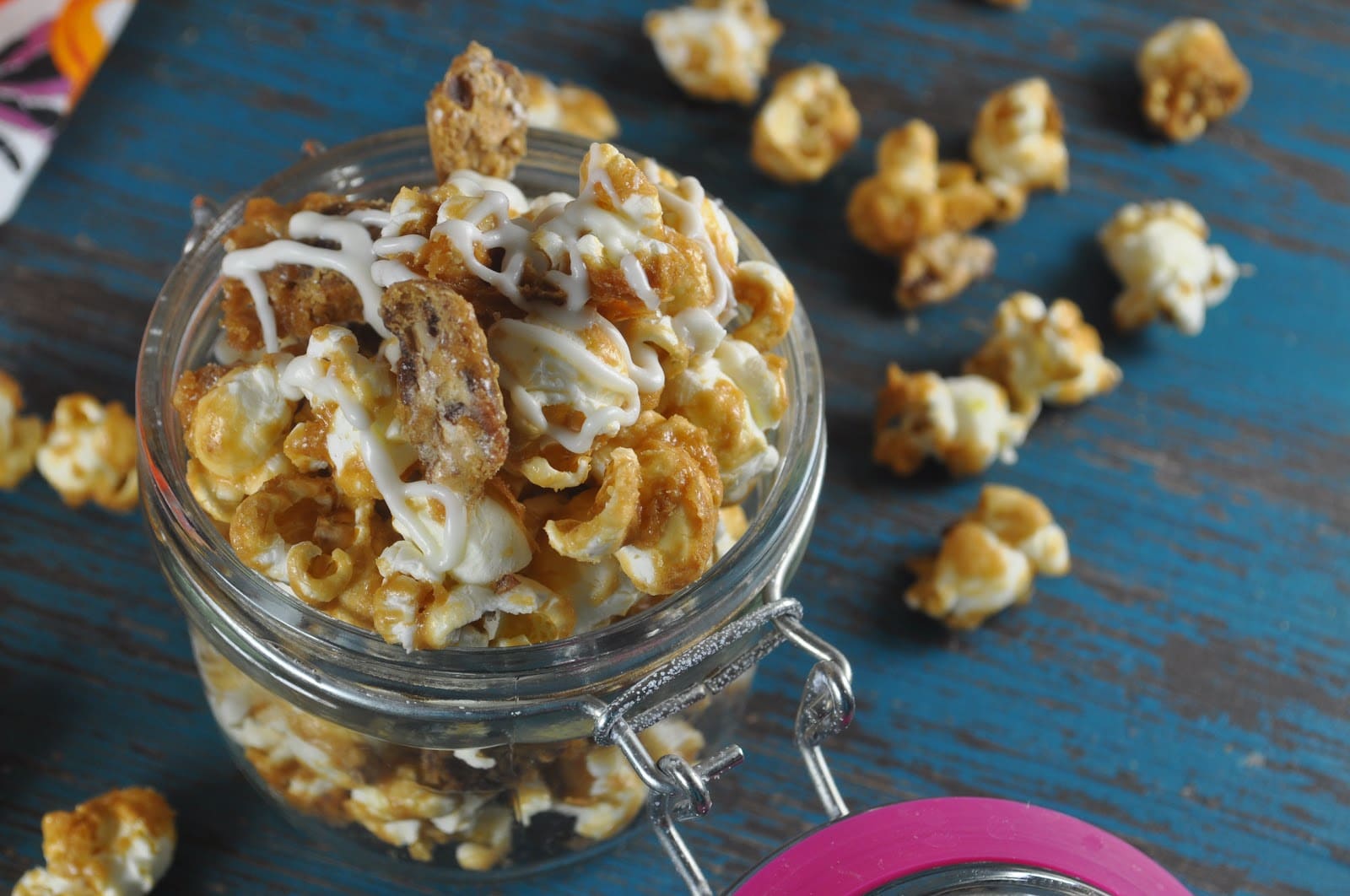 Praline Caramel Corn
prep time: 15 MINS
cook time: 1 hour and 15 MINS
total time: 1 hours and 30 mins
Who knew caramel corn would be so easy?!
ingredients:
1 cup Simple Truth light brown sugar

1 bag Simple Truth Popcorn

1/2 can Private Selection Pecan Pralines, chopped

1/2 cup Private Selection White Chocolate Chips
instructions:
Preheat oven to 250 degrees

For caramel sauce – Mix Simple Truth brown sugar, butter, heavy cream, vanilla and salt in a medium saucepan over medium-low to medium heat. Cook while whisking gently for 5 to 7 minutes, until thicker. Turn off heat.

Cover cookie sheet with parchment paper

Spread Simple Truth popcorn on parchment paper and add chopped Private Selection Pecan Pralines

Drizzle warm caramel over popcorn & pecans – toss gently and spread out evenly on pan

Bake for 1 hour – stirring every 20 minutes

Melt 1/2 cup Private Selection White Chocolate Chips in microwave (30-45 seconds at a time until liquid)

Drizzle white chocolate over caramel corn

Let cool for a few minutes and then serve! (Or store in airtight containers)
notes
* Caramel Sauce courtesy of Pioneer Woman



This is a sponsored conversation written by me on behalf of Kroger.
The opinions and text are all mine.

Also seen on: