Sometimes you look in the fridge and think – what the hell am I going to have for dinner??? This is exacerbated when you're cooking for one. Many times it ends in tortilla chips and salsa for dinner – but tonight was different!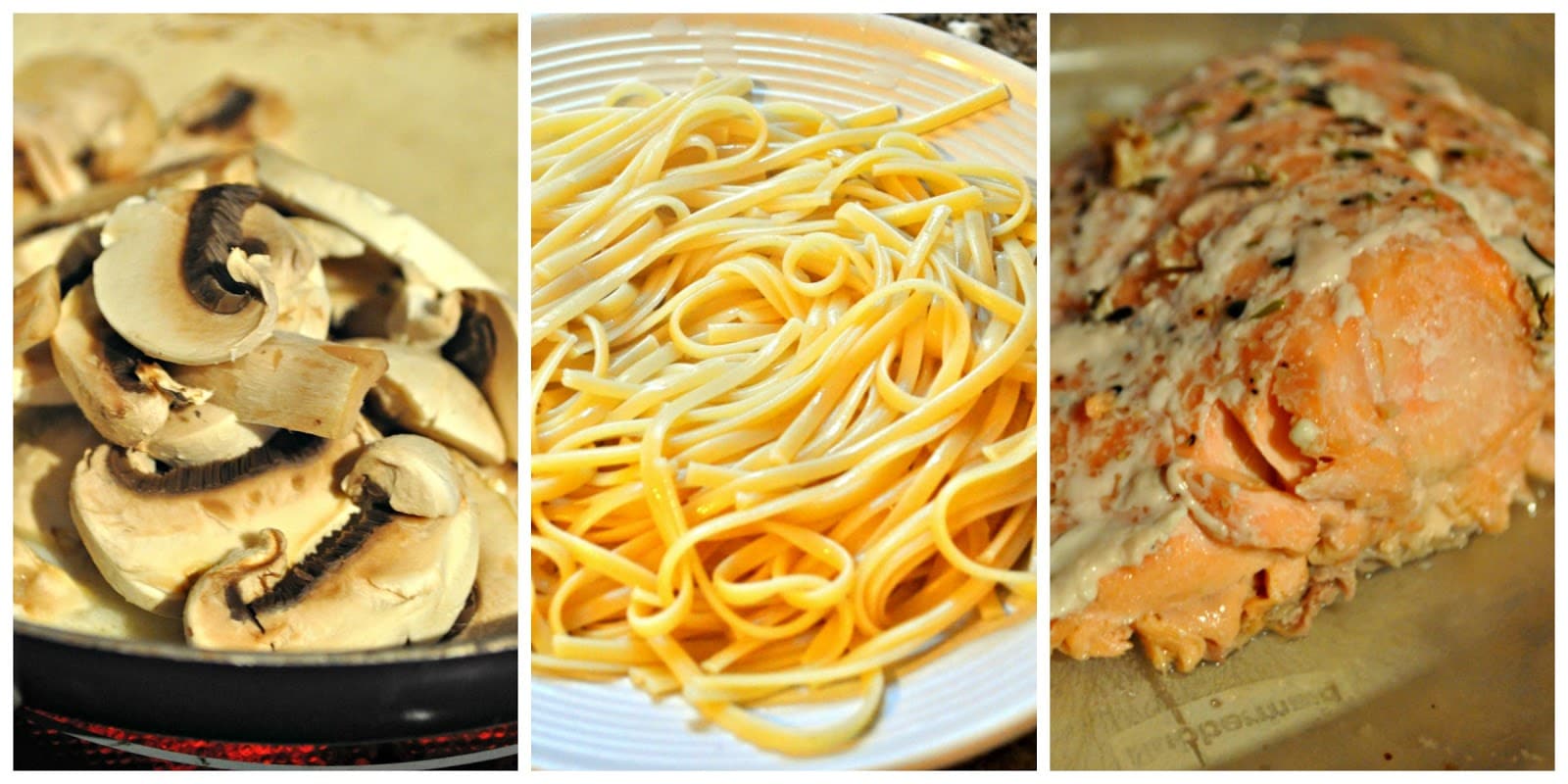 I had mushrooms, cooked linguine and leftover salmon. I'd made one big piece of salmon for dinner the night before and thought – oh I'll figure out what to do with it. And I did!



I also had Parmesan cheese and cream in the fridge – so I decided to wing some alfredo! I've never really had alfredo on salmon but I like both so what the hell!



I sauteed the mushrooms in butter first – then added the cream. I'm not even completely sure on the amounts – it depends on how many people you're making it for – but I'd say for one it was 1/3-1/2 cup.



How do you make Alfredo sauce?
I let that cook for a bit and then added 1/3 cup Parmesan cheese. Stir & simmer – it thickened up quick. I used salted butter so didn't even really need to add salt. While this was simmering – I reheated the pasta and salmon in the microwave for a couple of minutes.



And voila – ten minutes and dinner was served! It was delicious! Salmon – especially reheated can be a little dry – so it was great to have a sauce for it. And I'm a sucker for mushrooms – can't go wrong there. There's no real mystery to Alfredo – it's very simple – and if you don't have cream – you can use milk or half and half – you just need a little extra butter to make it thick.
Salmon & Mushroom Alfredo
prep time:
cook time: 15 M
total time: 15 M
I love alfredo sauces – and in moderation – you can have them! This one is a paired with salmon and mushrooms – two more of my faves! It doesn't take long to cook at all and it's delicious!
ingredients:
1/2 pound salmon
8 oz sliced mushrooms
3 T butter
3/4 cup cream
3/4 cup Parmesan cheese
4 oz Linguine
instructions:
How to cook Salmon & Mushroom Alfredo
Cook pasta according to package directions
Slice salmon fillet into two pieces
Season with just salt and pepper
Bake (350 for 20 min) or air fryer (350 for 11 minutes)
Heat skillet and melt butter
Add mushrooms and saute
Pour in cream and simmer (3-4 min)
Add cheese, stir and simmer until thickened (2-3 min)
Serve over salmon and pasta