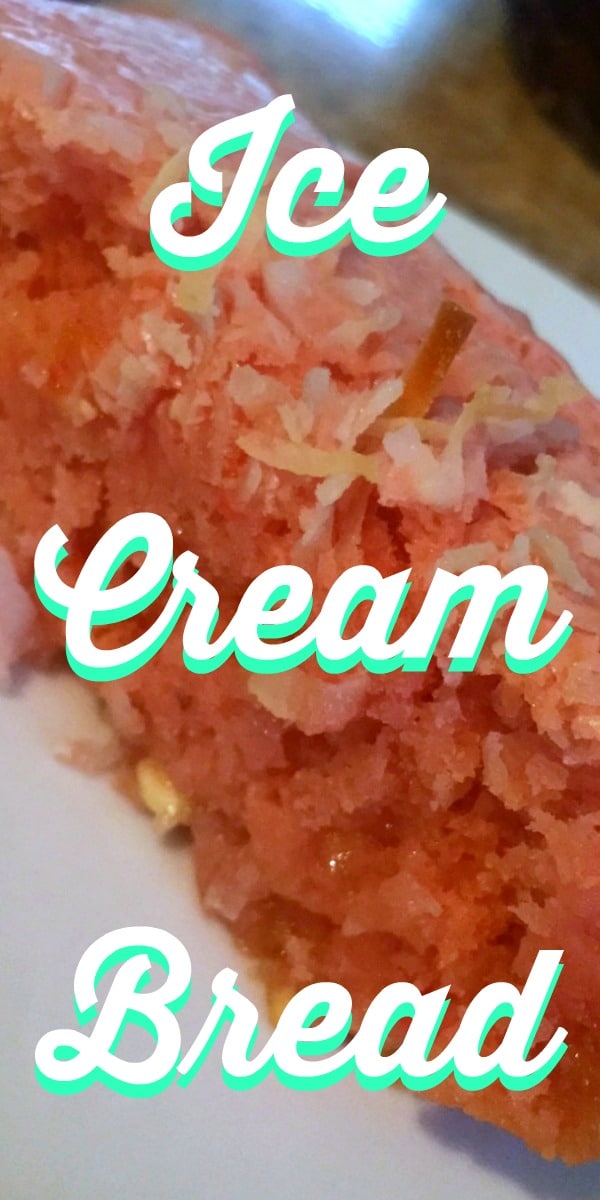 A few months ago – I headed up to Utica OH near Columbus and toured
Velvet Ice Cream
with my hubby and another blogger. It was a great day and really cool to find out about an Ohio company!
On the tour, they gave me their 100th Anniversary cookbook and I had to make something! I found this great recipe for a Tropical Ice Cream Bread and – it was egg-free! My husband is allergic to eggs so I'm always looking for things to bake him. The good thing too is that Velvet Ice Cream has a lot of flavors that are also egg-free – including their Strawberry!
You start with Velvet's Fresh Strawberry Ice Cream – in Cincinnati you can find Velvet at Jungle Jim's and Remke Markets.
Then you add in self-rising flour (which I had to buy for this – I really don't know the difference but I know when baking you use the ingredients exactly as they are listed), sugar, coconut and chocolate chips. You can use regular but I had white chocolate and decided to use those.
Make sure to let the ice cream soften before you stir in the sugar/flour mixture. Once it's softened – it's stirs together easily.
Then I added the coconut and chocolate chips.
For the Maraschino cherries – I used scissors to cut them into smaller pieces – easier than a knife with these slippery little buggers. Then I added them to the other ingredients and stirred together.
The recipe called for a 9×9 pan but I used a loaf pan – it worked just fine. Be sure the pan is lightly greased and/or you can use parchment paper.
Bake for 25-30 minutes and then I checked it with a fork to be sure it was baked all the way through! Clean fork = done!
I couldn't wait for it to cool very long before I had to dig in! I have to say – I normally love white chocolate but I do think there wasn't enough contrast in this and if I were to make it again – I would use regular chocolate.
But the hubby was really happy – he loved it! He's always a fan of some sort of baked good he can actually eat. It's pretty cake like so it's not like a banana bread that you can really slice – but it's very good nonetheless!
Velvet Ice Cream Tropical Ice Cream Bread
* 2 tablespoons sugar
* 1 1/4 cups self-rising flour
* 1/4 cup + 2 tablespoons sweetened coconut
* 1/4 cup Maraschino cherries
* 1/4 cup semi-sweet chocolate chips
Preheat oven to 350.
Line bottom of 9×9 baking pan with parchment paper and lightly grease.
Place the ice cream in a medium bowl to soften enough to stir.
Add the sugar and flour and stir to combine. Stir in 1/4 cup coconut, cherries and chocolate.
Spread the batter evenly in the pan. Top with remaining two tablespoons coconut flakes.
Bake the bread 25-30 minutes until just puffed and very slightly golden at the edges and set.
Remove the bread from the oven to cool in pan for 15 minutes on a wire rack.
Remove bread from pan and slice.