I've been on Weight Watchers for a little while now – two months now – and it's not too bad. I've lost 15 pounds and this is the longest I've stuck with anything since the last time I lost 50 pounds. The sad part of that – I gained all 50 back + 50 more. So yeah – I have about 100 pounds to go on my weight loss journey. When you realize you weigh more than NFL linebackers – it's time to make some changes.
That said – Weight Watchers works for me. A friend of mine and her husband lost a good deal of weight on Ideal Protein – but it's very restrictive and I know me – that just won't work for me. I'm not good with restrictions. I like WW because I can technically eat anything I want – I just have to balance that with the points I have for the day. So when I'm having a bad day and I NEED Kraft Macaroni & Cheese – I can have it! One day I realized I'd only eaten 5 points in a day – so I ordered pizza for dinner! Man – that was some good pizza.
If you're not familiar, you get a set number of "points" you can eat in a day and every food has a points value. I'm on the Smart Points iteration of WW (the calculators differ every now and then).
I'm always trying to find ways eat a few more things with a few less points. Breakfast is tough for me – I find I have to eat breakfast now – but I have a hunger for all things fast food. So I've tried to combat that with making a filling breakfast at home…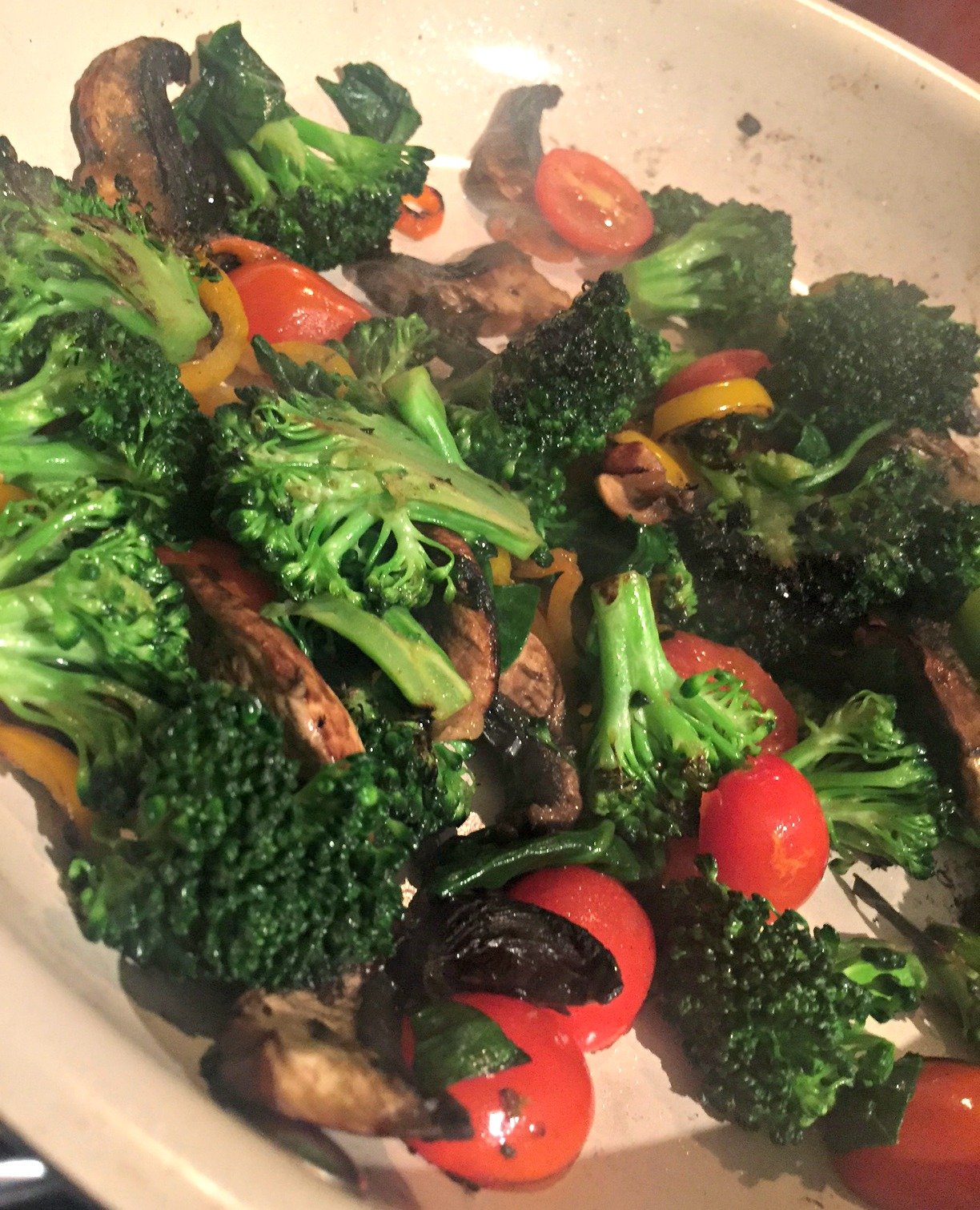 It all starts with vegetables for me – I really love them and they're filling. So first I saute them but only use cooking spray – you have to spray it a couple of times to get them cooked. I start with a spray to get it going – and then add a quick spray to the top when they're about half-way cooked.
For veggies – I like to throw in whatever is in the fridge – my favorites are grape tomatoes, mushrooms, peppers and broccoli.
If you're wanting more veggies in your life – be sure to check out the special offer I have going on with Green Bean Delivery – 15% off your first three orders (for new customers only).
After the veggies – it's two simple ingredients:
1. Egg Beaters – these are 0 points for 1/4 cup and that's a little more than 1 egg if you're comparing. They have regular & southwestern varieties – the SW is just a little zingier.
2. Jimmy Dean Turkey Sausage Patties – these are pre-cooked and come in little packets of 2. I find for breakfast – I really just need 1 patty. 1 patty is 1 point, 2 is 3 points.
So technically – this is a 1 point breakfast – but I figure by the time I put all the 0 points together – there's probably another point in there.
Have you tried Weight Watchers? Do you have any great low point breakfasts?
Looking for other Weight Watchers-friendly recipes?
Zero Point Turkey Chili
Zero Point Salmon En Papillote
Seven Point Goulash
One Point Lemon Blueberry Donuts