A couple of weeks ago – we were in the Rookwood area when we saw a small sign that said "
Jason's Deli
." Suddenly a squeal came from the driver of our vehicle – "JASON'S DELI!!!" Who knew a deli could get someone that excited?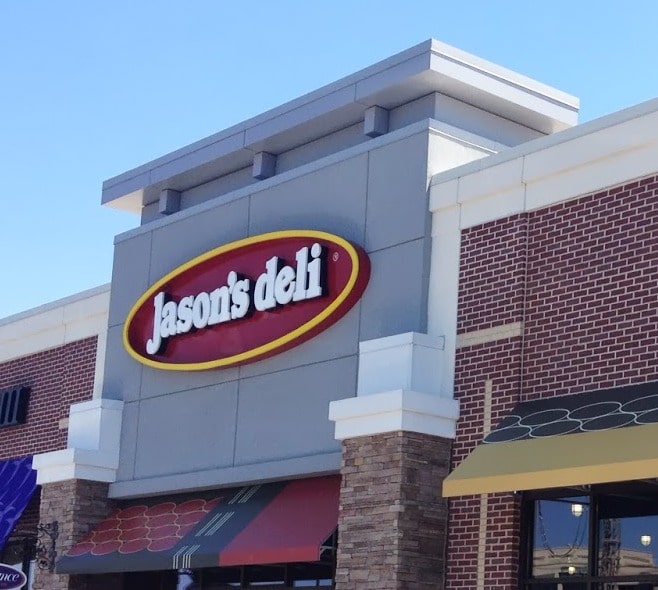 Turns out the driver's husband used to work for Jason's Deli in Columbus and we HAD to go. So the trip was planned!
It's a pretty typical "fast-casual" restaurant with menus as you walk in along with a giant menu board. Walk up – order & pay – and take a number to your table – and the staff brings you your food.
There's no way you can say they don't have a good variety to choose from! Besides the large salad bar the menu features salads, sandwiches, pasta, potatoes and a lot more.
The salad bar gets RAVE reviews – at $7.69 – it's a good value. The salad bar is meatless but you can add grilled chicken or other meat options for $1.79. You can also add a cup of soup for 99 cents.
And yeah – they have FREE ICE CREAM. Okay – free ice cream. Yeah – I'm in.
Sandwiches come with a side of chips – my coworker got a Reuben and a cup of chicken pot pie soup. More on that momentarily – I just can't help but show pics of as much food as possible. It took every bit of will power to not photograph everybody's food at the table!
Also something to note – on a lot of their menu items they have a full and a lighter portion size – which is nice for those that aren't big eaters or are trying to keep things in moderation.
I had heard wonderful things about the Chicken Pot Pie soup so I had to get it. I got a combo that gave me 1/4 of a muffaletta, chips and a cup of soup for $6.99 – which I thought was a great deal!
So the soup – well the flavor was really good. The puff pastry was a nice touch – though a bit tough to cut with a spoon. The biggest problem with the soup was that it was barely warm – BARELY. I could tell that if hot, this would be delightful. I didn't return it because we had 8 people – I didn't want to slow up our meal for returned soup. It was definitely disappointing that it wasn't hot though. 🙁
Here's my muffaletta – it's a New Orleans sandwich with grilled, crusty bread spread to the edges with family-recipe olive mix and provolone melted over ham & salami (or turkey). Unfortunately I didn't care for it at all. I've had a muffaletta before but it was pressed so it was easier to eat. This was extremely thick with the bread making up more than half of the sandwich. The bottom piece of bread was completely soggy. The inside was fine – but with the bread huge, hard and wet – it wasn't appetizing. I ended up abandoning the bread and just eating the inside – which was fine.
That said – I'm not giving up on Jason's – I could definitely tell this is a place that you find something you love and you'll never turn back. I just, unfortunately, had two not-so-good options that I chose.
So – what did I do? Well turn lemons into lemonade of course! In other words – I got some free ice cream!
Why Should You Go?
While I didn't love my selections – I think Jason's Deli definitely has merit and will be back. Have you been – what do you like? What should I get next time?