MOD Pizza provided me a gift card in exchange for this post. All opinions are my own.
Recently the folks at
MOD Pizza
invited me to try their new MEGA Dough! So I grabbed my hubby and headed over to their new location in Anderson/Cherry Grove to check it out!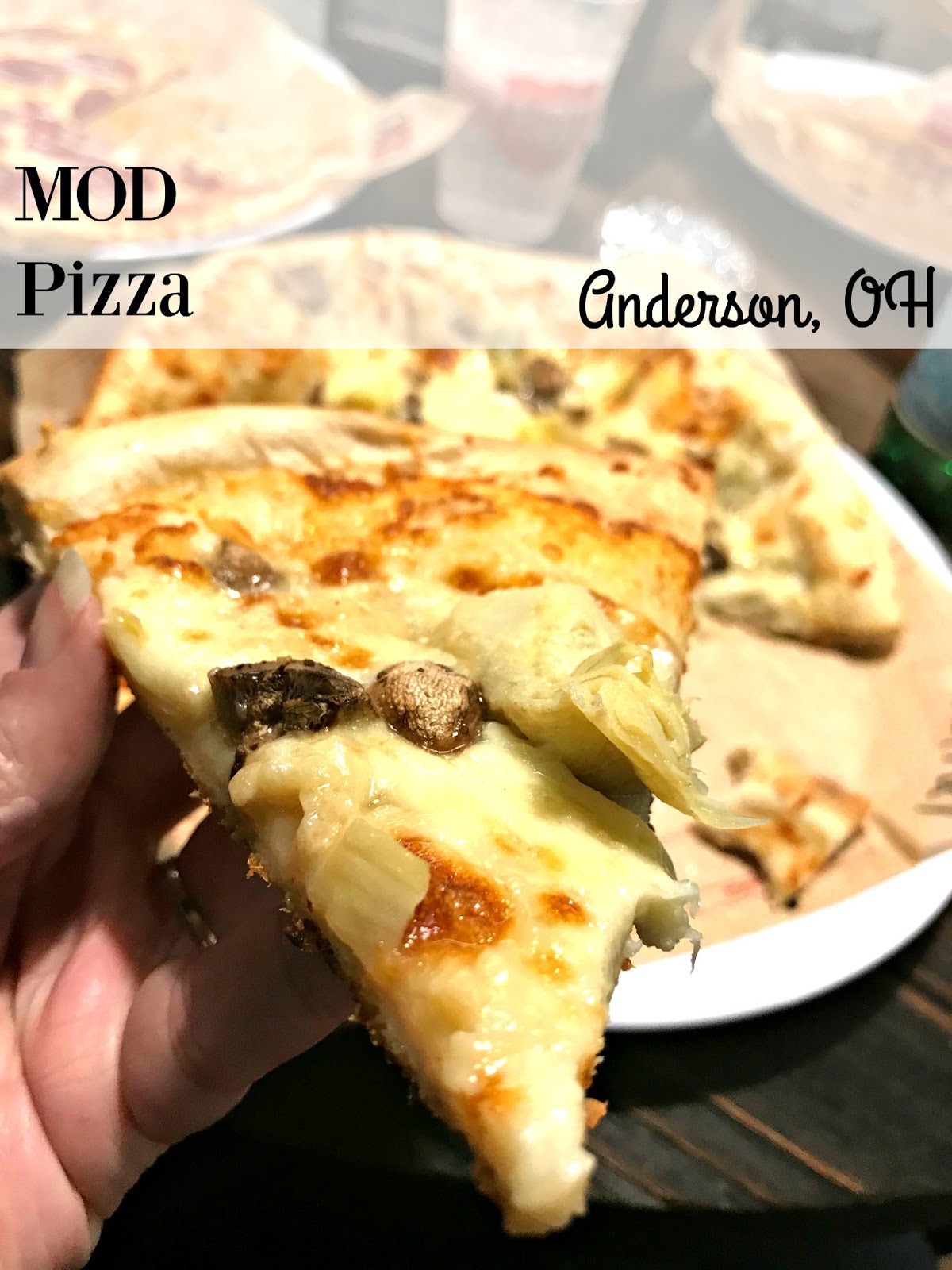 MOD Pizza is one of the plethora of the Chipotle of Pizza places that have popped up in the past few years. The dough is thin crust and typically goes in a brick oven and you get to pick your toppings from a wall of options. MOD has locations in Oakley, West Chester and Anderson.
I like this location – it's right near the TJ Maxx on Beechmont. They have big garage doors that they open up during nice weather to expand their seating area which is definitely worth a summer night visit. The wall of options helps you if you want to pick a combo – or give you ideas at least.
I chose the MEGA Dough which is twice as much dough as the regular and the Lucy Sunshine Pizza – which is garlic, mozzarella, artichoke and parmesan. It's supposed to have red sauce dollops on top – but I guess they forgot which is fine by me – I didn't want a red sauce pizza anyway! I missed the fact that they have ricotta as an option or I would have added that!
We also got an order of Cinnamon Sticks with a side of strawberry sauce. These are super thin – almost like a tortilla with cinnamon/sugar on it. They messed up our order the first time and redid them – which I appreciate – they didn't just give us overdone dessert. I liked these but Larry likes the cinnasticks from Domino's better.
I also got one of their famous No Name Cakes – with my new drink of choice – fizzy water. I'm trying to drink less soda but I need the fizz!! So I found sparkling water but only like it with no flavor – the flavors are all gross – they just taste fake!
And the "no name cake" – it's a Ding Dong – but I'll tell you – it's bigger and better than regular Ding Dongs!! I loved it and enjoyed every bite. (yes – while drinking my fizzy damn water)
Larry is a simple pizza guy and got pepperoni and cheese on the regular dough. I have to say – his looked super cheesy and really tasty.
I liked my Lucy Sunshine – it's a vegetarian pizza with just olive oil for a sauce – which is what my heartburn prefers. You can't really go wrong with artichokes and mushrooms. I will also say that the MEGA Dough was great – it bakes up nice and fluffy – so you're not getting a huge dense crust!


Why Should You Go? It's a good quick pizza and it's far better tasting than regular pizza delivery joints. I would probably get the regular dough when I go back – but the mega was good. And definitely get that no name cake!