I was invited by Tablespoon Cooking Co to come down to Findlay Kitchen and take a class and then share my thoughts with you. All opinions are my own.
Tablespoon Cooking Co
. is the brainchild of my friend Jordan Hamons – otherwise known as
The Hungry Traveler
. Jordan trained at the Midwest Culinary Institute and has traveled all over the world – so her blog is like mine – but with real street cred. Hahaha!
I took my friend Rachel with me because she likes fried food and free drinks – but I suppose I have quite a few friends that would fit that bill.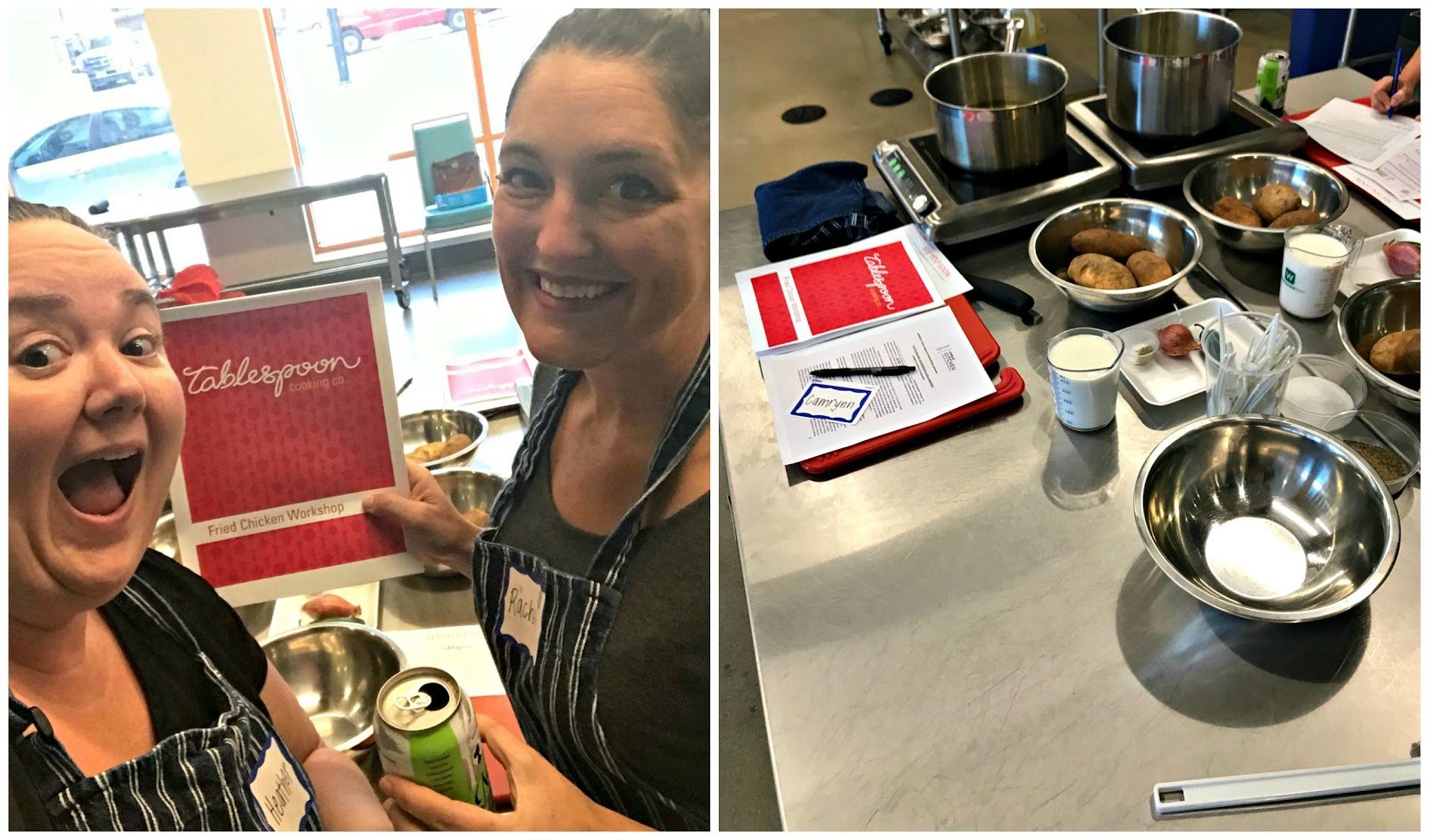 The Findlay Kitchen is on Elm across from Findlay Market (and up the street a little). It's a great storefront and the kitchen is used by multiple small businesses. It's a great space and Jordan and her team have the class set up with cooking stations for teams of two.
I really like Jordan's teaching style. She breaks the class and recipes up into chunks and she demos what you'll do and then you do it. Here she's showing us good knife skills. Lucky for me – I had this part down pretty well.
Throughout the night – we learned how to make wings, fries, cole slaw, fried chicken and more. The fries were fun to make – she taught us the most efficient way to cut the potatoes. We also learned the importance of uniformity in size. If you don't have them the same size – some will be raw and others will be burnt.
We also learned that rinsing the starch off the potatoes helps make them crispy when you fry them and you get super crispy fries by double frying them. They were so good! We gobbled them up so quick I forgot to take a pic – I had to go take a pic of someone elses!
They also made Korean Fried Chicken Wings for us as a bonus with two sauces – one was a spicy Gochujang that will kick the crap out of you and the other was a Soy Garlic Glaze. I much preferred the Soy Garlic Glaze – but they were both really good.
Probably our favorite dish of the night was the buttermilk herb aioli – it's mayo, buttermilk, white wine vinegar and fresh herbs. I would never think to add the buttermilk or vinegar but the acidity really gave it a zing and fresh herbs were most definitely the way to go. The aioli was meant for the chicken sandwich we made but I'm pretty sure Rachel and I killed 90% of it on our fries.
We also got a super secret (or not – since you can find it if you scroll down) herb mixture for her fried chicken. Herbs and spices just look so pretty – you don't even have to do anything with them and they're a pretty picture.
The star of the night was the fried chicken which we marinated in buttermilk right at the beginning of class. The marinade had jalapenos and shallots also – which was pretty crazy. I tend to think of marinades as being an oil/vinegar base – but the buttermilk was great. Especially since the buttermilk made the chicken nice and sticky so there are no eggs in this recipe! That means – in theory – I could make it for my husband. The key there is…in theory. 😉
We also learned some great tips for cooking with oil – it can be a little nerve-wracking – but with her tips you can do it no problem! Here you go:

– Never FILL the pot with oil – make sure you keep plenty of room above the oil and use a deep pot. You'll see in the image above – the oil is less than half way full in the pot. Just use enough for what you're frying to have room to move around.
– Never cover the pot – that builds up heat and can be very dangerous
– Bring the temperature up slowly – this is not a time to flip it on high and go – take your time
– Check the temp with a thermometer – Jordan recommends Thermapen – hers (shown above) has lasted her years and is super quick and very accurate.
– Be sure to use oil with a high smoke point (i.e. canola, vegetable, peanut) – leave the olive oil in the cupboard

After all that we were ready to go – we double dredged the chicken in the marinade & flour and then into the bubbling oil it went. 5-8 minutes later – the crispy perfection is ready! You can tell by the color – you want a dark golden color – too light and it's not done yet. Keep a close eye on it – you don't want all this work to go to waste!
And there you have it! We used boneless, skinless chicken breasts so we could make sandwiches with them – but you could use bone-in as well. This chicken was completely amazing – it was so juicy and crispy – by far the best fried chicken I've ever had in my life.


Why Should You Go? I highly recommend Tablespoon classes. We came home with chicken and sauces as well as a thorough handout of all the recipes demonstrated in class. Jordan is super friendly and her staff was there for us every step of the way. I really enjoyed it and would definitely take her class again. I love the hands-on level of the classes and it's great if you're really wanting to learn how to cook – in general or a specific dish.
Here's the recipe for the fried chicken from Jordan:
Buttermilk Marinated Fried Chicken
Recipe from Tablespoon Cooking Co.
Ingredients:
For the buttermilk marinade:
2 cups buttermilk
1 shallot, peeled and sliced
1/2 jalapeno, halved
1/2 clove garlic, peeled
and smashed
2 teaspoons kosher salt
1/4 teaspoon black pepper
For the seasoned flour:
3 1/2 cups all-purpose flour
4 teaspoons baking powder
3 teaspoons kosher salt
2 1/2 teaspoons smoked
paprika
1 1/2 teaspoons black
pepper
1 teaspoon cayenne
1 teaspoon celery salt
2 thinly sliced, skinless
boneless chicken breasts,
about 6 oz each, halved
crosswise
Canola oil for deep-frying
Directions:
Make the marinade: mix together all ingredients in a medium
mixing bowl. Set aside.
Make the seasoned fl our: whisk together all ingredients in a deep
wide dish. Set aside.
Add the chicken breasts to the bowl of buttermilk marinade. Cover and marinate in the refrigerator for at least 1 hour and up to
8 hours.
Lift one piece of chicken at a time from the marinade and dredge
really well in the seasoned fl our.
Shake off any excess flour.
Return the chicken to the marinade, fully submerge one more
time, then dredge again in the seasoned flour.
Shake off any
excess our and set aside.
Discard the marinade.
Pour the oil into a heavy, deep pot to a depth of 4 inches.
Heat
over medium heat until the temperature reaches 350-degrees F.
Use a wire spider or slotted spoon to carefully lower the chicken
into the hot oil.
Fry 2 pieces at a time until the crust is a deep
golden brown, about 5-8 minutes.
Transfer the chicken to a paper
towel-lined plate to drain.
Notes: Adapted from Shake Shack by Randy Garutti and Mark
Rosati