A while back I was excited to try out
Wild Eggs
in Oakley with my good friend Rachel.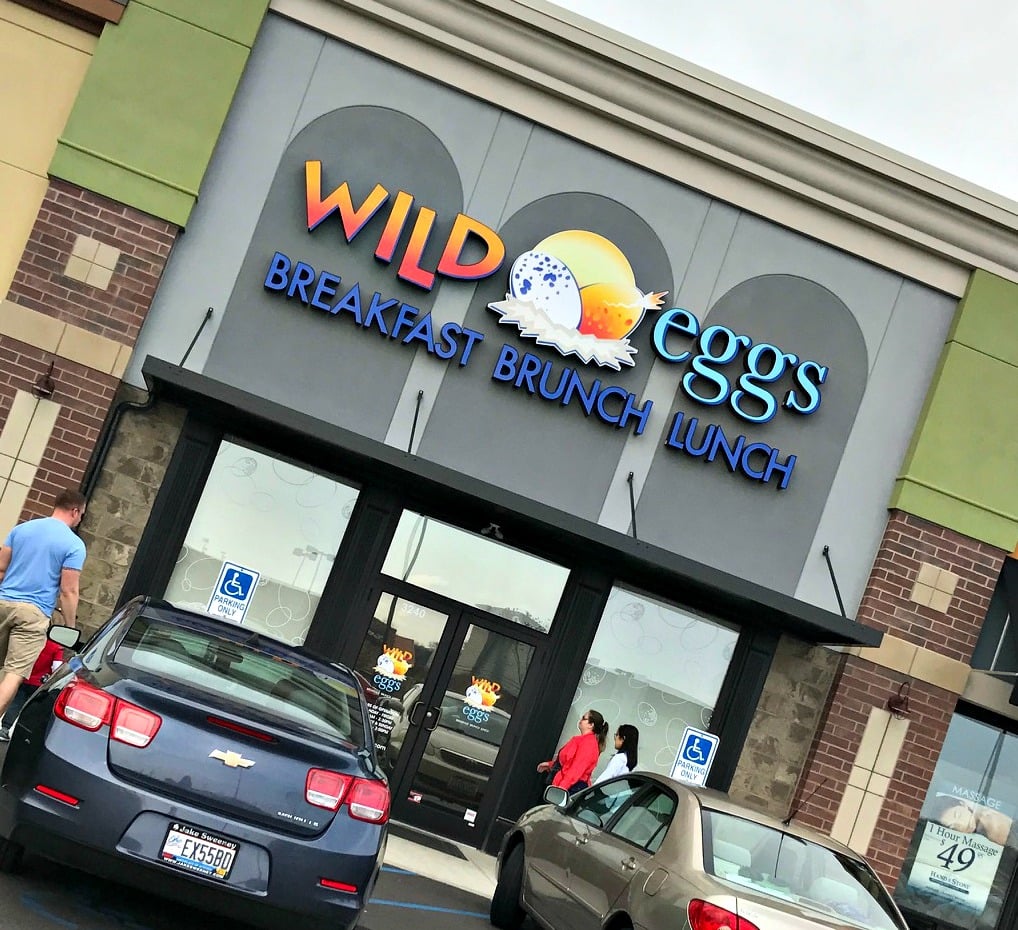 Wild Eggs is similar to the other "brunch" style restaurants in that they are open morning to mid afternoon and mainly serve breakfast items with a few lunch items.
The inside is very bright but not very cozy or warm. It's very sterile almost hospital like. I think the openness is actually distracting. It has a very cafeteria feel and I really wasn't too excited about what was to come!
We decided to split their House-Made Cinnamon Roll as an appetizer (why not – right?) This looked and smelled amazing – it's a croissant pastry dough filled with all the normal goodies: butter, brown sugar and cinnamon – baked in a cast iron skillet and topped with a sweet vanilla bean icing. This was good but not great – there was something a little odd about the icing – maybe it was the vanilla. We didn't love it.
My chef friend that was my lunch date tried Mexico City Maria's Chilaquiles. When we found this item on the menu – I channeled Gilmore Girls and started just loudly shouting
CHILAQUILES
!!! Rachel
MIGHT
have thought I had lost my marbles but if you're a Gilmore Girls fan – it's what you do.
For those of you unfamiliar- it's a Mexican breakfast casserole with corn tortillas, chorizo, refried beans, salsa verde, queso blanco and a sunny side up egg. They also serve it with skillet potatoes and a shot of jugo de limon y chile! (lime & chili juice)
This was the turning point for the meal – our uber-friendly server had bragged on their housemade queso and with good reason – it was delicious! Rachel really enjoyed every bite!
And again – CHILAQUILES!!!!!
I went for the Mr. Potato Head Casserole – hashbrowns with sour cream, onions, and cheddar jack – then topped with sausage, tomatoes, poblanos, mushrooms, queso fundido and an egg of my choice.
Again with the queso – oh man – it was delicious!!!! Both of our dishes felt much more "homemade" than "chain restaurant" and we loved it. After our entrees we both felt like this was a definitely repeat stop for our lunches. (We work on opposite ends of town – so have to meet in the middle.)
Why Should You Go?
While the ambiance isn't much to right home about – both of our entrees more than made up for it. We'll definitely be back!