Recently my husband had a weekend off – which – in retail – is pretty much a miracle! I took advantage of that and decided to plan a little night away.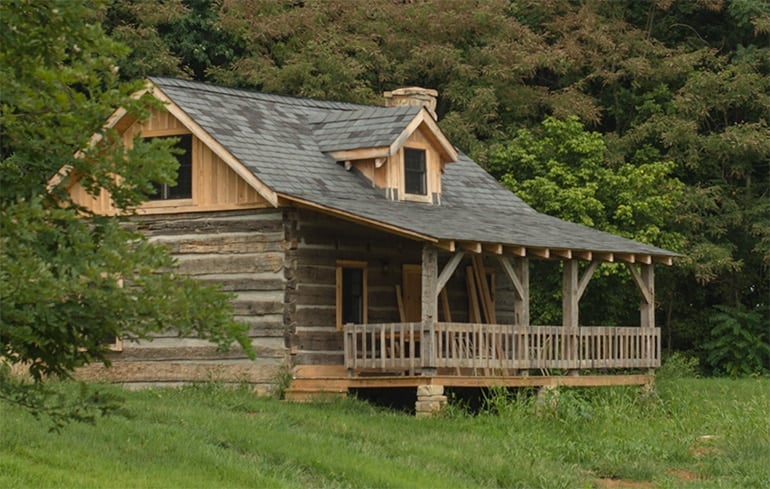 Photo courtesy of Pixels and Dots
I know Larry and I both love peace and quiet – so a night out in the sticks was just what the doctor ordered!

We didn't want to go very far so we settled on Adams County which is about an hour east of Cincinnati. It's home to Serpent Mound – the world's most spectacular effigy mound (according to them anyway).
I came across Cave Hill Cabins between West Union and Seaman. They were kind enough to offer us a free night in their Log Cabin since it was open for the night. I must say it is the picture of peace and tranquility!
I've stayed in a lot of cabins over the years but this was easily the nicest – which is saying something since the bones of the cabin are pre-Civil War! I loved that the story of the cabin's history (including a story of someone named Soup Bones) was in the cabin binder.
With all the bones of a pre-Civil War Cabin – it's also got all the amenities of a modern hotel! The beams told such a story – in that beam alone we saw 100 ax marks – and that was on one side of one beam – imagine how long it took to build the whole thing! There were books, board games, dog toys (yes – it's pet friendly), a stocked cabinet with dishes, plates, cookware and even seasonings and coffee, a gas grill ready to go and even q-tips in the bathroom!
After our night of rest and relaxation in the cabin – we headed into town and went to Blake's Pharmacy. Why? They have an original 1960's soda fountain shop in the back! I was so excited!! My grandpa used to take me to the drug store in our tiny little town and buy me a cherry coke while he had coffee with his friends. This brought back so many memories!!!
Also – let me tell you about the food! They have sandwiches (white bread people – WHITE BREAD!). I got ham salad and Larry got ham and cheese – with chips, 2 cherry cokes and 2 chocolate shakes. The total was…$7.83. Shut the front door. Ridiculous.
The adorable woman behind the counter said some kids from Cincinnati came in a few weeks ago and they wanted to see "the fountain". Apparently – they thought it was an actual fountain. They were underwhelmed and walked out without ordering anything. Their. Loss.
Then we headed to the Amish Wonderland – Miller's. They have 3 stores on one "compound" with a bakery, furniture store and bulk goods store. I love each shop – the bakery has fresh baked pretzels, bread, cakes and hand pies! The furniture store has all this amazing hand-built furniture and just smells of delicious cedar. The bulk goods store has shit I don't need but I buy anyway! I mean how can you not buy a pound of bright orange cheese powder when you see it?!
I hope this has inspired you to take a drive to Adams County! If you're in Cinci – it's only an hour away! And be sure to check out Cave Hill Cabins if you need a few nights away – it's perfection! The nicest cabin I've stayed in!