This post is sponsored by Frisch's Big Boy. All opinions are my own.
There is nothing I love more than spending a cozy day at home watching Hallmark movies in a house that just smells of the holidays! But how do people do it? How do they make their house smell like a wonderful fall potpourri factory exploded?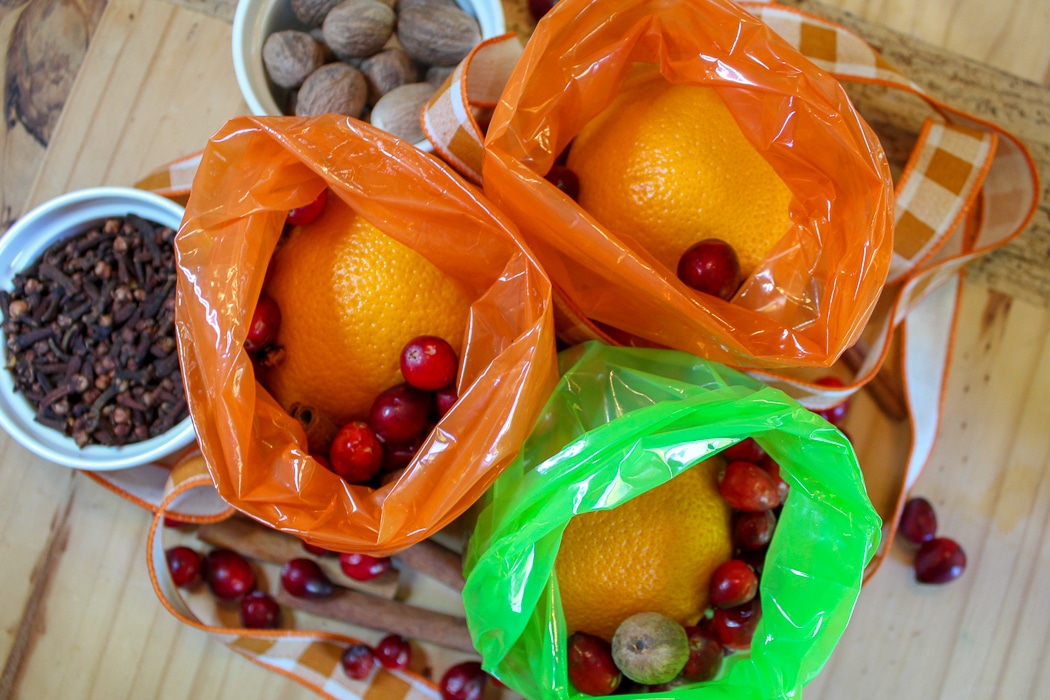 I remembered my friend Danielle makes these simmer pot recipes with oranges and cranberries and realized that was the trick! After chatting with her – we decided to do a craft day and turn this simmer pot recipe into a fun (and easy) gift idea to give our friends!
The thing is, no craft day is complete without DESSERT!!! To be honest, the desserts are more important than the craft most days. So I decided to stop by Frisch's Big Boy and grab all of their holiday desserts and bring them with me!


I grabbed a famous Frisch's Pumpkin Pie, their Pumpkin Cheesecake and – of course – their seasonal Pumpkin Spice Caramel Cake!!



What spices can you use to make your house smell good?
So I went ultra simple with this fall potpourri: cinnamon, nutmeg and cloves plus cranberries and oranges – that's it. And really – you're good with just those. You can always sprinkle more spices in – but these are so good on their own.


My big tip here is to buy in bulk online (all my links are in the recipe below)!!! We always do craft day on a tight budget and I was able to get these spices all in bulk for $5-7 on Amazon! Another great place to check are those Amish stores that sell things in bulk. Definitely do NOT buy spice jar type spices for these! And you'll never need to buy cloves or nutmegs again! hahahahaha
These simmer scents for fall and winter are like a liquid potpourri! And it's so easy to gift or use at your own home! If you just want to use it for potpourri – just put a big pot of water on the stove or in your crockpot and add all the ingredients (slice the orange). If you want to drink it, use water & apple juice instead of just water! Simmer and you're good! As the water evaporates, just add more. I had this pot going for 6-8 hours!
So we let the first potpourri simmer for a while just to make sure we liked the smell – and while we did that – it was dessert time! Frisch's Pumpkin Pie is famous around Cincinnati. It's creamy and has that punch of spice and pumpkin – it's so good! They make them around the clock right before Thanksgiving because the demand is so high!
In addition to the pumpkin pie and pumpkin spice cake, they also have a Pumpkin Cheesecake! It's so creamy – it's like a lighter pumpkin pie with a light coating of whipped cream on top. The crust is sweet but not too much! We loved it!



These simmer pot recipes for fall and winter will give you a fragrant home that lasts all day! And the thing is – everybody wants their home to smell nice! This is such a fun and cute gift idea and it goes together in minutes!!! You can have a few bags ready to go – then as the holiday season moves along – grab and give!
Our craft day was so much fun – and we each took home two potpourri bags: one for ourselves and one to give away. We were not giving away these desserts from Frisch's though!
Oh and that Pumpkin Spice Caramel Cake has a layer of vanilla ice cream in the middle!!! Yum! (It was the first to go!)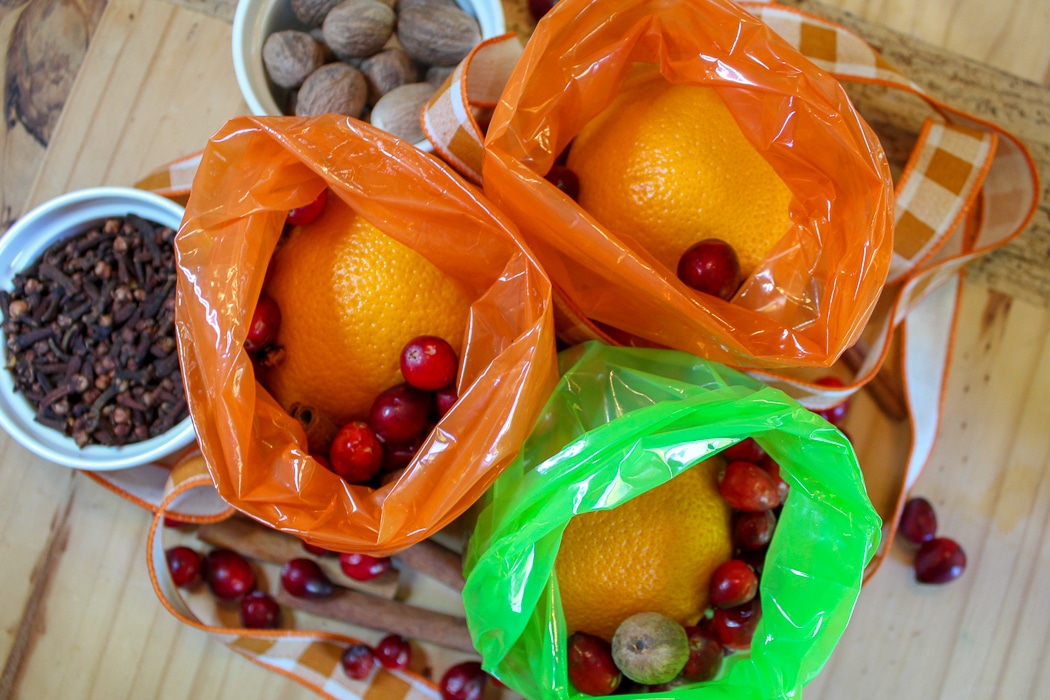 Gift Idea: Holiday Simmer Pot
prep time: 5 M
cook time:
total time: 5 M
There's nothing I love more than spending a cozy day at home watching Hallmark movies in a house that just smells of the holidays! This gift bag is the perfect way to pass that long to friends. Pop a few ingredients in a bag, tie it with a bow and you're done! It's the perfect gift for friends, neighbors and party hosts!
ingredients:
1 bag of fresh cranberries
6 oranges
12 tablespoons whole cloves
1 roll holiday ribbon
instructions:
How to cook Gift Idea: Holiday Simmer Pot
Gift Bags
Spread open cellophane bags
In each bag place:
– 1/2 cup cranberries
– 2 cinnamon sticks
– 2 whole nutmegs
– 1 orange
– 2 Tbsp whole cloves
Tie bag with ribbon
Instructions
– Place large pot of water on stove – turn on high (or use a crock pot!)
– Slice orange into wedges or slices and place into water along with cranberries, cloves, cinnamon sticks
– Feel free to use micro-grater to grate some of nutmeg into water – then add rest of whole nutmegs to water
– Simmer
– As water reduces, just add more! It can simmer all day!
– If you swap water for apple juice, it becomes a hot cider you can serve to your guests!
NOTES:
– You can substitute ground nutmeg and ground cinnamon
– Buy the nutmeg, cloves and cinnamon in bulk online or even at an Amish store – SO MUCH CHEAPER!!!!
– If you want to be more creative – print up little note cards with the simmer instructions and include as gift tags
– If you use apple juice instead of water – you can drink this!
Recommended Products:
Whole Cloves
Whole Nutmeg
Cinnamon Sticks
Did you make this recipe?
Tag
@foodhussy
on instagram and hashtag it #foodhussyrecipe