I always love when I find someone new to Cincinnati ice cream. Most people all say Graeter's is the best – but I have a soft spot (in mah belly) for UDF as well.
First up, Graeter's…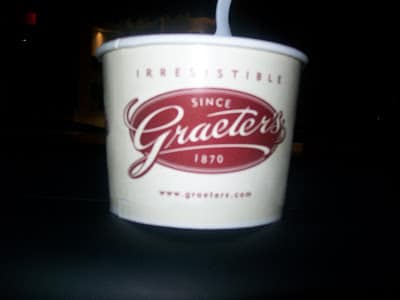 Recently the boyfriend's daughter was with us and she's grown up in Felicity and told us she's never ever had Graeter's!?! If you're not familiar with
Felicity
– well it's east…far far far FAR east (and south now that I look at Google) and apparently – they don't have Graeter's there!
I went for cookie dough chip and she went for chocolate chocolate chip. Amazing as usual…I practically licked my bowl.
There's really no commenting you can do – Graeter's is creamy and delicious. If you've never had it – the standout really is the "chips". They're huge – they're like half a chocolate bar.
My favorite Graeter's story is when I sent the Black Raspberry Chip & Montgomery Inn package from CincyFavorites.com to my Iowa friends for Christmas. I got a phone call from Amy and her 4 year old (my adorable boy) was covered in purple ice cream and had a message for me, "Thith ith the betht ithe cream EVER!!!!!" How can you not love that?
Should also mention – Graeter's has chocolates, candies and a lot more than just ice cream.
Then – on every other corner – there's a UDF. When I moved here I had no idea what the hell a UDF was – now I can't live without them.
I really love the ice cream – there are two brands – UDF and Homemade. There are $$ specials and flavor specials every month – this month – PEANUT BUTTER! There are:
Homemade Brand Peanut Butter 'N Chip
UDF Brand Mini PB Cups & Fudge
UDF Brand Peanut Butter Chocolate Chip Cookie Dough
I've been addicted to the last one – it's peanut butter ice cream with chunks of cookie dough. Oye- so amazing! I actually bought a hand-packed pint last night because I just couldn't resist!
UDF also has the Graeter's-traditional flavor of Black Raspberry Chip – their chips are much more like "chips" you're used to getting in store-bought ice cream. It's all good either way but not nearly the "wow" factor of Graeter's.
UDF – as many know – also has gas, milk and all the other convenience store type of accouterments (love using that word – reminds me of Michael from the Office).