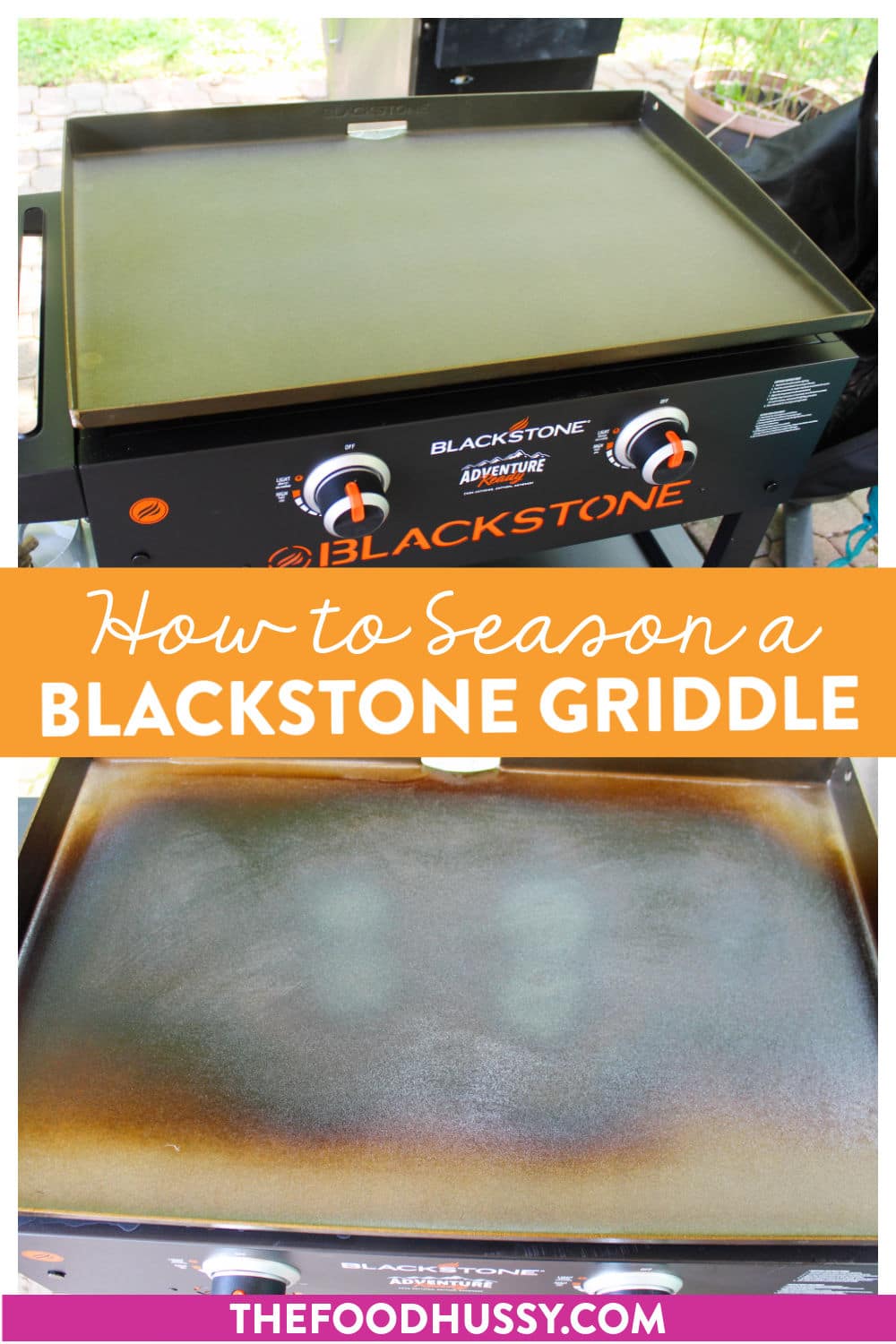 You got that new griddle – now what? Once you get that Flat Top Grill put together, I've got you covered on all the steps on How to Season Your Blackstone Griddle!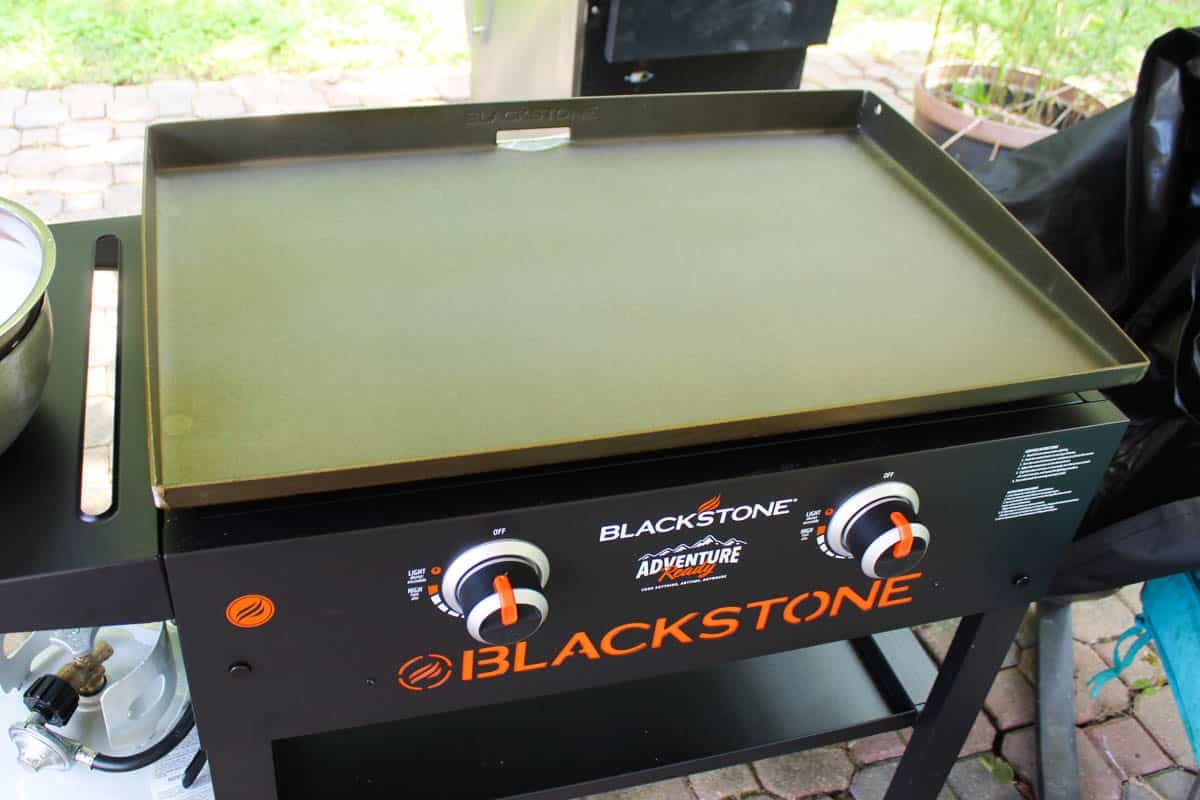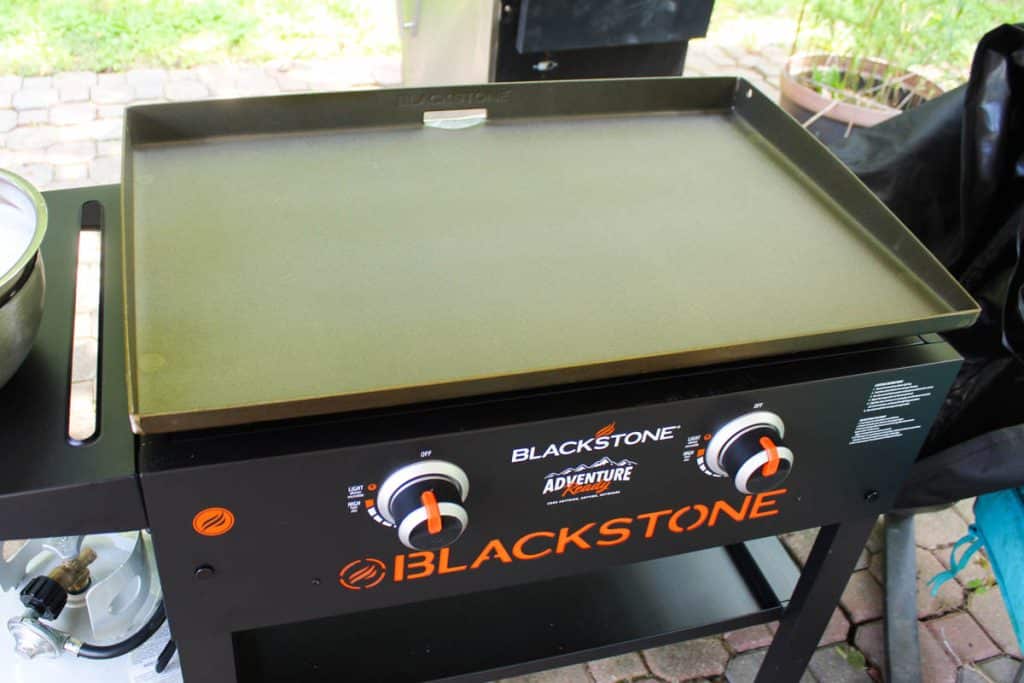 What You Will ❤️ About Your Blackstone
So easy to use! Turn on the propane and go!
Nonstick! By properly seasoning the griddle – you'll have a nonstick surface that makes it much easier to use going forward!
Versatile! This isn't just for burgers and breakfast! Work along with me as we create new and yummy foods on the Blackstone!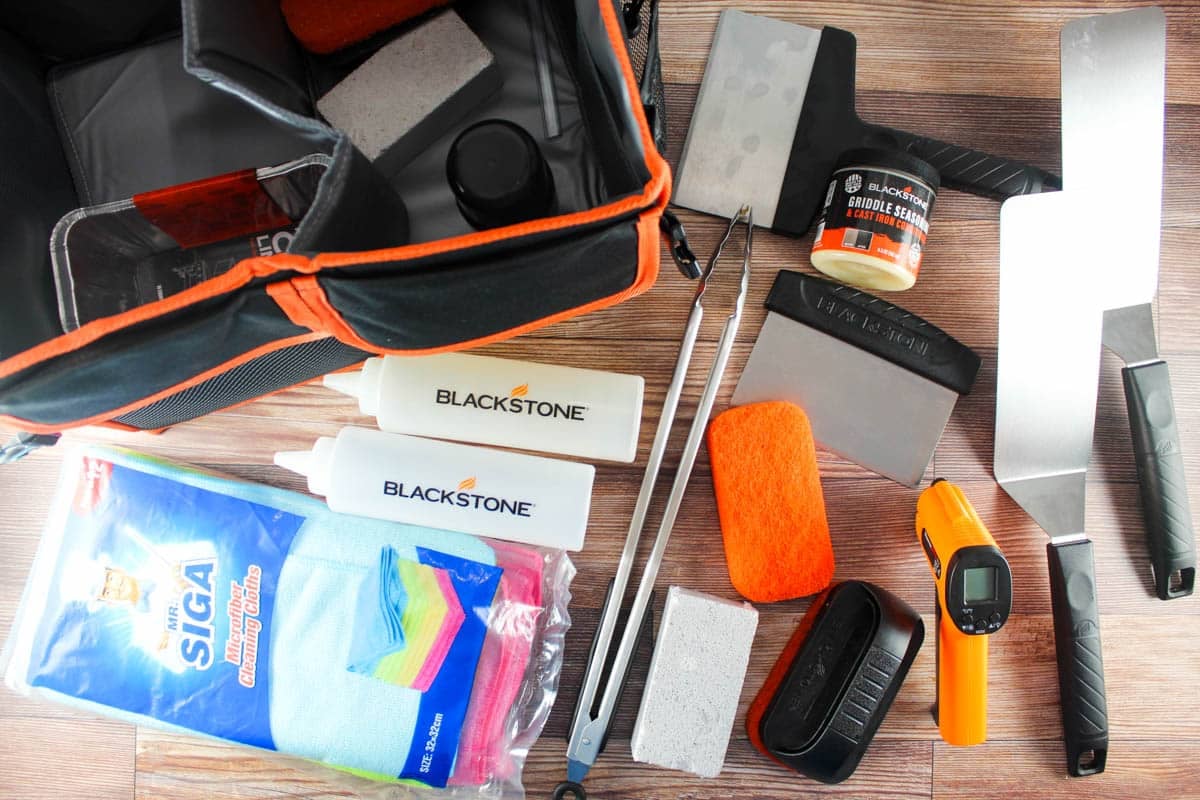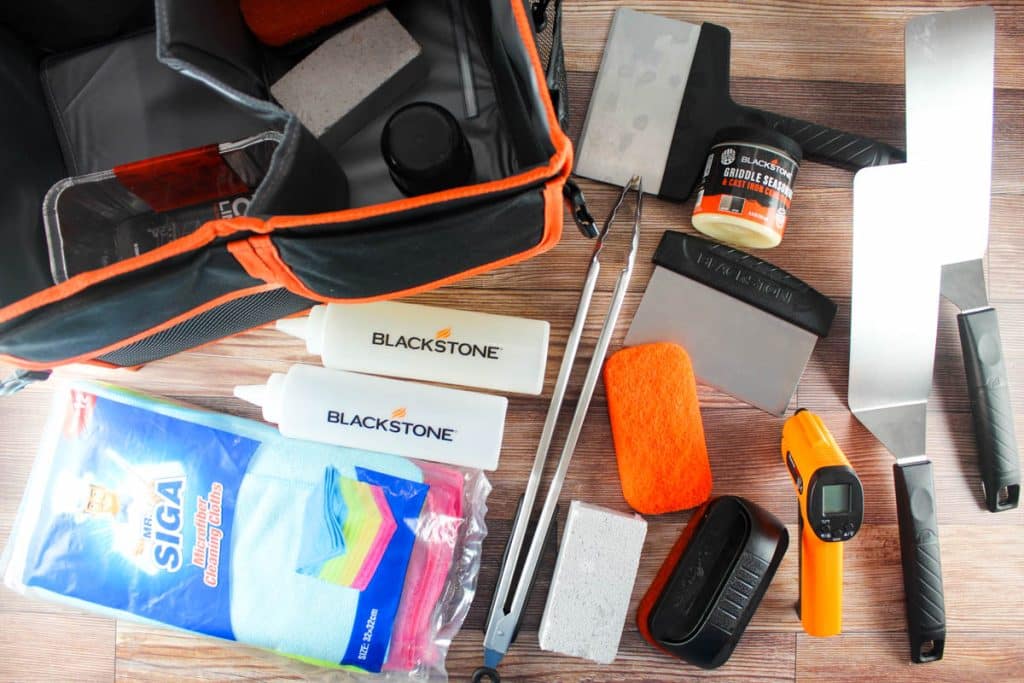 Tools needed for seasoning a Blackstone:
You probably have most of this at home – the links are just for reference.
You an also find a ton of "kits" for cleaning, cooking etc. They're usually more affordable than purchasing the pieces separately.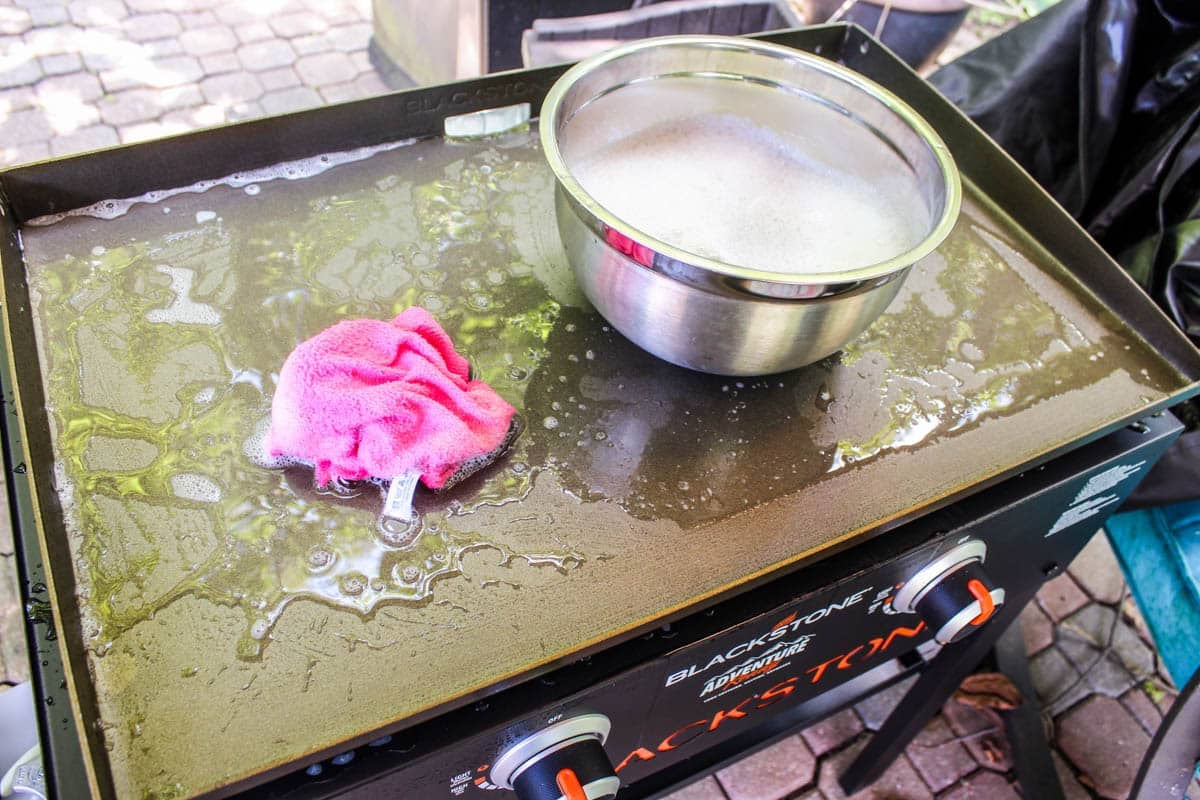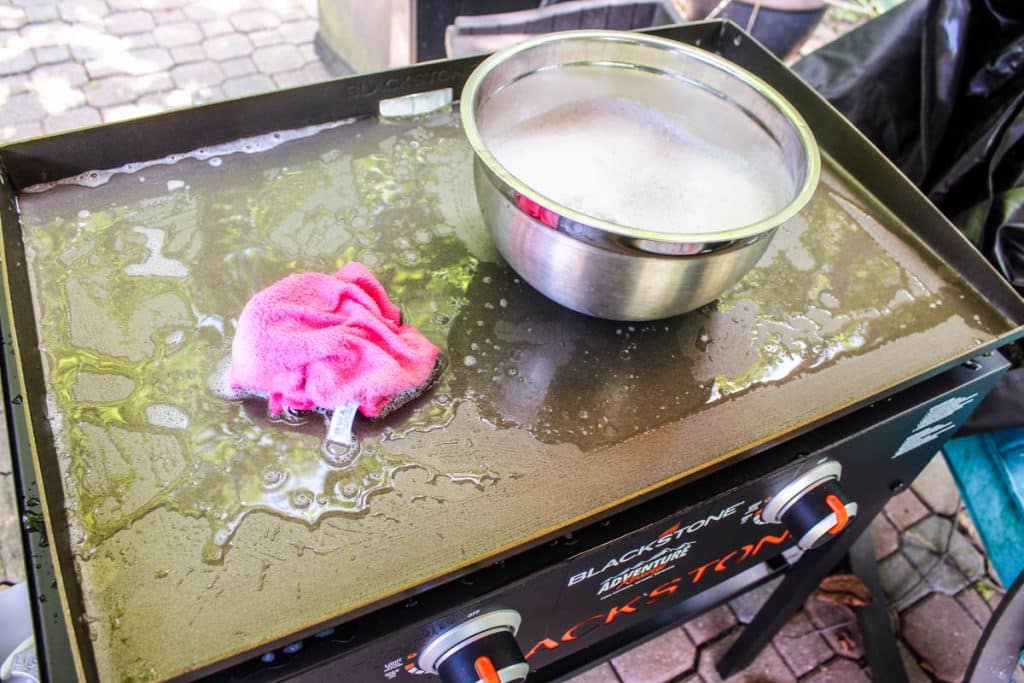 Here are the steps on how to season a new Blackstone griddle:
The seasoning process is VERY important to ensuring your griddle will maintain a non-stick surface going forward.
This will take about 40 minutes – so just set aside the time and get to it! The sooner it's done – the sooner you can cook on it!!!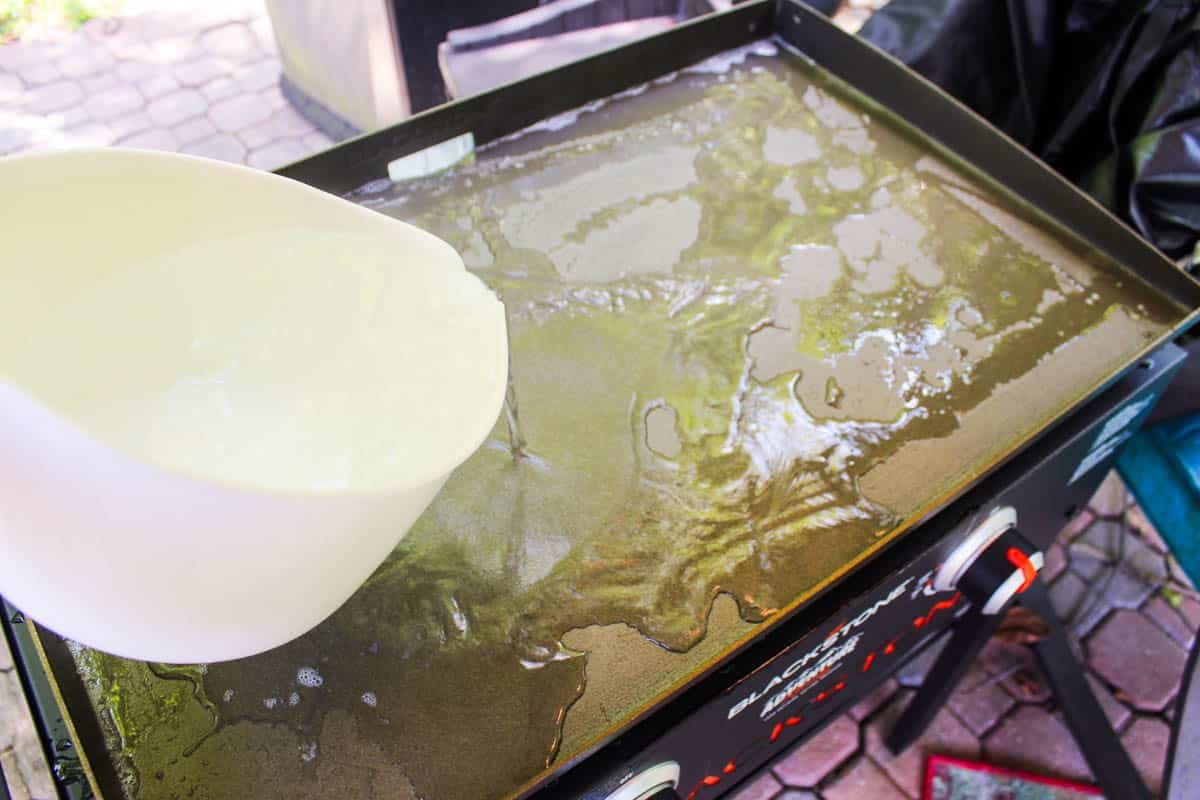 WASH: While cool, wash the cooking surface of the griddle with warm, soapy water and a lint-free cloth. Rinse it thoroughly and wipe it dry with a clean towel. This will get any debris from the packaging off of your griddle.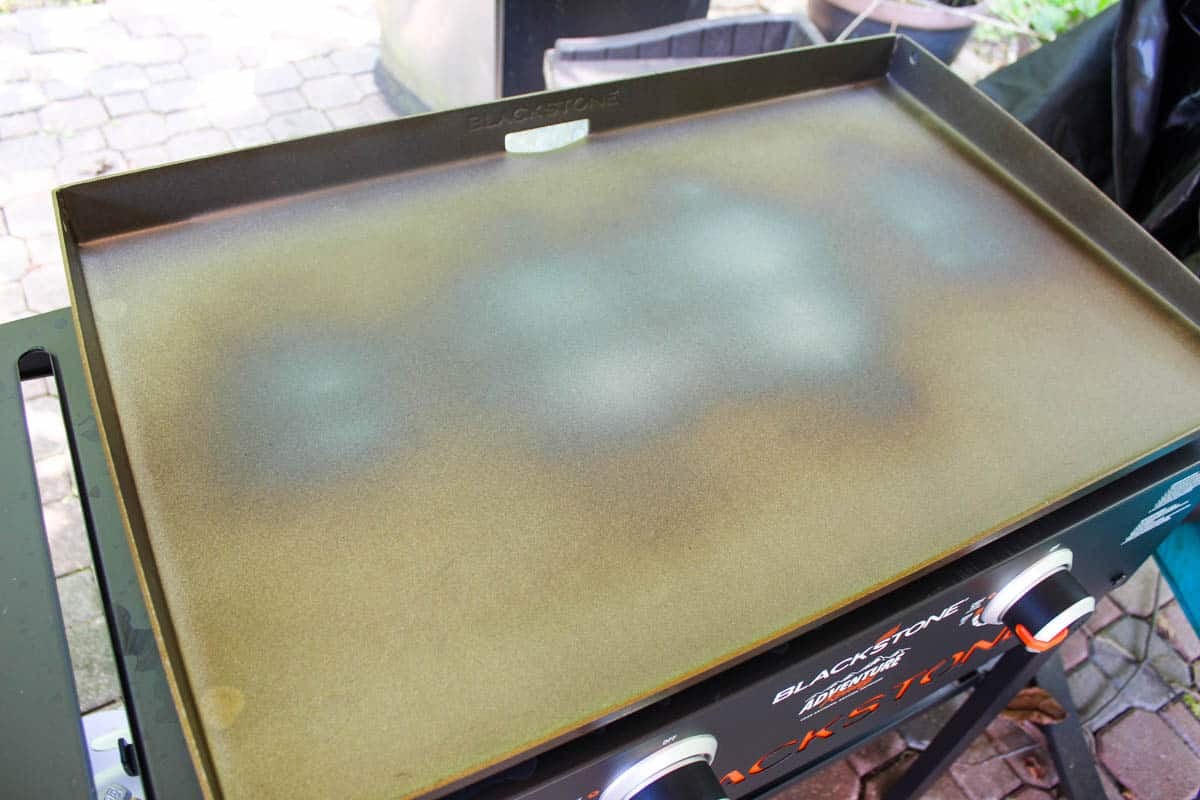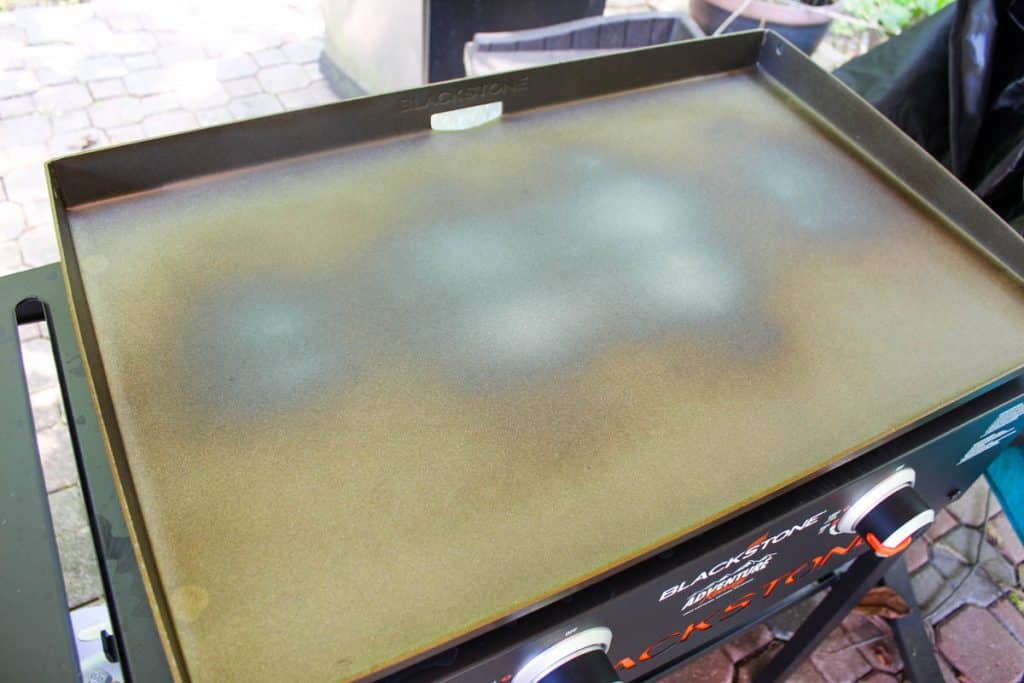 2. HEAT: Turn griddle to max heat (be sure you've got your propane hooked up properly) on all burners. After about 10 minutes or so, you'll notice the center of the griddle will change color and darken.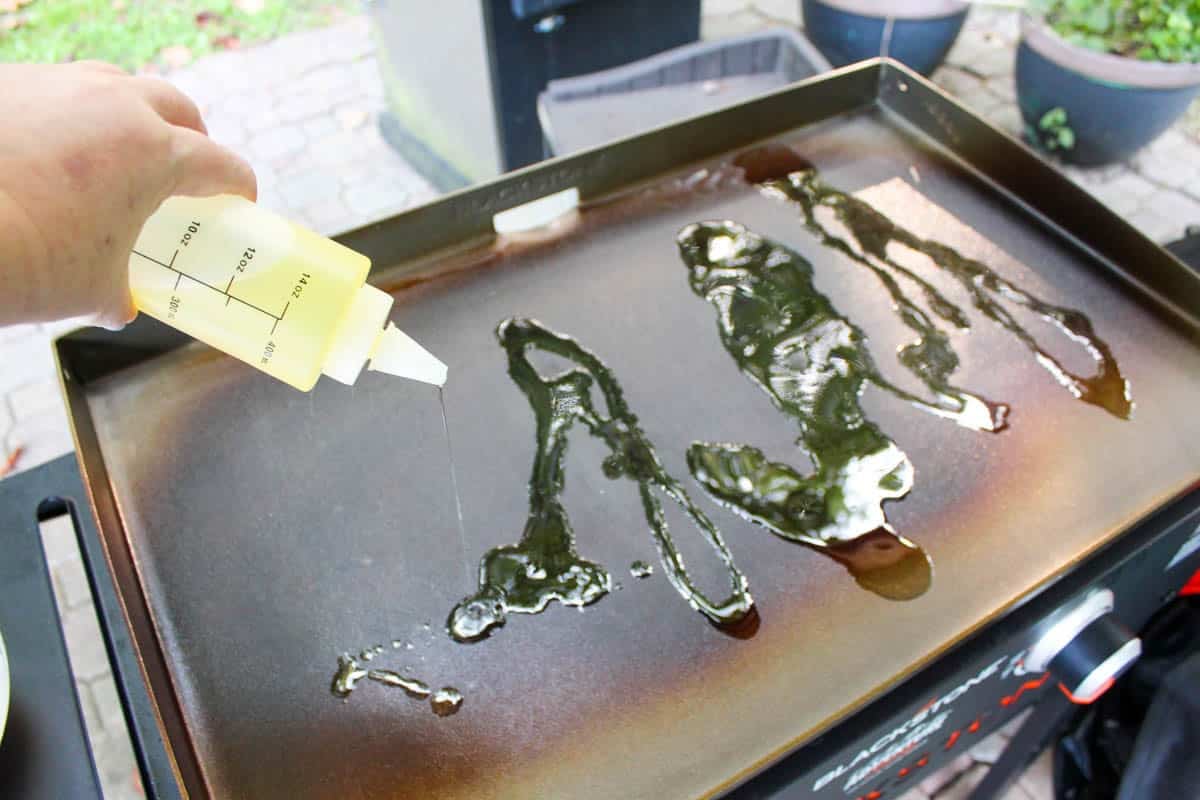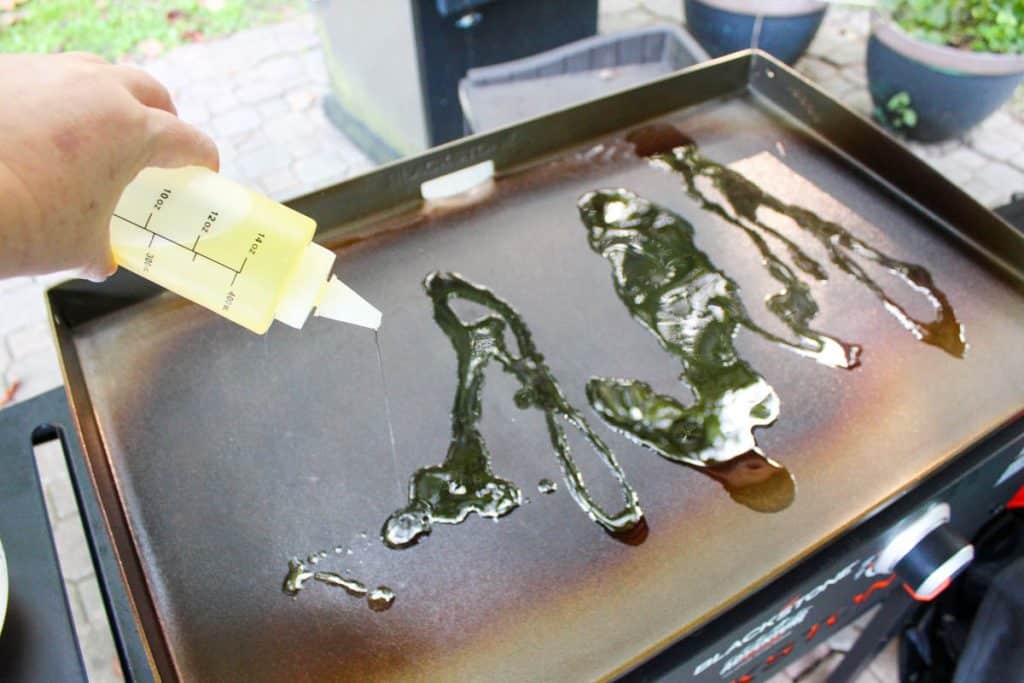 3. OIL: At that point, apply a thin layer of oil to the entire griddle surface – including the sides and grease trap. You can use another lint free towel to apply the 3-5 tablespoons of oil.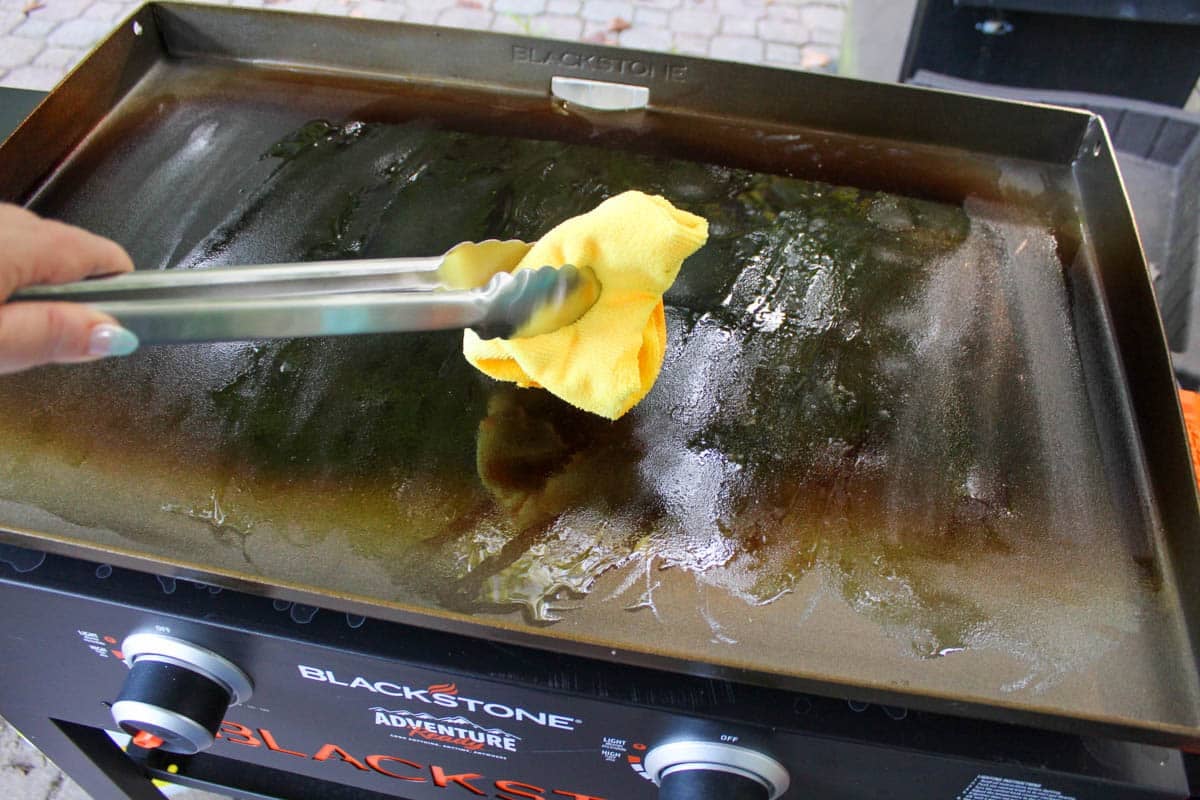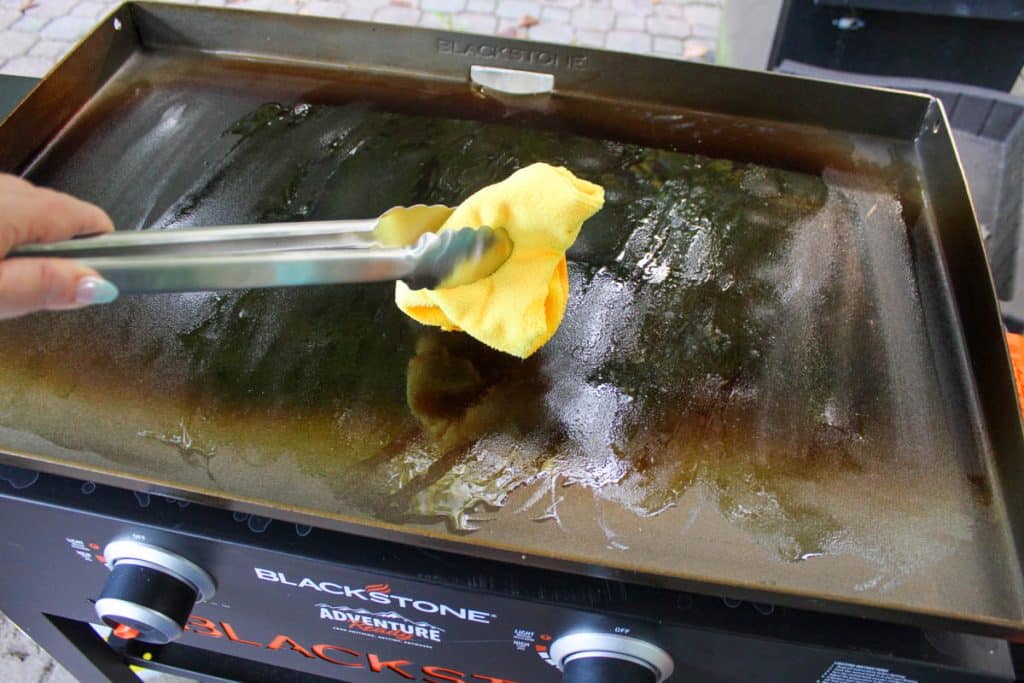 You'll want to hold the towel with long heavy-duty tongs or heat-resistant gloves.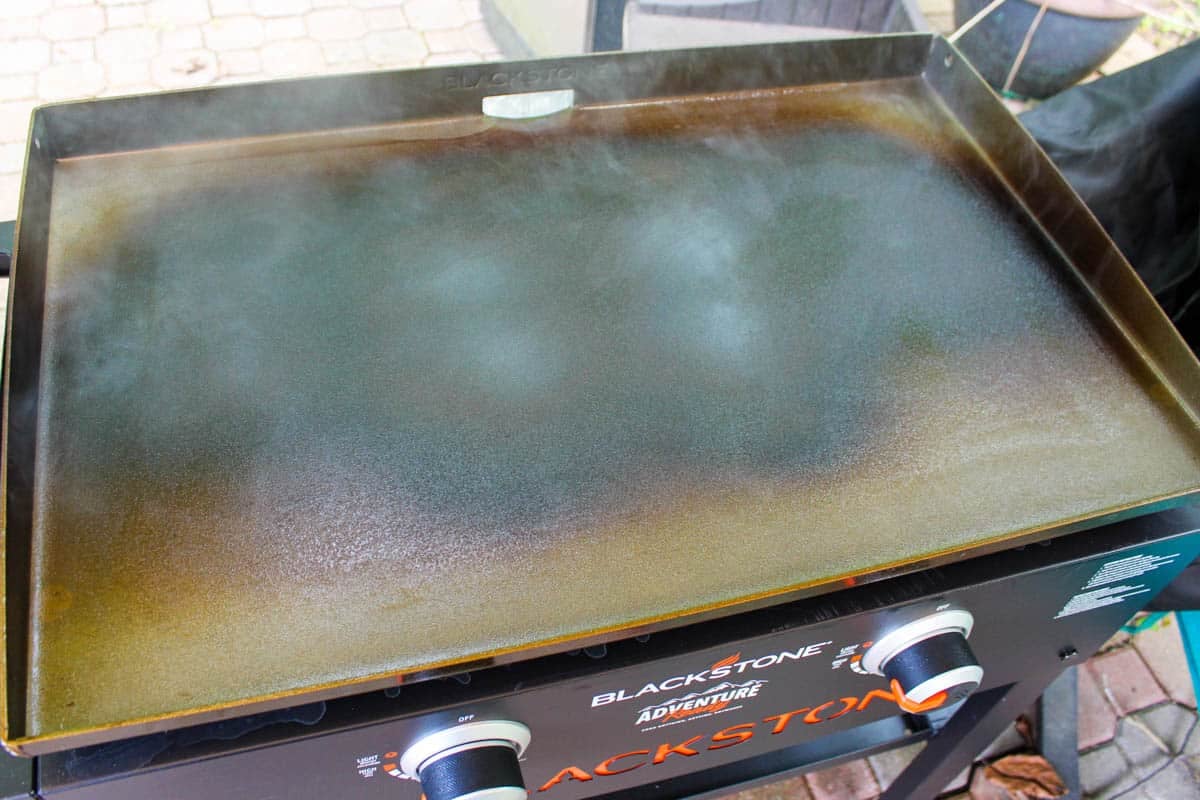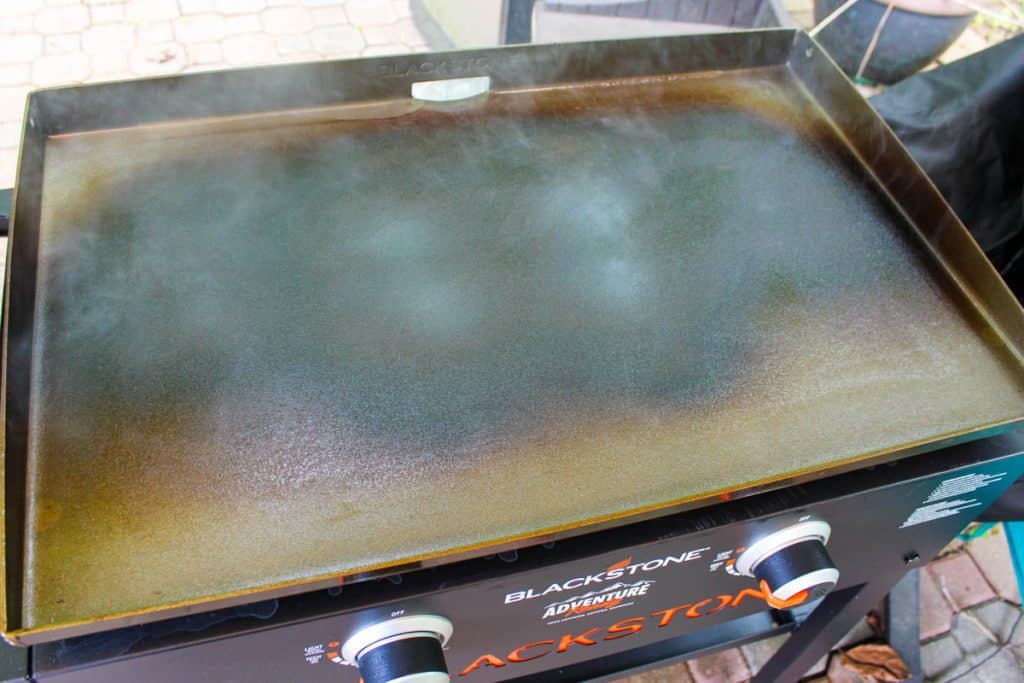 4. HEAT AGAIN: Heat the griddle over high heat for 10-15 minutes. The oil will smoke and then that will taper off.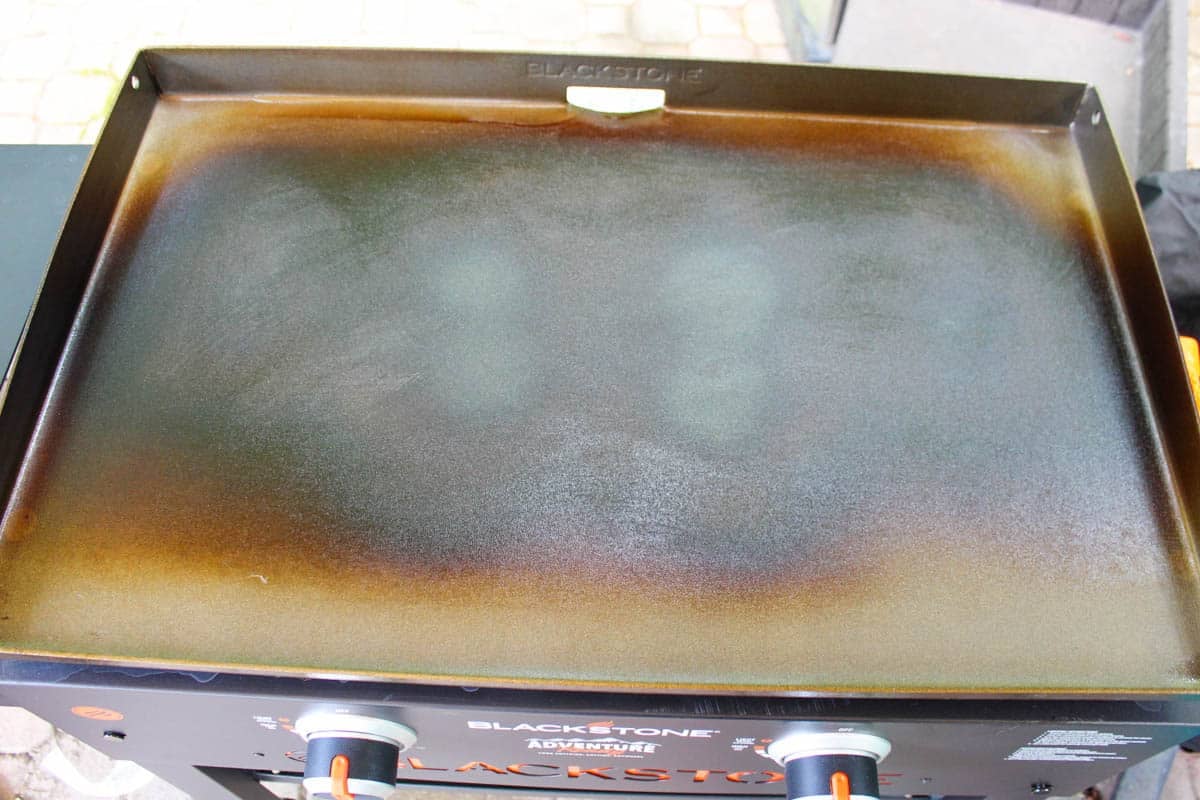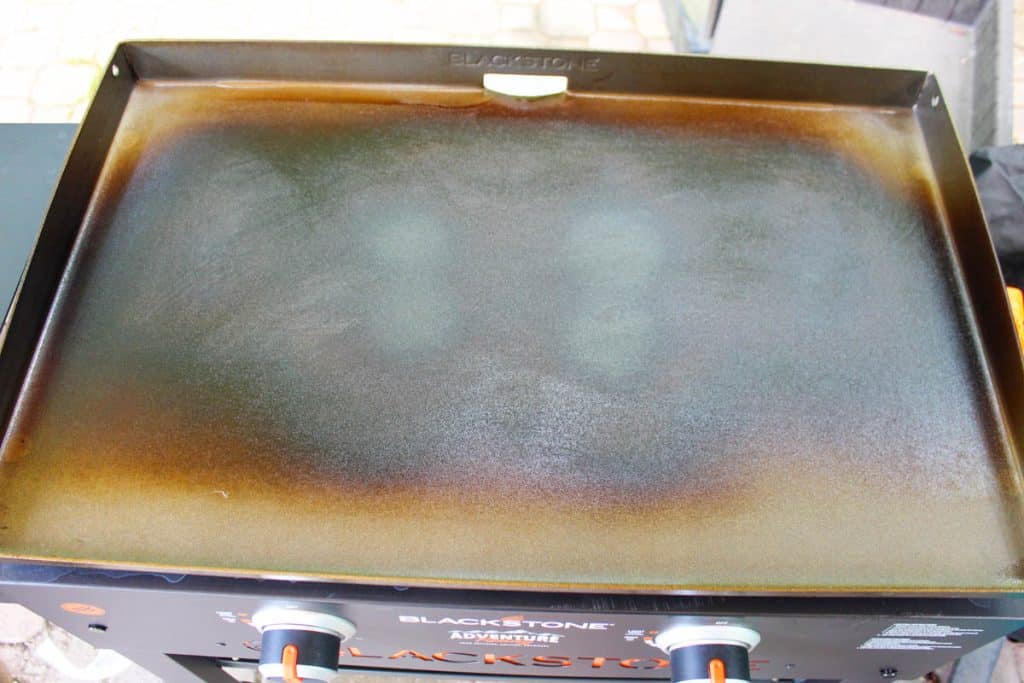 5. REPEAT: Repeat steps 3-4 two more times. Each time you apply and cook off the thin coat of oil, you'll notice the griddle changing color. Once the majority of the grill is to a darker color, you can call it seasoned! This might take 3 times or maybe 4-5 times – it depends on the size of your griddle, temperature, etc. Those layers of seasoning are what will make your griddle non-stick.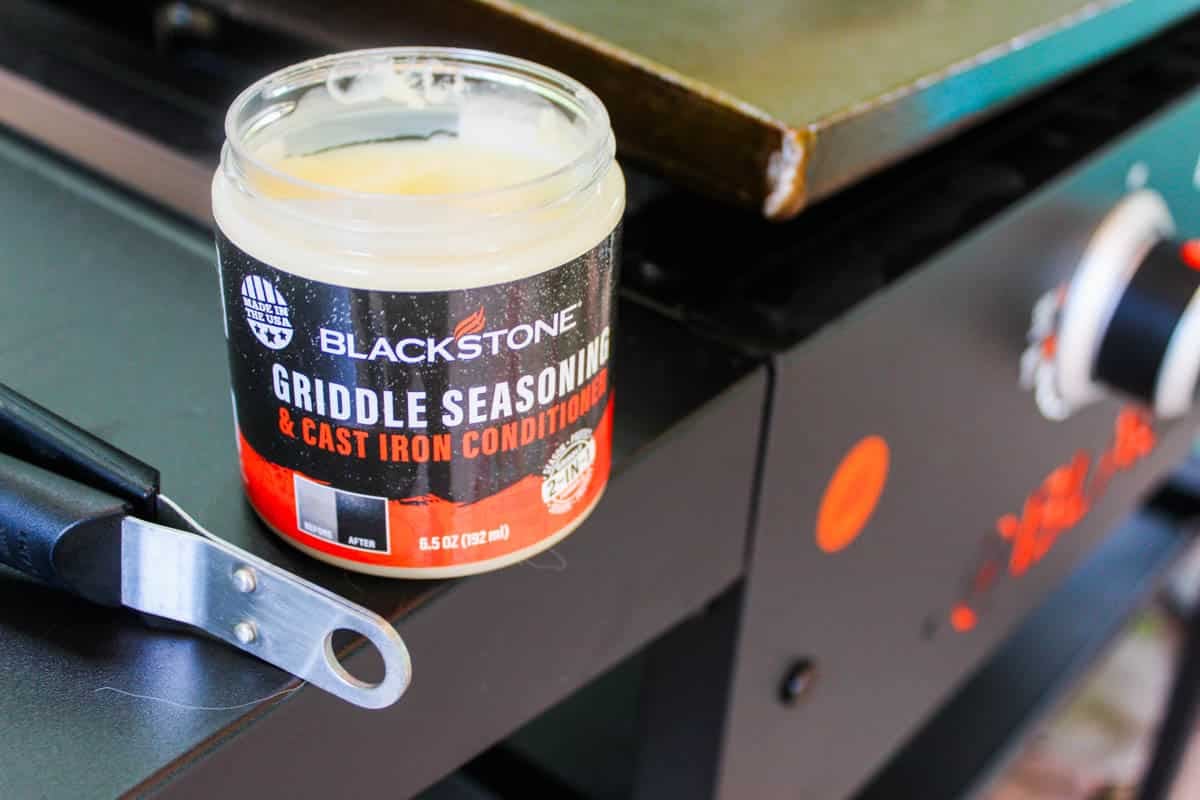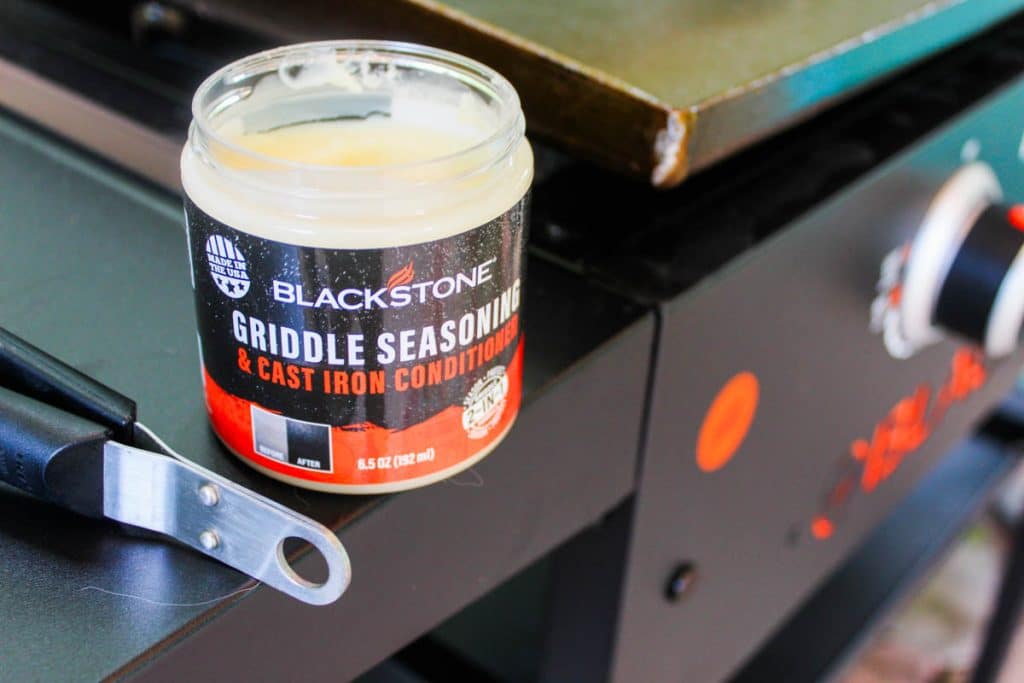 6. CONDITION: After that, turn the burners off and let the griddle cool slightly. Add a final coat of oil or the cast iron conditioner with your tongs and cloth.
7. COOL & COVER: Be sure to turn off your propane! Once the griddle is cool, cover the griddle top with your silicone mat and cover.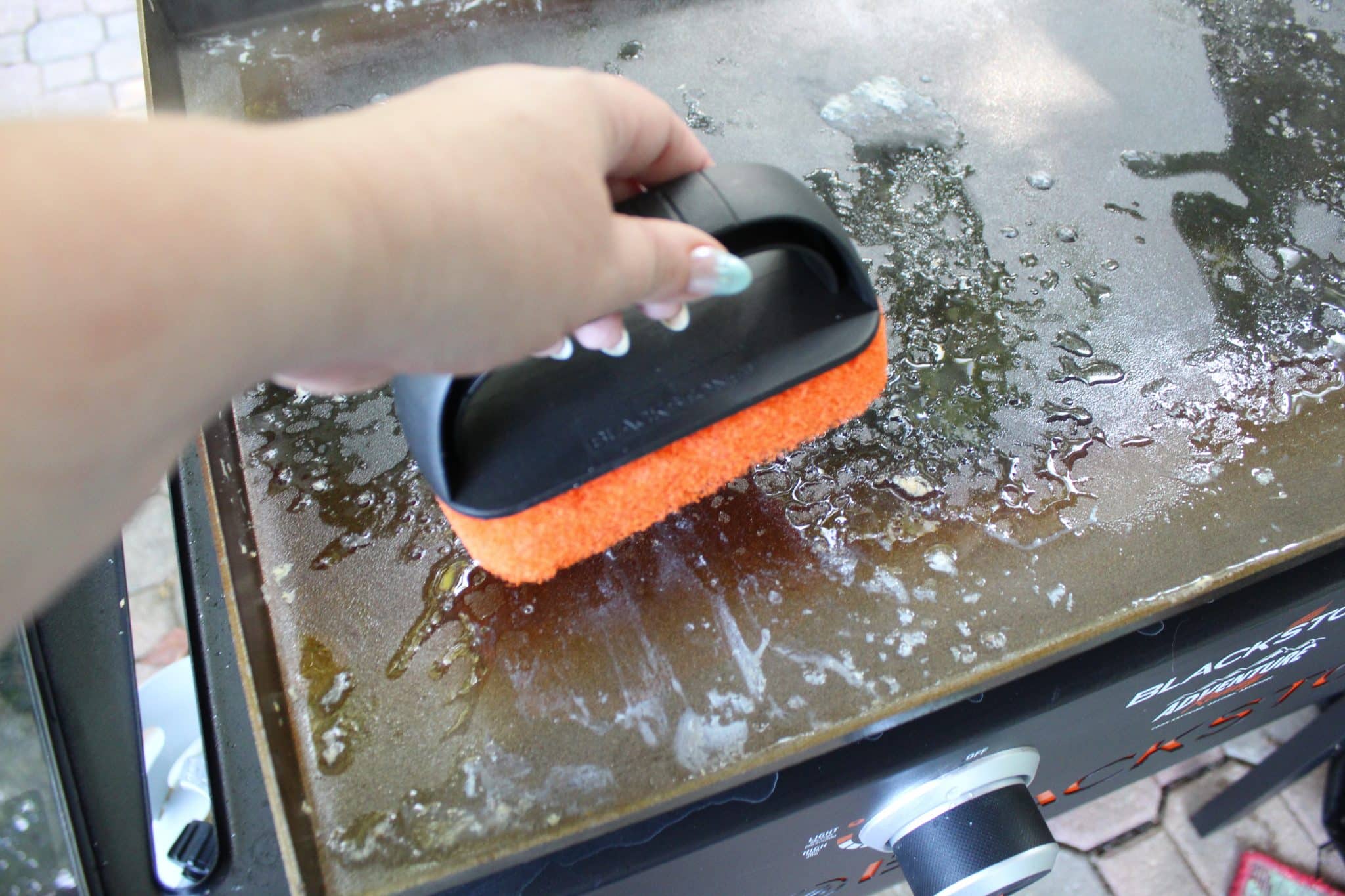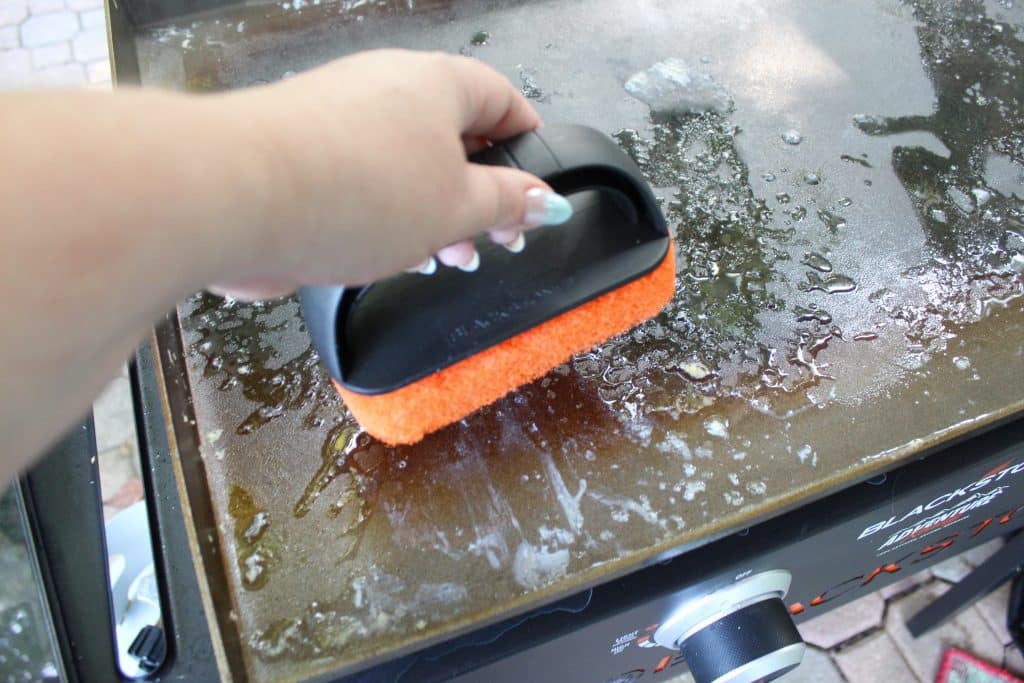 Cleaning your Blackstone
After seasoning your Blackstone griddle, it is important to keep it clean and well-oiled to prevent rust and keep it performing at its best. Every time you cook on it – you'll be adding a seasoning layer to the griddle!
You can clean the griddle after each use by scraping away any food residue and then washing the griddle with warm water and a sponge. If you notice any stubborn food residue or rust spots, you can remove them with a wire brush or scrub with steel wool. Be sure to oil the griddle after cleaning it to prevent rust from forming.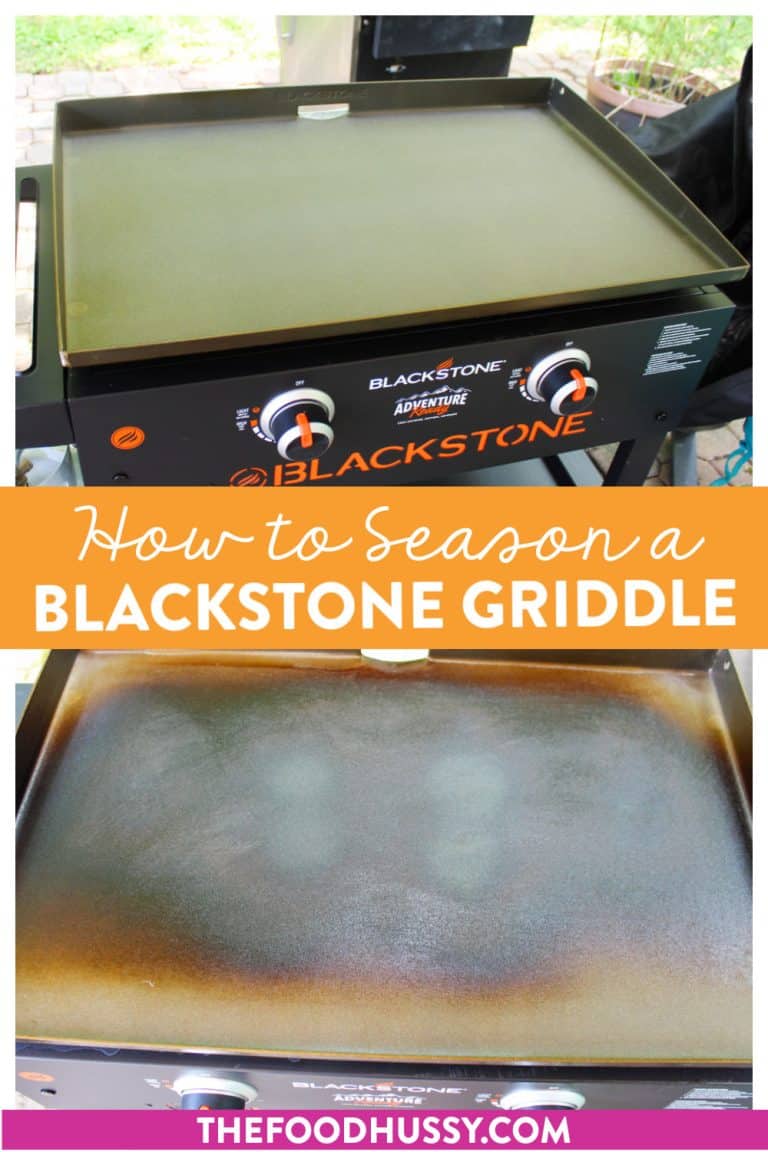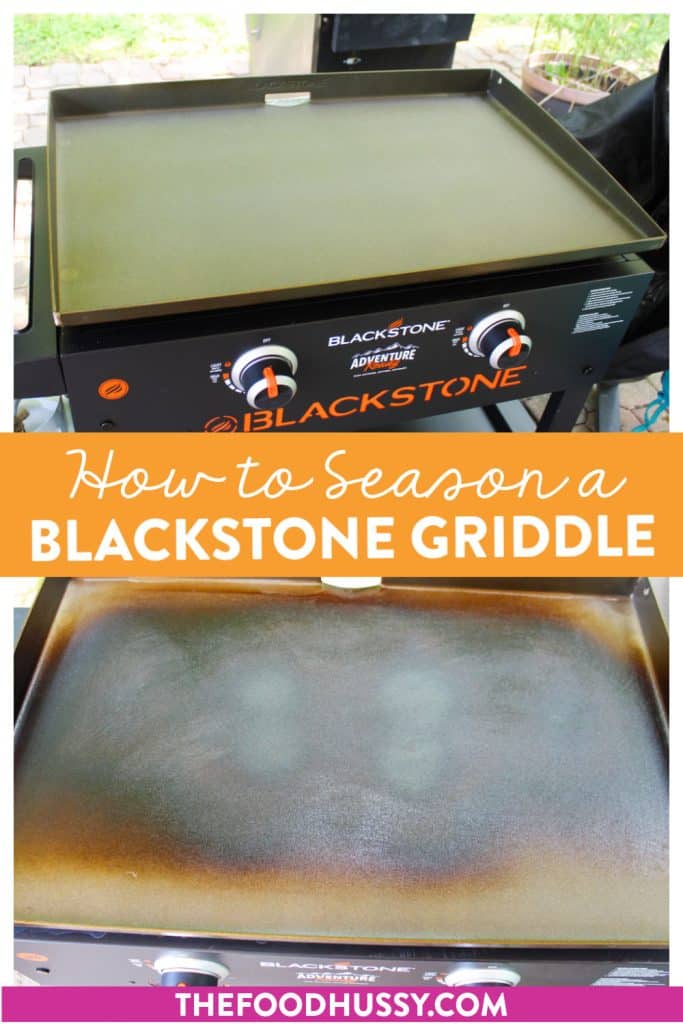 FAQ for How to Season your Blackstone Griddle
What is the best oil to use for Blackstone Griddle seasoning?
Blackstone will tell you to use their conditioner – but that stuff comes in a tiny container and is pricey! You're good to use any of the high heat oils like canola.
What are high heat oils?
The best cooking oils to use at high heat are refined avocado oil, safflower oil, soybean oil, ghee, corn oil, refined coconut oil, sunflower oil, vegetable oil, canola oil, flax oil and grapeseed oil.

You want to avoid virgin avocado oil, lard, vegetable shortening, extra virgin olive oil or butter.
Why do I need to season the griddle?
It adds flavor to your cooking! Plus it helps make the surface non-stick.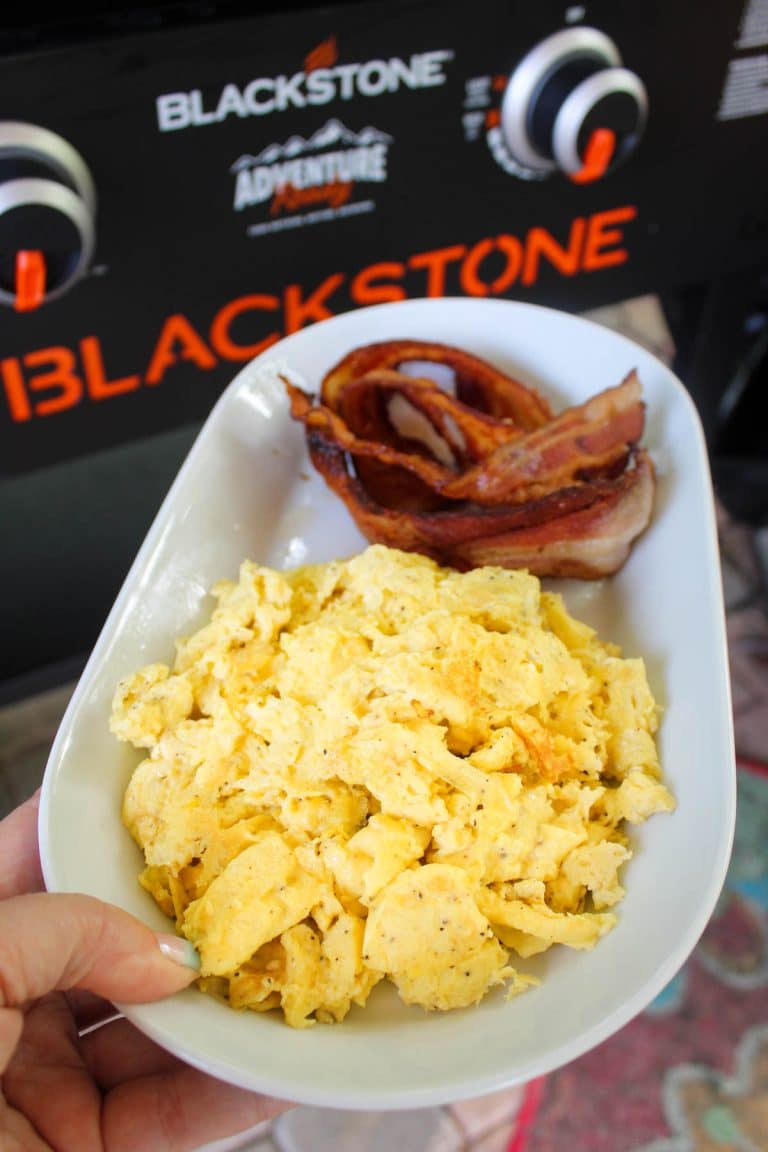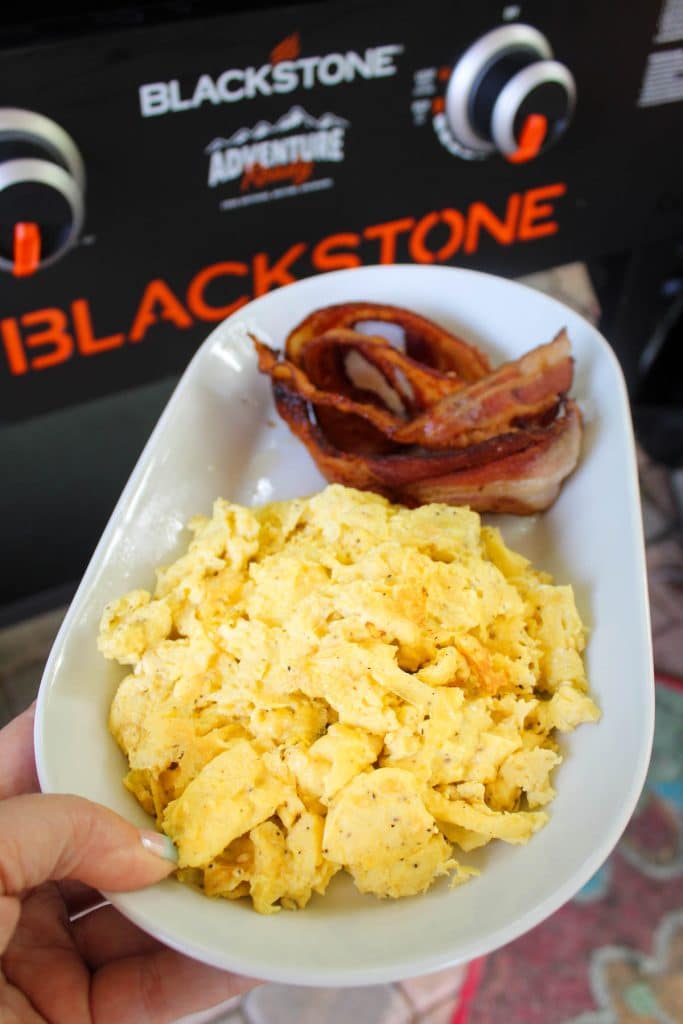 Coming Soon:
How to Clean Your Blackstone
Scrambled Eggs on the Blackstone
Best Tools for your Blackstone