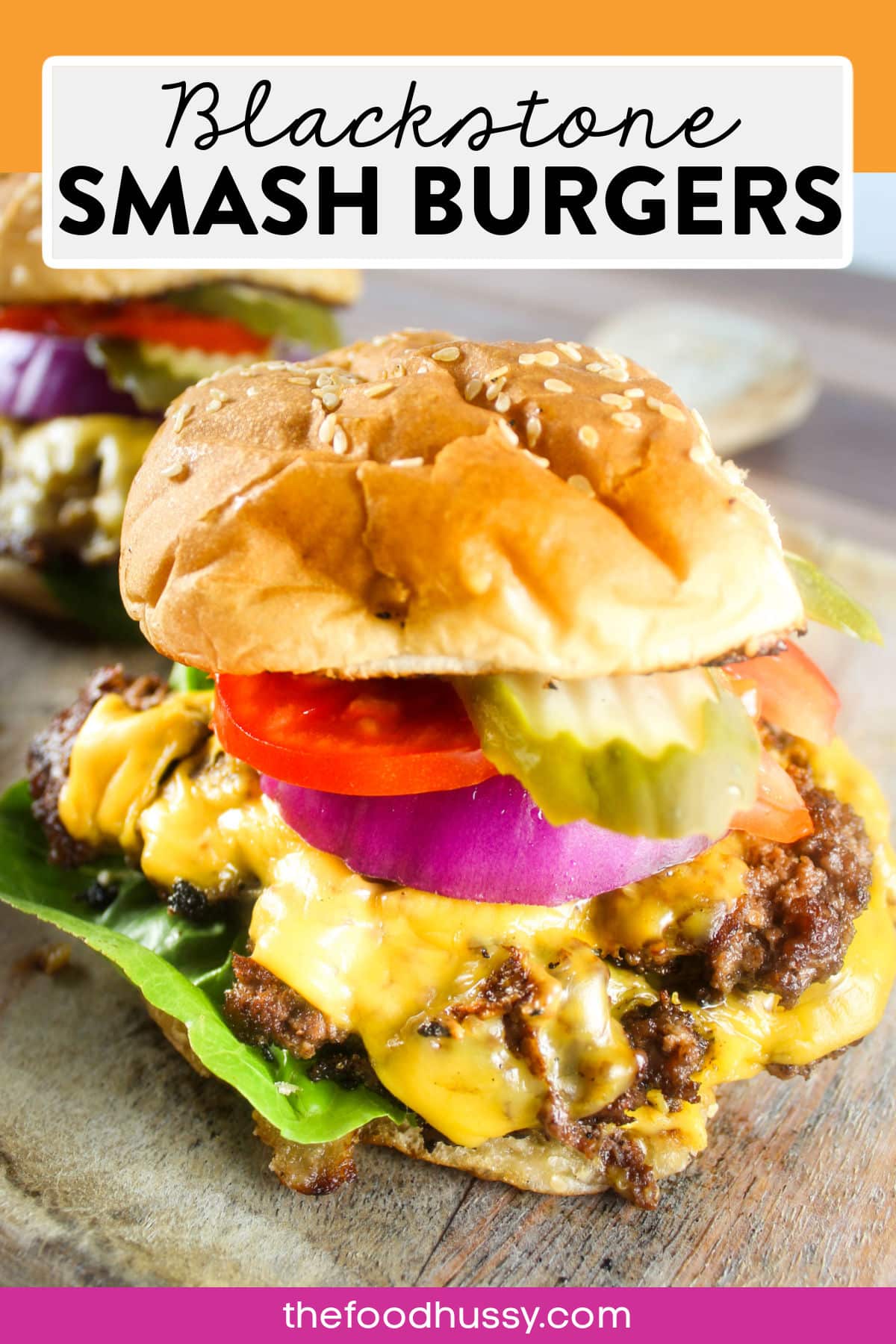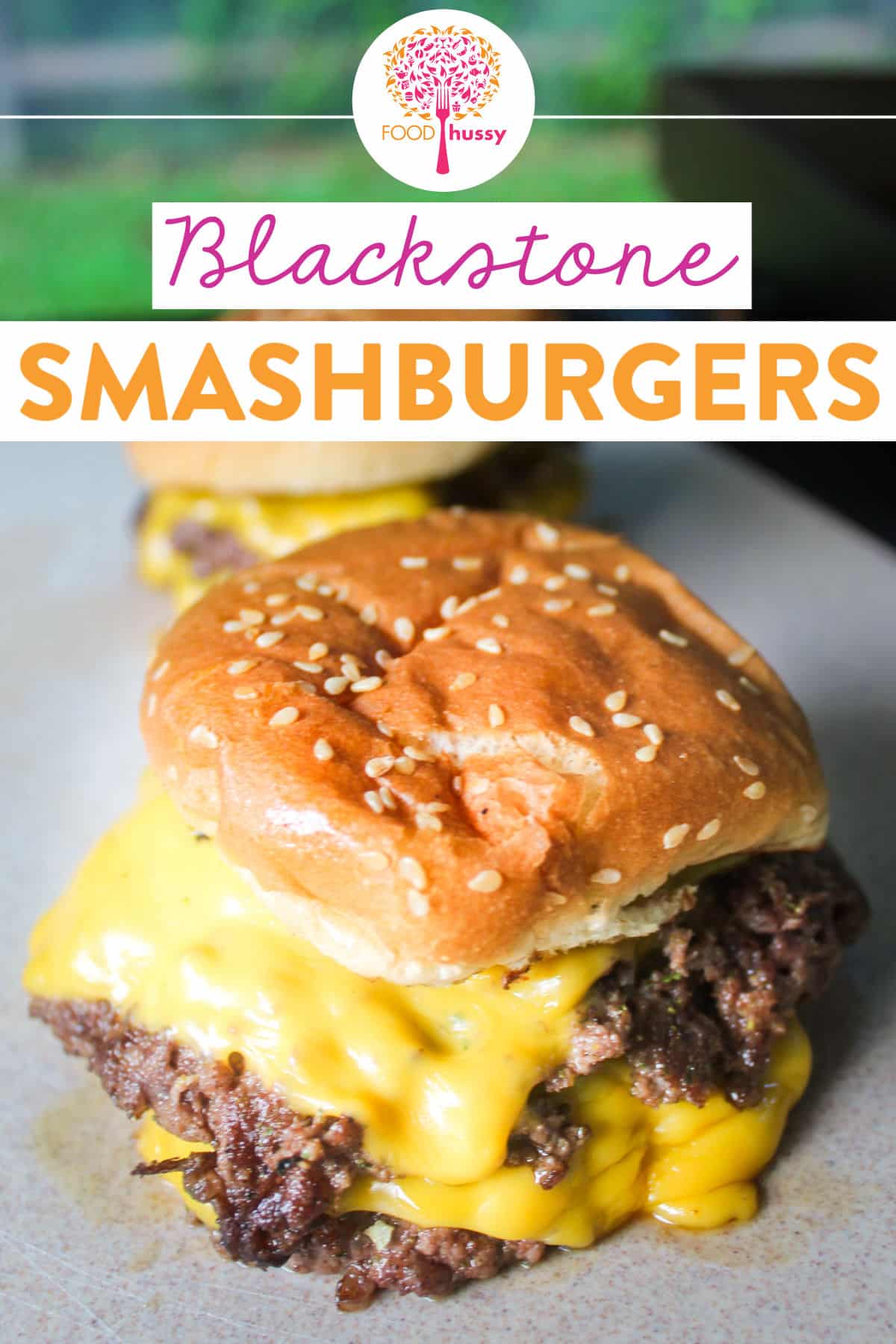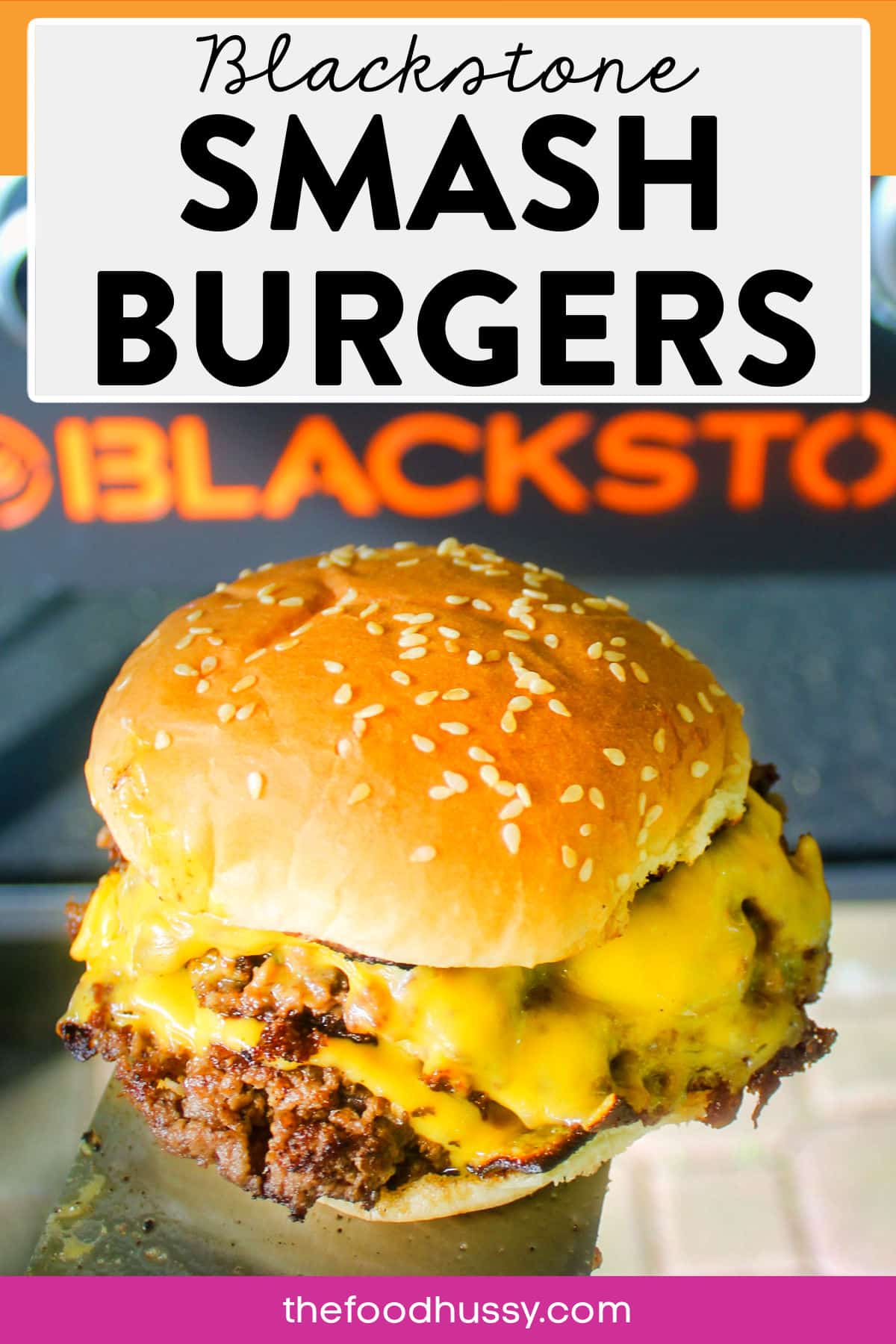 Blackstone Smash Burgers are just as good as they look! Full of flavor, these burgers have crispy edges and are super cheesy! Plus – they cook in five minutes! If you're looking for a fun, family-friendly quick dinner – making Smash Burgers on the griddle are the way to go!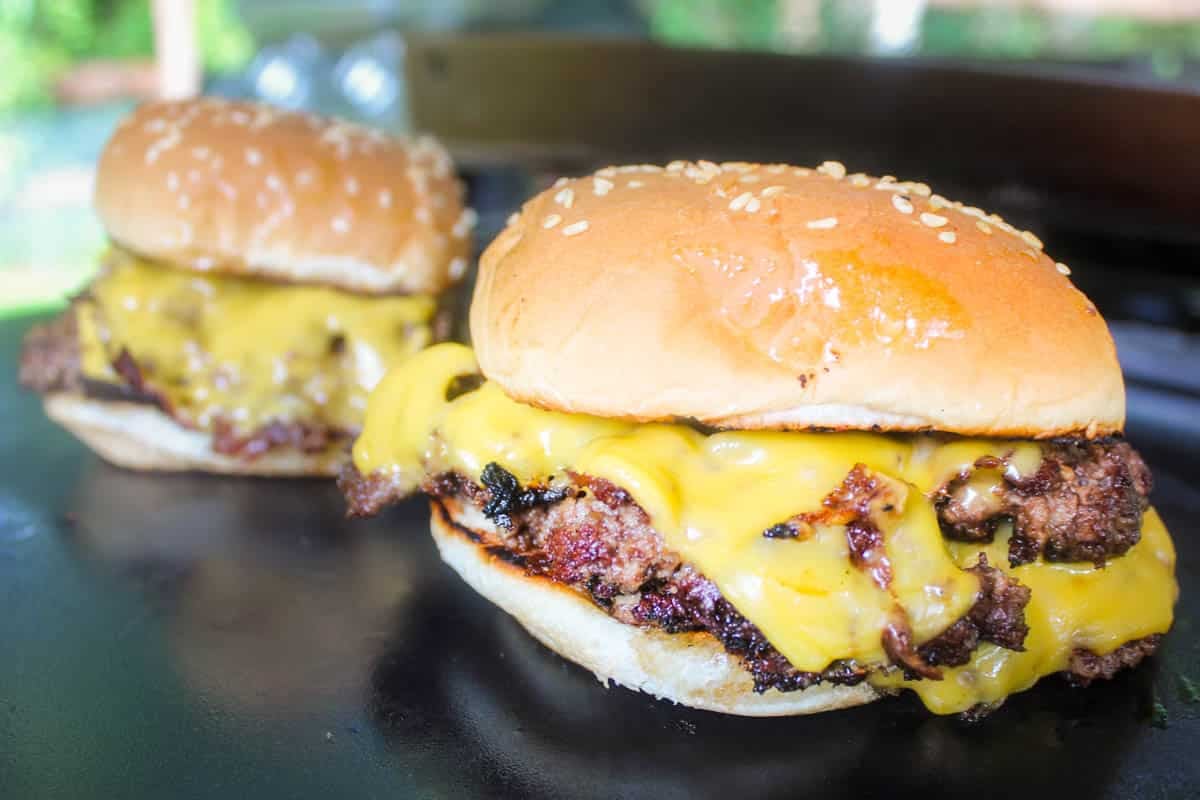 What You Will ❤️ About Smash Burgers on the Blackstone
Crispy Edges! The Blackstone is such a fun tool and you can't get those crispy edges on a grill.
Restaurant Quality! Once you make these at home – your family won't be hollering to go for fast food any more. These are tastier and cheaper!
For the Crowd! Get the same taste as you would a cast iron skillet but you can make 6 at a time!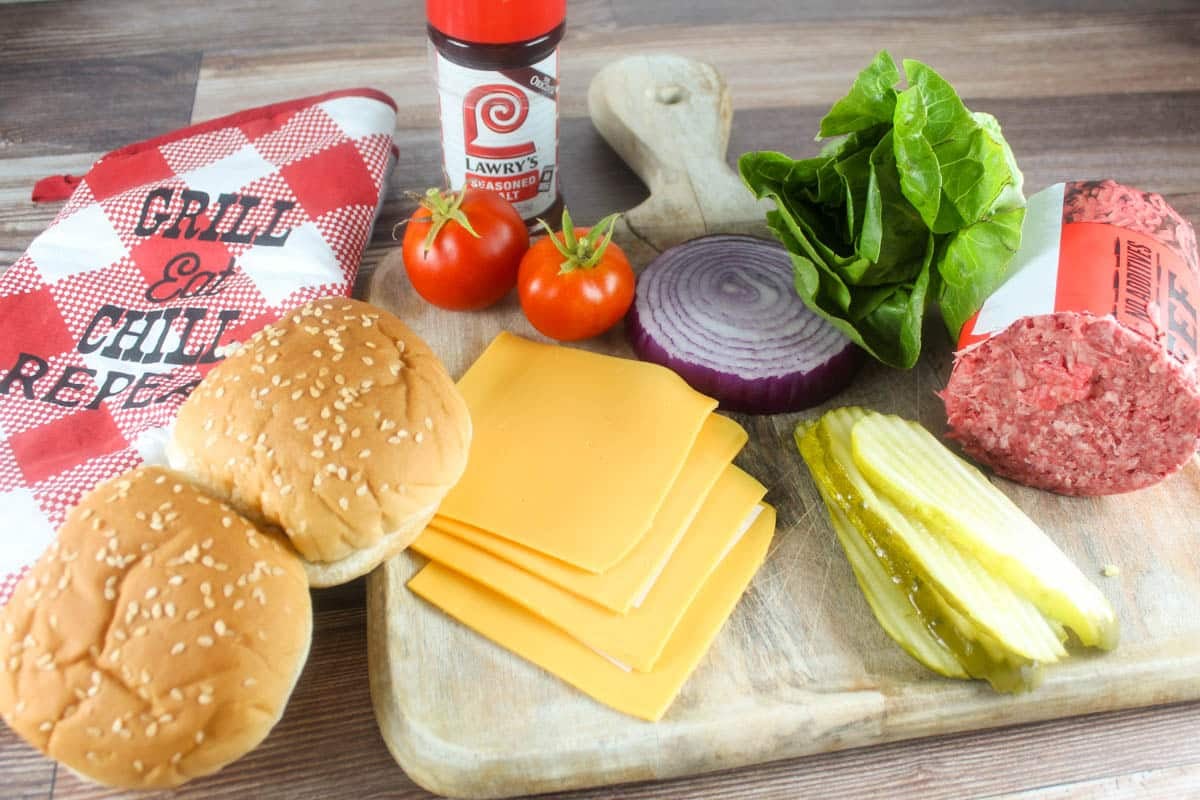 Smashburger Ingredients
This Smash Burger recipe has simple ingredients – and it's all about what you like! The main thing is hamburger and buns – from there – do what you like!
Ground beef – highly recommend using ground beef with a higher fat content like 80/20 or 85/15 – you could also use ground pork!
Hamburger Seasoning – I like Kinder's Buttery Steakhouse Rub but Lawry's or even Texas Roadhouse Steak Seasoning works too!
Land o'Lakes American cheese – please don't skimp – this is the best melty American cheese out there!!!! Or get fancy with Swiss, pepper jack or cheddar cheese!
Hamburger buns – I had the McDonalds song in my head and went with sesame seed buns – but brioche buns are good too
Toppings: onions, lettuce, ketchup, mustard, mayo, pickles, bacon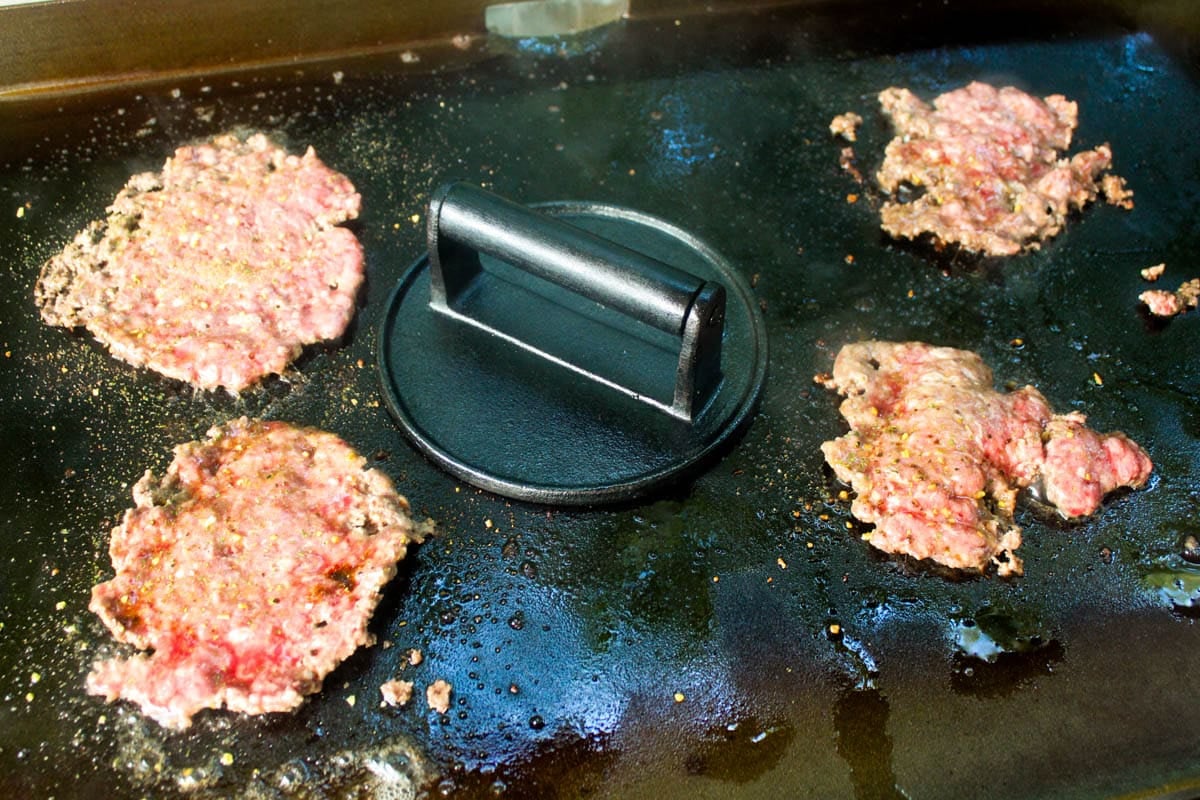 Smash Burger Equipment Needed
Blackstone Griddles are amazing – but you do need some accessories to make it easier! Here is what you'll need:
Burger Press

– I tried it with the Blackstone thin large metal spatula, a heavy duty metal spatula and a burger press –

the press

won hands down. Do you NEED it if you're just making burgers now and then? No. But if it's going to be a frequent dinner – get it! The heavy duty spatula was great for turning the burgers – a press can't do that!
Parchment Paper – You could use the air fryer liners – or tear your own squares from sheets or rolls of parchment. It really does help so to easily lift the press off the burger – HIGHLY recommend! I use the

parchment sheets

– they're easy to grab and you can get four squares. One square can do about 3-4 patties.
Seasoning – you can use salt & pepper, Lawry's or another burger seasoning – I used Kinder's Buttery Steakhouse and liked it!
Thermometer Gun – An instant read thermometer isn't a necessity but it does help to make sure your griddle is the right temp
Cleaning – my basic accessory kit came with 2 squirt bottles – one for oil and one for water (cleaning). Other items for cleaning are a wide Scraper to scrape excess grease and bits into the trap as well as lint-free towels and long tongs to clean off and re-condition the griddle.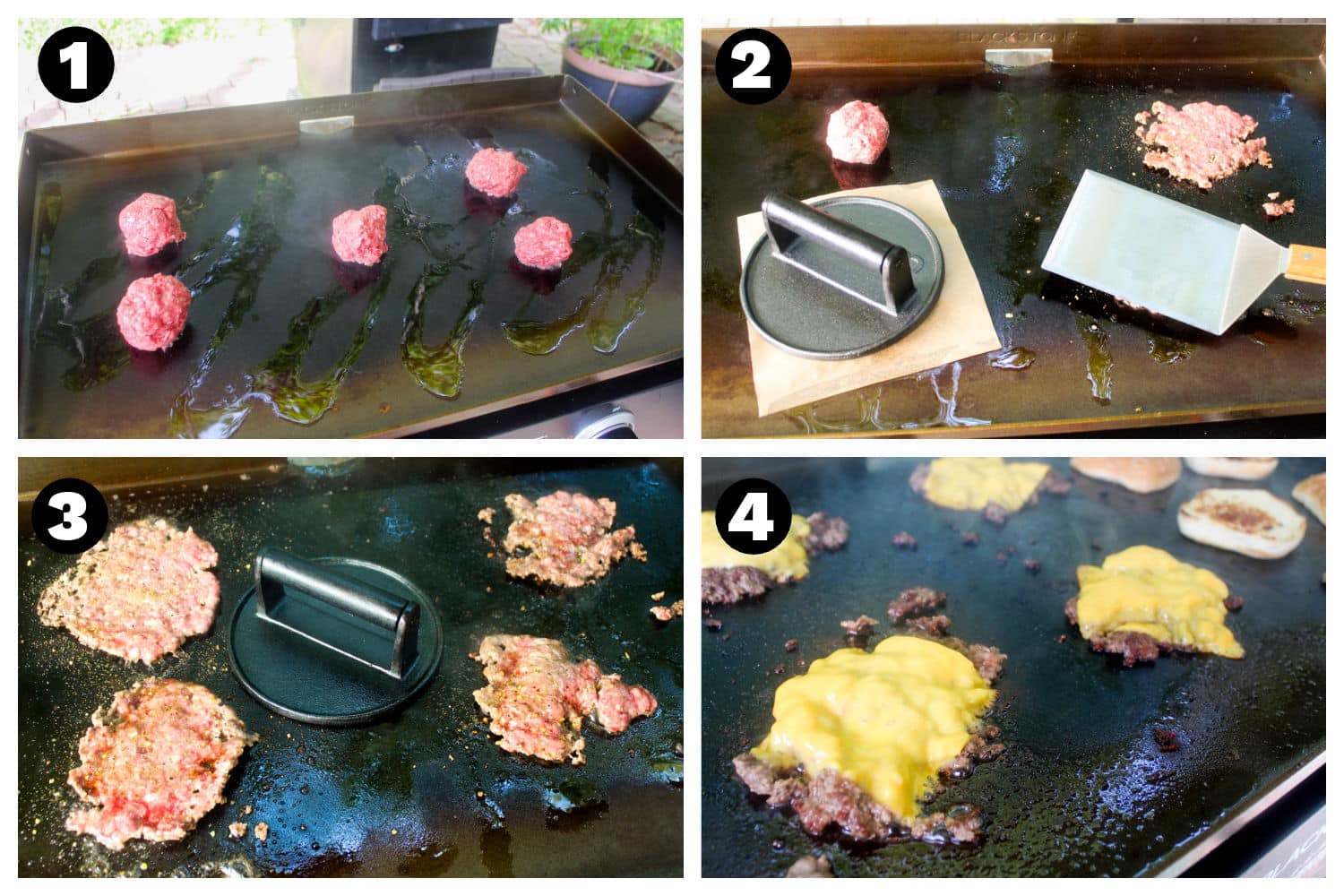 How to make Smash Burgers on the Blackstone
My biggest tip is for the Blackstone Smash Burger recipe – have everything you need before you turn the griddle on! These cook QUICKLY!!!
Be sure to have cutting board or platter to put burgers onto – these cook quick!
Divide ground beef into eight 1/4 lb patties and form into a loose ball (don't smush and overwork – it's not a meatball)
Heat griddle to medium high heat setting because you want that instant sear. I like to use my Thermometer Gun to make sure the griddle temp is about 375º. Add a light squirt of oil to the griddle.
Add ground beef balls to the hot griddle and space them as far apart as you can. You could fit 6 burgers on the 28″ at a time. So if you're doing 8 patties – you might need to cook in batches. But they cook very quickly.
Smash burgers! Use a burger press and a piece of parchment paper (I just tore a regular parchment sheet into 4 pieces). Place the parchment on the burger ball, then using the burger press, press down firmly on the patty. Put your weight into it! As you're applying pressure, roll the press around the edges so they are thinner. You want those crispy edges – but can leave the middle thicker. Remove press and parchment from burger and repeat on all burger balls. (same parchment can work for 4 patties). If edges aren't thin enough – feel free to press again around edges with spatula or press.
Sprinkle all smashed burger patties with Seasoning. Edges of burger will start to brown and be crispy.
Once edges are starting to form a crust, flip the burgers using a large spatula. You may need to firmly scrape them up. Once flipped, cook for 1 minute.
Add slice of cheese to each patty and melt for 1 minute. If you want to toast the buns (highly recommend) – add them to the griddle at the same time. (You can butter the buns ahead of time if you like.) Turn heat off on griddle. Griddle is super hot – cheese will melt and buns will toast!
Remove the bottom bun and place on platter and add lettuce slice. Using metal spatula, move burger to top of lettuce. Add second burger on top and then add toppings like pickles, tomatoes, onion, mayo and mustard and top bun!
This post contains affiliate links which I make a little money on purchases. Thanks in advance! I am an Amazon associate as well as a member of other affiliate programs.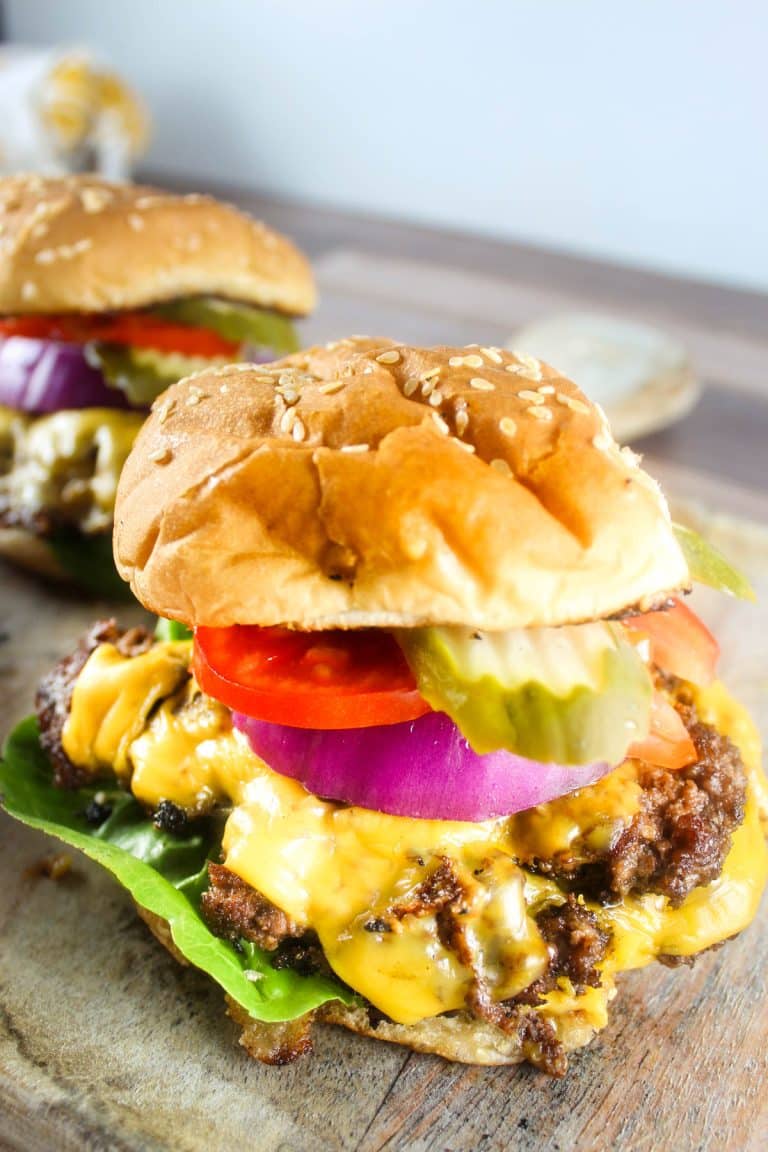 Tips, Tricks & FAQs
How do you store and reheat leftover Smashburgers?
Store leftovers in an airtight container (I like these glass ones) in the refrigerator for up to a week. Reheat in the air fryer at 300º for 3-4 minutes or in the microwave for 45 seconds.
Do I need to oil griddle for smash burgers?
I do – I want to have the burgers turn as easily as possible.
How long to cook smash burgers on Blackstone grill?
Start to finish – 5-6 minutes is all it takes!!!
What temperature do I cook smash burgers on a Blackstone?
I like the griddle to be about 375º – which is easy to measure with a thermometer gun – just point, pull the trigger and read the temp!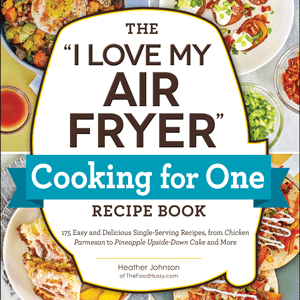 Get Heather's NEW cookbook – Air Fryer Cooking for One today!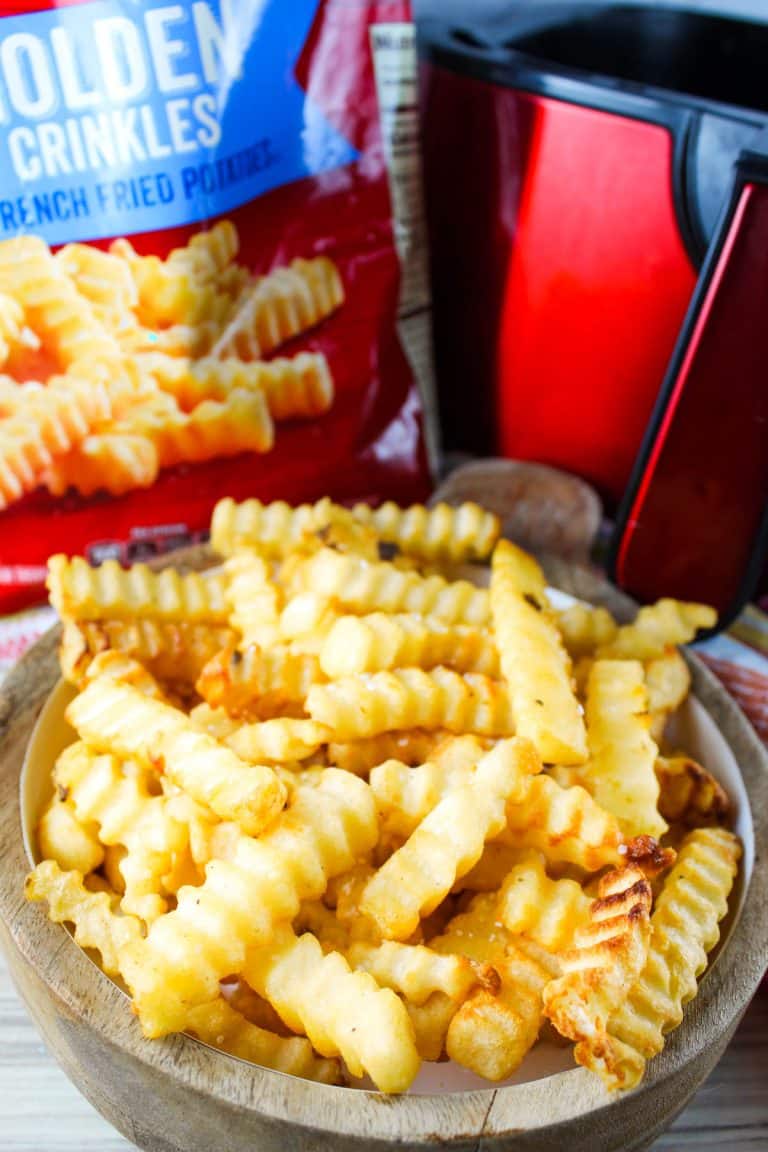 Side Dishes to serve with Smash Burgers
Burger Sauce & Toppings Recipes
More Blackstone Recipes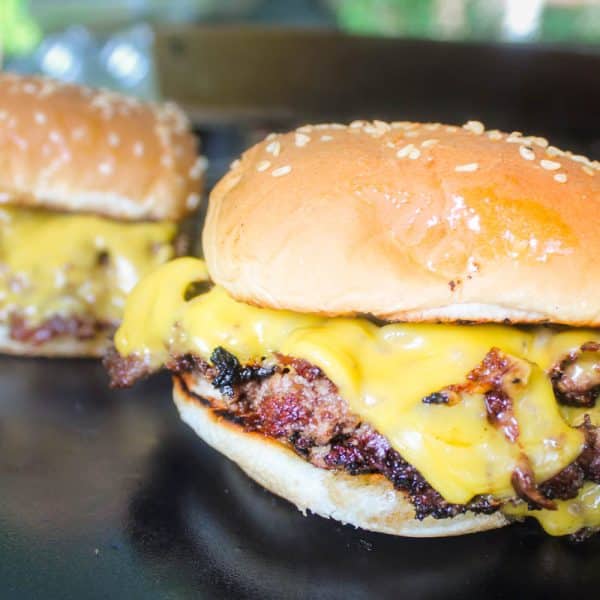 Blackstone Smash Burgers
Blackstone Smash Burgers are just as good as they look! Full of flavor, these burgers have crispy edges and are super cheesy! Plus – they cook in five minutes! If you're looking for a fun, family-friendly quick dinner – making Smash Burgers on the griddle are the way to go!
Ingredients
2

lb

80/20 ground beef

8

slices

Land O'Lakes American Cheese

4

hamburger buns

Optional Toppings: onion, pickle, ketchup, mustard, mayo
Instructions
Be sure to have cutting board or platter to put burgers onto – these cook quick!

Divide ground beef into eight 1/4 lb patties and form into a loose balls (don't smush and overwork – it's not a meatball)

Heat griddle to medium high heat setting because you want that instant sear. I like to use my Thermometer Gun to make sure the griddle temp is about 375º. Add a light squirt of oil to the griddle.

Add ground beef balls to the hot griddle and space them as far apart as you can. You could fit 6 burgers on the 28" at a time. So if you're doing 8 patties – you might need to cook in batches. But they cook very quickly.

Smash burgers! Use a burger press and a piece of parchment paper (I just tore a regular parchment sheet into 4 pieces). Place the parchment on the burger ball, then using the burger press, press down firmly on the patty. Put your weight into it! As you're applying pressure, roll the press around the edges so they are thinner. You want those crispy edges – but can leave the middle thicker. Remove press and parchment from burger and repeat on all burger balls. (same parchment can work for 4 patties). If edges aren't thin enough – feel free to press again around edges with spatula or press.

Sprinkle all smashed burger patties with Seasoning. Edges of burger will start to brown and be crispy.

4 tsp Lawry's seasoning salt

Once edges are starting to form a crust, flip the burgers using a large spatula. You may need to firmly scrape them up. Once flipped, cook for 1 minute.

Add slice of cheese to each patty and melt for 1 minute. If you want to toast the buns (highly recommend) – add them to the griddle at the same time. (You can butter the buns ahead of time if you like.) Turn heat off on griddle. Griddle is super hot – cheese will melt and buns will toast!

8 slices Land O'Lakes American Cheese,

4 hamburger buns

Remove the bottom bun and place on platter and add lettuce slice. Using metal spatula, move burger to top of lettuce. Add second burger on top and then add toppings like pickles, tomatoes, onion, mayo and mustard and top bun!

Optional Toppings: onion, pickle, ketchup, mustard, mayo
Notes
**We are not dietitians and recommend you seek a nutritionist for exact nutritional information. The information in the nutrition box are calculated through a program and there is room for error. If you need an accurate count, I recommend running the ingredients through your favorite nutrition calculator.**
Nutrition
Serving:
2
patties
Calories:
852
kcal
Carbohydrates:
23
g
Protein:
51
g
Fat:
60
g
Saturated Fat:
25
g
Polyunsaturated Fat:
2
g
Monounsaturated Fat:
24
g
Trans Fat:
3
g
Cholesterol:
203
mg
Sodium:
3392
mg
Potassium:
721
mg
Fiber:
1
g
Sugar:
4
g
Vitamin A:
397
IU
Vitamin C:
1
mg
Calcium:
543
mg
Iron:
6
mg