Many of you know that I'm from Iowa – and I have a deep love for my home state. One of my favorite foods back home is the Maid Rite – and if you add cheese – it's a Cheese-Rite.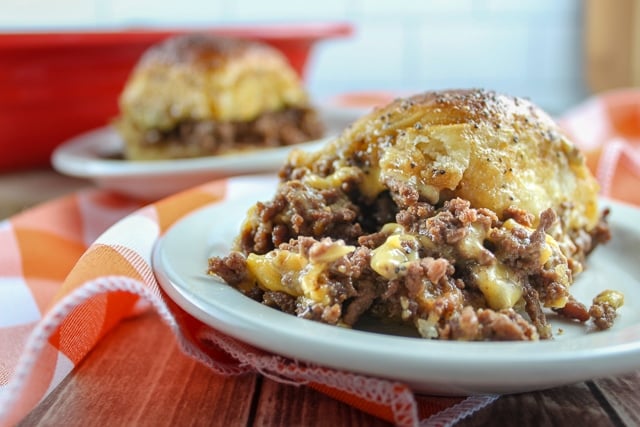 What is the Iowa Maid Rite Recipe?
The thing I love about Maid Rites and Cheese Rites is the flavor in the beef – it's not just plain hamburger – you incorporate beef bouillon, Worcestershire, Soy sauce, mustard and more – you let it all cook out – so the flavor just soaks into the hamburger. It's delicious.
Where did the Maid Rite Originate?
Well – there's a little controversy over this. People in Newton, IA think they started it but I'm going with Wikipedia. There was a butcher in Muscatine that combined a special cut and grind of meat with a selected set of spices and created the Iowa Maid-Rite sandwich – also known as a "loose meat sandwich". The Maid-Rite sandwich's meat is not formed into a patty, making it similar to a sloppy joe without the sauce.
So why a slider? I just love those Kings Hawaiian rolls and thought – this would be perfect for the upcoming summer holidays! The nice thing about these is you make a pan full of them and then slice them up and people can grab and go!
I highly recommend adding the cheese for the sliders- it holds the sandwich together. The loose meat sandwich can fall apart a little so that binder will help a lot.
Now I realized after eating the first Maid Rite slider that something was missing – pickles!!! So you could add them in before you bake – or just have a bowl of them next to the sliders for folks to add if they want to (they will!).
What to serve with these Maid Rite Recipes?
I've got three recipes for Maid Rites now! This one – the original Iowa Maid Rite Recipe and the Cheese Rite Recipe.


Here are some great side dishes to go with these! I love the Copycat Taco Johns Potato Oles – they're zingy and tots always go great burgers! Since I live in Ohio now – I would also make up some Skyline Chili Dip – Iowa + Ohio = magical yummy! Or if you're looking for a lighter dip – this Wedge Salad Dip is a great choice! And here are 30+ other sides for Maid Rites!



Maid Rite Sliders with Cheese
Yield: 6 (2 per person)
prep time: 15 M
cook time: 25 M
total time: 40 M
Maid Rites are an Iowa specialty – also known as a Loose Meat Sandwich. I added cheese and made them into sliders. They're quick to make and you can grab and go – perfect for your summer holiday parties! #maidrites #sliders #loosemeatsandwich
ingredients:
1 lb ground beef

1 teaspoon Better than Bouillon Base (or 1 beef bouillon cube)

1/2 cup water

1 Tbsp brown sugar

1 Tbsp apple cider vinegar

1.5 Tbsp Worcestershire sauce

1.5 Tbsp soy sauce

Kings Hawaiian Rolls (12 pack)

6 slices Land O'Lakes American Cheese

Dill pickle slices
1/4 cup salted butter (1/2 stick)

1-2 tablespoons brown sugar

1 tablespoon dijon mustard

1 tablespoon Worcestershire Sauce

1 teaspoon poppy seeds
instructions:
How to cook Maid Rite Sliders with Cheese
Preheat oven to 350

Brown ground beef over medium high heat – break up completely into tiny pieces

While beef is browning, spray baking dish with non stick spray

Slice Kings Hawaiian Rolls in half and place the bottoms of the rolls in the baking dish

Once beef is browned, add in bouillon, water, brown sugar, apple cider vinegar, Worcestershire and soy sauce

Stir until everything is mixed together with beef

Cook on medium high until all liquid is evaporated and remove from heat

Spread beef mixture over the Kings Hawaiian Rolls

Lay out cheese over top of the beef

Add the tops of the rolls on top of the cheese

In a microwave-safe bowl, add Glaze ingredients and cover – microwave for 1 min until butter is melted

Stir melted Glaze ingredients together

Use a baster and spread the Glaze over top of the sandwiches (you might have a little left – that's fine)

Bake for 25 minutes

Slice and serve!