This Chicken Casserole recipe is one of the easiest you'll find and so delicious! My friend Danielle came through BIG TIME with this one. This is her now-famous chicken casserole recipe – and it is so delicious and probably one of the easiest things I've ever made in my life.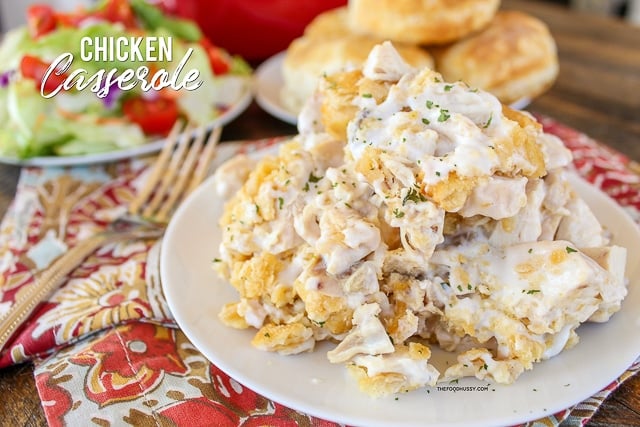 This chicken casserole is so basic – it pairs perfectly with a salad. It's just a few ingredients and it's all comfort food. Shredded chicken, cream of mushroom soup, sour cream, Ritz crackers and butter – does it get any better?! This chicken casserole is so delicious – you'll love it!!!
Layer the chicken in the bottom of the pan – mix cream of mushroom soup and sour cream together and then spread on top of the chicken.
Last step, crush a sleeve of Ritz crackers on top of the soup mixture. Let me say – this is the most fun part! Those crackers fall apart just by looking at them! I like leaving some chunks too!
Then you melt a stick of butter and drizzle that over the top of the crackers.
Bake for 30 minutes and you're done! It's great for a crowd or picky eaters. Throw together a salad on the side and dinner is served. I absolutely love this recipe and make it at least once/month!
Thanks to my friend Danielle and I hope you and your families enjoy!
What Can you Serve with Chicken Casserole?
Yield: 6
Easy Chicken Casserole
This is the best comfort food casserole – my friend made this for me at Bible Study and I kept requesting it every week – and then I finally begged for the recipe. It's so easy!!
prep time: 30 mins
cook time: 30 mins
total time: 60 mins
ingredients
4 cups chopped cooked chicken (1 rotisserie chicken)
1 can cream of mushroom soup
1 cup sour cream
1/2 sleeve Ritz crackers
1/2 stick butter
instructions
Preheat oven to 350
Spray nonstick spray in 8×8 baking dish
Spread chicken across bottom of dish
Mix together soup and sour cream and pour over chicken
Crumble Ritz crackers over top of soup
Melt butter and drizzle over top of all crackers
Bake for 30 minutes