On my trek through Southeast Iowa – I had decided to hit up some of my old favorites. One day we got to head down for a day in Iowa City – where my
alma mater
is! GO HAWKS! After stocking up on some Hawkeye apparel for me and Larry – we grabbed a high school friend (who I hadn't seen in 13 years!!) and went to the
Hamburg Inn
for lunch!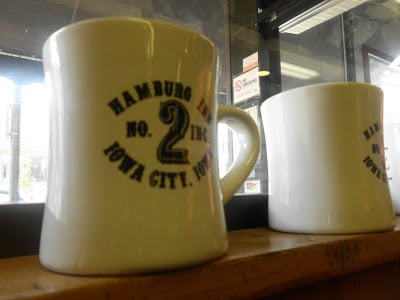 The Hamburg appears to be just a regular-old greasy spoon – but it's got so much history. Just take a peek at this Urbanspoon photo – um yeah! Presidents dine there!!!! Ronald Reagan was the first – there's a plaque over he booth he sat at. It's also THE place to go for a hangover breakfast. And, while we weren't hung over and it was lunch time, I went for breakfast!!!
I went for the "Hawkeye Hog" omelette ($8.29) – it had hashbrowns, sausage and american cheese inside and was smothered in sausage gravy. Oh how delicious it was! I used to live a few blocks from the Hamburg so I went all the time! I really missed it!
Larry got the Rueben ($8.99) and sweet potato fries. He said the meat was a dry so he wasn't too much of a fan. But he did like the feel of the place – it's very laid back.
Sarah went for my second choice – the patty melt ($8.29) and loved it. She raved about the marble rye and the ranch (it's homemade).
Why Should You Go? If you're EVER in Iowa City – it's one of 2 places I recommend (Pagliai's Pizza is the other). Go here for breakfast and then to Pagliai's for dinner. It's laid back and local and has really great food – breakfast is the star of the show there – but you can get it all day!!! For me, going to Hamburg takes me back to college – and that's always a good memory! GO HAWKS!