I've been chomping at the bit to try the Jack in the Box that popped up (get it – haha) in my old neighborhood of Pleasant Ridge since they tore down my favorite gas station…finally I was in the area with some free time!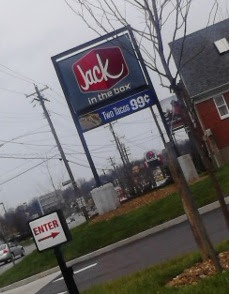 I wasn't really hungry – but for the blog – I had to try something – since I had 20 minutes to kill. And the sign was intriguing with two tacos for 99 cents!
The menu is pretty big and I figured I should also try a burger – since it is what they're known for…
The drive thru is pretty interesting because it's got a window into their kitchen as you drive by. You can see all the microwaves and drawers (yes – that's what your view is of).
The burger was fine – nothing too amazing – but similar to a Wendy's single really. I liked it fine…
Oooooh tacos
Beef Regular Taco Filling Ingredients: Beef, Water, Textured Vegetable Protein
(Soy Flour, Caramel Color), Defatted Soy Grits, Seasoning [Chili Pepper, Corn
Maltodextrin, Spices, Bleached Enriched Wheat Flour (Contains Niacin, Reduced
Iron, Thiamine Mononitrate, Riboflavin, and Folic Acid), Salt, Garlic Powder,
Hydrolyzed (Corn, Soy, Wheat) Proteins, Monosodium Glutamate, Onion
Powder, Natural Flavors, Disodium Inosinate, Disodium Guanylate, Succinic
Acid], Salt, Tomato Paste, Worcestershire Sauce (Distilled Vinegar, Molasses,
Corn Syrup, Water, Salt, Caramel Color, Garlic Powder, Sugar, Spices,
Tamarind, Natural Flavor, Sulfiting Agent). Tortillas Ingredients: Ground Corn,
Water, Lime. Cooked in Canola Blend Frying Oil. Contains Soy, Wheat
Why did I list all that out? Cuz that was the oddest damn taco I have ever eaten in my entire life! It was stale, crispy, greasy, beany, saucy and just odd and a slice of American cheese to top it off! I was just so boggled – I thought there was no way that it had actual beef in it – but it does! The strangest thing was that I really thought it was kinda gross – and then after half a taco – I had to have more!!!! I literally set it down and thought I was done…but no – I had to eat the rest! Then I ate the other one! What the hell? Those are some odd f'ing tacos! I've heard from others they are pretty addictive…uh-oh!
Why Should You Go There?
You obviously have to try the tacos. They're open 24 hours – so head over now – or at 3am – or whenever!