Last fall, KFC tested out a donut chicken sandwich in a few cities and today…IT CAME OUT NATIONWIDE! That's right people – we now live in a world where you can get chicken and donuts for dinner in one box – hell – in one sandwich!!!!
Here's the thing I'll tell you – after eating this – my first thought is – who would ever eat Chicken and Waffles again? Cuz it's now all about the CHICKEN AND DONUTS!!!
This post is completely NOT sponsored – I paid for it all on my own and felt so utterly compelled that I wrote this post within an hour of eating it!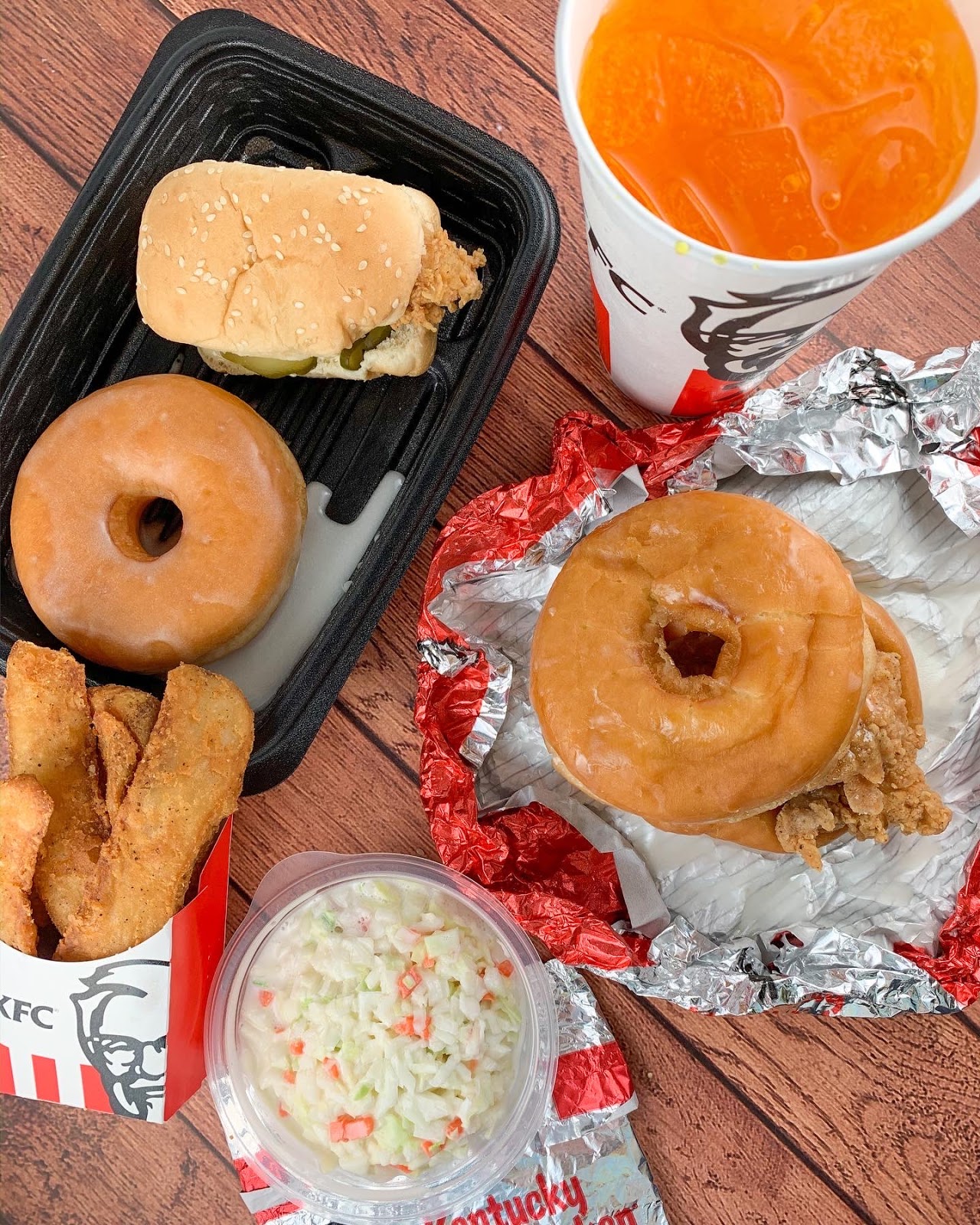 Now I can't just go and get a sandwich – so I got a plethora of items – including the new Mountain Dew Sweet Lightning. It's a blend of peach and honey – heavy on the peach. As in – if you don't like peach – you won't like this! It's ok – it's really sweet – I'll still with the regular old green stuff.
You'll notice an extra donut there because YES – YOU CAN BUY AN EXTRA DONUT FOR $1!
I have to also share – I was so giddy over this when I ordered. As I pulled up to the window – the nose-ring-wearing attendant was laughing at me. I said "What? Nobody else has been this excited???"
Hell yeah it's good – it's more than good – it's freakin delicious!!!!
Now – it's messy as all get out and weighs 5 pounds if it weighs an ounce. I was shocked at how well it held up in the drive home. I live 10+ minutes from the KFC and then came home and took pictures – the donuts were still warm – the chicken was still crunchy! I did get Extra Crispy chicken.
Does KFC still have the donut chicken sandwich?
Yes! It's available Nationwide starting today (Monday February 24)
What is on the KFC donut chicken sandwich?
It's 2 FRESH glazed donuts – they make the donuts in-house and glaze them – I saw them doing it through the drive thru window! Then they put a KFC boneless chicken breast in the middle (I recommend Extra Crispy) and that's it!

I'm pretty sure they glaze the bottom donut – put the chicken on and then put the donut on top and pour glaze over it because it is smothered!! (I'm not complaining!)
How much does the KFC donut chicken sandwich cost?
The sandwich is $5.99. You can also get the chicken and donuts separated (not a sandwich) for $5.99. You can add a side and a drink for $7.99.
How many calories are in the KFC donut chicken sandwich?
You really want to know???? 1100 calories.
I also have to say that my boyfriend Jesse is the one that told me about this sandwich. He wanted to make sure he got credit for this magical day.