Amongst a row of pawn shops and little local diners sits La Mexicana. It's a traditional Mexican restaurant – and when I say traditional – I mean it! Very authentic – you can get GOAT!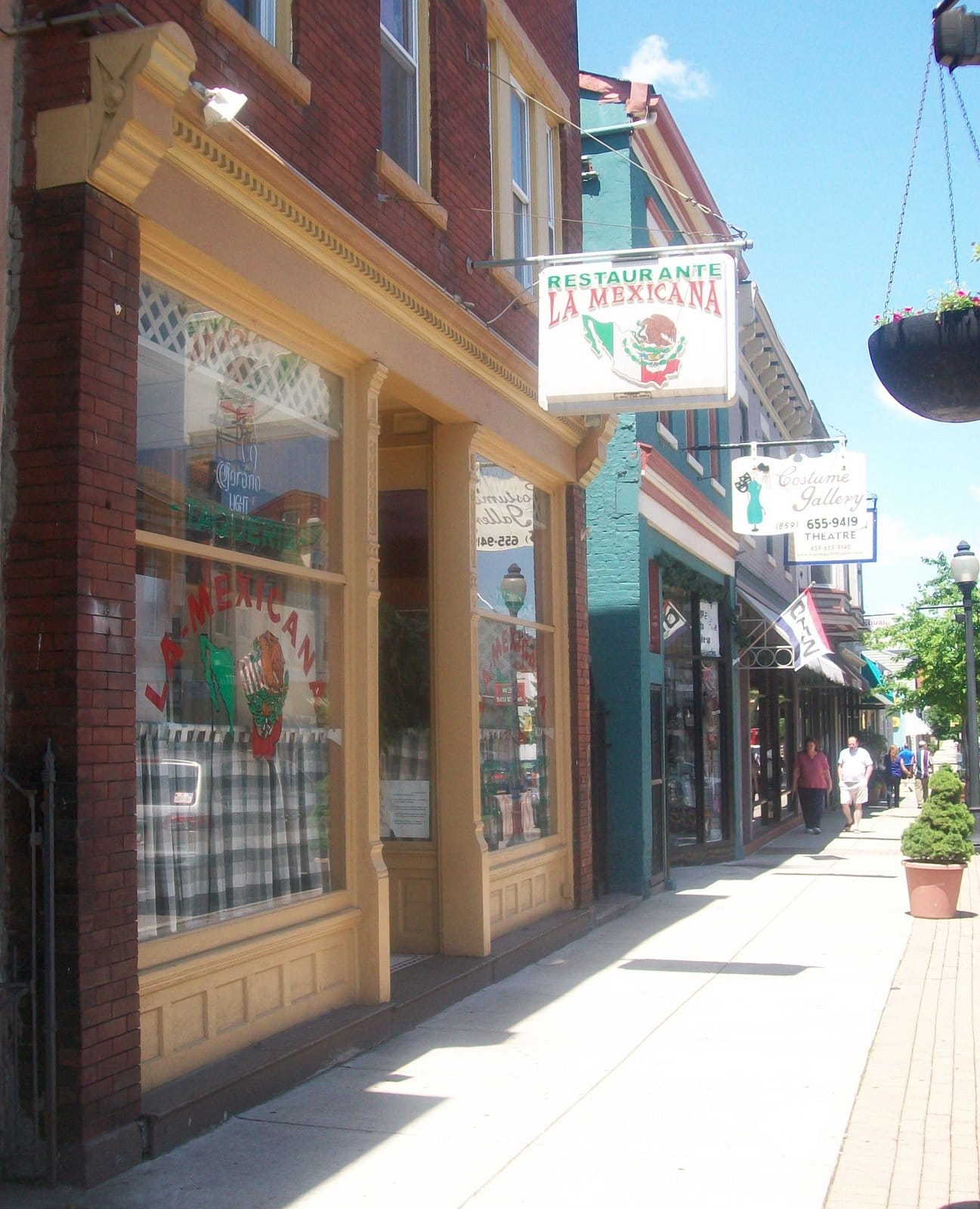 Once inside there are a few booths on each level or you can just head up to the counter and order. The menus are on the table or above the kitchen area.
They have a few basic items: tacos, chalupas, burritos, enchiladas, quesadillas, etc… Each has it's own little uniqueness but you basically pick the item you want and then pick the meat and go from there…There are probably 10 different selections for the "insides" from goat to carnitas to steak to vegetarian.
There is also a nice beverage selec
tion – there was even the Mexican Coke with real cane sugar!
First coworkers got the coke and the apple soda to go along with the chips and salsa that was brought to us. It's a green salsa…I have to admit I didn't try it. My stomach was a little jumpy and they said it was spicy so I decided to avoid it…
We did get some guacamole for our chips and thank God we did! This was some amazing shiz! So fresh and chunky – more like pico de gallo with guac mixed in. I think I pirated a bit much of it…but I couldn't help it!
Russ had the flag burrito…yes – it looks like the Mexican flag and it's about the same size! The thing is ginormous! Russ got carnitas inside and didn't love the meat but he did like the burrito and wants to go back and try some other meat selections.
Jeff got a combo of a chalupa and a taco. The taco had bistec and the chalupa had goat. He really enjoyed both of them.
I got a vegetarian taco and a chalupa with carnitas. The vegetarian taco was excellent although I was hoping for some sauteed veggies. It was lettuce, tomato, avacado, onion, cheese and probably something else. The shells are small but homemade – so delicious!
The chalupa was okay – it was a lot of "bread" – I sort of opened it up and ate it like a salad and took bites of the top since it was crispier and had a little more flavor. The filling was really good and I loved it – which hey – that's the main thing!
This is Steve – he's the owner's son and was very helpful and friendly and…he wanted his picture taken!
Overall I didn't LOVE everything I had but I really liked it and can't wait to go back. I think I'd like to try a quesadilla and more tacos and try different kinds of meat fillings.