So I'm getting married this year…and that means BUDGET CRUNCH! With that, a little less eating out and a lot more cooking in!
TIP: My latest habit is to send recipes to myself with the name of the recipe in the subject line. Then I file them away in an email folder and when I'm getting ready to grocery shop or cook something I just hit the file!
Last week I came across one I had been very eager to make: Baked Salmon with spinach, tomatoes and mushrooms. It was on the Kraft site – so there aren't too many ingredients and it's easy. I'm always looking for new ways to cook fish – it's so good for you but I need some "stuff" to go with it.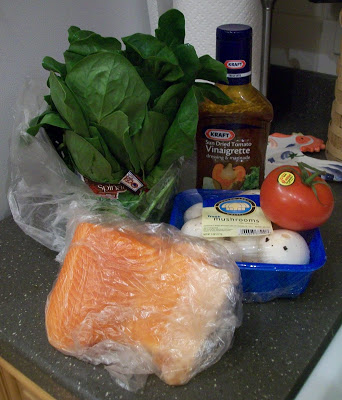 Here's everything – like I said – SIMPLE! 5 ingredients…and actually I used Ruby Red Trout because it was on sale and looked better.
Chop some spinach…it was a bit time consuming – taking the leaves off the stems and all.
Throw that in a bowl with sliced mushrooms, chopped up tomato and the dressing. Stir.
Pour over the salmon/trout and bake!
Voila! It was delicious! The trout was moist and flavorful and it was a great way to get my fiance to eat spinach, mushrooms and tomatoes (he really doesn't like any of them!).
2 cups chopped fresh spinach leaves
1 cup sliced fresh mushrooms
1/3 cup KRAFT Sun-Dried Tomato Dressing
HEAT oven to 375°F.
PLACE fish fillets, skin-sides down, in 13×9-inch baking dish sprayed with cooking spray.
COMBINE remaining ingredients; spoon over fish.
BAKE 20 to 25 min. or until fish flakes easily with fork.
Why Should You Make It? It's a great way to change up salmon from just plain old broiling or baking it. Also – don't be afraid to substitute veggies or fish based on what is in season, available or on sale!