I've recently started dating someone and he is an Extreme Country Boy! He also knows how to cook and has lots of ideas for me but he likes to make them all EXTREME! So this Loaded Farmhouse Breakfast Casserole is all his idea!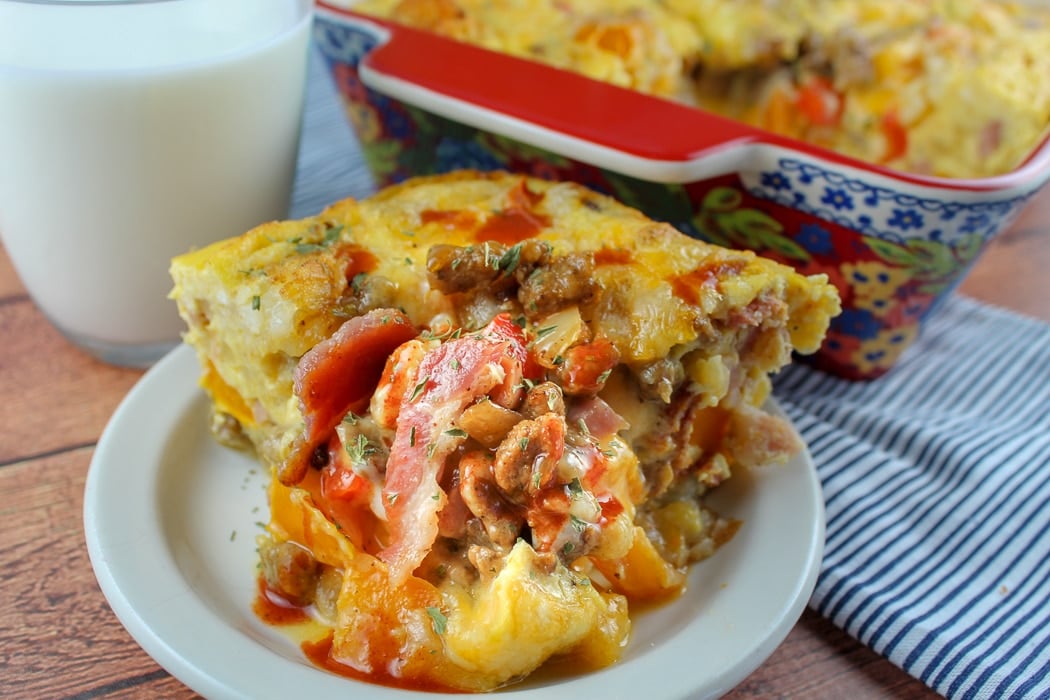 This Loaded Farmhouse Breakfast Casserole has everything you can think of in it! Eggs, bacon, sausage, ham, peppers, onion, hashbrowns, cheese- whew! THAT is Extremely Loaded!
How to make egg & sausage breakfast casserole?
I started out with my baked scrambled eggs recipe and just added everything I could think of to it! This is the best breakfast casserole because it's got everything! You start with hashbrowns on the bottom – mix up your eggs and just start adding everything else! Pour it in a baking dish and go!
Can egg casserole be made ahead of time?
Sure! This could easily be made the night before – set it in the fridge and you're good until the next morning. Or you could have your ingredients prepped and ready – then stir it all together in the morning. If it's going from fridge to oven – I would add 5 minutes more baking time.
How long will breakfast casserole keep?
In the refrigerator, breakfast casserole will keep for 3-5 days. I put my leftovers in glass containers and kept one container in the fridge for myself and one in the freezer for later!
Can breakfast casserole be frozen?
Definitely – you CAN freeze breakfast casserole! I did and it was great! I just take it out the night before and put it in the fridge – then it's ready to be reheated.
This Loaded Farmhouse Breakfast Casserole is going to bring everyone to the table! If your family likes it spicy – you could add Jalapenos to the casserole and a splash of hot sauce when you serve it. And be sure you DICE the cheese – it's gooier that way!



What to serve with breakfast casserole with eggs and sausage?
Loaded Farmhouse Breakfast Casserole
prep time: 25 M
cook time: 25 M
total time: 50 M
My boyfriend refers to himself as an "Extreme Country Boy" and he loves to create dishes for me to make. This was all him! It's the most loaded breakfast casserole you'll ever try! And it's delicious!!!! Meats, veggies, cheese and more – it's so good! #breakfastcasserole #loadedbreakfastcasserole #farmhousebreakfast #countryboy
ingredients:
4 frozen hashbrown patties
1 cup crumbled sausage
1/2 cup diced ham
4 slices thick cut bacon, cooked and diced
1 pepper, -diced
1/2 yellow onion – diced
8 oz brick of cojack cheese – diced
8 eggs
1/2 cup milk
1 tsp salt
1/2 tsp pepper
1/3 cup shredded Mexican cheese
optional: jalapeno slices, hot sauce
instructions:
How to cook Loaded Farmhouse Breakfast Casserole
preheat oven to 350
while oven is preheating, heat hash brown patties
air fry for 10 min – flipping half way through
bake for 15 min
cook bacon on stovetop – i recommend undercooking the bacon as it will cook more in the casserole
once cooked, place bacon on paper towels
drain half bacon fat and add ham, sausage, peppers and onions to skillet and sauté 3-4 minutes, set aside
spray 8×8 baking dish with nonstick spray
lay hash brown patties across bottom of pan
if your 4 don't fit – take the extra hash browns and break up and set aside
beat 8 eggs with milk, salt and pepper in a large bowl
add sautéed vegetables & sausage, bacon and diced cheese (and any extra hashbrowns and jalapenos if you want to spice it up) to eggs and mix together
pour egg mixture over hash browns
sprinkle shredded cheese on top
bake at 350 for 12 minutes
pull eggs from oven and pull sides of eggs in with a spatula – so uncooked eggs move to edges
bake for an additional 12 minutes
remove from the oven and let rest for 5-10 minutes
serve and sprinkle with hot sauce!
NOTES:
– you can make this more sweet by using honey baked ham and maple sausage
– add 1/4 cup pickled jalapenos if you like it spicy
– you can use whatever cheese you like – even multiple kinds of cheese if you have some in the fridge. i recommend using diced cheese in the casserole for the gooey factor
Recommended Products:
Pioneer Woman Baking Dish
Pioneer Woman Dinnerware
Pioneer Woman Signature Knife