I've been wanting to make spoon bread as of late – and I was telling my Extreme Country Boy (that's the boyfriend's nickname) what spoon bread was and he said his mom used to make it all the time – but she loaded it up with goodies – and I said – TELL ME MORE!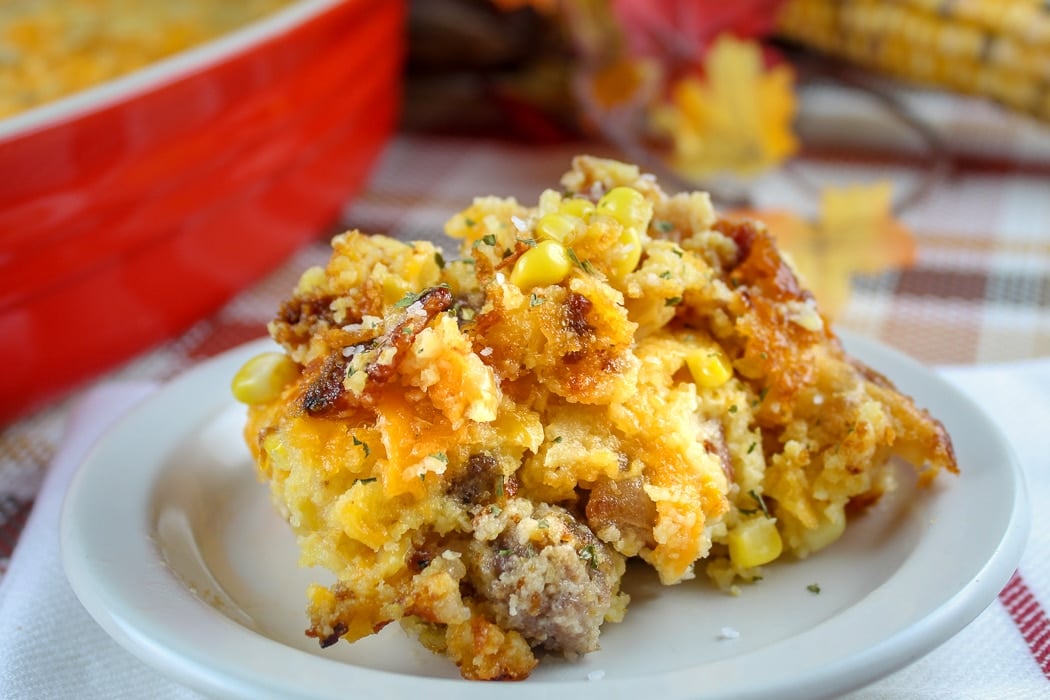 And that's how this Loaded Farmhouse Spoon Bread was born. It's a regular spoon bread recipe (starts with Jiffy cornbread mix) and then you add sausage, bacon, peppers, corn and cheese – and it gets intense!
What is Spoon Bread?
Spoon Bread starts with Jiffy cornbread mix and isn't really a bread. It's almost the consistency of stuffing or a bread pudding – it's moist (yes – the dreaded word) – it's a very cozy food. Comfort food for sure and a perfect side dish for the holidays.
How to jazz up Jiffy Cornbread:
I wanted to jazz up the regular old corn bread mix – so I just started adding to it! Spoon Bread takes Jiffy corn bread mix and adds cheese, creamed corn and sour cream – then I just kept going! I added sausage, bacon, peppers, more cheese and more corn! It's super easy – you just mix it all together and put it in the oven! So easy. 🙂
Can Spoon Bread be made ahead of time?
Yes!!! This cheesy spoon bread can definitely be made ahead of time. Just saute everything – throw it all together and refrigerate. This would be something you could make up the night before and then pop it in the oven in the morning as breakfast for a crowd!
Can you freeze Spoon Bread?
Yes!!! As you can see – this recipe made a LOT of spoon bread and I'm only one person! The dogs can only eat so much with me – so I popped it in the freezer then took it for lunch a few days later – heats up like a charm!
How do you reheat Spoon Bread?
You could definitely reheat spoon bread in the oven but I just went with the microwave since I packed the leftovers for lunch. It took about 2-2:30 minutes to heat up. It's a pretty dense food – so make sure you heat it up long enough – otherwise your center will be cold!
How to tell when Spoon Bread is done?
This can be a little tricky – the first test is always the toothpick test. Pop it in and see if it comes out clean – if it does – you should be good. There's also the jiggle test! Jiggle it – just a little bit – (sing it with me) – if it's jiggling – leave it in 3-4 minutes more. Don't let it get too set though – it'll be overdone and dry out. A little jiggle is always good (#thatswhatshesaid).
How to make Spoon Bread with Jiffy Cornbread mix?
This Jiffy Spoon Bread recipe is super easy – you add all the regular corn bread mix recipe on the box ingredients – but you add sour cream, butter and creamed corn. Then I took it a step further by adding regular corn, Maple sausage, bacon and cheese!!!
This Loaded Farmhouse Spoon Bread is amazing! Your whole family will love it and it's a great recipe that can be a hearty side dish or a delightful breakfast for a crowd!
Here are some of my other favorite holiday recipes:
Yes – my mom is a big help to the blog.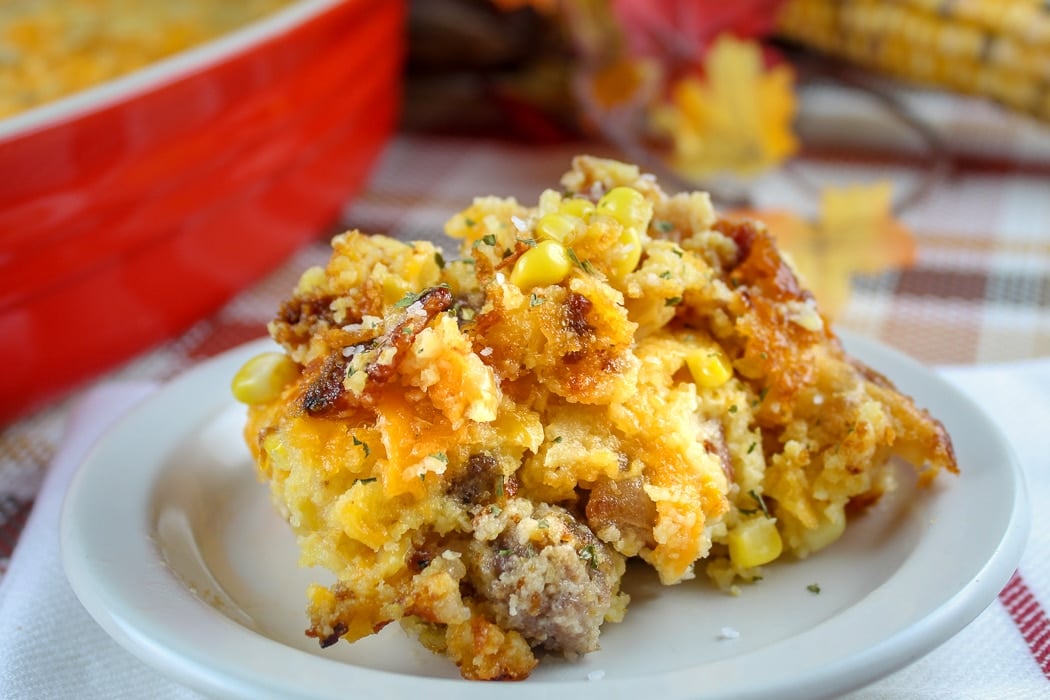 Loaded Farmhouse Spoon Bread
prep time: 10 M
cook time: 40 M
total time: 50 M
My boyfriend is at it again – coming up with Extreme Country Boy recipes for me to make. This week – it's Loaded Farmhouse Spoon Bread. Spoon Bread is like creamed corn on steroids – and I loaded it up with sausage, bacon, peppers, more corn and cheese! It's a side dish, a main dish – heck – it's even a breakfast! You're going to love it!
ingredients:
1 pound Maple Pork Sausage
4 slices bacon, diced
1 orange/yellow pepper, diced
1 (8.5-ounce) package JIFFY Corn Muffin Mix
1 (14.75-ounce) can cream style corn
2 ears corn, shucked or 1 (15-ounce) can whole kernel corn, drained
1/2 cup (1 stick) butter, melted
1 cup sour cream
8 oz brick cheddar cheese, shredded
3 eggs
1/2 teaspoon salt
instructions:
How to cook Loaded Farmhouse Spoon Bread
Preheat the oven to 375° and spray an 9×13 dish with nonstick spray.
Brown sausage, bacon and pepper in skillet (you might want to put bacon in pan first – for 1-2 minutes – then add sausage & peppers – you do NOT want the bacon crispy though)
When you shred cheese, set aside 1/3 cup shredded cheese.
In a mixing bowl, combine all remaining ingredients and mix well.
Stir the sausage mixture into the cornbread batter.
Pour the mixture into dish.
Sprinkle remaining shredded cheese over the top of the casserole
Bake 35 to 40 minutes, or until the spoon bread is golden brown and set.
Recommended Products:
Le Creuset Heritage Stoneware
Copper Chef Skillet
Spatula Set
Did you make this recipe?