So I've been pretty addicted to reality television for years and my latest favorite show is Love After Lockup. After becoming a fan – I ended up becoming friends with a couple guys behind bars and I've shared one of their prison food recipes before for Felon Fudge. It is so delicious!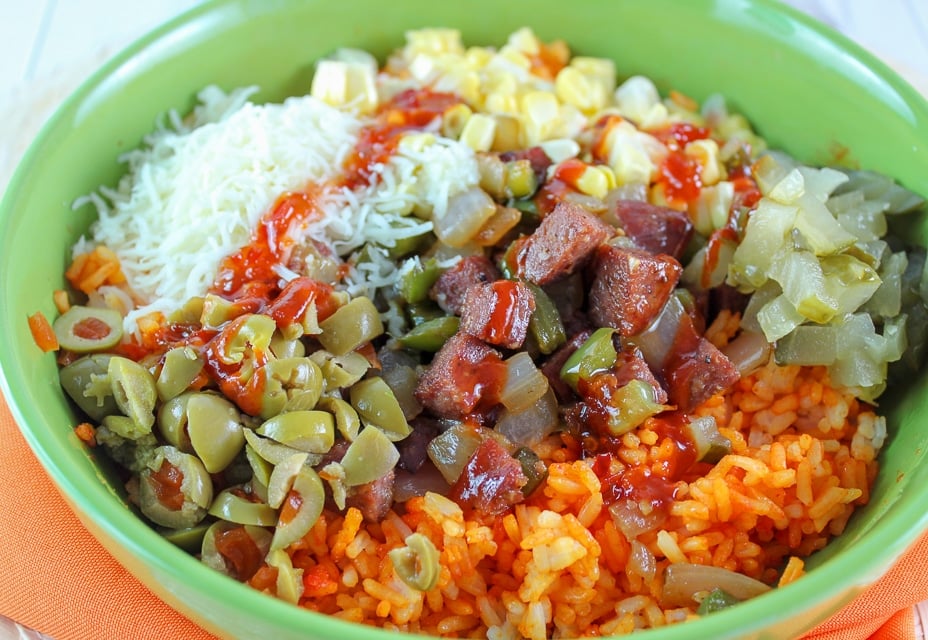 Well now I have another prison food recipe to share with you – this is a very common recipe that they make behind bars. It's a Prison Rice Bowl from my buddy Gerald. It's similar to what you'd get at Chipotle with a few little modifications. I've included cooking instructions for the authentic version and how I made it at home.
How to Make Prison Food
The prison rice bowl is a very flexible recipe – I used a beef summer sausage (they just refer to it as "summer" and it's a main protein source). But you can also use shredded pork, chicken or beef, or ground beef – whatever protein you like. They sell foods like that in pouches in the prison commissary.


Everything in prison is cooked in a microwave – so it's a different cooking method – but the end result – is rice topped with meat and veggies. I also used veggies they have access to. Most can buy an onion & pepper from the commissary and then they have cheese, corn, pickles and olives.
The big shocker for me was the Goya Sazon seasoning. It's very popular in prison and I had never tried it. I found it at Meijer in a box with 8 packets inside for like $1.50! One packet was enough for two cups of rice and it makes the rice ORANGE! One friend says you should cook it with the rice and another adds it after the rice is cooked. I added after the rice was cooked and loved it!!



Then to have that familiar Chipotle restaurant flavor I added lime juice to the rice and the complete dish.


These Prison Rice Bowls are quite tasty! I was a little wary of the Summer Sausage but when you dice it small it tastes just like sausage. The pickle and olive seemed a little odd – but when you add it in and stir it all together – it's really good. It adds a nice crunch along with the fresh corn. (They don't get fresh corn but since it's in season – I used that vs. canned/pouch.)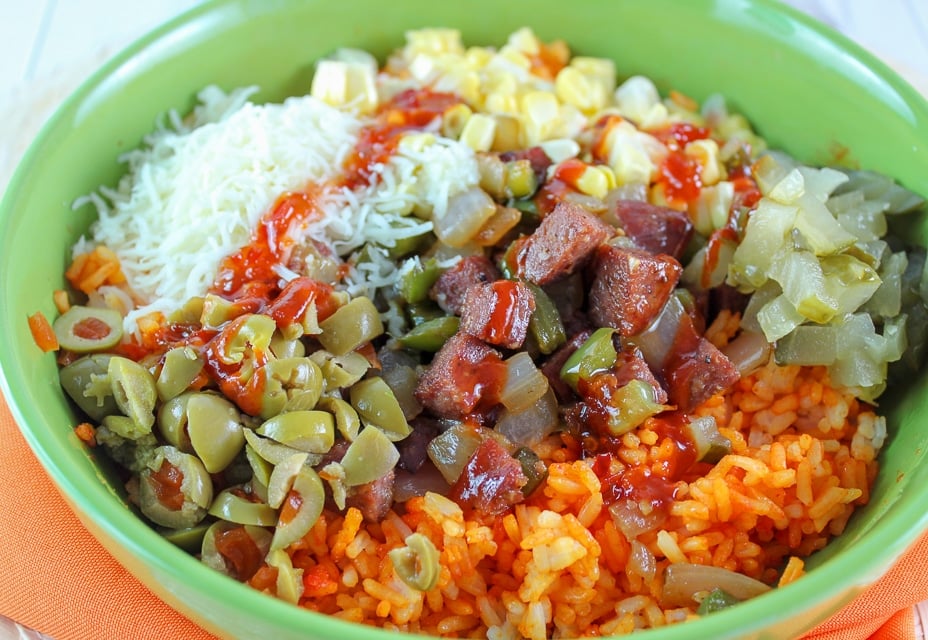 Prison Rice Bowl
prep time: 10 M
cook time: 10 M
total time: 20 M
I'm a big fan of Love After Lockup and have made a couple of pen pals in prison! They've shared recipes with me and I love sharing them with you! This is their version of a Chipotle Rice Bowl. I've got both the authentic instructions and how I made it at home. There's a couple of surprising ingredients that I LOVED!
ingredients:
1/2 onion, diced
1/2 bell pepper, diced
8 oz beef summer sausage, diced (or shredded beef, chicken, pork)
2 tsp minced garlic
Juice from 1/2 lime (1-2 Tbsp)
2 cups cooked rice
1 ear sweet corn, taken off the cob (or canned corn)
1/4 cup green olives, diced
1/4 cup spicy dill pickles, diced
1/2 cup Monterey jack cheese, shredded or small dice
Sweet Asian Chili Sauce
Gochujang or Sriracha Hot Sauce
instructions:
How Do You Make Rice Bowls In Prison?
In microwave, "fry" onion and summer sausage together on high for 3-5 minutes – stirring halfway through.
Separately, microwave precooked rice according to package directions. Add Goya seasoning and garlic salt (instead of minced garlic).
Stir onions & sausage into seasoned rice.
Top with peppers, corn, olives, pickles and cheese. Add sweet chili sauce and sriracha to taste.
How Can I Make Rice Bowls At Home?
Saute onion, pepper, garlic and summer for 5 minutes
Microwave Minute Rice according to package directions so you have 2 cups cooked rice. (1 cup rice, 1 cup water – microwave 6 minutes)
Once rice is cooked, add 1 packet Goya seasoning and lime juice. Stir together.
Split rice between two serving bowls and split the sausage mixture on top of the rice
Top with corn, olives, pickles and cheese. Add sweet chili sauce and hot sauce to taste.
Recommended Products:
https://amzn.to/2YXEfn9