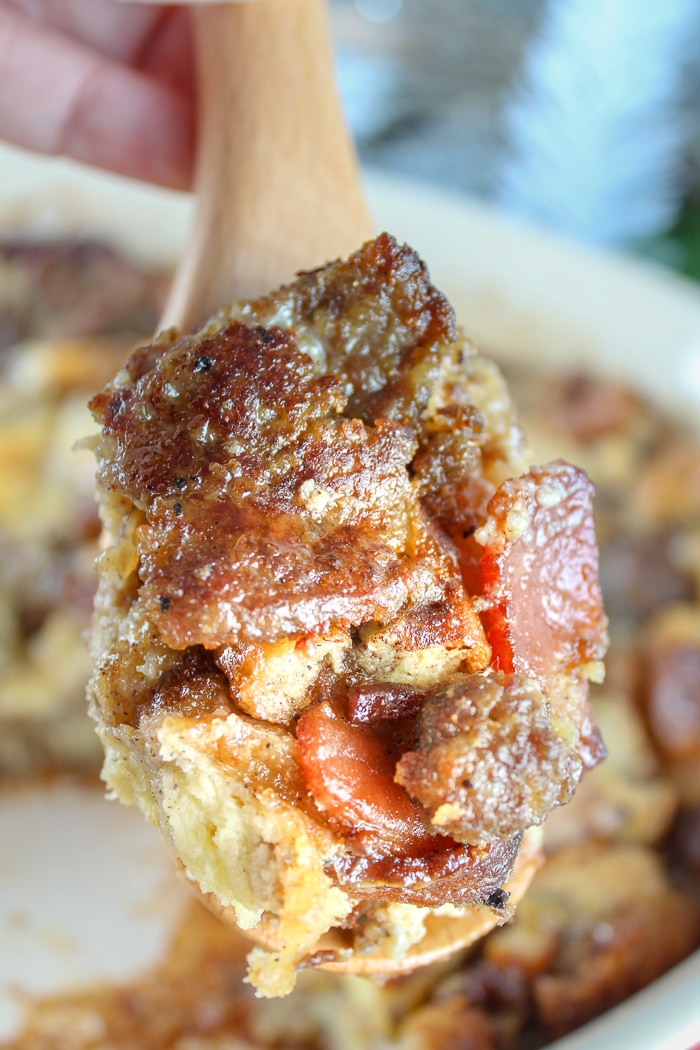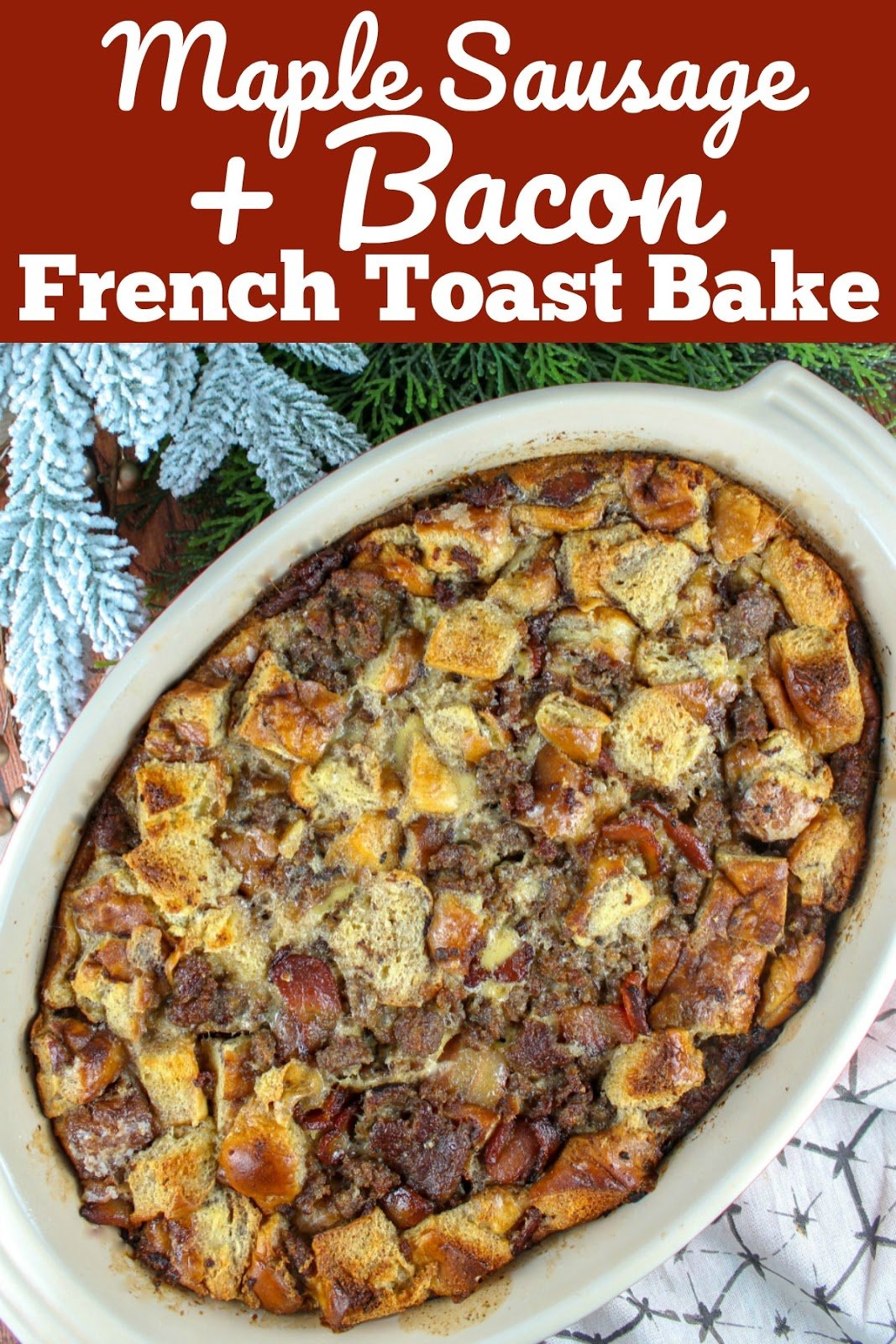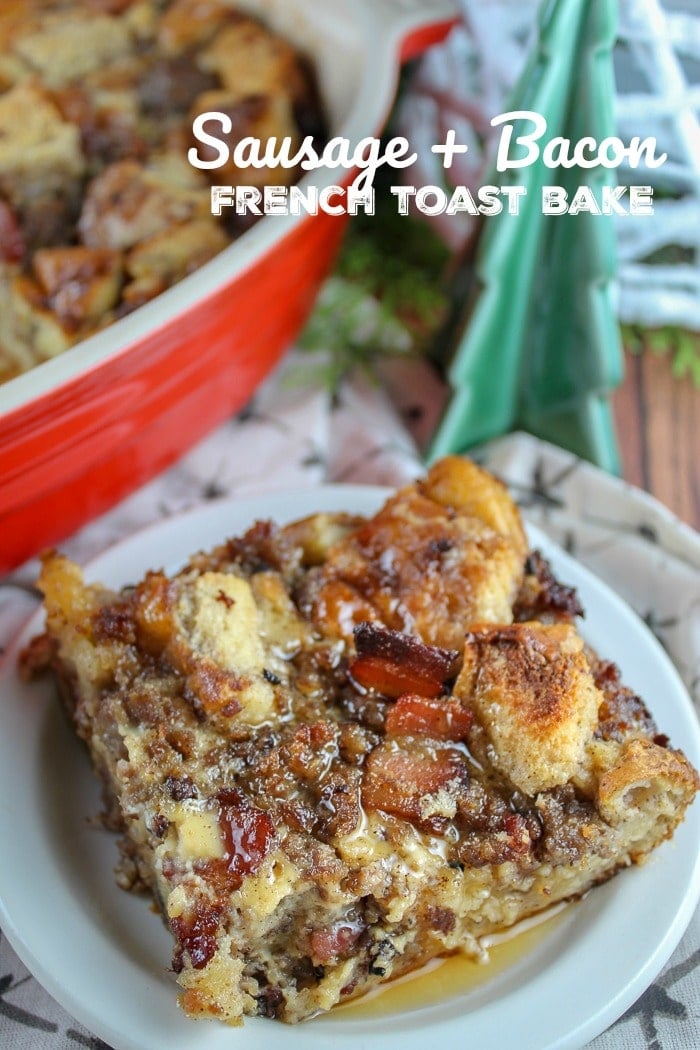 With the holidays upon us, I have been dying to make a big ol' breakfast casserole – that could feed a bunch of people. I settled on doing a cinnamon french toast bake – but you know me – I can't JUST do cinnamon french toast! I had to add bacon AND maple sausage! Yum!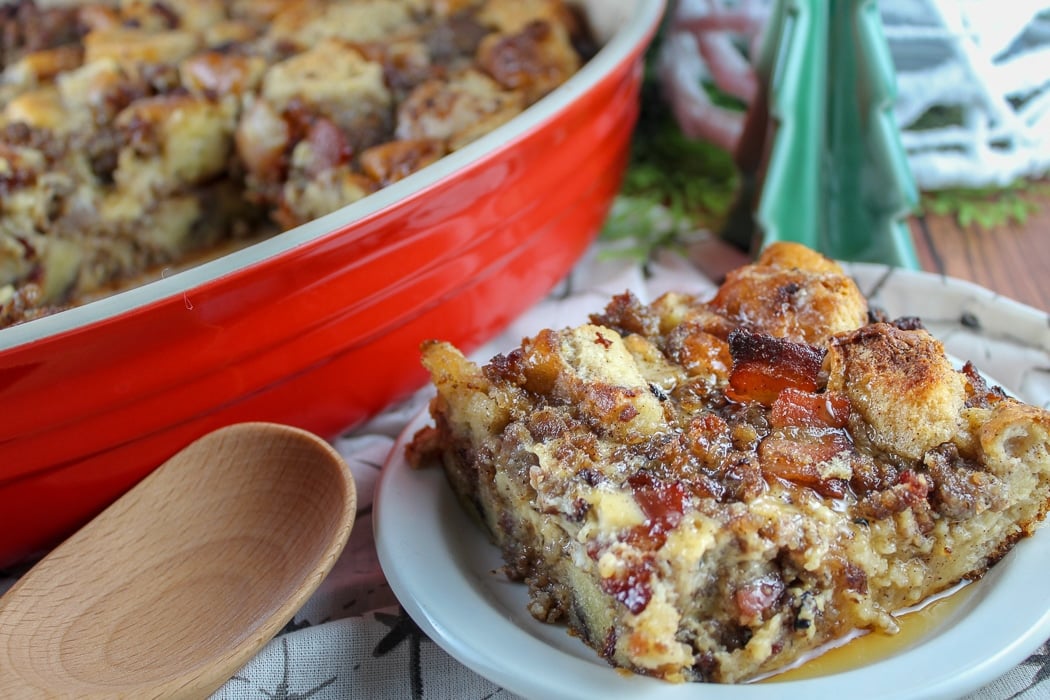 This is a super simple breakfast to put together and it's a french toast bake without having to leave it sit overnight. I really don't eat much bread – so I didn't want to buy a whole loaf of bread – so I bought some giant cinnamon donuts from Meijer (using Shipt of course) and used those!
What's in French Toast Casserole?
This casserole is so delicious and is great for any family gathering or just a big brunch!
breakfast sausage – I like to use the maple variety
thick cut bacon
donuts – I used cinnamon roll glazed donuts – but you could use regular glazed donuts, regular cinnamon rolls or even Hawaiian bread/rolls – any bread that's a little sweet
half and half
heavy cream
eggs
maple syrup
vanilla
pumpkin pie spice
salt
How do you make french toast casserole?
French toast casserole – or you can also think of it as a breakfast bread pudding – is really simple!
Preheat the oven and spray a large baking dish
Cook bacon and sausage – you can cook them together if you like – the bacon takes a little longer. Be sure to under cook them a little since they'll cook more when you bake them.
Drain the bacon and sausage and set aside
Chop your "bread" into large pieces and place it in your baking dish.
Add your extras – like bacon and maple sausage (or regular if you don't have the maple) – next time I'm adding blueberries!
In a separate bowl – mix together your batter ingredients (eggs, cream, half and half, vanilla, syrup, pumpkin pie spice and salt)
Pour over the bread and sausage in the baking dish
Press the bread down so it's in the cream mixture
Bake for 45 minutes
Let cool for about 10 minutes before serving – it's super hot!
Serve with maple syrup!!
I love that this french toast casserole recipe is very flexible – you could use different kinds of bread, add fruit, leave out the pumpkin pie spice and use cinnamon & apples if you like – so many ideas!!!
This French Toast bake is the perfect breakfast for Christmas morning! You're all warm and cozy and this is perfect to get you through the excitement of opening presents – but tide you over until your big dinner that afternoon or evening.
This easy french toast bake is made with no flour and no sugar. I love how simple it is – After you brown the sausage and cook the bacon – you can have it together in just a few minutes! Be sure to undercook your bacon a little – mainly you just don't want it crispy – because it will continue to cook a little when you bake it.
Other Breakfast Ideas for a Crowd
This maple sausage and bacon french toast bake is so delicious – I promise the whole family will love it! But if you want some other options for a big family breakfast – here are some of my favorites!
– Breakfast Gumbo
– Loaded Farmhouse Breakfast Egg Casserole
– Copycat Sunliner Diner Corned Beef Hash
– Baked Scrambled Eggs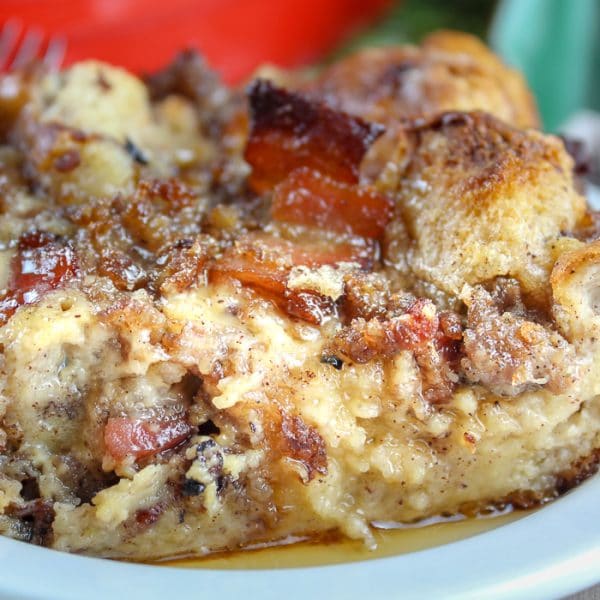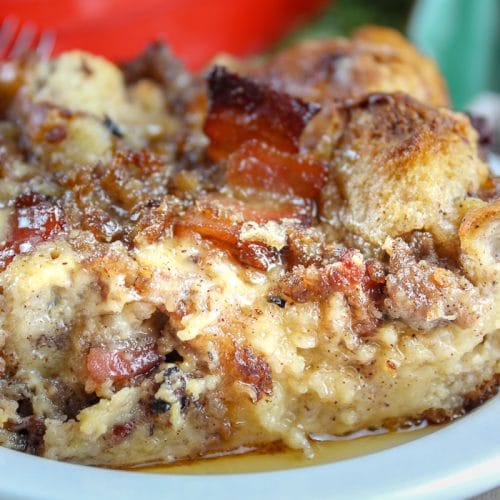 Maple Bacon & Sausage French Toast Bake
If you've got a crowd for breakfast, this French Toast Bake is just the dish! It's like french toast kicked up about 10 notches! Filled with maple deliciousness as well as bacon AND sausage – there will not be ANY leftovers. And…it is SUPER EASY!
Ingredients
1

lb

maple breakfast sausage

or regular

3

slices

bacon

cooked, diced in large chunks

5

large

cinnamon glazed donuts

5-6 cups, cut into 1" cubes – you can also used regular glazed donuts, cinnamon rolls or even thick sliced Hawaiian bread or rolls

1

cup

half and half

1

cup

heavy cream

6

eggs

1/4

cup

maple syrup

1

tbsp

vanilla

2

tsp

pumpkin pie spice

1

tsp

salt
Instructions
Preheat oven to 350 degrees.

Spray a 9×13 baking dish with non-stick cooking spray and set aside.

Brown bacon and drain (undercook it)

Brown sausage and drain (I tried doing them together – the bacon takes about 3 minutes longer)

1 lb maple breakfast sausage

Place cubed donuts in baking dish and set aside.

5 large cinnamon glazed donuts

Add sausage and bacon to donuts

In separate bowl, whisk half and half, cream, eggs, syrup, vanilla, pumpkin pie spice and salt.

1 cup half and half,

1 cup heavy cream,

6 eggs,

1/4 cup maple syrup,

2 tsp pumpkin pie spice,

1 tsp salt,

1 tbsp vanilla

Pour egg mixture over donuts and gently press all bread into liquid until all bread is coated.

Bake 40-45 minutes or until golden brown on top. Remove from oven and let cool for at least 10 minutes for easier serving.

Top with additional maple syrup and enjoy!
Notes
– You can use any variety of sweet breads for this french toast bake – I love these giant cinnamon glazed donuts that I get at Meijer – they're usually 4 for $2 – but you can use whatever you have or like – regular glazed donuts, Hawaiian bread, etc. You need about 5-6 cups of largely diced bread.
– Not a fan of sausage or bacon? You can just use all bacon or all sausage. If going with all bacon – I would double the bacon to 6 slices.
– Be sure to UNDERCOOK the bacon a little – you don't want it crispy – it will continue to cook when you bake it.
– Splurge and use real maple syrup – it's worth it!
Nutrition
Serving:
1
slice
Calories:
520
kcal
Carbohydrates:
24.2
g
Protein:
20.3
g
Fat:
37.7
g
Saturated Fat:
14.1
g
Cholesterol:
210
mg
Sodium:
1052
mg
Potassium:
327
mg
Fiber:
0.7
g
Sugar:
6.4
g
Calcium:
77
mg
Iron:
2
mg